If you purchase an item through affiliate links within our content, we will earn a commission at no cost to you. As an Amazon Associate we earn from qualifying purchases. See our disclosure policy.
Porch Designs for Mobile Homes
Do You Have a Mobile, Manufactured, Modular
or Prefabricated Home?
Let's talk porch designs for mobile homes: A front porch on your mobile home will not only add curb appeal but also provide you shade and protection from the weather which means good things.

No reason you can't have the perfect place to relax, to enjoy a good book or a glass of fine wine.

Front porches for mobile homes will help you extend your outdoor time.

As aesthetically pleasing as a front porch on a traditional home, there are certain factors you need to know as you plan and design your porch.

Many of the photos below are provided by Ready Decks ®.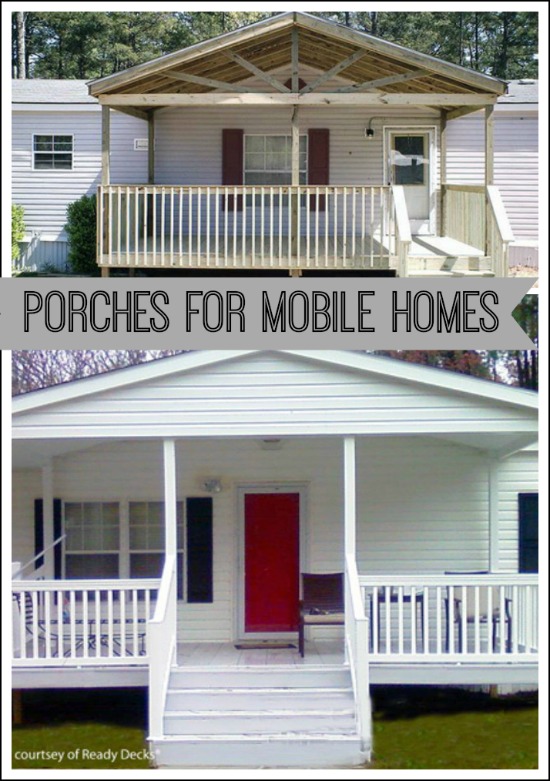 Porch designs for mobile homes by Ready Decks ®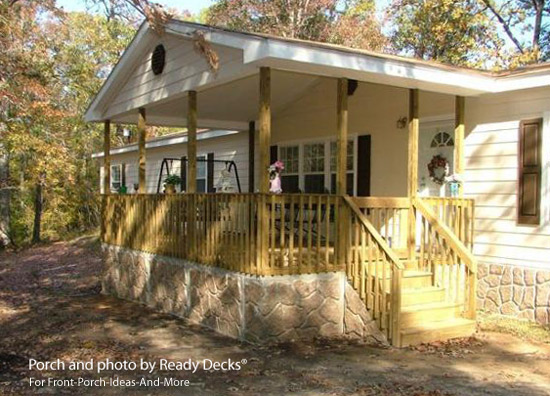 Mobile home front porch design by Ready Decks ®
You have almost as many design options for your mobile home as do others for their stick-built homes. We really like the stone-like porch skirting in the photo above.

That, along with other options for porch columns, railings, steps, ceilings, and more, will give you plenty to consider when planning your front porch.



Look at Our Directory of Porch Designs
for Mobile Homes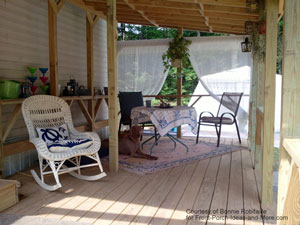 See what's involved in building a porch addition. See Bonnie's mobile home porch and learn what you need to know before building a porch addition onto your home.

To maintain the value of your home know what is required as the porch construction process can be different than for a traditional home.



Discover 9 Easy Ideas to Improve Your Home
Nine easy ideas for your home

Increase not only curb appeal but also the value and comfort of your mobile or manufactured home. You might be pleasantly surprised to find some unique ideas!



Peruse These Mobile Home Improvements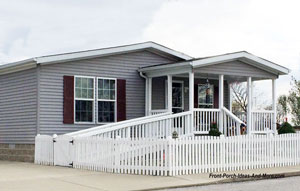 Several exterior mobile home improvements we want to share with you.

Whether adding a porch addition, or upgrading your siding, windows, or shutter, check out what exterior home improvements will be right for you.


Look at These Porch Decorating Ideas for Mobile Homes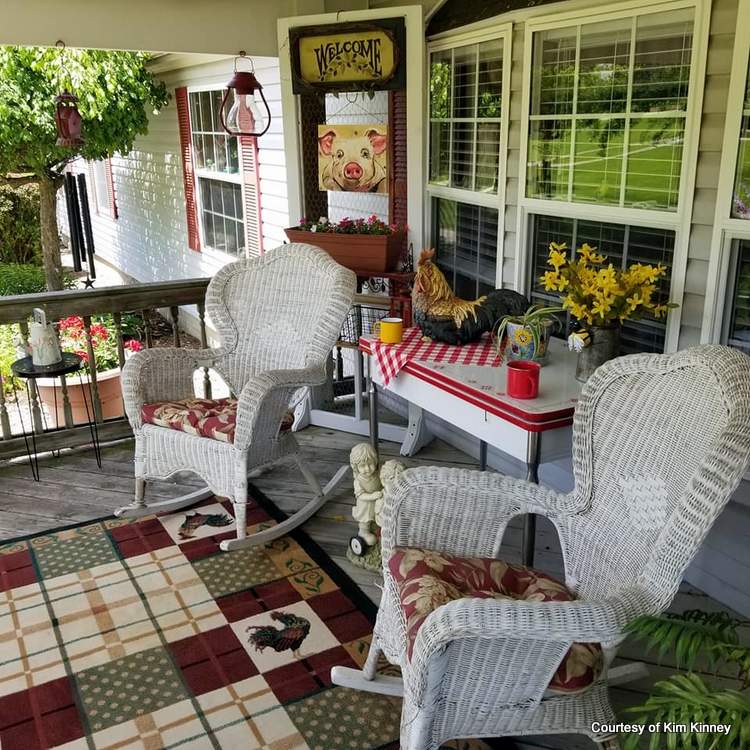 Get wonderful porch decorating ideas for your mobile or manufactured home. See Kim's porch and more.



Investigate These Affordable Porch Design Ideas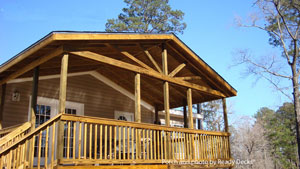 See how you can have an affordable porch on your home using quality materials and have a wonderfully designed addition to your home.



Tornado Storm Shelters for Mobile Homes
See how to easily protect you and your family from severe weather by installing a SafePorch Storm Shelter!



Read Our Response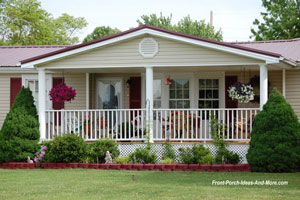 Read our response to a site visitor's question about mobile home porch designs - ideas you could possibly use yourself.



Listen to our Podcast with Brad of Ready Decks ®
He has many tips and ideas. you can easily incorporate into your mobile home's porch design.



Want to Hear Our Podcast with the Mobile Home Parts Store?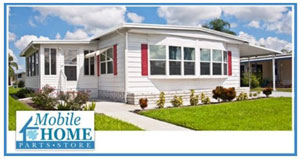 Find out ways to enhance your mobile home's appeal the easy way

Get Tim's ideas about the latest curb appealing trends in mobile homes.



How About These Ideas for Porch Designs on Mobile Homes?
Look at These Gable Roof Ideas
Note in the photo below the additional columns adjacent to the home. Most mobile home porches must be self supporting include holding the roof in place.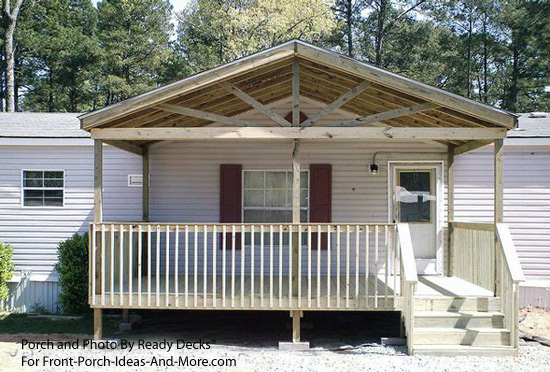 Do you see the wagon wheel pattern on the open gable roof design?
Homeowners could easily install porch skirting to hide the porch piers in the photo below. This would give it a more finished look and possibly give you additional storage space.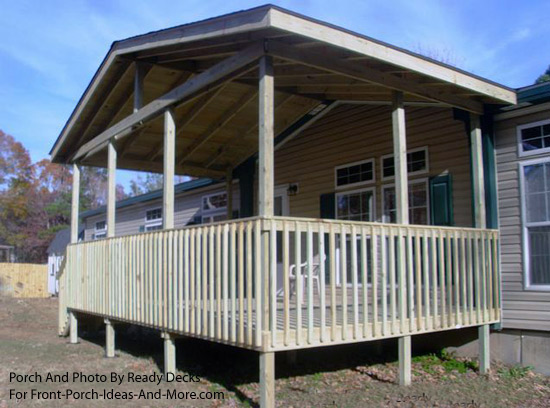 Love the placement and width of the steps in the photo below. Wider staircase gives you a more open feel and makes your porch appear larger. It also provides space for potted plants or other decorative items.

Mary and I would add custom vinyl lattice panels to hide the piers. You can choose from a wide variety of lattice panel designs or even create your own. They come in a variety of colors but we prefer black for porch skirting.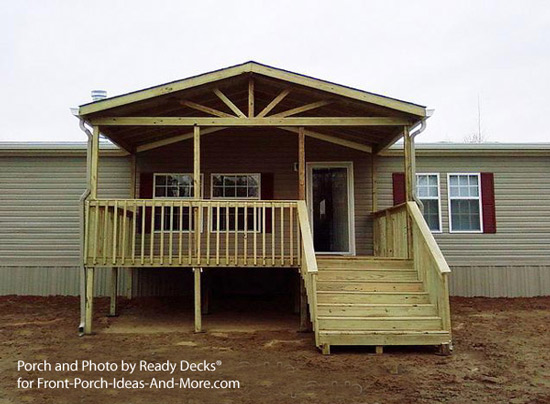 Note the exposed rafters on the gable roof below. You could opt to cover them with bead board or tongue and groove panels to give it a finished look.

Add an outdoor ceiling fan for additional comfort. When considering porch designs for mobile homes also include amenities like fans, lights, and railing and column options too.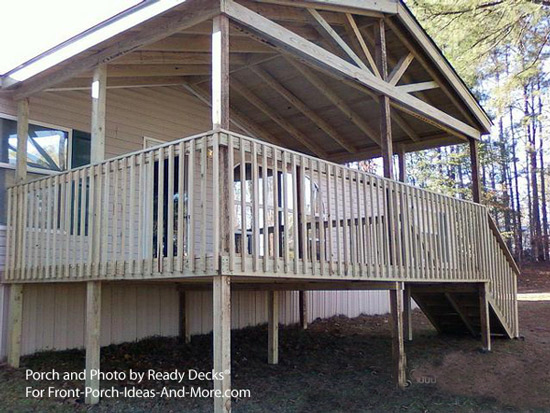 Tip: Porch Designs for Mobile Homes If you live in an area that is prone to the wind blowing leaves and other debris on your porch, consider installing a bottom rail no more than 4 inches above the porch decking. Extend your balusters slightly below or even with the bottom rail.

Why? This will allow you to easily sweep the debris off your porch. Otherwise leaves and debris are stuck on your porch with nowhere to go - and hard to sweep away.






Really nice design for an accessible wheel chair ramp. If you don't have the space for a wheel chair run as depicted in the photo below, you can make it shorter by creating a turn; however, porch designs for mobile homes must meet specific building code requirements.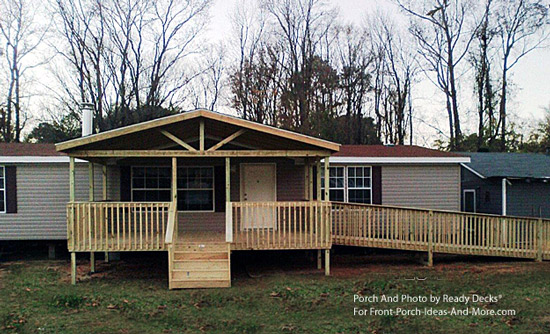 This is really neat as a porch design for mobile homes - a front porch and deck combination. If you have the space you ought to consider one of these for your home. The porch skirting is also an attractive feature.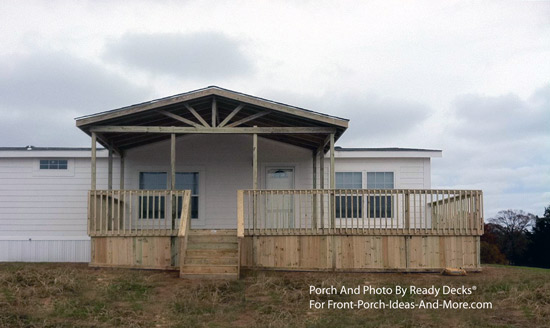 Mary and I are excited to share these porch designs for mobile homes and are grateful to Ready Decks who are both builders and designers. Ready Decks is not one of our paying advertisers, but we are pleased to show off their products with you to give you ideas for your mobile home.
Need Decorating Ideas for Your Mobile Home Porch?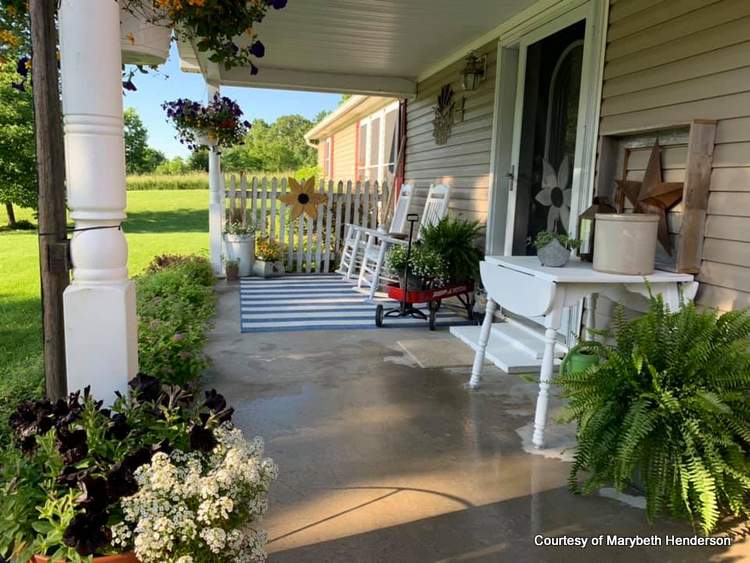 Thank you to Marybeth Henderson for sharing
Please enjoy more of these wonderful mobile home porch ideas we've gathered.



Could a Freestanding Porch Be a Solution for You?
A freestanding porch is an outstanding idea if you have the space
Look at This Gable Roof Design on a Mobile Home
Here's one of Ready Decks gable style porches painted and ready for outdoor enjoyment. Add landscaping, grab a glass of iced tea, and do some porch sittin'. Note how this has a closed gable with vinyl to match the home.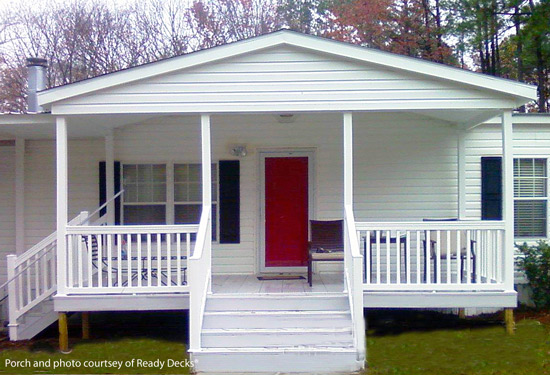 Do You Have a Shed or Flat Roof Design?
A shed-type or flat roof design may be perfect for porch designs for mobile homes having either very low roof clearances or for those with straight roof lines. It allows for maximum use of head room yet maintains openness.


See how the flat roof gives you maximum space. Your local building codes will dictate the rise and run (steepness) of your porch roof. People living in snow country normally require a minimum rise and run.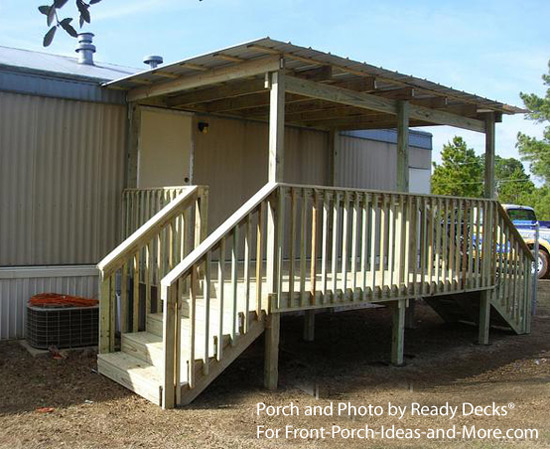 We like this one. It has an open feel and is large enough to accommodate comfortable furniture. Note the metal roof which is recommended for flat roofs.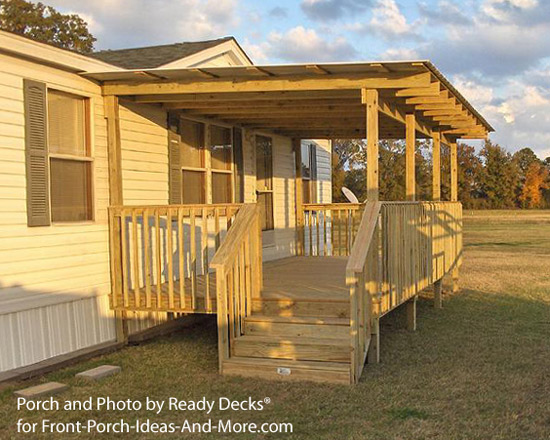 Spacious and well designed, this porch will provide you with lots of outdoor time. Note the porch skirting which gives it a finished look.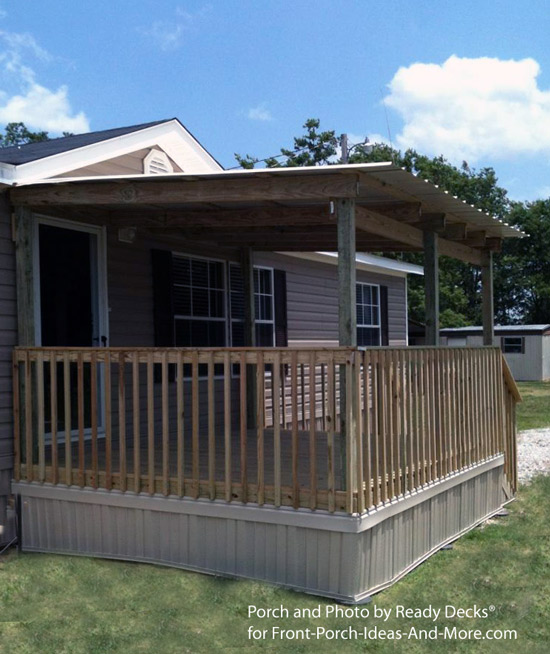 Ready Decks ®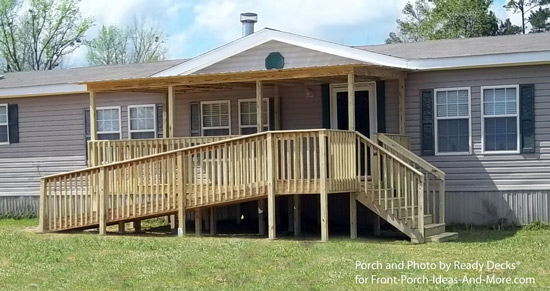 This Ready Decks ® porch design has an accessible wheel chair ramp AND curb appeal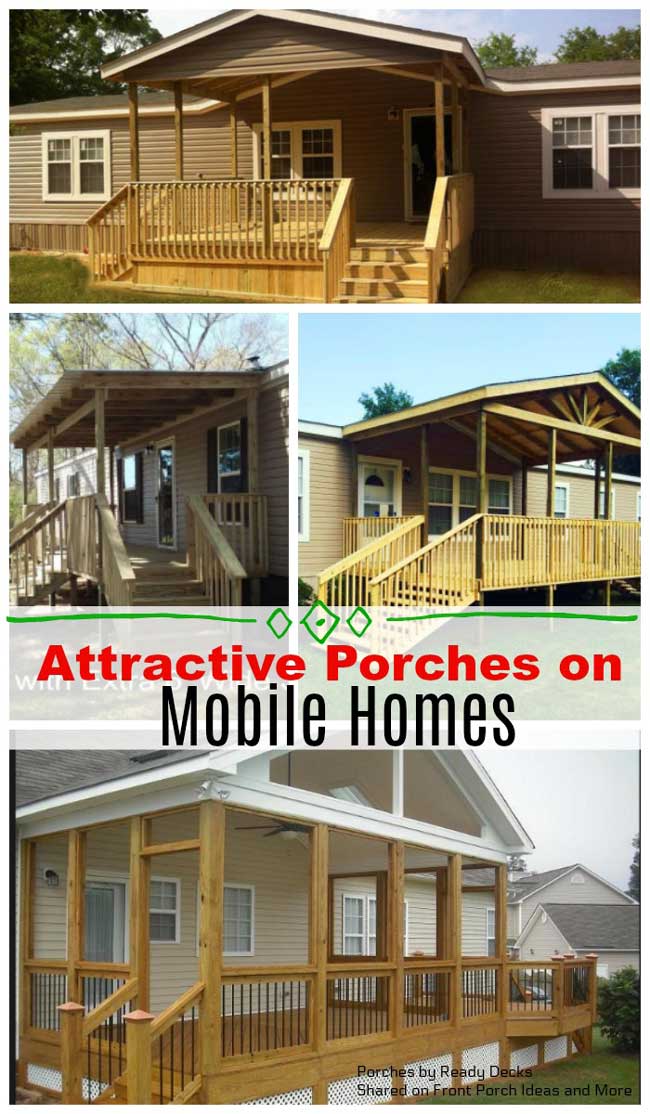 We like these attractive Ready Decks ® porches on mobile homes
Are you a mobile, modular or manufactured home owner?
Do you take pride in your porch or stoop? If so, we would love to hear from you and may feature your home on our site.
Please
drop us a line here
. When we hear from you we'll let you know how to send us pictures.
Mobile Home Screen Porch and Roof Options
There are also options to either add a screen porch kit or if you already have a porch, add screen walls to create a screened porch.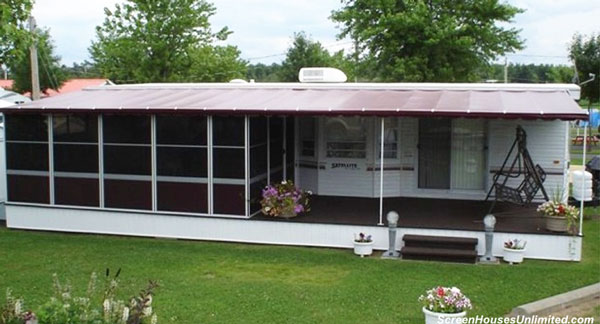 Screen room kit with extended canopy mounted on manufactured or mobile home
In addition, you can screen either the entire porch or just a portion.



Works for trailers too!
Surprise Your Family with This
You can add an outdoor space with a screen enclosure to fit right on your mobile home porch. Screen enclosures like the one below come in different sizes and are easy to install.

Mary and I had an enclosed porch on our deck similar to the one pictured below. I can remember a particular Father's Day where we had dinner on our porch. Mary had flowers on the table and she and our boys fixed a delicious meal.

Then we played a game of family basketball. A perfect day.

Create an outdoor room for all to enjoy and you will be creating some wonderful memories for your family. Can you imagine how nice that could be?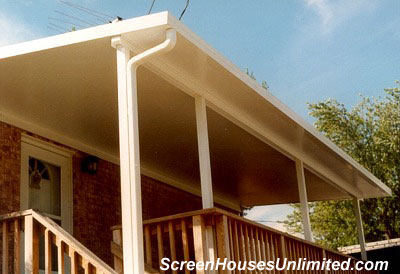 Need a porch roof? An insulated roof panel system may be just what you are looking for. Creating a porch may never have been easier.



Look at This Inviting Florida Room
Our friends Linda and Jerry shared this picture of their Florida room on their mobile home
Could a Freestanding Porch Be a Solution for You?
A freestanding porch is an outstanding idea if you have the space
Need Railings?
Here's an easy way to add a porch or step handrail to your existing porch or deck. These DIY handrails can save you from injury; remember, it only takes one step to fall! These fit from one to five steps and are easy to install.


InstantRail Adjustable Handrail - (Amazon affiliate link for which we may receive a commission)
What NOT to Do
When Building a Porch on a Mobile Home
When adding a porch to a mobile home, there are several things that should be avoided to ensure the safety and stability of the structure:
Omitting Permits or Permissions: It is always important to check with your local building codes and zoning regulations departments to obtain any necessary permits before start construction on your porch. You can be fined or in some cases told to remove the porch. In addition, ensure you receive HOA approval if required in your community.
Not Anchoring: Mobile homes must be anchored to the ground to prevent movement during storms or high winds. It's important to use the correct anchoring methods and materials to ensure the safety of the structure as applicable.
Ignoring Weight Loads: The porch design should be able to support the weight of the structure and any added load such as furniture and people to prevent collapse. Ensure your soil can support the structure as well.
Not Leveling and Stabilizing: The porch should be level and stable.
Ignoring Maintenance: Maintaining your porch on a regular basis, i.e., such as checking for rot, termites, and loose or rusted fasteners, will ensure the longevity and safety of the porch.
Not hiring a professional: It's important to hire (or at least consult with) a licensed contractor or engineer to design and oversee the construction of the porch to ensure it meets all safety standards and local building codes.
Porch Designs for Mobile Homes
Frequently-Asked Questions
Bradley Johns of Ready Decks addresses a few common issues for porch designs on mobile homes.


1. What are some typical problems you encounter when building a porch for a mobile home?

The only recurring issue we have with adding a porch to a manufactured home is when the home's roof is constructed with a sheet galvanized metal that has no overhang.

The is usually a tiny gutter that can be flashed behind but we cannot get a proper mechanical fix so to prevent leaking we often end up relying on sealants which often fail in places.


2.What are typical concerns of owners considering adding a porch to their mobile home?

The biggest concern for adding a porch to a manufactured home is how the roof is attached to the home's roof. Most manufactures tell their customers that they cannot attach anything to the home. We at Ready Decks had already solved this concern by making our porches fully self-supporting. This takes the load off of the home and the customers mind.


3. How is building a mobile home porch different than one for a stick-built home?

There are actually no any mentionable differences in the building process between a site built home and a manufactured home with the exception of the sheet metal roof homes in which roof flashing is often not an option.


4. What is a common mistake mobile home owners make when designing a porch for a mobile home?

Placement of your porch in relation to door entrance and steps. I have notice that, in general, people tend to want to put their porch center of their door and center the steps on the front of the porch.

Even on a popular 12 by 16 porch, the walking path from this layout cuts the porch in half leaving little usable room for a patio table set or other items. When it is possible, position porch to one side of the door with the steps on the same side.

This often looks just as good as centering the door while freeing up the rest of your porch space.
Watch This Testimonial and See This Beautiful Deck by Ready Decks ®
Share Photos of Your Porch Designs for Mobile Homes
We'd love to share mobile home porch designs that you may have seen and like with our site visitors. It's so easy to do - use our share photos form!





As an Amazon Associate we earn from qualifying purchases. We also earn commissions from other companies where are are participants of their referral programs. Here is our

full disclosure

about affiliate marketing.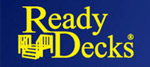 Ready Decks ®
began in 2001 with the goal to build decks on site in the shortest time while giving their customers quality, service, and value for their money.
Trey Oliver, new owner of Ready Decks ®, uses the best materials along with a patent-pending building system that can actually build your deck in one day. Not only that, as you have seen from their photos above, they can build your mobile home porch too.
Not only do they build decks and porches, Ready Decks ® can also build your screen porch, ramps, pool decks, car ports, gazebos, and more - all with the same quality and service.
Want more porch designs for mobile homes?
Contact Ready Decks
to see how they can help you with your porch or other building needs.
Ready Decks ® - A Deck in a Day Video
Our Sponsors


End Sponsors


---
Helpful Links
Enjoy shopping Amazon
(affiliate link)
Popular Pages
What's New
Join Our Newsletter Family
Porch Designs
Porch Ideas for Mobile Homes
Find a Local Contractor
Build a Porch
|
Small Porches
Porch Columns
|
Porch Railings
Screened Porches
Porch Curtains
|
Porch Enclosures
Porch Landscaping
|
Vinyl Lattice
Porch Decorating
|
Porch Ideas
Shop
Navigation Aids
Home
|
Top of Page
Site Search
|
Site Map
Contact Us
Policies
Disclosure Policy
|
Privacy Policy
Legal Info
---
Please Join Us Here Also

Find a Trusted Local Pro
---
Copyright© 2008-2024
Front-Porch-Ideas-and-More.com All rights reserved.
No content or photos may be reused or reproduced in any way without our express written permission.
At no extra cost to you, we earn a commission by referring you to some products on merchant sites. See our
disclosure policy
.
We, Front Porch Ideas and More, confirm, as stated on our
privacy policy
, that we do not sell personal information.
All content here is solely for presenting ideas. We recommend consulting with a licensed, experienced contractor before you begin your project.
We make no guarantees of accuracy or completeness of information on our site or any links to other websites contained here.



Thank you for taking your time to stop by. See what's popular and new here.
Enjoy shopping Amazon
(affiliate link)
Our Sponsors
End Sponsors
---
Find Top-Rated Service Pros (our referral link)
---
Get Our Newsletter,
Front Porch Appeal
and a bonus!
Learn more
!
Subscribe and also receive our eBook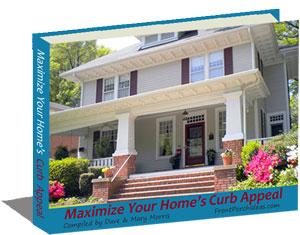 We will use your email address only to send our newsletter and this helpful ebook on curb appeal!
Enjoy our
back issues
.
---
What's New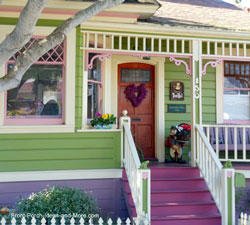 See Our Latest Updates
Get Our Porch Ideas Generator eBook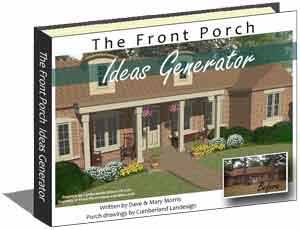 See Our Porch Illustrator eBook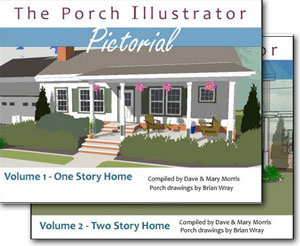 Porch Ideas Network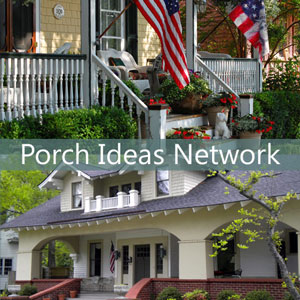 Thank you for taking your time to stop by.
See what's popular and new here
.