Dave and Mary
Screened Porch Design Topics
Ideas to Make Your Porch Sizzle
Welcome to our Screened Porch Design topics - an extensive hub from which you can plan, design, build, and decorate your porch enclosure. In collaboration with custom screen porch builders, Mary and I have assembled an array of information and pictures to give you oodles of screened porch design ideas.

The two of us love screen porches - so much that we actually bought a home just for the porch.

A screen porch not only gives you additional living space but also allows you to enjoy the outdoors in comfort.



Screened Porch Design Topics and More
From screened porch design to screen porch kits, decorating, building your own, and more, we have covered about every aspect of fine screened porches.

A screened porch design can range from the simple to the very unique. That's what makes it such a great addition to any home. Add a few additional features and you can use your screen porch almost year round depending on where you live.












Listen to Our Audio Program
Love screen porches? Listen to our audio programs with a leading expert on screen porches.




Screen Porch Kits
In need of a screen porch kit? Listen to Glenn Smith of Screen-House.com, who shares information about all kinds of kit options.



PCA Products
Want to update your screen door? Steve Pfeffer, President of PCA Products, explains the advantages of their aluminum screen doors.

---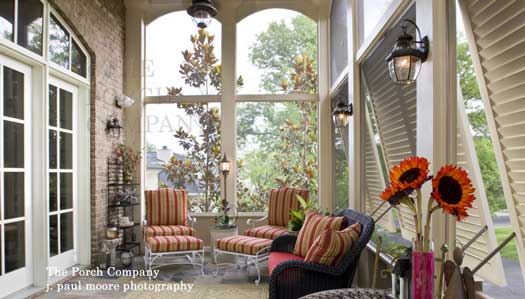 The screen porch pictured below called for a 16' X 18' screened porch with cathedral ceilings. Note the ceramic tile flooring and wainscoting on both the walls and ceiling.

Multiple power outlets were installed in the walls and ceiling in addition to a cable hook up. Skylights were installed in the roof. These are but a few of the many things you can have on your screen porch.



You can convert an existing patio slab, brick, or deck to screen porches easily. Enclose your existing porch or portion of your porch into a screen porch. Or, start from scratch and build it to your own specifications.
Another great screen porch design idea is to use existing screen porch plans and modify them to suit your specific needs.
You can usually easily adapt your screen porch to a sun room by adding glass panels and perhaps a space heater depending on your climate. We did this in Nebraska and were able to use our porch almost year round!
Another option is to have an architect draw your screen porch plans to your specifications. They will ensure it blends with your home's architecture to make your screen porch the envy of the neighborhood.
Video: Screened Porch Trends
With thanks to our friends from The Porch Company
Hi!
We're Mary and Dave
, lifelong DIYers, high school sweethearts, and we both love porches. You've come to the right place for thousands of porch ideas.
--- Our Sponsors ---
--- End Sponsors ---
Mary's Etsy Shop
Find Top-Rated Service Pros
Our Newsletter, Front Porch Appeal
Learn more
!
Thank you for being here!