Ideas for Front Porch Designs and More
Are you looking for inspiring front porch designs and front porch ideas?

Whether you dream of a country style porch, a sophisticated contemporary style or you only have a small space for a charming portico, we welcome you here to design, plan, decorate, and landscape your porch.


Elegant Christmas Decorating Ideas
Elegant front porch Christmas decorations shared by Denise and Audra
Denise and Audra create elegant Christmas decor. Take a look at their beautiful front porch.



Gift Ideas for We've Gathered for You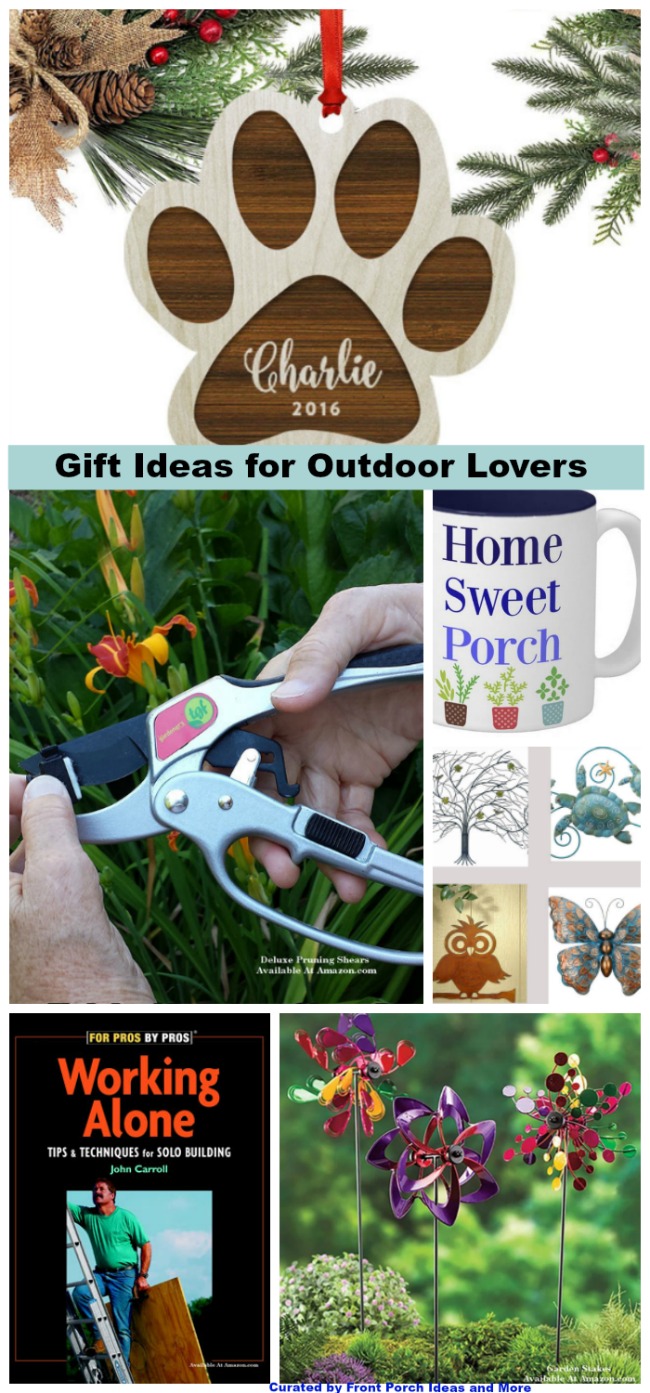 Visit our Porch Market for gift ideas
We hope it helps you find a nice gift for someone you care about. Thank you for looking!



A Whimsical Grinch Christmas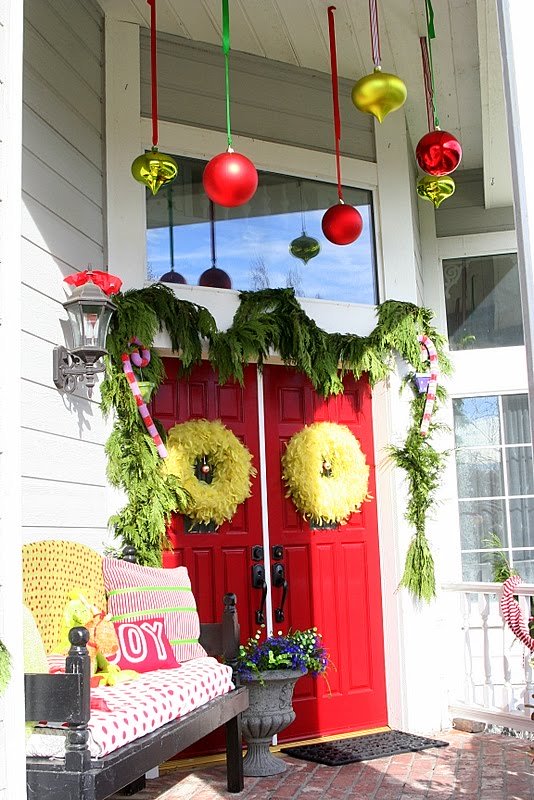 Grinch on the porch is popular for Christmas
We appreciate Donna sharing her Grinch Christmas porch with us. See more of her fun pictures!


Watch Our Christmas Lights Video
The community of Seaside Rancho loves to decorate for Christmas
We loved strolling through their neighborhood with our family. Take a look at their wonderful Christmas decorating ideas.


Try Our DIY Christmas Decorations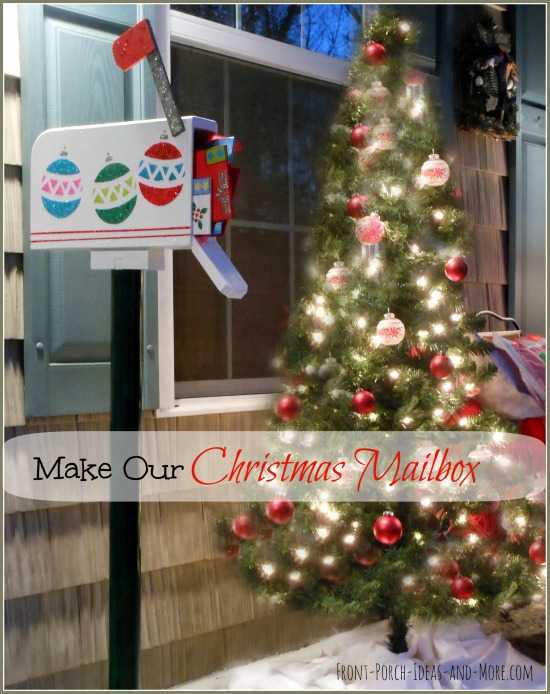 Our mailbox decoration is packed with holiday cheer!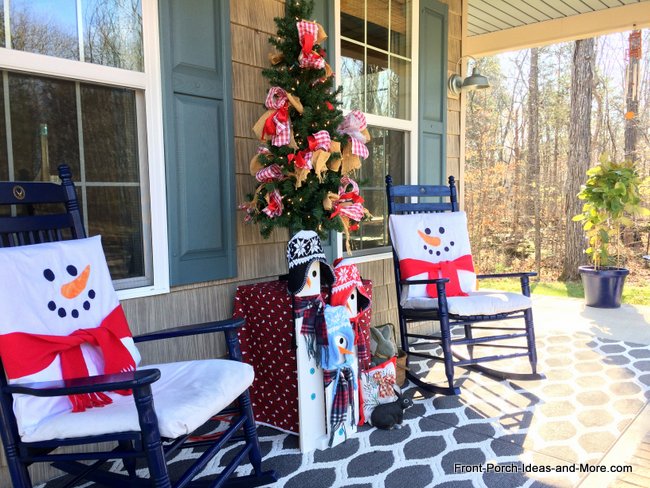 Our snowman front porch was fun to create
This year we love our cute snowman porch. We have more pictures to share with you and also a video to tell you how.



Farmhouse: Here's a Dream Plan
Classic farm house with sprawling wraparound porch - Family Home Plans
Many of us have the dream of living in a farm house in the country. Isn't this a beautiful one? We found this plan at Family Home Plans. We are proud to be one of their affiliates.



Front Porch Design Ideas
Use our very popular front porch illustrator to see how different porch designs affect the overall appeal of a home. We show you various front porch designs on both a ranch and two story home to give you different perspectives.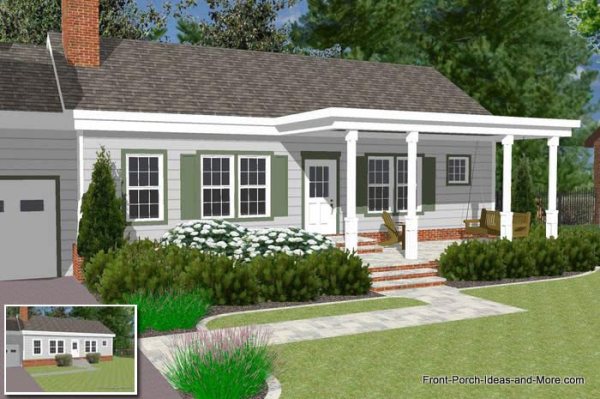 Front porch with pergola style roof
The right porch design can surely add lots of appeal and extra outdoor living space.
Get more front porch design ideas
!
Home Plans with Porches
Now's the perfect time to select or create the perfect home plan and right here is great place to start.
We are happy to show you home plans with fantastic porches in almost every architectural style but also many other options like storage sheds, she-sheds, outdoor projects and more.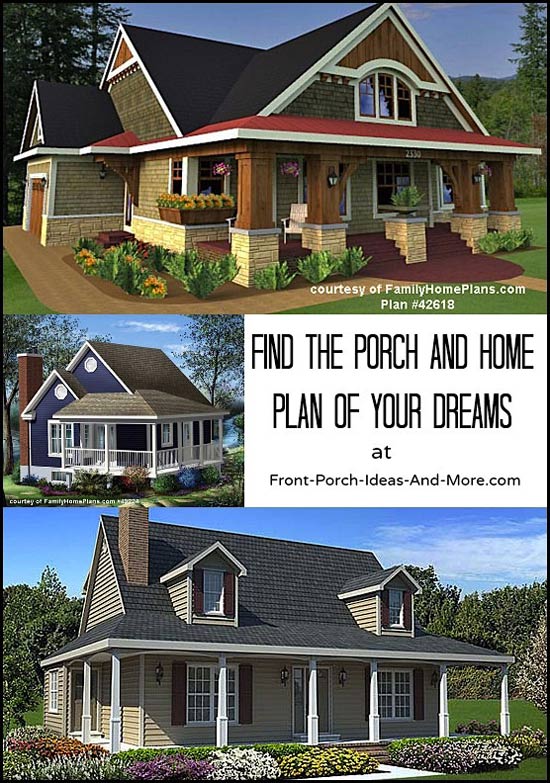 So why not take a look today...
Or Try Our "My Home Plan" Feature
Alternatively
use
My Home Plan
to choose and even modify (if you desire) your home plan. For example, add storage, windows, enlarge a room, or add an office - do it all online right on our site. See example below.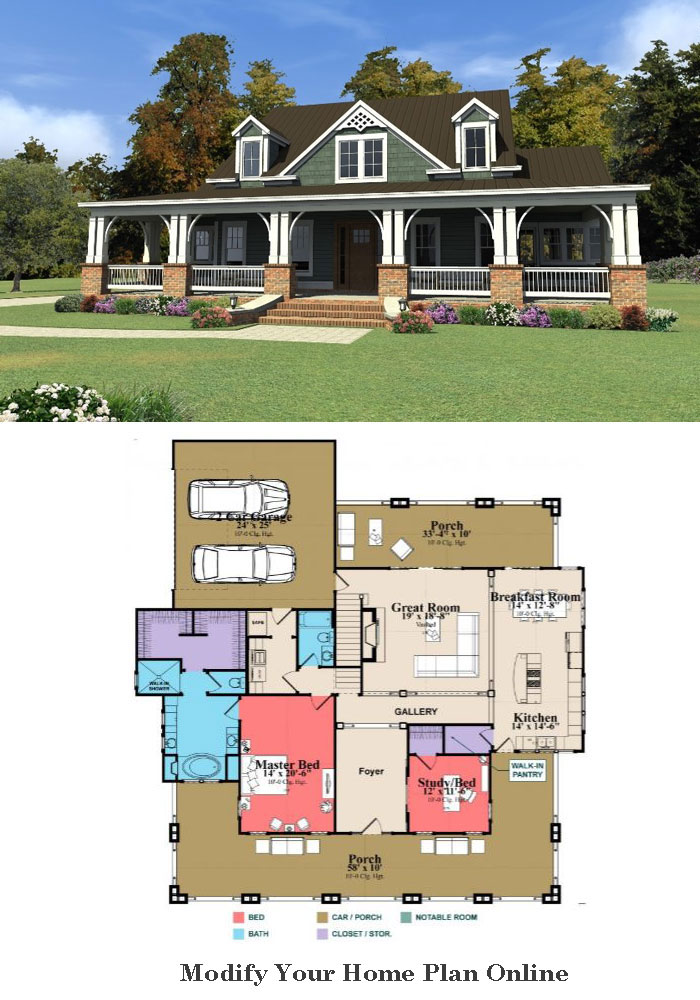 We invite you to give it a whirl.
Sponsored Content
Four Fabulous Porch Upgrades
You can't go wrong with any or all of the following porch upgrades. Each adds beauty, value, and functionality! We are proud that our sponsors offer high quality products and services. Please see how they can help you.











Look at These Porch Enclosure Ideas
You've come to the right place! Use one of FamilyHomePlans.com screen porch DIY plans and build your own (or hire a contractor). Start with a screen room and install screen porch windows from DIY Eze Breeze.com to create a three season room!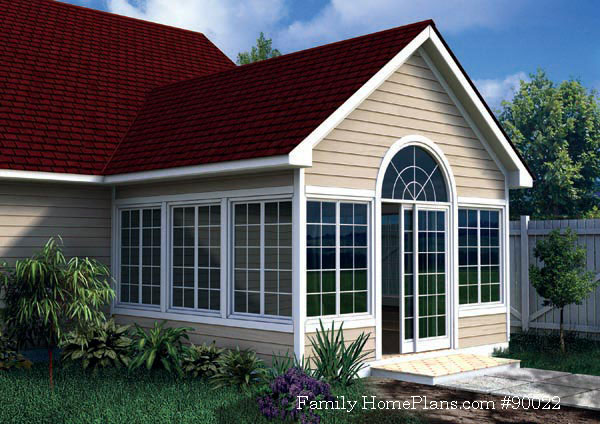 While we are an affiliate of Family Home Plans, the cost is the same to you.
Please see our disclosure.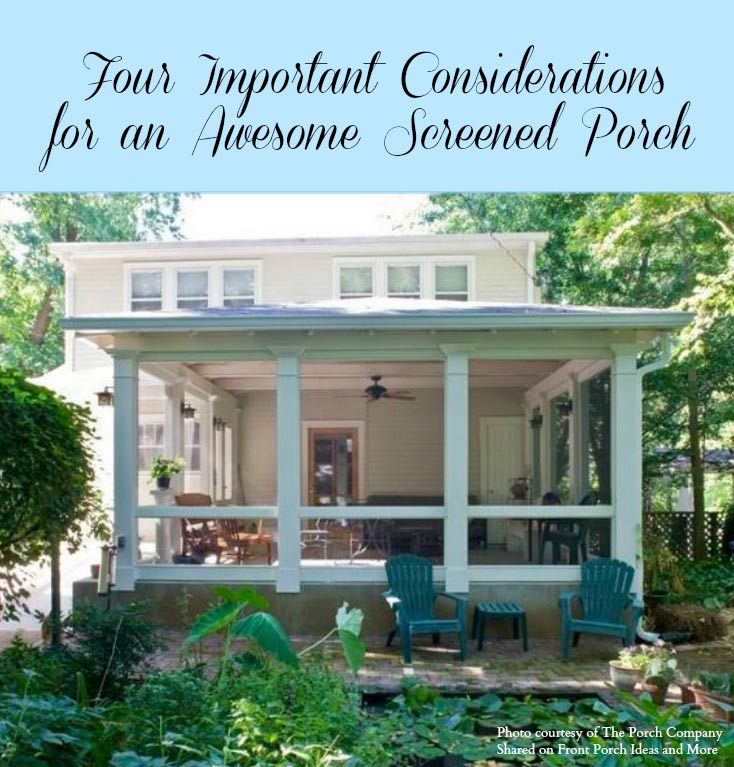 Discover these four important screen porch considerations from The Porch Company
Porch Roof Construction - Do It Right!
We take you inside of porch roofs to show you how it's done. Lots of tips and ideas you can use to build your porch roof.
Rafter installation on new porch roof
Need Help Deciding on a Porch Roof Design?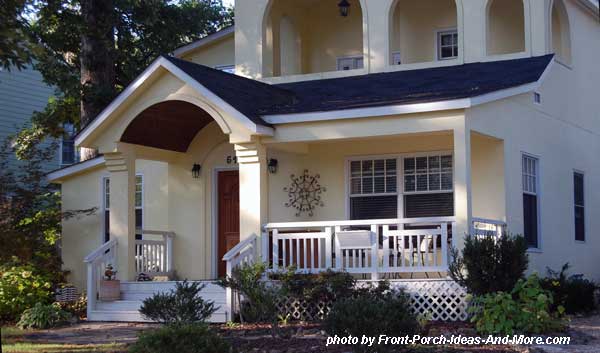 See our porch roof design section for more ideas
This wonderful home has a gable over their front door on the shed porch roof.
Porch Construction Tip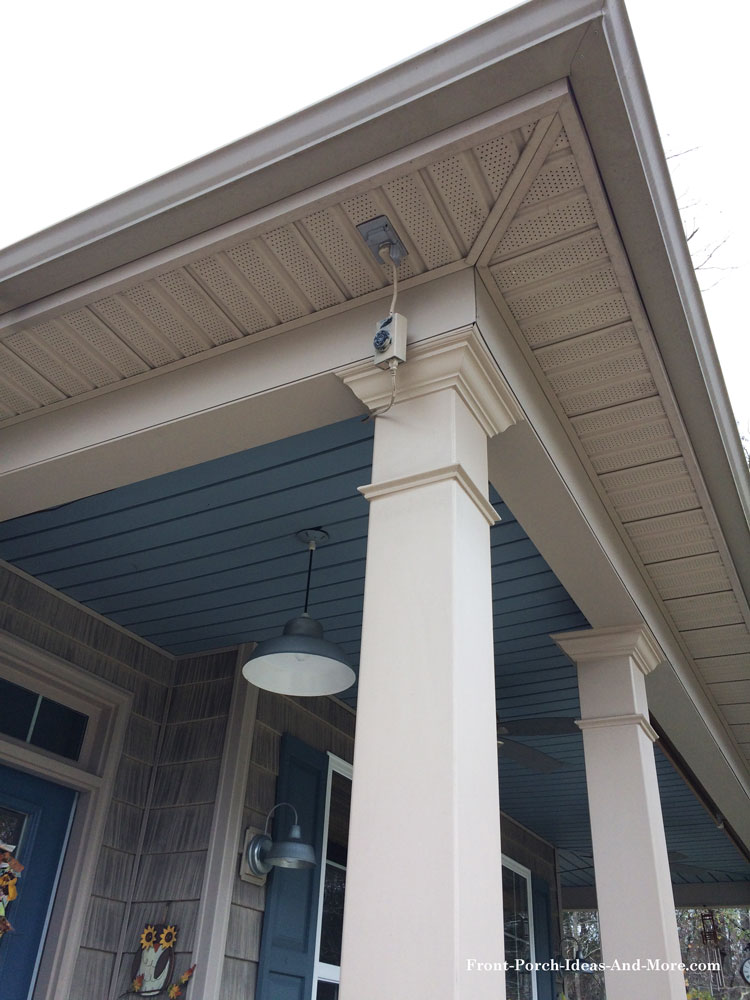 A receptacle in your porch eave is handy for holiday lights
Add an outdoor receptacle in your porch eaves for outdoor holiday lights. This make it much easier to plug in your roof eave lighting and will avoid running extension cords.
Add a timer to make it even easier and don't forget to install a switch inside the front door to operate the receptacle.
Stop by Our Porch Market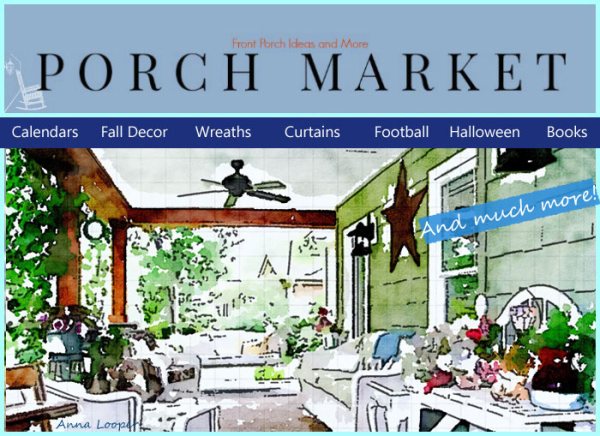 Our Porch Market Offers Gift Ideas and Products Our Readers Enjoy
Have You Tried Our Porch Illustrator?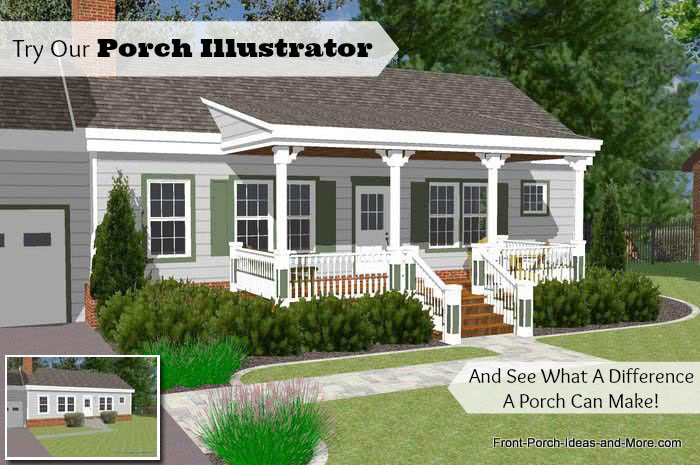 If you have a ranch home, our Porch Illustrator will give you some idea how a porch would look on it. Try it!

We also have a Porch Illustrator for a two-story-home, too. Both very helpful with planning your front porch designs.



Our Picks
Our Front Porch Ideas Generator
Our 140 page ebook includes many before and after pics. Case studies from real homeowners of how their house might look with a wonderful front porch
See more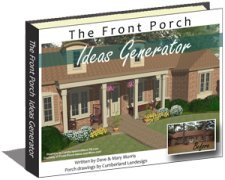 Small Porch Plans in an eBook
Do you have room for a small porch on your home? Then check out these good looking porches. You get six front porch designs (plans) in a 37 page PDF.
See more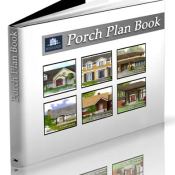 Our Idea Book to Help You Nail Down Your Porch Design
We get lots of questions about how a porch would look on a ranch or two-story home. Take a look at our
Porch Illustrator e-Book
to see how a plain home is transformed with the addition of a porch.
See more.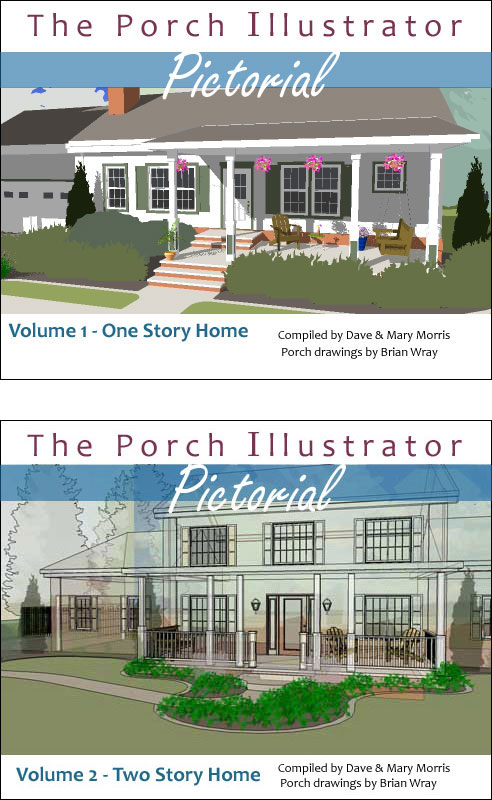 Our Site is a Labor of Love
As Dave and I have looked at homes over the years and strolled through neighborhoods, we have always been drawn to charming front porches. We've lived in homes with big porches, small porches and no porch (sad!).

We once purchased a home just because it had a screened porch. And that was a terrific decision.

Dave and I use our passion to bring you the best porch decorating and design ideas for your front porch.

We hope that our front porch designs, decorating and entertaining ideas will help you whether you have a front porch, side porch, or a great back porch!
---


You will find many front porch designs and porch pictures throughout our site.

Our front porch pictures will help you visualize and plan your projects.

Thinking of building or renovating a porch? From stone columns to renovating to building a new porch from scratch we have photo gallery pictorials to show you how it is done.





The Amazon ads are our affiliate links. Thank you.








Popular Pages
---
Our Sponsors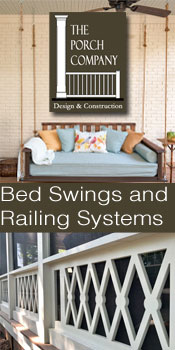 Porch Store
Custom Porch Products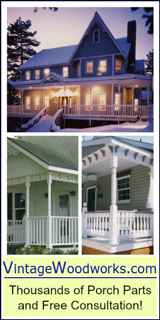 Vintage Woodworks
For Your Porch Parts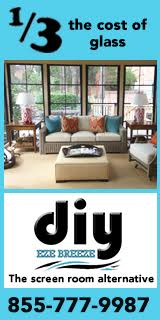 DIY Eze Breeze
Screen Porch Windows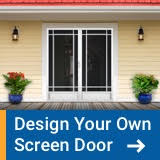 PCA Products
Complement Any Home
End sponsor section
---
---
Copyright© 2008-2018
Front-Porch-Ideas-and-More.com.
All rights reserved.
Content and photos may not be reproduced
in any way without our written permission.