Screen Porch Windows
Fantastic Porch Enclosure with Retractable Windows

With these retractable screen porch windows you only have to provide the openings. Porch windows make converting your porch, screened porch, deck, and even your garage into a three season room as easily as we've seen.

Convert your screened porch into a comfortable outdoor room at a fraction of the cost of glass panels. Designed to fit almost any size opening, you can easily install porch windows yourself or hire a contractor.


If you purchase an item through affiliate links within our content, we may earn a commission. As an Amazon Associate we earn from qualifying purchases. See our disclosure policy.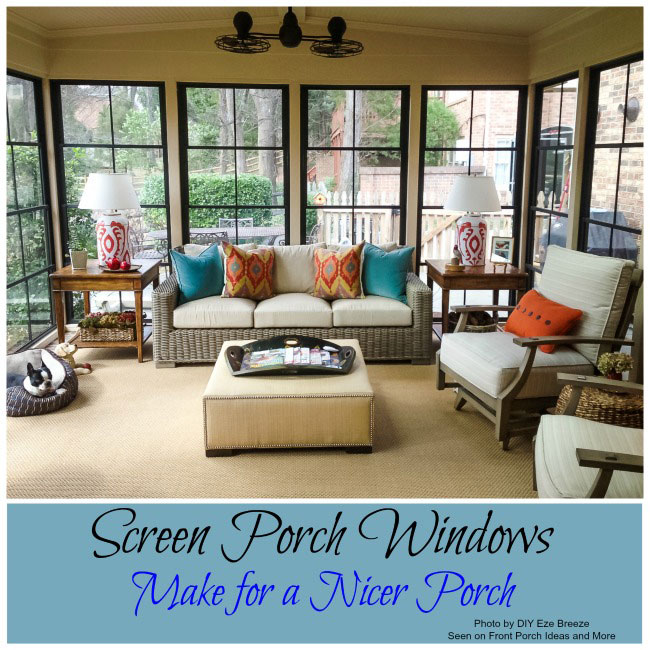 Want to enjoy your screened porch without so much dust and pollen?

If you suffer by what we call "pollen pollution" from the likes of oak, pine, cedar, or other pollens, screen porch windows will reduce the pollen count so you can enjoy your porch more.

And your porch furniture will love you for it.

Mary and I know many people suffer with allergies or live in dust-prone areas and cannot enjoy their porch like they wished. But with these windows, your opportunities for porch time are greatly expanded.

Dine without bugs or wind on your screened porch. Or open the windows for a lovely breeze.
Mary and I are showcasing PGT's Eze-Breeze ® screen porch windows as an option to create your own three season porch.
We Visited Pat's Back Porch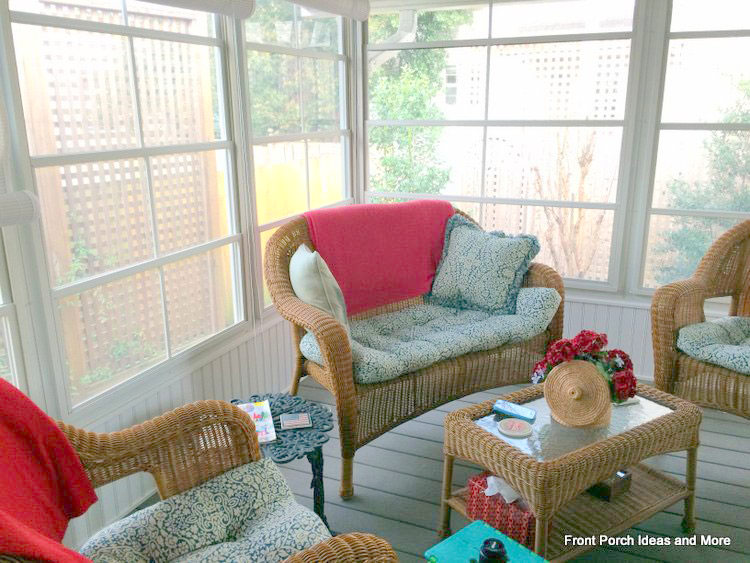 Pat loves her screen porch windows
Our friend, Pat, invited us to visit her back porch and to show us her awesome screened porch windows. We really like how versatile and light they are.
Video: Pat Demonstrates Her Porch Windows
In our video above, Pat demonstrates how her porch windows open and close in various configurations. She says she eats her meals on her back porch every day.
That's a wonderful testimonial to her back porch windows.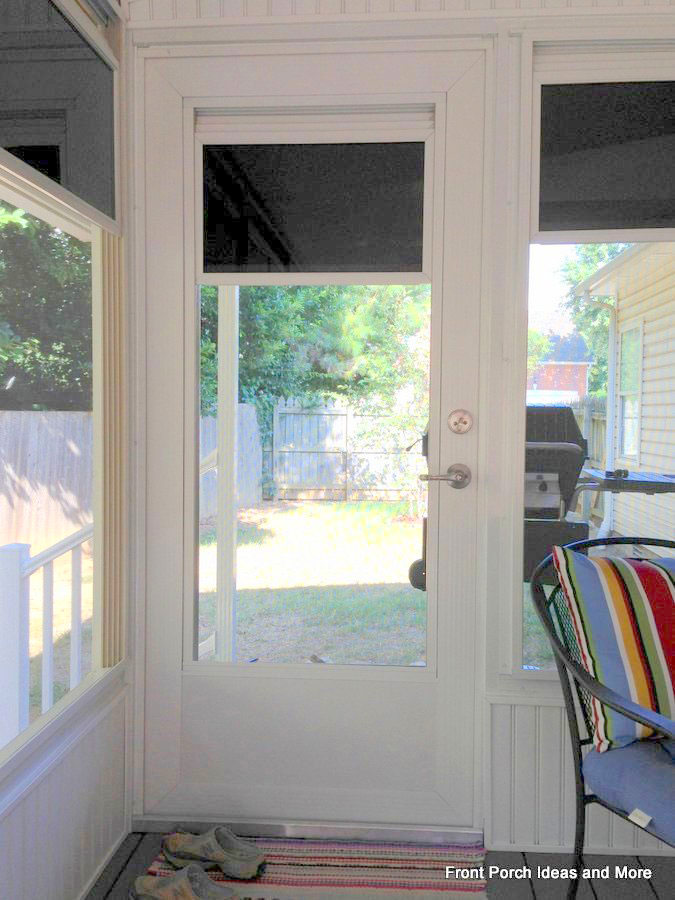 Pat's screen door operates like her windows.  And we also appreciated how substantial her screened door is - even with a deadbolt lock.
Aesthetically Pleasing Window Design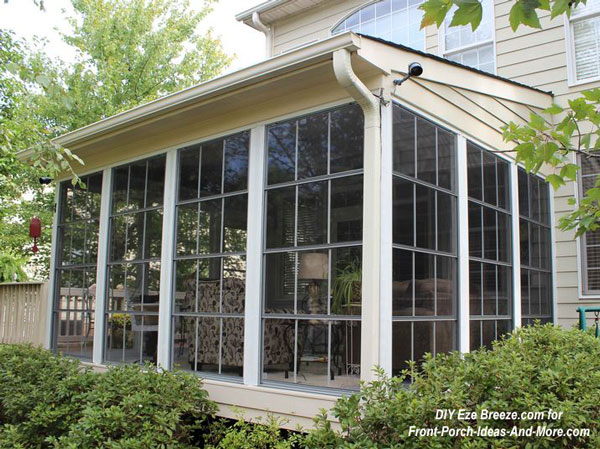 Imagine enjoying your porch nearly year round
In some places, depending on your climate, of course, you could enjoy your screened porch all year round comfortably. That would be a dream come true.

From Screens to Windows - Just Like That!
It takes little effort to convert your three season room from screens to windows. Designed for efficiency, these windows stack and they store right in place.

Just like inside your home you can open the windows or have them down when it's cold outside (or pollen in the air). One of the differences between these windows and those inside your home is that you can open them up 3/4 of the way versus traditional double-hung windows that only open halfway. That means you can enjoy all those lovely breezes so much more on your porch.

The less you have to do the more you you can enjoy your porch.
Video: Watch This to See How Easy It Is

Screen Porch Windows Vs. Traditional Glass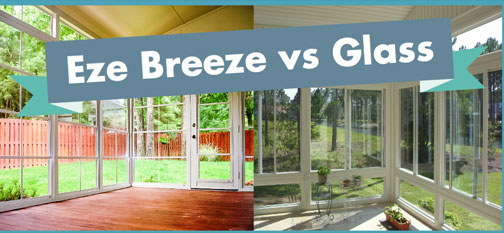 Although not hurricane proof, they can withstand strong winds which is very commendable along with keeping out rain, snow, dust, and pollen.
Mary and I like that they are an alternative to glass windows.

Made from the polyvinyl ("memory material"), Eze-Breeze ® windows can be distorted (like you see here) but then go back to their original shape. 
Here's Our Little Screen Porch Window Story

We once had a wonderful screened porch with glass panel inserts. We had to store the glass panels during the summer which meant we had to install and then remove the panels twice a year. Oh how we wished we would have had retractable screen porch windows.

Almost inevitably, we would crack several windows either during installation (or during removal) of the windows over the years and actually broke a few transporting them back and forth from their storage location. Replacing the glass was expensive.

That won't happen with porch windows like these.They are extremely durable and rugged 10-mil vinyl glaze panels. This flexible material is transparent, will not shatter like glass, and stores in place. While we don't have them ourselves (yet!), we know people who do and they tell us they enjoy these windows.

Porch Windows Installation
Not only are these screen porch windows as shown here less expensive than glass, but also  easy to install thereby saving you money if you install them yourself.

If you can measure accurately and can follow step-by-step instructions, you probably possess all the skills necessary to install these porch windows yourself. Or, if you prefer, a reputable contractor or handy-person can do it for you.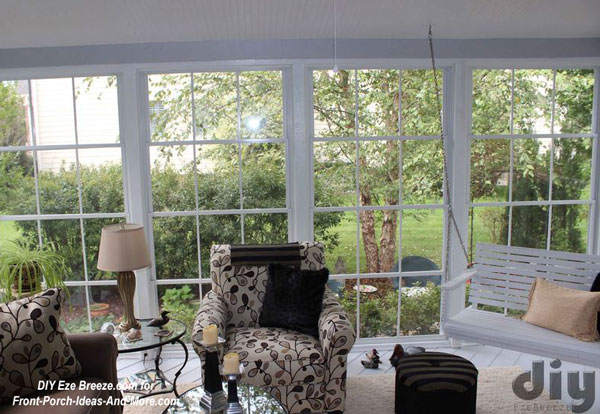 The joy of having three season porch windows
Please note: The information provided below is based on installing porch screen windows between your existing framing. If building a screen porch or porch addition on a deck, patio, or from the ground up, please see our "how to build a screened porch" section.

Measure Accurately
This is perhaps the most critical step in the process of creating your new outdoor room. But have no fear, we found videos you can review to ensure your measurements are precise. Here's an example below and a link to other pertinent videos for your viewing pleasure.


Important Note: No matter what porch windows you choose, measure accurately. This one tips will save you headaches later. Most, if not all, manufacturers and distributors are not responsible for your measurements. Because they are custom made, once the production process has started, the order is more difficult to change or cancel.

As they say, "Measure twice so you only have to order once!"

Time to Install
Mary and I recommend you watch this short instructional video to see how easy it is to install Eze-Breeze ® porch windows. It is a great way to evaluate whether you can install them yourself or hire a contractor to assist.
Screen Porch Window Options
Vertical or Horizontal Windows
Four track vertical windows
Horizontal windows from EzeBreeze
More Window Options to Consider
With these  porch windows that you close during the coolest seasons and open during the porch sitting seasons, you have several options. In particular, you can usually choose the type of screening you get (standard or finer mesh to keep out the small bugs), the color of the window frames (to coordinate with your home) and the tint of the vinyl windows themselves (to cut down on glare and heat).
While tinting keeps the sun to a minimum and reduces heat, we also noticed on Pat's porch that when the windows are "stacked" in the open position, the tint becomes more prominent, cutting down on light in your porch.  Just something to mull over when deciding which tint you'd like, if any.
How About This Idea for Screen Porch Windows?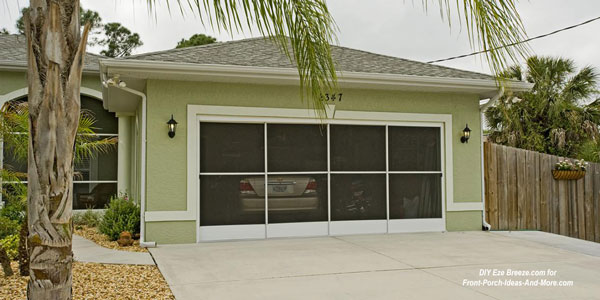 Convert your garage into a screen enclosure with these windows
I remember as a teen, my father and grandfather building large screen panels to fit across our garage door opening to create an enclosed screen porch.

Mom and Dad enjoyed many hours relaxing in their new screened porch, playing cards and entertaining friends. Although Dad was ahead of his time he would have loved the versatility of screen porch windows like these.

It doesn't get much easier than this to create your own screened porch enclosure or three season room than with the right screen porch windows.

These windows present themselves as a more affordable option than glass windows, more durable, safer and greater functionality. We have asked several people who have them if they are durable over time and easy to clean and they tell us yes.
---
Want More Information?
We appreciate the kind people at  DIYezebreeze sharing their photos with us. If you're interested in exploring porch windows like these, please go to their Eze Breeze windows headquarters here.  Look for a dealer in your area to assist you.