If you purchase an item through affiliate links within our content, we will earn a commission at no cost to you. As an Amazon Associate we earn from qualifying purchases. See our disclosure policy.
Porch Enclosures
Choices from Simple to Custom
Porch enclosures turn your porch into a sun room, screen porch, or 3-season room and can be done without breaking the bank. Mary and I love enclosed porches because they allow you to enjoy the outdoors in more comfort.

Let's wade through the options together.

Enclosures range from outdoor curtain systems and simple DIY in-a-weekend kits to more complex units that are installed by technicians.

Whether you opt for curtains or an elegant open air system, there's an enclosure to fit just about every need and budget.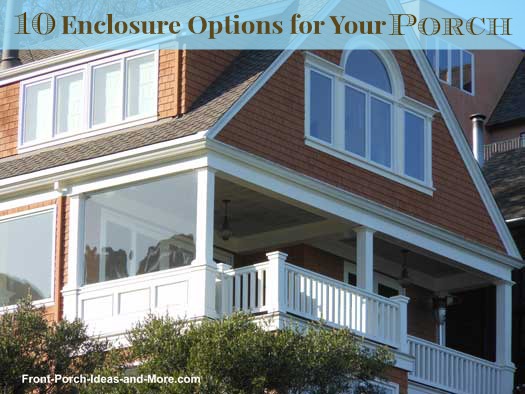 Vinyl window enclosure
Great for blocking rain, snow, or wind without losing your view
We found that it's not easy finding information about enclosure options. Let us sort it all out for you.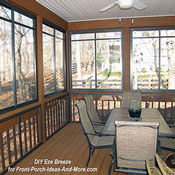 1. Screen Porch Windows
A do-it-yourself solution that we personally love.
Makes it really easy to enclose your porch, deck and even your garage if you'd like.
Windows are custom made to fit almost opening width making them very easy to install.
Learn all about these innovative porch windows
. They might be the solution you've been looking for.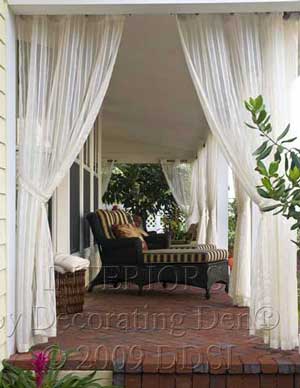 2. Outdoor Curtains and Outdoor Drapes
Add elegance and ambiance by using outdoor curtains or outdoor drapes on your porch, screen porch, 3-season, and four season porches.
Porch curtains move with the breeze and add a whimsical touch to your porch.
Make your own outdoor curtain panels
.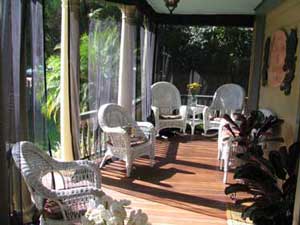 3. Attractive Mosquito Curtains
Mosquito curtains, a very specific type of porch curtains
, are an easy way to enclose your porch, deck, or patio without the expense of screening your porch.
These are ideal for almost any geographical location where mosquitos and other insects are a nuisance.
Note: Photo is courtesy of The Larelle House Bed and Breakfast which has now become the Dickens House Bed and Breakfast.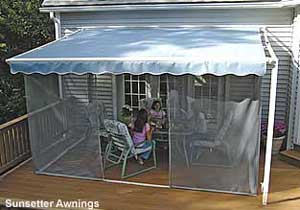 4. Screen Porch Awnings
Screen porch awnings
are a simple and inexpensive way to convert an awning into a screen porch.
This semi-permanent structure allows you the flexibility of using throughout the season or just for times when you need it.
This product is an easy DIY project.
(photo by SunSetter.com)
5. DIY Screened Porch Kits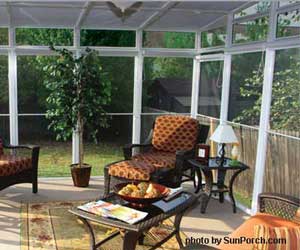 From standard packages to custom-made
, DIY porch enclosure kits are great for adding space and prolonging your outdoor enjoyment.
An enclosure allows you bug-free outdoor enjoyment
It gives you shelter from the elements and provides instant shade to keep you cool
Practically maintenance free; most are made from aluminum
Adds beauty and awesome functionality to your home
Our Little Story
When we lived in New Hampshire years ago, Mary and I purchased and installed a DIY screen porch enclosure kit like the one pictured below and were glad we did. We enjoyed the additional family space for meals and relaxing.
It was an excellent investment. We entertained friends and neighbors often and our sons have nice memories of time spent there.
Depending on your geographical area, these may be seasonal structures as they are not constructed to bear the weight of snow or ice. However, they are very easy to install and store for winter if needed. They are three sided and attach to the side of your home; perfect for decks or patios.
See This Patio Mate 10-Panel Screen Enclosure And More - (Amazon affiliate link for which we may receive a commission)
6. Sophisticated NanaWall ®
Open wall systems
give you many options.
An open wall system blends indoor and outdoor spaces of your residence with unobstructed views.
7. Pre-Constructed Window Wall Systems

by Artistic Enclosures, Inc.® Called the The Sunbreeze® Cambridge System, Mary and I think this appears to be an awesome porch enclosure system. Walls (with windows) are pre built to size and then connected together at the building site.

A really neat feature is the windows can either slide or swing to open - which allows maximum air flow and versatility.

With vinyl sashes and frames you will not have to paint them and they are energy efficient too. They come in standard sizes (4x7 feet) with two knee wall heights of 18 or 28 inches.

We think these would be ideal as a screen porch or three season porch option. Learn more about them at artisticenclosures.com




8. Build Your Own Enclosure
You have several different options, any one of which may be just what you need.

Photo courtesy of The Porch Company
See our section on building your own
screen porch
. You just might be surprised at your options like a
walls only
kit! Check it out!
Quick Porch Enclosure Idea
Here's a versatile and easy way to create a porch enclosure, especially one that you can open and close at will to block the wind or to offer privacy when you need it.

Attach shutters together with hinges to extend half of the length between columns. Make two sets for each span. Attach shutter assemblies to the columns. Use an eye and hook to latch the shutters together in the middle.



9. Custom Built Porch Enclosure
Although not everyone can afford to have a custom designed screen porch or three season porch, it is the perfect option for acquiring a one-of-a kind enclosure.
Many of them have built in fireplaces, sophisticated lighting, and exotic flooring. Whether you are considering one or not, you might want to see some photos of
exquisite custom screen porches
to get ideas for your own enclosure.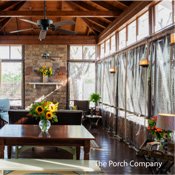 The Porch Company also has another innovative idea -
all season porch curtains
. These high-quality acrylic panels can extend your outdoor time by blocking inclement weather yet they allow for maximum views. If you have a screen porch or are planning to build one - check these out too!
Note: These clear curtains are currently only available to Nashville-area customers.
10. Convert Your Porch to a Three-Season, Sunroom, or Four Season Room
Why not extend your outdoor time by adding features to turn your porch, patio, or deck into a three season, sunroom, or even a four season room.
It really isn't that difficult to do because the framing is already in place. Add porch windows or insulated glass windows, insulation, a heat and/or cooling source, a little siding to the outside and you have the makings of the perfect outdoor get-a-way spot you can use year round.
See our three season porch and sunroom ideas sections and start planning today!


Advertisement


Use These Tips When Choosing a Porch Enclosure
Go for the Most Space You Can Afford and Accommodate: he most prevalent mistake Mary and I have discovered is that many people build or install an enclosure that is not large enough. Under most circumstances, you won't regret having a larger enclosure.

Consider how much space you have available and determine how you will be using it. Mary and I prefer to have both an enclosure and open space for grilling and sitting out under the stars.
Tips on Cost Cost is always a consideration. If feasible and within your budget, opt for a higher quality enclosure. It will last longer and wear better than less expensive models. This could possibly save you money in the long run. Respect your budget though!
Choose Your Best Location: If you have options, locate your enclosure for enjoy privacy. In addition, consider the movement of the sun across your enclosure. Try to avoid the heat of the sun or winds, if you can.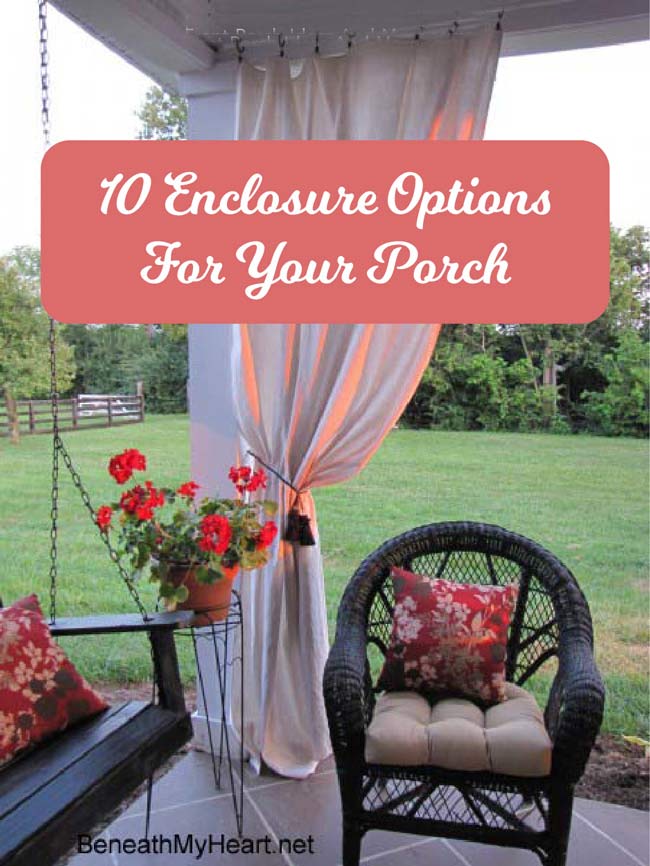 Easy way to enclose your porch - outdoor curtains
Traci of Beneath My Heart shows you how
The two of us hope you enjoyed these ideas for enclosing your porch.
Helpful Links
Popular Pages
---