In the Tennessean
See more places where we have been
featured
.
On Blog Talk Radio

We were featured on Scott Nelson's BlogTalkRadio show
and we got to talk all about front porches with Scott.
Scott
is a Realtor/IT Manager and Relocation Director for
Wolfson Cutler Real Estate in Medford, Massachusetts.
If you cannot see the audio player, then you do not have the latest
Flash Player browser plug-in from Adobe. Download it for free
here
.
Why a Niche About Porches?
We have always been fond of porches. I grew up in a home with a large country style porch and Mary fondly remembers visiting her grandmothers' home with a large porch.
Not too long ago I had the opportunity to sit on a friend's cabin porch - I sat there all day doing nothing. Quite unlike me but it was great!
We have lived in almost the four corners of the United States so we have seen how people design, decorate, and entertain on their porches.
A porch is a great place to just relish moments and watch the world go by.
Our goal is to give you great ideas for your own porch
- whether for comfort, convenience, or as an investment in your home. We hope our ideas inspire you to increase the curb appeal of your home or to simply have more fun on your porch with friends and family.
If you want to know what tools we use for our business and how we got started, just
skip ahead
.
When we lived in Nebraska, we purchased a home because we loved its porch so much. It was a screened porch that overlooked the backyard. Mary and I enjoyed reading the newspaper out there and entertaining friends and family. We even
slept on our screened porch
on many evenings.
What's in a Porch?
Porches are the first thing you see on a home. Ever pass a home with a great porch and notice your eyes linger just a bit? A great porch stands out. So much so that you may not be able to describe the house later, but you will remember the porch!
Even small porches can reflect your personality and add great curb appeal.
Love What We Do and Appreciate You Stopping By
We've turned something we love into a business that will take us into retirement. Mary and I work on our business together at home at our
kitchen table
.
We began thinking and planning our site in late 2008 and it has blossomed into what you see today. One page at a time. We are amazed and appreciative of the people who visit our site.
We hope you like the
casual and personable
feel to our site. We put a lot of passion into what we do.
It's the most fun work we've ever done. It's nice waking up every day to go to work at our kitchen table. And the best part, Mary was able to quit her job!
Now that we have more flexibility, we take our business wherever we go and it works for us even when we are not working.
Because our site is an informational site about our love of porches, we don't handle any inventory or shipping.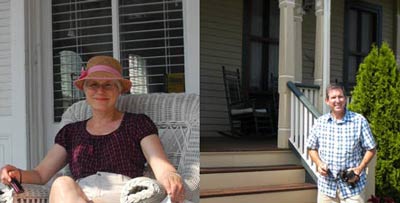 Enjoying a "porch looking" trip to Cape May, New Jersey
It's a tough job but someone has to do it!