Front Porch Appeal
Summer Porch Fun!
Issue #79 July 2016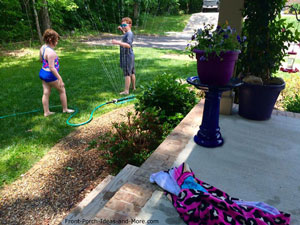 July - family vacations, beach time, catching lightning bugs, sports camps, visiting relatives, and eating ice cream cones, s'mores and more!

Mary and I hope you make time to be on your porch to enjoy a sunrise, a summer evening, or just to watch kids running through sprinklers. That's what we like to do.

Take a break from your hectic summer days and read a book, play a game of checkers with your kids, or watch a summer storm roll in and remember:



"Even a hummingbird sits a spell."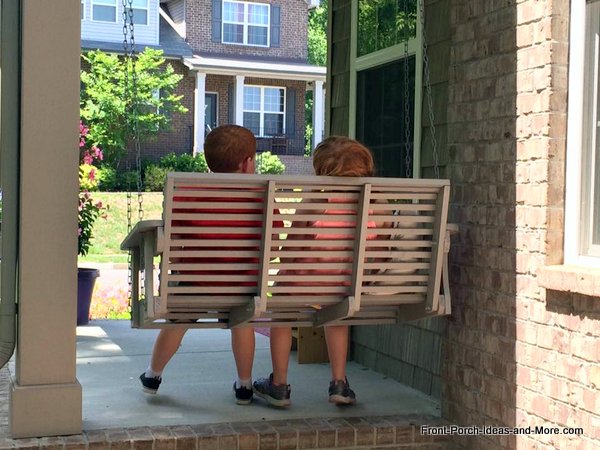 A Front Porch Swing -

The perfect place from which to enjoy the summer



Two of our younger grandchildren gravitate to our front porch swing. On the swing they play pretend school, have brother-sister conversations about life and just swing away in a carefree fashion.




Enjoy Summer Refreshments on the Porch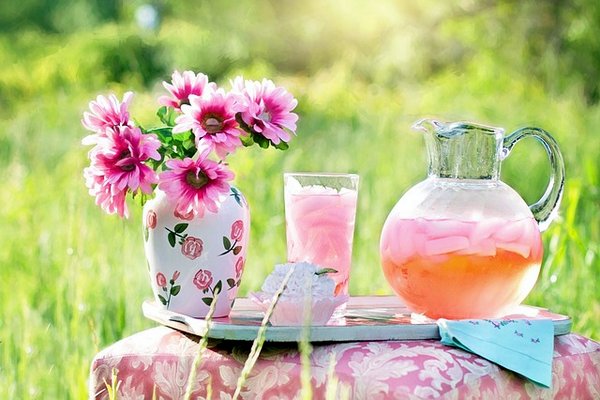 Nothing speaks summer like a pitcher of fresh lemonade. Did you ever wonder what makes pink lemonade the pink color? We wondered and looked at recipes. The pink is a bit of cranberry juice, strawberries or red food coloring.

Have you made pink lemonade with any other ingredient?

Our friends Danny and Donna make the best traditional lemonade we've ever tried and here is their fantastic fresh lemonade recipe.



Summer Porch Parties
Your porch can be the perfect place to have celebrations for summer birthdays, homecomings, welcoming relatives, and other festive occasions.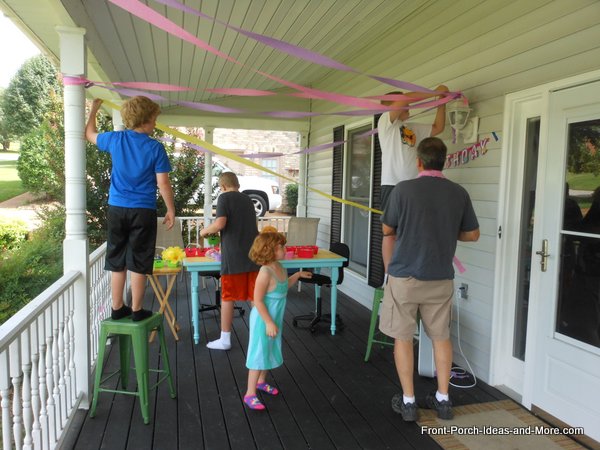 Getting ready to party on the porch!



Check out more of our porch entertaining ideas!


---
Front Porch Flower Power
Add color instantly by using flowers to decorate your porch. Here's an example of how two of our contributors, Bev and Yvette, decorate with beautiful floral arrangements.




Bev's front porch is truly beautiful in the summertime. Such colorful, flourishing flowers!


---
Add a Pop of Red
Here's a quick way to dress up your front porch or stoop this summer. Just add a little red to make it pop! It doesn't take much to create some pizzazz on your porch.

Get more ideas in our "Decorating with Red" section.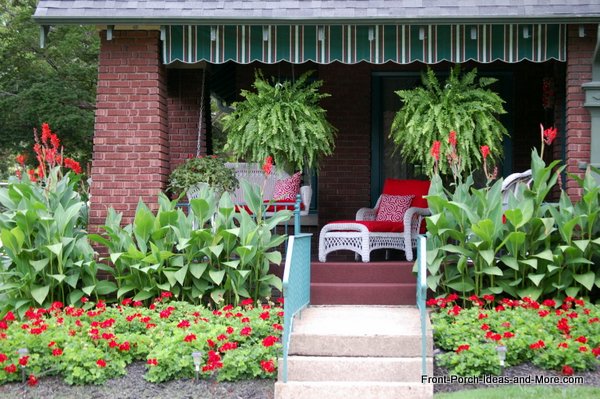 A Touch of Red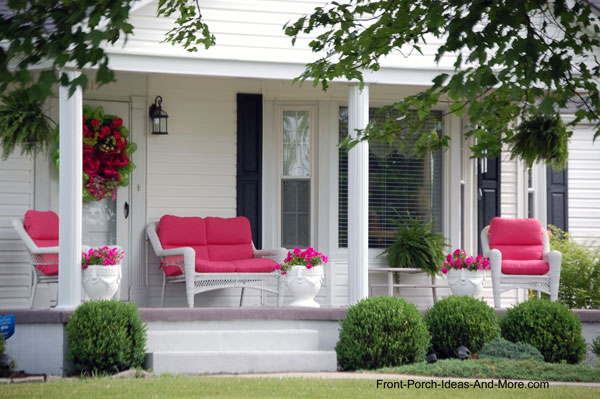 We love the red cushions and vibrant red flowers on this inviting summer front porch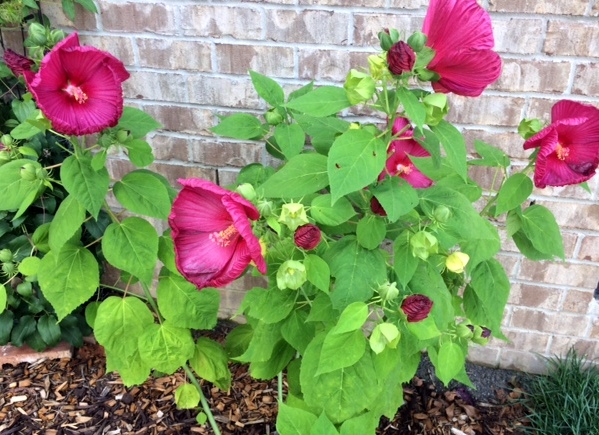 Dave transplanted our hibiscus a few weeks ago.



And even when it was blooming! This gorgeous plant (in its second year) has survived in the extreme heat and produced dozens of beautiful red flowers. This is our first hibiscus. How about you? Do you enjoy a hibiscus in your yard this year?


---
Solve a Lawn Drainage Problem
It's never "fun" to have a lawn drainage issue but it is fantastic when you can confidently fix it.

Many parts of the country have received immense amounts of rain. Here is one way to resolve a drainage problem around your porch. This worked for us.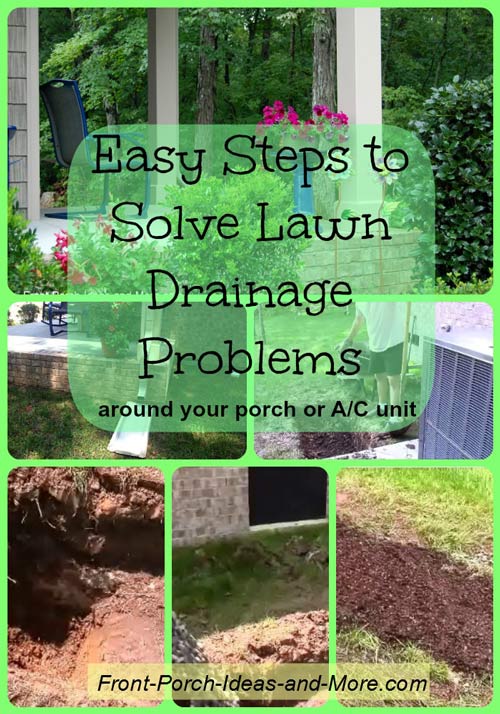 Dave Explains How He Solved Our Lawn Drainage Problem
Dave Explains How He Solved Our Lawn Drainage Problem
---
Looking for Potential Porch Calendar Photos
Mary and I are creating a 2017 Porch Calendar and are looking for porches to feature from around the country. We want to feature real porches and yours may be just the one we want to feature.

So dive into your archives and find a photo. We are depicting seasonal pictures so it doesn't have to be a summer photo - fall, spring, or winter would be great too.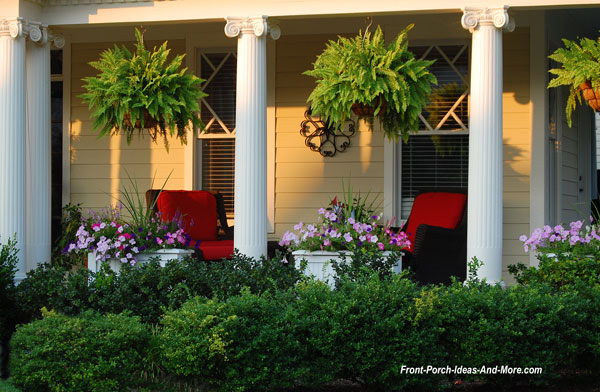 If you would like your porch considered for our 2017 porch calendar, please send an original-size photo(s) by email to: info(at)front-porch-ideas-and-more.com


---
Use Our Interactive Home Plan Tool
This is so cool! If you haven't used it yet, check out this neat interactive home plan tool. Choose a plan and modify it right online. Then send your changes directly to the designer - how easy is that!

If you are planning to build a new home, this tool is for you. Purchasing home plans online is far less expensive and you get to work with the designer to make it your "perfect" home!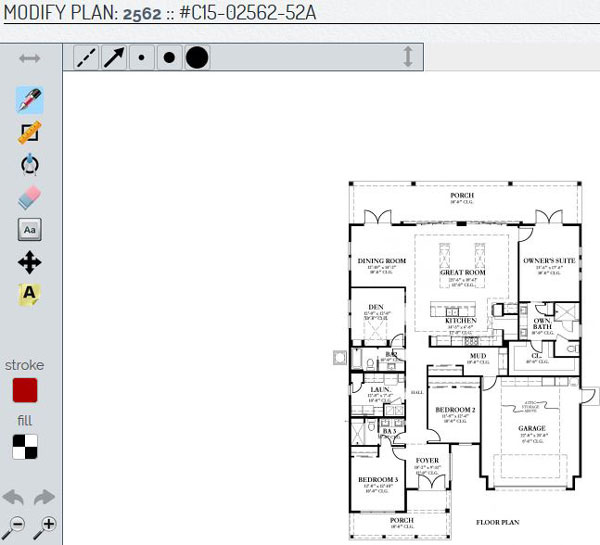 Interactive Home Plan Design Tool
Now you can enlarge a room, add a closet, or create the porch of your dreams!
Use it today
!
---
Please Visit Our Fine Sponsors
We truly value our sponsors and the products and services they provide.









Join Our Porch Community on Facebook
You're invited to be part of our Facebook community. We share ideas with one another for decorating and using our porches. We have over 9,200 porch friends and would love to count you among them.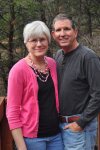 Happy porch sitting from your friends,

Mary & Dave


Life is short. Enjoy your porch.



---


We may receive a commission if you purchase a product you see on our website (affiliate link).





Porch Home

/

Newsletter Signup Page

/

Back Issues

/ July 2016






The Amazon ads are our affiliate links. Thank you.








Popular Pages
---
Our Sponsors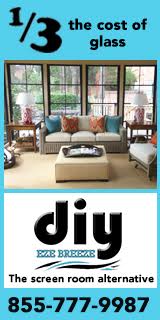 DIY Eze Breeze
Screen Porch Windows
Vintage Woodworks
For Your Porch Parts
Porch Store
Custom Porch Products
PCA Products
Complement Any Home!
End sponsor section
---
---
Copyright© 2009-2017
Front-Porch-Ideas-and-More.com.
All rights reserved.
Content and photos may not be reproduced
in any way without our written permission.