Special Front Porches
There is just something special about front porches. No matter the size, they can be quiet respites from which we can watch the world go by.



They are places for making memories, for celebrating events, for welcoming home loved ones, or sadly saying goodbye.

They are places for taking pictures, for eating ice cream cones on the porch steps, or receiving your first kiss.




photo courtesy of the

Bed and Breakfast at Prospect Hill





Whether you like to curl up on a porch swing and read a book or visit with neighbors on a hot summer evening, front porches are very special places. Mary and I believe porches are "free therapy for the soul".




Welcoming Living Spaces
To get the most value from your front porch design, decorate, and landscape it as an outdoor living space. A thoughtful layout will offer you, your family, and guests a very distinctive and welcoming space.




photo courtesy of the

Atlantic Birches Inn Bed and Breakfast





Create an outdoor space that adds both style and symmetry to your home. Porches allow you to express your own personality. Whether you have a small portico or large expansive wrap around country-style sized porch, you can discover a myriad of options for making it your own special place.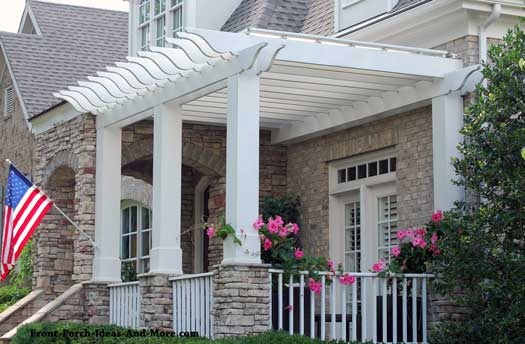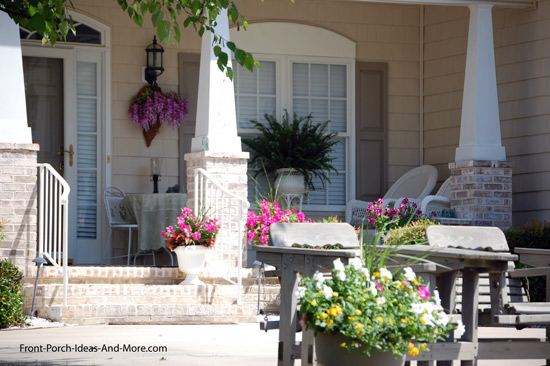 Create your own respite by choosing the right furniture and decorative items along with colorful foliage.
photo courtesy of
Au Petit Chateau
A Front Porch Connected to a Back Porch
If you love porches you are sure to enjoy the porch photo below. It's a porch lover's dream!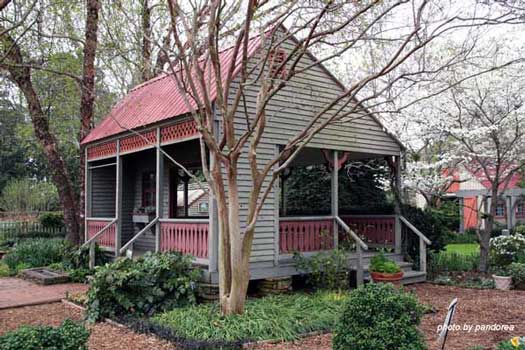 Callaway Gardens - (photo courtesy of pandorea)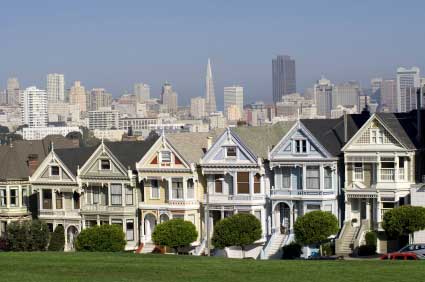 The famous Seven Sisters Victorian Porches, San Francisco, CA

If you are "porchunate", we are glad you are here
Bed and Breakfast Porches
Dave and I love staying at bed and breakfasts and enjoy the variety of accommodations and hospitality. It's a different experience from staying at a hotel. And you get to enjoy their porch!



Bed and Breakfast inn porches are usually furnished with comfortable porch furniture and adorned with pleasant amenities and features. Porch designs range from the very simple like country porches to the ornate on Victorian inns.

You'll find everything from many interesting railing and column designs to outdoor fans, lights, curtains, and awnings. Older historic homes, many of which have beautiful large wrap-around porches remind us of an era gone-by, one where people sat on their porches and visited with neighbors and friends.

All of these types of porches have great ideas for designs, railings, columns, steps, and even landscaping around your porch.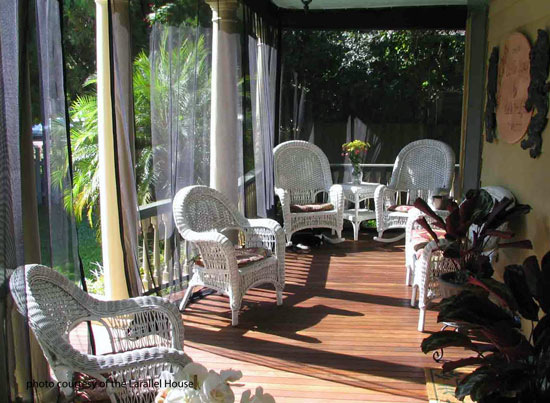 photo courtesy of the
Larallel House Bed and Breakfast
Chinese Porch

The Story Behind B & Bs
In Cuba, bed and breakfast inns are called casa particular; Germans refer to B&Bs as zimmer.

In the U.S., opening one's home to people dates back to Colonial America. Lodging was intermittent in the 1700s, and aside from an occasional inn, travelers relied on the kindness of strangers.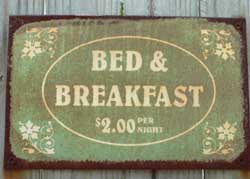 Through the 1980s and 1990s, B&Bs increased rapidly in numbers and evolved from rooms with shared baths and simple furnishings to renovated historic mansions with luxurious décor and amenities.
B&Bs are found in all over the United States and in many other countries. They are located in major cities as well as remote rural areas.
From modest cottages to opulent mansions, from restored structures like schools, cabooses, and churches to boats, B&B inns can be found in almost any structure.





Helpful Links
Popular Pages
---
Our Sponsors
Porch Store
Custom Porch Products
Vintage Woodworks
For Your Porch Parts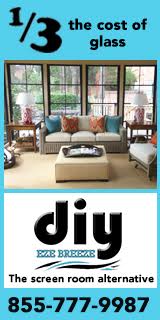 DIY Eze Breeze
Screen Porch Windows
PCA Products
Complement Any Home!
End sponsor section
---
---
Copyright© 2009-2016 Front-Porch-Ideas-and-More.com.
All rights reserved.
Content and photos may not be reproduced
in any way without our written permission.