Program Notes: Creative Exterior House Trim Ideas
Beautiful Porch with Vintage Woodworks Decorative Trim
To hear the full program, please listen here:
Highlights from our discussion with Gregory
Learn the difference between the various decorative porch parts



Discover how to prolong the life of your porch



Find ways to unify the look of your porch



Take advantage of an often overlooked decorative porch part



Discover an easy way to create a false beam



Learn easy ways to attach flat components to round or turned columns
Excerpts With Gregory Tatsch
Porch Longevity
"a lot of people put up their complete balustrade (railings) before they do any priming or painting. That's not the proper way to approach it..."
Sizing Trim
"Even though the size of brackets are a matter of personal taste, it is important to keep in mind a bracket that might seem very adequately sized when holding it in your hand, when viewed from the street it might almost disappear..."
Brackets:
"Brackets are the number one thing a person can do to their porch as far as any decorative trim; " that's a lot of bang for your buck..."
Cornice Brackets
"These are installed at right angles to the horizontal length of the porch on the face of the visible part of the beam approximately 12 to 24 inches apart. You want them pretty close together because it is a pleasing repeating pattern..."
---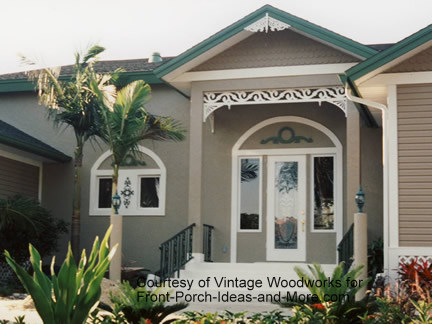 Beautiful ornate spandrel and porch column brackets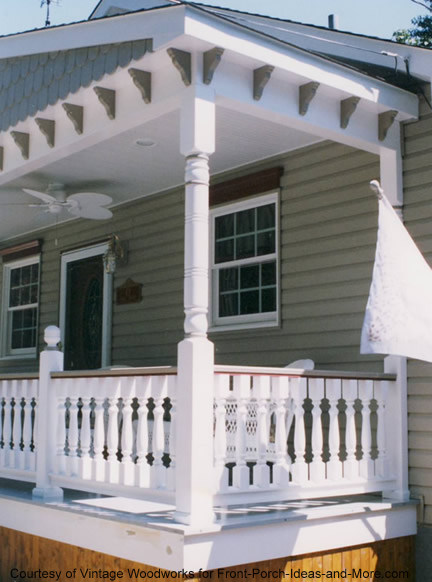 Cornice brackets under porch eaves
Want more ideas for
dressing up your home with exterior trim
?
---
About Vintage Woodworks
Vintage Woodworks was created in 1978 to reproduce old fashioned solid wood handcrafted mill work. Since that time they have grown to be a preeminent company specializing in porch parts. Over the many years, they have helped so many folks add quality and "gracious & peaceful surroundings".
Vintage Woodworks
is a family owned business that brings back yesterday in quality and service.
---
We hope you will listen as that will allow us to keep bringing you more programs from experts in the porch industry. Thank you!
Listen to Our Audio Program: 00:30:26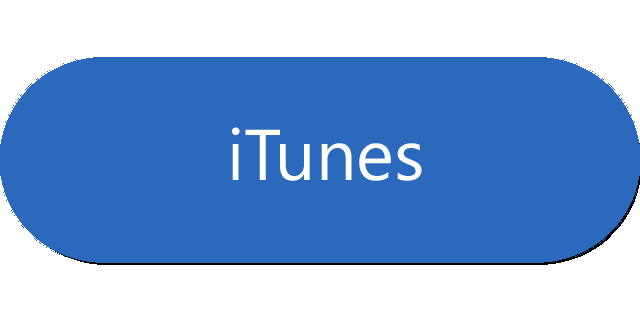 More Audios
Be sure to use our
Porch Ideas Network Directory
to hear more of our audio programs with leading experts in their fields.