Front Porch Designs For Splitlevel Homes
Dorothy from Minnesota writes:

My new home is a split entry design. I would love to have a front porch design with some overhead as well as side protection from the winter winds and heavy snow in northern Minnesota but don't know if this is possible.



The porch is on the foundation while the steps are not (they are sinking into the ground).



Tackle The Porch Concrete Issue
Your porch steps can be raised and stabilized. The process is called mud jacking, slab jacking or injection leveling depending on where you live. I've had it done twice over the years and it works great for just your situation. However, it is very important that you find out and resolve why the steps are sinking. It normally is due to water issues under the slab. So make sure that is fixed as well.

Leveling usually requires drilling a few holes through the slab or steps, attaching a large hose with nozzle into the holes, and injecting a mixture that raises the steps/slab and solidifies to keep it raised.


Splitlevel Porch Design
A porch would really add lots of charm to your lovely home. Based on what I can see from the photo I'd consider a constructing a gable style roof over your existing porch slab. The only issue is the window above the door. There my be insufficient room to attach the roof to the side of your home.

If you like the window, you may want to consider replacing it with a rectangular window just above the door (much like a transom window). That would still give you some light and allow room for a gable roof.

The other option is to construct a shed-type roof although it may be too much of an architectural departure from your existing roof lines.

front-porch-design You may or may not need a porch railing but I think adding one would add additional curb appeal.

To stop the wind, check out installing porch windows from DIY Eze Breeze.com. They are screens and windows all in one, easy to operate, and you won't have to remove them each season. You could install them on each side (or just one side) of the porch if you'd like and leave the front open if you wish.

Lastly, you may want to consider extending your porch slab out a few feet to give you some extra room. This would mean extending the porch roof also which in turn will give you a bit more protection from the weather.

Enjoy browsing our porch designs section.

And you will like the information in our Front Porch Guide. It helps you decide what kind of landscaping and furniture to have for your porch - based on the architecture of your home.













Helpful Links
Popular Pages
---
Our Sponsors
Porch Store
Custom Porch Products
Vintage Woodworks
For Your Porch Parts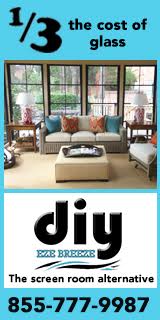 DIY Eze Breeze
Screen Porch Windows
PCA Products
Complement Any Home!
End sponsor section
---
---
Copyright© 2009-2016 Front-Porch-Ideas-and-More.com.
All rights reserved.
Content and photos may not be reproduced
in any way without our written permission.