Listen to Our Podcasts
Welcome to our audio programs where we interview experts about creating a wonderful porch and yard - plus DIY projects.
Thank you for subscribing!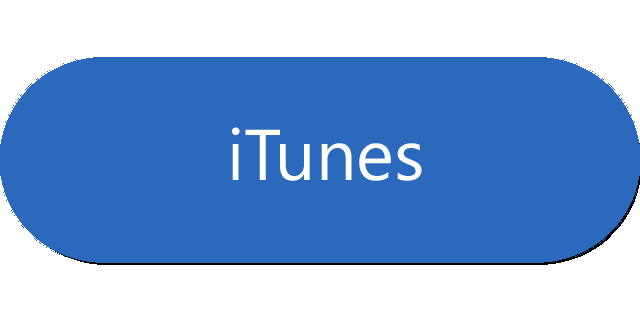 Podcasts by Category
---
Porch Designs
Back to
all podcasts
Purchasing Online House Plans
Jarret Magbee, CEO of Family Home Plans, enlightens us about
purchasing stock houseplans online
. Learn about today's trends, what you should know before getting a house plan and the kinds of modifications you can have done.
---
Modifying Stock House Plans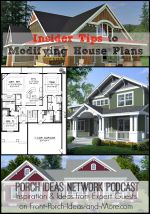 Shawnna Steele, owner of ReDesign HP, gives us an
insider tips to modifying house plans
. Learn about the modifications that she most often sees and why you should focus upon the floor plan more than exterior when deciding upon a plan.
---
The Intrigue of Craftsman Style Porches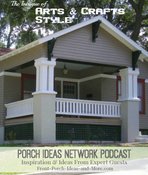 Bruce Goodman and Leisa Collins share their knowledge about the Arts and Crafts Movement and the
beautiful architecture of Craftsman Style homes and porches
. Especially bungalows!
---
Determining Your Porch Needs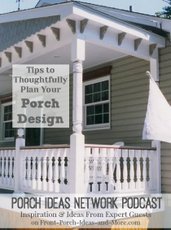 Our guest, Gregory Tatsch, founder of Vintage Woodworks, knows that
great front porch designs happen through careful planning
. Part 1 of a 3 part series.
Understanding the Structure of Your Porch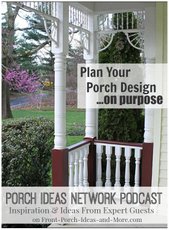 Our guest and sponsor, Gregory Tatsch, continues his discussion on
planning your porch
as he speaks about the structural components of the porch roof, floor, posts, beams and ceiling. Part 2 of a 3 part series.
Decorative Porch Parts
Our special guest, Gregory Tatsch, founder of Vintage Woodworks, shares how
decorative porch parts
can make your porch extra special. Part 3 of a 3 part series.
---
Screen Porches
Back to
all podcasts
What's Better than a Screened Porch?
Caison Craven, Operations, Operations Manager at DIY Eze Breeze, shares wonderful tips for
adding windows to your porch
.
What to Consider When Building Your Screened Porch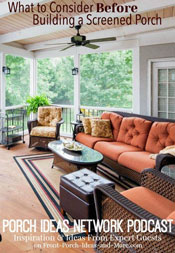 Nancy Moore, Founder of The Porch Company, has some excellent
practical suggestions for planning your screened porch
.
Screen Porch Kits
Our guest, Glenn Smith of Screen Houses Unlimited, tells us about
several options for screening your deck, porch or patio with a screen porch kit
. Kits range from seasonal to permanent or "walls only" and are DIY friendly!
Custom Aluminum Screen Door for Your Porch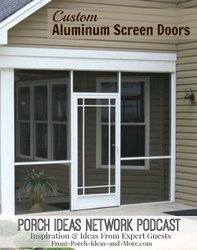 Steve Pfeffer, President of PCA Products, tells us about the
custom aluminum screen doors
that his Tennessee company manufactures. Each one is handcrafted. We enjoyed hearing how his doors help solve common problems.
Enjoy Your Porch More with Screen Porch Windows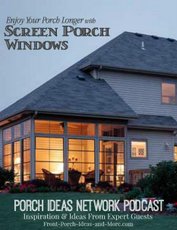 Our guest Sean Laker of the Rekal Company talks about the
benefits and features of screen porch windows
. No more storing and lugging out storm windows for your porch.
---
Porch Decorating
Back to
all podcasts
Understanding Color, Especially for Your Porch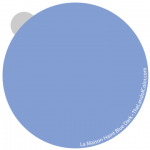 Color expert and strategist, Lori Sawaya
explains color concepts to us
. Very helpful tips I wish we had known sooner!
A Watercolor Painting of Your Home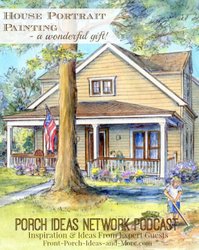 Watercolor artist and friend, Leisa Collins, shares how she creates a
custom watercolor portrait of your home
. Leisa has painted hundreds of house portraits all across America and we love her work
Stage Your Porch to Sell Your Home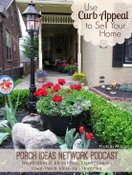 Our friend and realtor, Jeannie Timmons, gives us her best
tips for staging your porch to sell your home
. Jeannie shares stories that will open your eyes to the importance of the front of your home.
Easy Outdoor Halloween Decorations
Our friend and guest, Jennifer Davenport, gives us several
great ideas for decorating our porch and outdoors for Halloween
. Halloween is a favorite holiday of her family and you will hear why!
Jennifer's Autumn Decorating Tips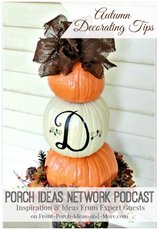 We welcome Jennifer Davenport, an Interior Decorator, who shares
simple yet memorable ways to spruce up your porch for autumn
.
A New Paint for Front Doors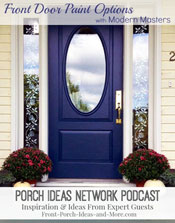 Jim Rogers, President of Modern Masters, shares an interesting story about how his company, Modern Masters, evolved and why they created a
paint that is formulated for the front door
.
Also see
Christmas Decorating
---
Porch Construction
Back to
all podcasts
Foundation Cracking Issues for Porches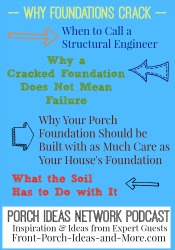 Moises Cruz, Principal Structural Engineer at A-1 Engineering
explains why foundations crack and what that means to homeowners
. Learn why it's important to consult a structural engineer before you call a foundation repair service.
---
Consider Glass or Cable Railings for an Unobsructed View
For an updated look to your home and porch, consider
non-traditional porch railings in stainless cable or glass
. Enjoy a much fuller view when you sit on the porch. Our guest Kevin Harris of AGS Stainless explains why these railings are so popular now.
How to Extend Your Porch or Portico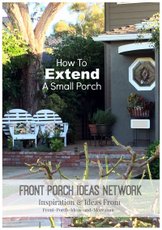 If you want to
extend your porch for extra outdoor living space
, we have some affordable ideas to get you thinking. Sometimes just a little more outdoor space makes all the difference.
Choosing Paint or Stain for Your Porch Floor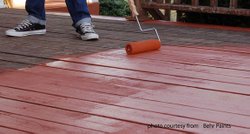 The folks at Behr give us
tips for painting and staining your porch or deck floor
. They help us to understand how to select the right paint or stain for your outdoor spaces.
Creative Uses for Decorative Lattice Panels
Marc McAvoy, Founder of Acurio Latticeworks, tells us about the many practical and creative ways to use
decorative vinyl lattice panels
. Of course, porch and deck skirting are two of the uses. But, there are plenty more.
Outdoor Fireplace and Kitchen Ideas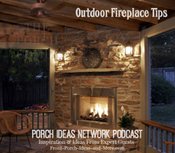 Zach Watson of Embers Grill and Fireplace Store tells us about the popularity and allure of
amazing fireplaces and kitchens in outdoor spaces
.
Metal Roofs Have Come a Long Way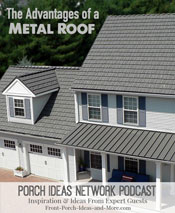 Bill Hippard, President of the Metal Roofing Alliance, shares the advantages and joys of
having a metal roof on your home or porch
. We were amazed at how far metal roofs have come. They are beautiful and come in so many styles now.
Transform Your Wood Porch Floor into Stone
Our guest Bart Stuchell, President of Silca Systems®, shares about his revolutionary product that enables you to
transform your wood porch flooring into stone
with an easy DIY system that he invented.
Expert Tips on Staining Concrete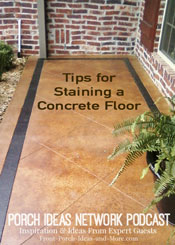 David Goddard of Goddard Designs has his own business staining concrete and he offers
helpful concrete staining tips
that you will want to hear before you begin.
---
Mobile Home Porches
Back to
all podcasts
Affordable Porches for Mobile Homes
Our guest, Bradley Johns, founder of Ready Decks, talks about the
affordable porches and decks
his company builds for both mobile homes as well as traditional homes. In a day, you can have your deck built!
Mobile Home Improvement Ideas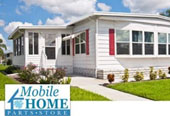 Our guest, Tim Peele, owner of The Mobile Home Parts Store, talks about ways to
enhance the look of your mobile home
.
---
Landscaping
Back to
all podcasts
Fantastic Backyard Makeover
Our guests, Jami and Brian Boys explain their awesome
backyard makeover
that includes a wonderful herb garden, meandering walkways, a gazebo and beautiful outdoor eating area.
Landscaping Around Your Porch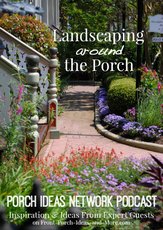 Our guest, nature photographer and plant lover, J. Paul Moore, has you thinking about your
porch landscaping in fresh new ways
Edible Gardening Around the Porch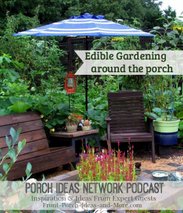 We welcome Troy Marden, a host of Nashville Public Television show, Volunteer Gardener, who shares
helpful tips for planting edible and ornamental plants
in your modern landscape design.
---
Accessibility
Back to
all podcasts
Make Your Porch Accessible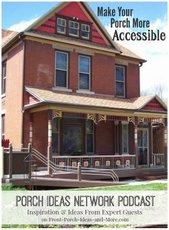 Suzanne Taylor of Taylor Made Contracting discusses
attractive ways you can make your porch more accessible
for people of all ages.
---
Christmas
Back to
all podcasts
Christmas in the Mountains of NC
We welcome Anita Diaz, author of Far Above Rubies, who shares her
decorating ideas for a memorable country Christmas
!
Easy and Quick Christmas Ideas
We welcome Jennifer Davenport of Decorating Ideas Made Easy. She shares some of her favorite
Christmas decorating ideas
!
Christmas Porch Decorating Ideas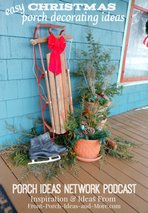 Dave and I know you don't have to spend tons of time or money for a charming
Christmas porch
!
Taking Evening Christmas Pictures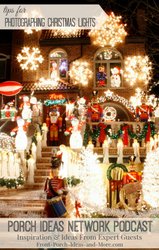 We welcome Becca Dorstek, a self-taught photographer from New York. She gives her best tips on
photographing Christmas lights in the evening
!
Christmas Lighting Tips from an Expert
We welcome Bob Lyons of Outdoor Lighting Perspectives who shares some fantastic
lighting tips and tricks for Christmas
that will help you from going bonkers this holiday season!
---
Miscellaneous
Back to
all podcasts
Endearing Memories of the Front Porch Swing
We are honored to have Shannon Lee, a professional writer, narrate her own story about
her special memories of the front porch swing
.
Madison Indiana - Gem of a Porch Town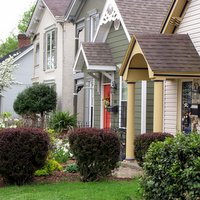 We are honored to interview Trevor Crafton and Linda Lytle of
Madison, Indiana, a wonderful porch town
on the Ohio River.