Sunroom Window Treatments
Sunroom Decor Made Easy
Sunroom window treatments should enhance the natural sunlight in your sunroom. Select window treatments to complement your sunroom decor and block harmful UV rays that cause furniture and floor coverings to fade.



You can choose between sunroom curtains, sunroom blinds, plantation blinds, and many other sunroom window coverings. Mary and I've highlighted some of our favorite options below; select ones that will work perfectly for your sunroom.

Many of these options are perfect for front porches too!





Sunroom Window Treatments Ideas
Here's an excellent video on choosing the right window treatment!
Plantation Shutters
These are also known as interior window shutters and usually hinge on either side of your window frame and swing inwards. Plantation Shutters
can be opened to allow maximum light into your sunroom or closed for privacy and they are designed to complement all sunroom decors.





For a more traditional appeal nothing beats wood; however, wood shutters usually tend to be more expensive. If cost is an issue, consider fauxwood shutters (almost 40% less expensive). They are also resistant to moisture and mildew.

One of the nice features of plantation shutters is that you won't need a valance or draperies!

Find your plantation shutters today at Blinds.com
- you'll be pleasantly surprised at both the value, selection, and their customers' five-star reviews!
Sunroom Blinds
Choose window blinds with either light blocking or light filtering functionality.


Vertical Blinds and Vertical Blind Alternatives: If looking for elegant window treatments for your sunroom, be sure to see these vertical soft shadings. Like in the photo below, they combine vertical blind vanes and soft sheers - quite the look for any sunroom.




Vertical Alternative Blinds by Blinds.com






Wood: Choose wood blinds with a no-holes routless option to keep the maximum amount of light from entering your room. Some are motorized while others are cordless; a great option around children or pets.




Wood Blinds by Blinds.com






Aluminum: Less expensive than other blind options, aluminum blinds are most popular. We recommend the no holes option for better light control.


Sunroom Curtains
Curtains are excellent decorating tools. You can use sunroom curtains
with blinds, drapes, or by themselves to create a very romantic look. Thick curtains can help reduce drafts while thin ones draped over curtain rods create a somewhat carefree and whimsical look.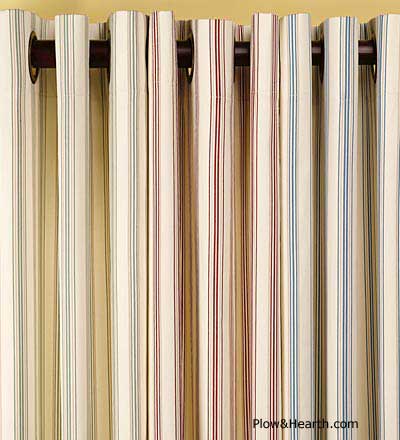 Curtains by Plow and Hearth



Consider using outdoor curtains as sunroom window treatments. They come in variety of fun colors and patterns that will brighten any sunroom.



Sunroom Shades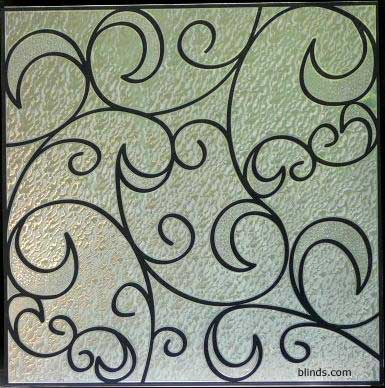 Stained Glass Appliqués by Blinds.com
Drapes
Although somewhat unique,
Drapes
can be a wise choice among sunroom window treatments. Choose unpleated drapes for a relaxed appeal and that will create a casual, yet contemporary room. Pleated draperies are popular and offer a more traditional look. Perfect for any decor, you can find pleated drapes in a wide variety of colors and styles.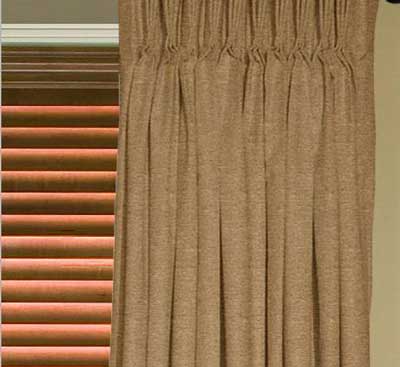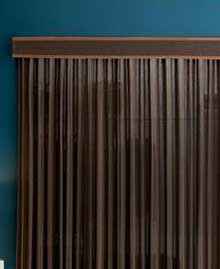 I really like woven wood drapes
and believe they would be ideal in the right sunroom setting.

Using the natural textures and colors of bamboo, jute, and grasses, the woven wood is perfect for wide window expanses.




Window Quilts
Of all the sunroom window treatments, window quilts
may well have the best insulative qualities that can cover large expanses of glass. Because the quilts are sealed, there is almost no cold air infiltration.



Usually made of layers of polyester and mylar, the quilts easily roll on a track and can be spring or cord operated. They also work well on sloped windows and skylights.



Skylight Shades
Anyone who has skylights knows how much heat and how harmful UV rays affect your furniture. Skylight Shades
will keep your room cooler and look great too. Skylight shades permit light diffusion meaning you will have minimal glare on video appliances like televisions and computer screens. For larger expanses you may be able to mount them side-by-side for more coverage.



More Window Treatment Options
Here are three other window treatments we found that we think you might like too.

Zebra Wall Blinds

These are exclusive to SunPorch.com; however, we thought these are worth checking out as an alternative to regular sunroom blinds. They have alternating solid and screened panels in each blind to give them a very unique designer appeal. Choose all solid panels for privacy or easily choose the solid and screen option. They advertise blocking 95% of UV rays.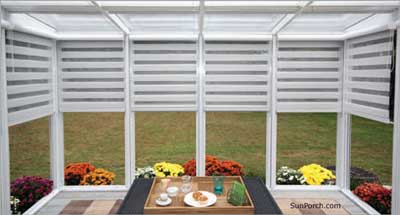 SunPorch.com Zebra Wall Blinds



Skylight Shades: Also exclusive to SunPorch.com, their skylight shades block 100% of UV rays, adjusts easily to fully open, fully closed, or anywhere in between.


SunPorch.com Skylight Shades



Glare and Solar Control Nanotechnology Window Films: Although we've not used this product we do believe it would be ideal for sunrooms, especially for those who are looking for not only comfort but also appeal, safety, and security. The non reflective film supposedly reduces 99.9% of harmful UV rays which is admirable at best. Two other advantages are their low reflectivity at night so as not to obscure the view and their ability to bind glass fragments together in case of breakage. You can learn more about them at Hüper Optik.com.



If you've discovered other great sunroom window treatments, don't be bashful! Please use our easy form and share them with us and if possible, send us a picture or two!












Helpful Links
Popular Pages
---
Our Sponsors
Porch Store
Custom Porch Products
Vintage Woodworks
For Your Porch Parts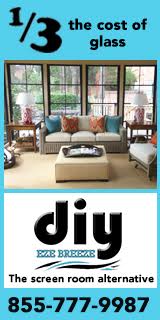 DIY Eze Breeze
Screen Porch Windows
PCA Products
Complement Any Home!
End sponsor section
---
---
Copyright© 2009-2016 Front-Porch-Ideas-and-More.com.
All rights reserved.
Content and photos may not be reproduced
in any way without our written permission.

---