Timber Frame Home Design
Your Porch - An Entrance to Exquisite Craftsmanship
A timber frame home design is actually a work of art and is one of the oldest home building crafts in the world. There is evidence of oak timber frames dating back thousands of years. Timber frame porches are a sight to behold.



Mary and I are very grateful to Architectural Photographer Roger Wade for allowing us to share his amazing photos of timber frame homes with you.

It's a real treat to see these beautiful porches. Some of the timbers you'll see in these pictures were provided by our friend Tom Blackburn at Pioneer Log Systems.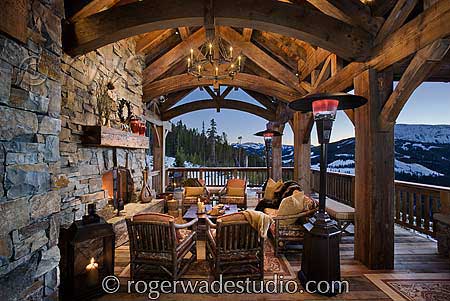 Earlier methods of building a timber frame home used the scribe framed method. Each timber was numbered as it fit in only one location. Today, builders use the square rule method. All main joints are the same size and are interchangeable making building your timber home much faster.

A timber frame home is built much like a huge piece of furniture; heavy timbers are joined together using mortise and tenon joints.

Enjoy these astonishing timber frame home design photos by architectural photographer Roger Wade. Roger's works capture the true beauty of these wonderfully designed homes made possible by many creative designers and architects.




Timber Frame Home Design Photos

Photos are copyrighted; please do not use.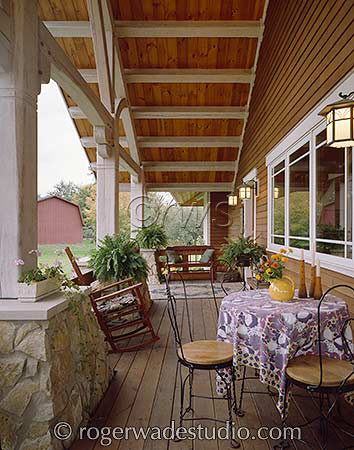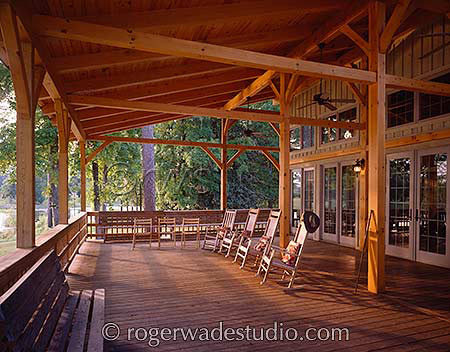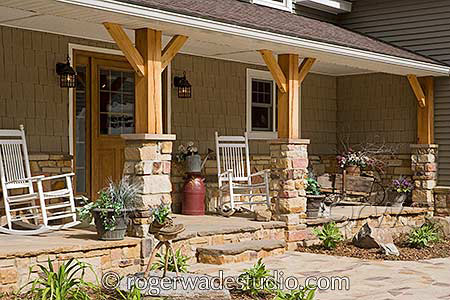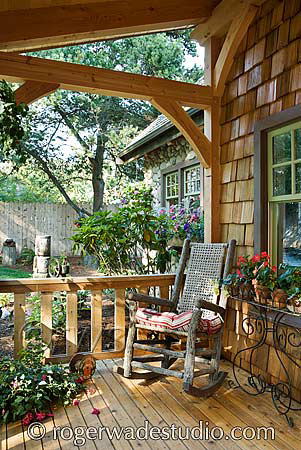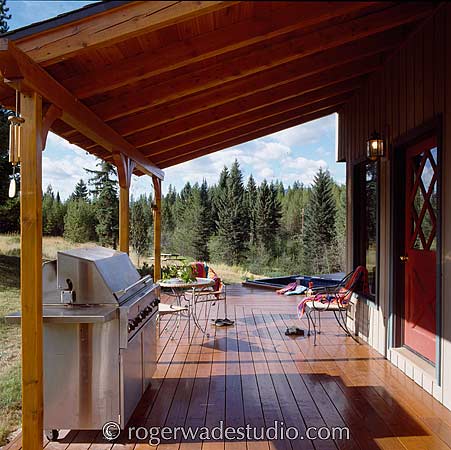 Timber Frame Home Design Tips
Knowing the process of designing and building a timber frame home is essential.
The home, in its entirety must be designed (some timber frame companies design and contract the construction; others may only design and construct the timber frame only)




The corresponding timber frame must be built and raised




Lastly, the pieces of the home must be pulled together and built (determine if you want to manage your own team or rather hire a contractor)

Here's a few pointers from the Timber Frame Business Council when designing a timber frame home.
Assemble the team: Select an architect or designer, a timber frame company, and a general contractor




Create the house plan: Determine if you are going to design a custom home from scratch or purchase plans




Understand the design process: This is an interactive process that will require you to accurately communicate your desires. Be flexible but decisive.
We found that "Building a Timber Frame Home: A Consumer's Guide" is an excellent document that gives you a good overview of the building process.





Photos are copyrighted; please do not use.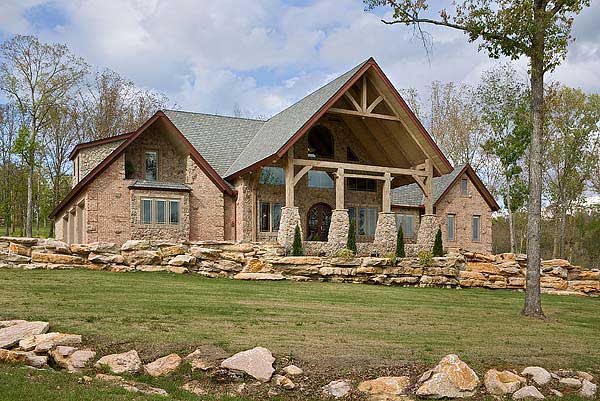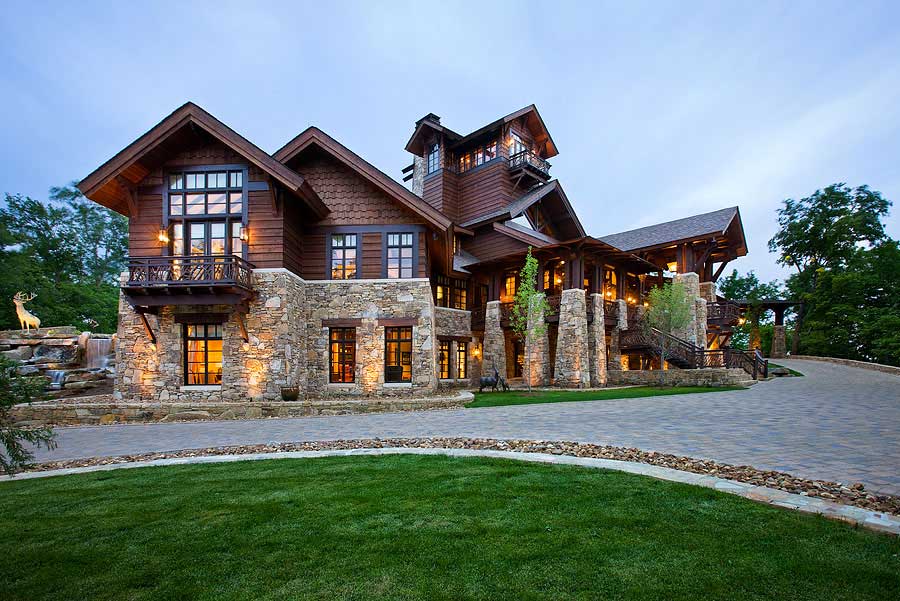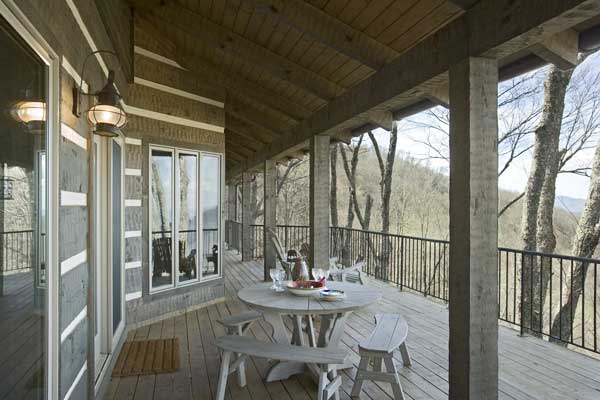 Many of the timbers in the photos above are manufactured to very specific standards; it is exacting work. The better engineered the logs, the more beautiful the home.

If you are contemplating building a log home or for your timber frame home design,consider the source of you wood; it is critical to your home's construction and ultimate beauty. We are highlighting Pioneer Log Systems below. Pioneer Log Systems manufactured many of the timbers in the photos above.



Pioneer Log Systems, is a manufacturer and distributor of custom log, post and beam and timber frame structures with over 30 years of quality and tradition in the Log Home and Timber Frame Home construction industry.

Pioneer Log Systems have manufactured hundreds of homes of all sizes and have a multitude of floor plans which you can modify or start from scratch if you wish. They provide heavy timbers in eastern white pine, Douglas fir, western red cedar, cypress, oak and poplar as well as reclaimed timbers.


Pioneer offers a unique line of flooring products including reclaimed and antique materials. Additional products include, all types of siding, v-joint, fireplace mantels, brackets and corbels. Pioneer also designs and builds heavy timber trusses for homes, lodges, schools, and commercial structures.
Family-owned and operated you'll find Pioneer log homes and structures throughout the country. Pioneer Log Systems takes pride in their products and services and it shows in every home they build.
Mary and I encourage you to contact Tom Blackburn at
Pioneer Log Systems
today for your log home and timber frame home needs.
Advantages and Disadvantages of a Timber Frame Home Design
Advantages