Front Porch And Wood Deck Railings
Porch Railing Designs Ideas for Maximum Curb Appeal
Our wood deck railings will give you almost unlimited ideas for your deck or front porch. Our porch railing designs can be used to create massive curb appeal for your front porch or to enhance your deck.

Whether you are looking for traditional railings or opting for contemporary glass panels or steel cables, discover all of your options along with design tips you might not have otherwise considered.

From plain square wood balusters to the most ornate Victorian spindles, wood balusters are extremely versatile and perhaps the most economical too.

Whether installed vertically or in intricate patterns, wood porch railings can make any porch look aesthetically pleasing.






Select one of our wood railing design options below for your front porch or deck.




IMPORTANT NOTE

: See our

codes for railings

guide before installing any type of railing system on your porch or deck. Consult with your local building codes department to make sure you know the specific requirements for your area.

Railing examples shown may or may not comply with your local codes and should be used for informational purposes only.
Diagonal Wood Baluster Designs
Get creative. See how these porches look with variations of the same baluster theme.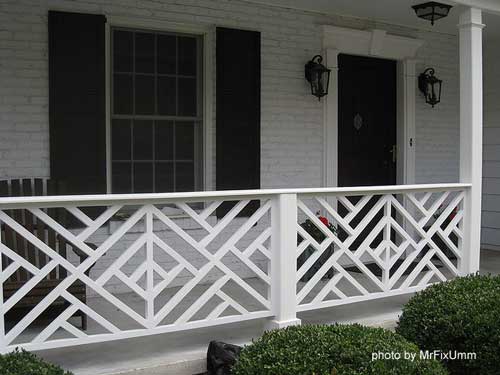 Chippendale Wood Balusters (photo by

MrFixUmm)




Don't know about you but I really like the wood deck rails in the photo above. They are unique, striking, and all just based on 45 degree angles.






Here's a variation of the previous photo above. Same 45 degree angle pattern.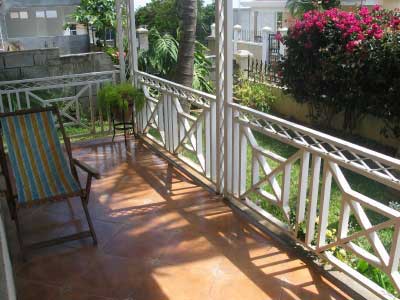 Not to be out done, this pattern (above) works equally well and adds just a little more interest at the top. Just have to watch the spacing.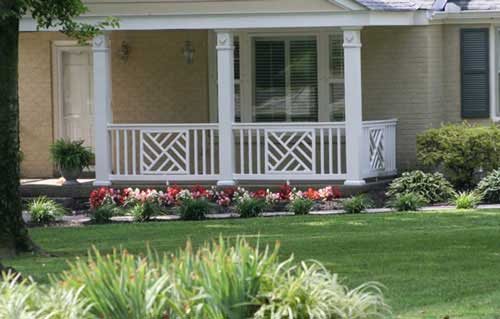 In the photo above, the herringbone pattern is combined with vertical balusters. Combining different design elements is an easy way to create a very unique design. It only requires a little imagination and careful layout work to keep the correct spacing.






Although placed on a custom screen porch, the same design could be applied to a porch. This would require a bit more experience and skill to construct as it would also have to meet all code requirements.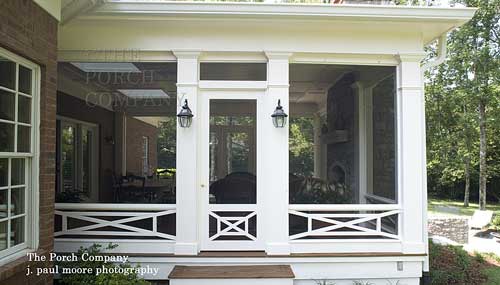 This pattern makes the screen porch appear longer. To use the same design for a porch balustrade, you might have to create a space between the design and the top or bottom rails to achieve the correct height.



It is important to note that subtle changes can make big differences for your overall front porch design or to your wood deck railings.

Don't hesitate to try different patterns and/or combining other baluster designs (like the vertical balusters in the photos above) to create just the right look for your home.




Square Baluster Designs
Square or rectangular balusters give you other options for designs as well like the one below. Increasing or decreasing the spacing between them can totally change the look so experiment to find the right look.

Creating squares (or rectangles) can be interesting as well. Instead of 45 degree angles, these are all 90 degrees. What a difference a few degrees make!




As long as you meet your local codes for wood baluster spacing, a checker-board pattern will work like the one in the photo above.




photo by

Young House Love




The rows of rectangles create a fence-type theme. The gap between the top rail and rectangles give it an open feeling.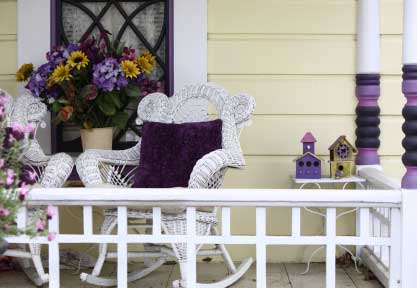 This combination of squares and rectangles makes a very interesting pattern. Would work on almost any porch architecture to include a Victorian.

Remember, you are limited only by your own imagination and your local building codes. Most codes require a maximum of 4 inches between balusters (and 4 inches from the bottom rail to the deck flooring. As long as you do not exceed that almost any design is feasible.



The following photos are courtesy of The Porch Company and are very good examples of custom made balustrades.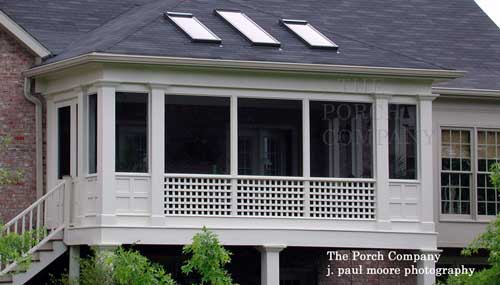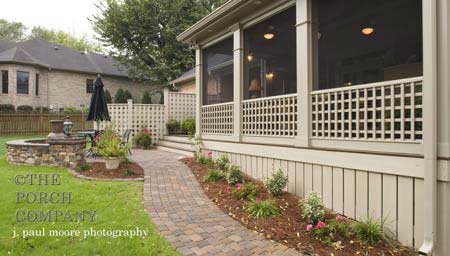 Did You Know?
Not all porches require a railing system. Railings are required if your porch is 36 inches or more from the ground (check with your local codes department for your area's specific requirements).

However, if you opt to install wood deck railings on a porch that is lower than 36 inches, your railings may still have to comply with your local building codes.




Vertical Baluster Ideas
Perhaps the most popular design; I suspect its mainly because it may be easier, faster, and less expensive to construct. So, how do you make it more interesting?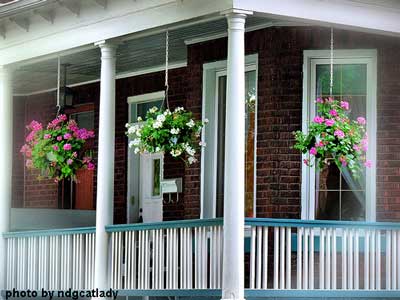 In the photo above, wood balusters are grouped together to create a more pleasing design.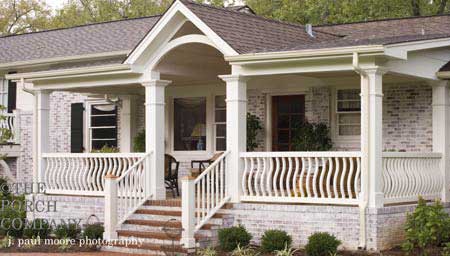 Use curved spindles. They definitely make a statement and give your home some real curb appeal.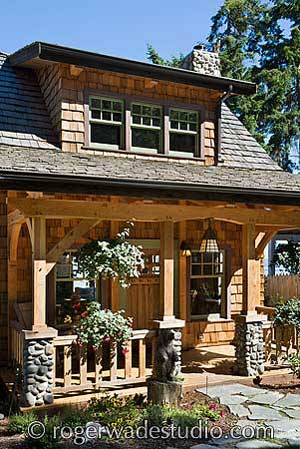 photo courtesy of

Roger Wade Studios




In the photo above, slightly wider balusters are used. This idea would work well on many porch designs.




Turned Balusters
Use turned balusters to create a unique railing design - photo by

shutterfool



Turned balusters can be very decorative wood deck railings but can also be seen on all types of porches too. Several traditional styles are usually sold at local home supply stores. More intricate designs can be custom made or purchased through specialty stores like VintageWoodworks.com.

Check out our examples of turned baluster ideas that can be used as wood deck railings on your porch.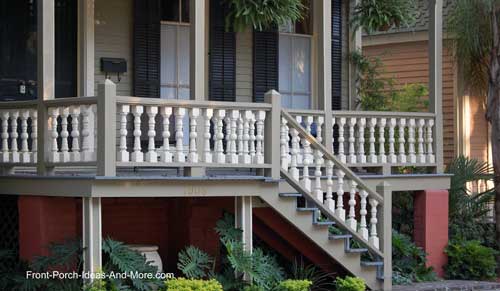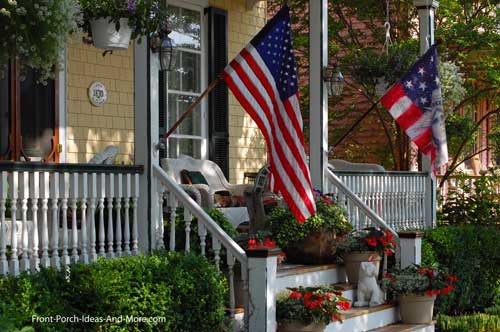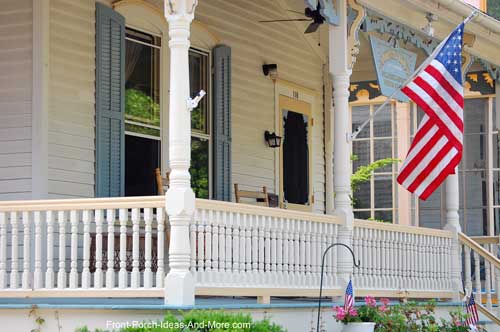 Wood Deck Railings Design Idea: The maximum distance between balusters is usually 4 inches - most make it 3 7/8 inches just to be sure. That doesn't mean you can't place them closer together. If using smaller diameter balusters, consider placing them two or three inches apart.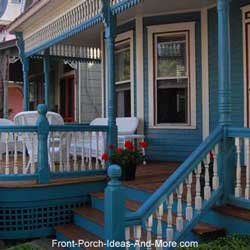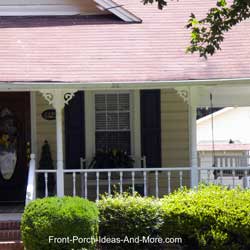 Sawn Balusters
Sawn balusters, another wood option, are not just for Victorian porches. See our sawn balusters section containing amazing photos and ideas on how they can increase your porch's curb appeal.




Wood Sawn Balusters
That's Not All
Nothing says you have to use lumber for balusters. As long as they meet local building codes, other wooden materials can be used. Here, branches form interesting balustrades for these cabins.


photo courtesy of

Roger Wade Studio






Hope you enjoyed seeing how designs for wood deck railings can be used on your porch. See how Vintage Woodworks can make your dream porch a reality. They specialize in balusters and other porch parts.



---