By Dave and Mary

Front Porch
Average Square Footage Costs
How Much Does It Cost to Build a Porch
Most folks want to know how much it costs to build a porch and the average square footage cost of a new front porch as part of the planning process. It can vary from state to state and from region to region.

There are many different variables but it does help to get an approximate idea as to what your investment will be. Here's data I've compiled; however, your actual costs will depend on several factors that we discuss below.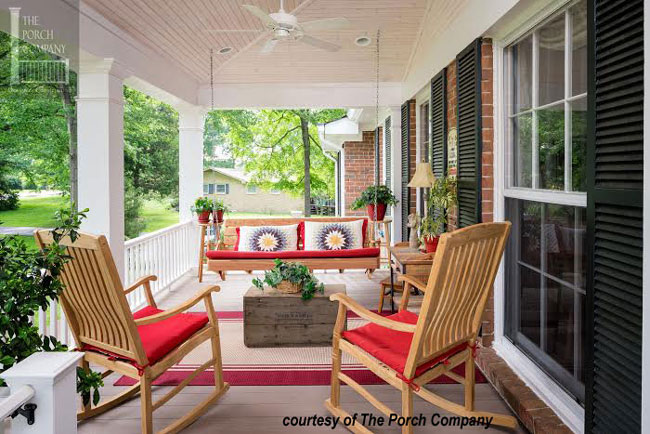 Custom porch designed and built by The Porch Company
Latest figures indicate a 16 x 20 foot porch will have an average cost of approximately $60-$100 per square foot or approximately $20,800 to $32,000. It is also worthy to note the expected resale value of that porch may be about 70-85 percent depending on your geographical area.

Considering the resale value of other home improvements, building a porch may be well worth it by creating curb appeal, adding additional outdoor living space, and your return on investment.

Mary and I interviewed Nancy Moore, president of The Porch Company, a premier porch design and construction company who offers excellent insight into the cost of building a porch.




Porch Construction Cost Estimates
Many people ask how to actually estimate the cost of a porch, especially if they are considering doing all or some of the construction. Others want to know what costs are included in an overall estimate from a contractor who normally does not break it out by trades person.

If building it yourself, you should consider the time involved in not only doing the construction work but also the time involved in planning, acquiring the necessary materials and tools, and transportation time.
Ideal Size for a Porch
Size matters when it comes to cost. Obviously, the larger the porch the higher the cost in both labor and materials.

The porch in the video above would be considered as a large porch which is categorized as being over 16 by 16 feet or 250 square feet. A small porch is usually between 36 to 64 square feet (6x6 or 8x8) whereas a medium size is a 10 by 10 to 14 by 14 (100 - 250 square feet)

For planning purposes a small porch can hole a bistro set or a four-seat dining table. A medium porch size can accommodate additional furniture and plants, etc. A large porch has room for entertaining and can be portioned off into different areas.

Eight to ten feet in depth is ideal for furniture, a few amenities, and traffic.

Our porch is six feet in depth giving us room for rocking chairs, a table, porch swing, and sufficient space for traffic to move freely. Often times, the depth of the porch is more important than the length of the porch.

If expanding an existing porch, consider reusing some to the materials like porch columns and railings to reduce your overall costs. Our son expanded their porch which was only four feet in depth making is almost unusable. Watch the video below to see the entire process in one minute to give you a really good idea as to what is involved as you plan your porch.


See a Complete Porch Build in a Minute
Factors to Consider When Estimating the Cost of a Porch
Throwing out an estimate for building a porch won't necessarily give you a good enough number upon which to make decisions. Here are some key factors to consider and include in your overall calculations.
Porch Size and Design
We talked about relative size above but you also need to consider the overall design which will dictate everything from labor to materials and more. Consider the traffic patterns, that is, the pathway from entrance step placement relative to the front door, space for entertaining, depth for a porch swing, and space to maneuver around furniture.
Materials
Determine the quality of your chosen materials. Pressure-treated wood (decking) or Ipe wood (an exotic hardwood), longevity and color integrity of composite decking if chosen, stamped or stained concrete, stone choices of which there are many, choice of paints or stains, and other material choices all range from basic pricing to expensive. The higher the quality and the more durable, they are will ultimately increase your costs.

And often times, the higher the quality, the more labor may be involved.
Foundation
Foundations can range from simple footings and piers to concrete slabs or other soil stabilizing materials depending on your geographical area. In addition, you may have to comply with local building codes that will dictate your foundation requirements.


Roof
Roofing materials such as shingles, metal, shakes, metal, etc., along with pitch or slope, and the complexity of the design will definitely influence costs. A hip roof is by far more expensive than a shed roof but may be required due to the architectural style of your existing home.


Framing and Structure
Structural components such as beams, posts, and any additional supports, need to meet building codes. Porches in the north will typically require heavier materials due to snow and ice loads. Additional framing may be required for those living in hurricane prone areas.


Permits and Codes
Factor in building permits. Several may be needed depending on the style of your porch. You may need one for framing and another for electrical work.


Labor
A rule of thumb used to be that labor was three times parts; not so any more in most locations. The cost of labor varies depending on your geographical location and sometimes even the part of town you in which you live. Market conditions and how difficult the construction might be affect the cost.
Excavation and Site Preparation
Depending on your soil conditions and geography of the area on which the porch will be constructed, additional costs can be incurred for excavation and/or site preparation. Additional charges may apply if the area is less accessible than normal.
Other Expenses
Factor in the cost of lighting, porch railings, finishing details like staining, painting, and any decorative items you will require. Special features like lighting, railings, decorative elements, and built-in furniture will add to the cost.


Contractor
Obtain multiple estimates from contractors to compare costs. We also highly recommend setting aside or planning for unexpected costs during construction.


Estimating the Cost of a Porch
Please note the costs listed below are subject to change based on many factors; however, they should give you a good place from which to start and insight into not only the various components but also the cost of each.

We encourage you to take a few minutes and listen to this video explaining the factors involved in estimating the cost of a farmers wrap-around front porch.




Electricians
Electricians usually cost $65 to $85 per hour(source: homeadvisor.com); however, you may be able to use an apprentice electrician (who should be qualified to do typical porch electrical work) that will charges less. This does not include materials such as pulling a permit, light and fan fixtures, cable, receptacles, switches, connectors, boxes, circuit breakers, tools, etc., which can add up quickly dependent upon your overall electrical requirements.

Although not an electrician, I've had professional electrical wiring training and enjoy doing electrical work on our homes over the years. I can attest to the time, material, and costs assoicated with planning, running wire, and installing fixtures, etc. Extending or adding additional electrical capacity in your home is not a typical DIY project. In some geographical locations you may not even be allowed to do your own electrical work.


Wiring Porch Lights
Take Heed: If you are not completely competent and confident you understand the capacity of your branch circuits, ability to add circuit breakers (if your panel has the capability to do so), or in some cases, adding an additional electrical sub panel, please hire a reputable electrician. I know of people who just add additional receptacles, lights, etc., to existing branch circuits without the foggiest idea as to the available capacity of that circuit. Talk about asking for trouble.

Always pull a permit just an electrical contractor would do if working on your home. Your homeowners insurance may not cover you if you have a fire due to your own wiring negligence and not having a permit for work. Yes, I am very confident of my abilities and still pull a permit.


Carpenters
General carpenters charge between $40-80 per hour (source: homeimprovementpages.com) whereas trim carpenters will cost more.
Painters
Painters usually charge from $25-$100 (source: angieslist.com) per hour depending on the size of the job, paint selected, etc.


General Construction Material Costs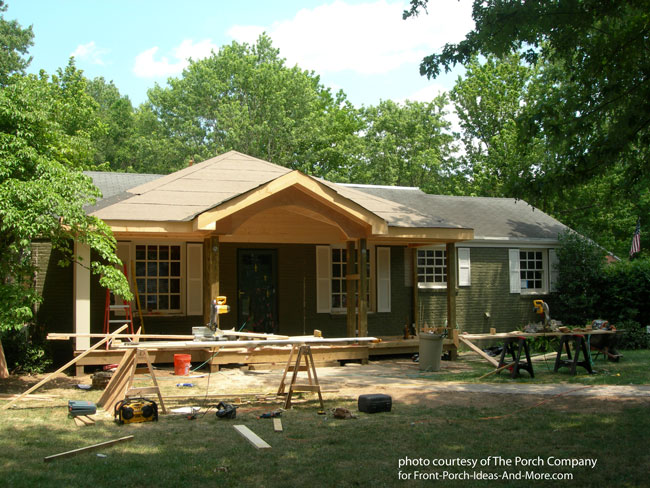 New porch under construction - The Porch Company
Although every facet of your porch is important, we recommend you pay particular attention to the roof and foundation construction. These are critical elements and if done improperly, can cost you considerable money down the road.


Foundation Work


Concrete: Concrete is required for footings, the depth of which is dictated by your geographical area. Generally speaking, concrete costs approximately $90 per cubic yard (source: familyhandyman.com) and can vary greatly due to geographical area. This does not include delivery charges. A 16 x 20 foot porch may require 6 to 9 footings which is equal to 2 cubic yards (depending on depth and type of footing).

Beams, Joists, Decking: Generally speaking, your porch foundation and flooring are similar to that of a deck. Average cost of a 16 x 20 foot pressure-treated deck is approximately $11,000. This of course, depends greatly on your flooring materials, i.e, treated, composite, hardwood, exotic woods, etc.


Roof
The project will require joists and beams, porch columns, as well as plywood 4. asphalt, and underlayment We show relative costs as it is totally dependent on the type of roof being installed, i.e, stick built; trusses, gable, hip, etc.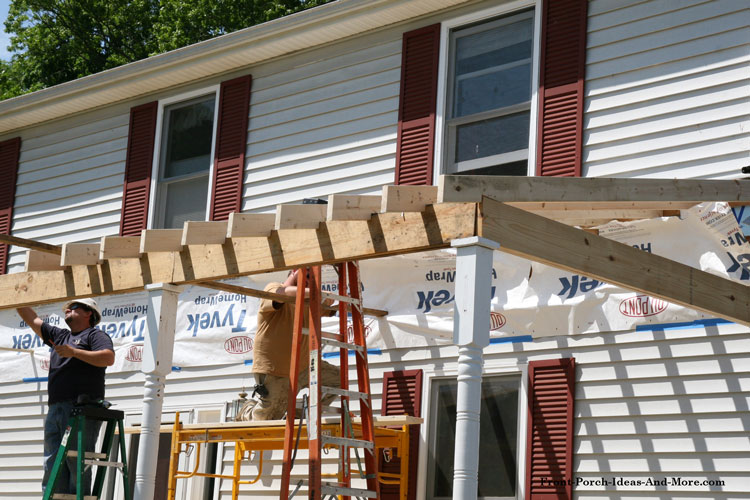 Shingles: Approximately $8-100 per square.

Columns: 14' 6x6s approximately $33.00 each

Underlayment: $200-$300

Sheathing: 4x8 foot is approximately $13.00 each

2x4s:8 foot $3.70 each

2x10s: 8 foot 12.00 each


Ceiling
You have several options ranging from bead board panels to vinyl and exotic woods. 4x8 foot bead board panels cost approximately $23.00 each.
Balustrade (if required)
Pressure treated square balusters run about $1.00 each while metal can cost considerably more. You'll also need both top and bottom rails.
Steps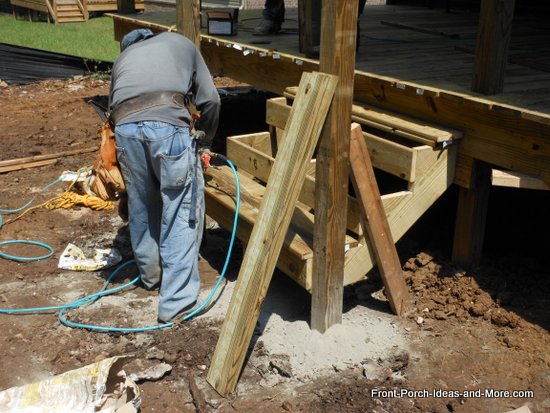 Dependent on how many and how wide the steps will be. In addition, you will need at least a 4x4 foot landing (usually concrete, brick, etc.)



Electrical Fixtures
These include your outlets, fans, lights, etc., and should be priced locally.



Other Costs to Consider
You may have to remove and discard an existing porch or deck, update or add to electrical systems (add circuit to your electrical panel), transportation costs, etc.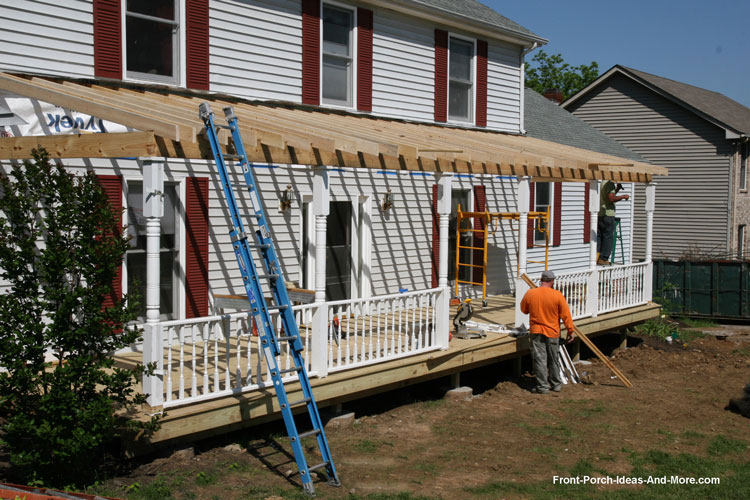 Ways to Reduce Costs When Building a Porch
We know that many people want to know how to build a porch in the "cheapest" way when we know they actually mean the less expensive way. Whether hiring a contractor or doing it yourself as a DIY project, it is always wise to find ways to reduce costs without forgoing quality and safety.

Mary and I have a number of ways you can do just that!


Plan Carefully
First and foremost, plan your project thoroughly. If using a contractor, ask lots of questions as to how they can reduce costs. You may have to adjust the size, design, or materials. Get several quotes and remember the cheapest quote may not be so in the long run.


Consider a DIY or Partial DIY Project
If confident in your skills do some or all of the work yourself. Usually once the roof (and sometimes the framing) is in place the remaining construction could be a good DIY project (given your skill set). Unless extremely skilled, we recommend you use a reputable electrical contractor for wiring.


Reuse Existing Materials
We reused materials on our son's porch build and saved a considerable amount of money by doing so. We were even able to make minor repairs on the existing railings and columns so we could reuse them.


Repairing and reusing porch column
Another great option for most homeowners today is Facebook Marketplace. You can find all kinds of construction materials at very low prices or are even for free. Our son used free retaining wall blocks to reclaim usable land that was on a steep slope.


Choose Affordable Materials
Be a frugal shopper. Find cost-effective materials without jeopardizing the quality or safety of your project. Search through stores that specialize in reclaimed materials at a reduced cost.


Plan Ahead
Once you've decided on doing the project begin looking for sales and deals and purchase off-season if you can to save money.


Consider Pre-made Components
Porch kits are available as are components that can be less expensive that custom products. Using railing panels or column wraps are two easy ways to save.


Go Simple to Keep Porch Cost Down
Go simple and save. Keep the design and components as simple as possible. A shed roof is a lot less expensive than a hip or gable roof design. You can always add designer components as your budget allows at a later time.


Use Your Space Wisely
If you can't afford a larger porch, extend what size porch you can by adding what we call a "patio or open porch" which is a lot less expensive and still gives you added outdoor living space. See more about patio porches here.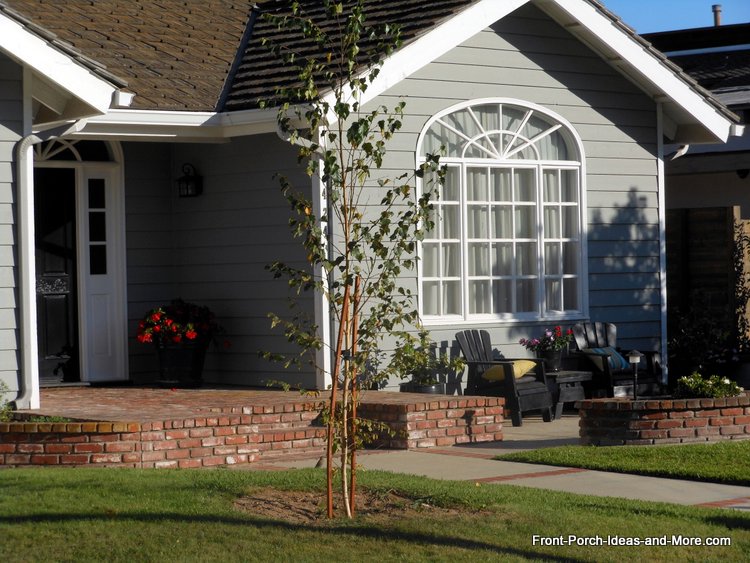 Appealing Patio Porch Extension
Timing Is Everything
Building during the off season when contractors can offer lower pricing and materials may be less it another way to save.
A Porch Built in a Minute
See a porch being built from the removal of the old porch to this wonderful farmers porch - we show you in minute!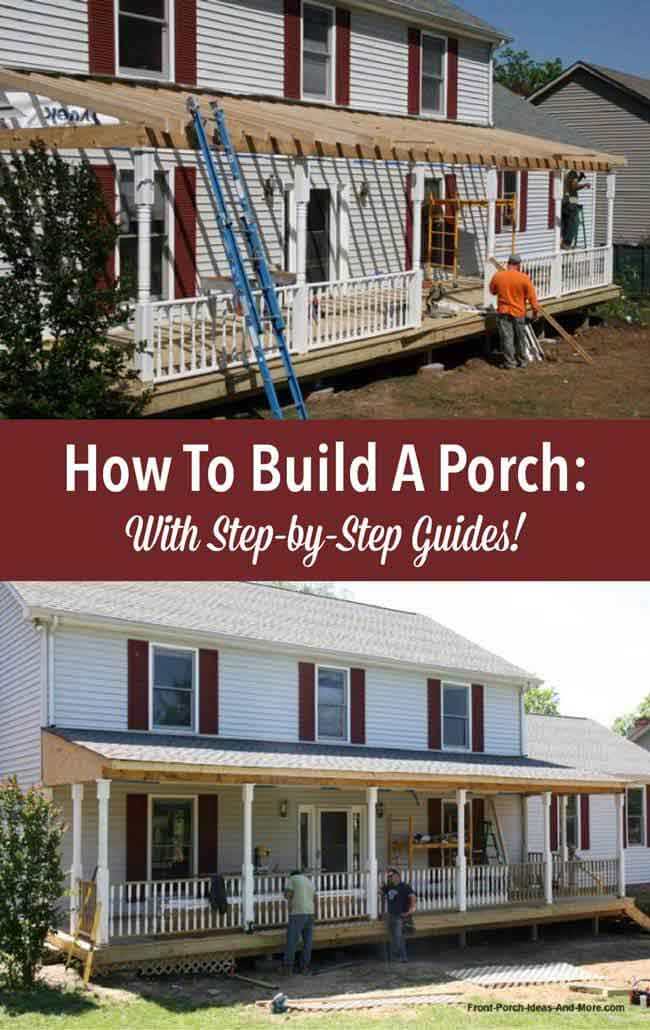 See how a porch is built



Explore our entire section on Building A Porch whether you are constructing it yourself or hiring a contractor.

Here's a great website that lists the average costs of many home additions, remodels, and replacements.



---

If you are actively wanting to hire a contractor to assist you, then visit here to help you find a local professional.

---
Stay with Us and Look at These Porch Designs
Gather ideas from these front porch designs
Hi!
We're Mary and Dave
, lifelong DIYers, high school sweethearts, and we both love porches. You've come to the right place for thousands of porch ideas.
Our Sponsors
End Sponsors
---
Helpful Links
Enjoy shopping Amazon
(affiliate link)
Popular Pages
What's New
Join Our Newsletter Family
Porch Designs
Porch Ideas for Mobile Homes
Find a Local Contractor
Build a Porch
|
Small Porches
Porch Columns
|
Porch Railings
Screened Porches
Porch Curtains
|
Porch Enclosures
Porch Landscaping
|
Vinyl Lattice
Porch Decorating
|
Porch Ideas
Shop
Navigation Aids
Home
|
Top of Page
Site Search
|
Site Map
Contact Us
Policies
Disclosure Policy
|
Privacy Policy
Legal Info
---
Please Join Us Here Also

Find a Trusted Local Pro
---
Copyright© 2008-2024
Front-Porch-Ideas-and-More.com All rights reserved.
No content or photos may be reused or reproduced in any way without our express written permission.
At no extra cost to you, we earn a commission by referring you to some products on merchant sites. See our
disclosure policy
.
We, Front Porch Ideas and More, confirm, as stated on our
privacy policy
, that we do not sell personal information.
All content here is solely for presenting ideas. We recommend consulting with a licensed, experienced contractor before you begin your project.
We make no guarantees of accuracy or completeness of information on our site or any links to other websites contained here.
Thank you for taking your time to stop by.
See what's popular and new here
.

Hi!
We're Mary and Dave
, lifelong DIYers, high school sweethearts, and we both love porches. You've come to the right place for thousands of porch ideas.
--- Our Sponsors ---
--- End Sponsors ---
Mary's Etsy Shop
Find Top-Rated Service Pros
Our Newsletter, Front Porch Appeal
Learn more
!
Thank you for being here!