By Dave and Mary
As an Amazon Associate we earn from qualifying purchases. If you make a purchase through affiliate links on our site, we earn a commission at no cost to you. See our disclosure policy.


Building a Sunroom
From DIY Sunrooms to Professionally Built
Options for building a sunroom are many, from doing it yourself from a sunroom plan to using a sunroom kit or hiring a contractor to build you a custom sunroom with all the wonderful amenities.

A sunroom is a place to enjoy your family, entertain your friends and snuggle up with your kids or grandchildren even when it's cold outside. No matter what option you choose, Mary and I lay out the basics of what you need to know and discuss your options.

This sunroom building guide should help you determine whether you have the skills to build your own or if it's more applicable to opt for a different approach.



Disclaimer: Outlined below are the general steps for several building a sunroom options. Information provided herein is only to assist you in determining whether you have the skills and experience to build a sunroom on your own.

Mary and I always recommend hiring a reputable contractor in your area to ensure it is constructed properly to meet both safety and building code requirements.

You must adhere to local building codes, obtain proper building permits as applicable, and obtain HOA approval if required.
Building a Sunroom: Is Your Home a Good Candidate?



Before building a sunroom on your home, we suggest you work with an architect or experienced contractor to determine if a sunroom makes sense for your home.

Some key things to keep in mind are:
Do you have the space needed on your property?
Which direction will your sunroom face? Southern or western facing walls are the preferred choice. You want to make your sunroom worth the investment, meaning your room gets sun. An eastern or northern facing wall may not be worthwhile.
Check with your local building codes department to determine if a sunroom is permitted in your area. Learn what permits you will need before the start of construction.
Your roof style plays a role. A gable or shed roof can more easily accommodate a sunroom than a flat or hip style roof. You need someone with expertise to determine how your current roof style can be incorporated.
Think about which utilities your room will need. Gas? Water? Electricity? Speak with qualified experts such as an experienced plumber, electrician and your utility companies. It's best to know any restrictions or challenges up front rather than find out midstream in your project.
Eight Sunroom Building Options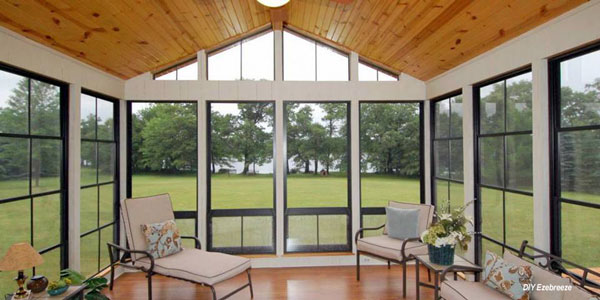 Sunroom with a view
Mary and I outline several sunroom building options below, some of which you may not have previously considered.



Option 1: Building a Sunroom On Your Existing Porch
Covered back porch ideal for sunroom conversion
Since the roof is already in place, this is probably the most economical sunroom addition project. Depending on the age of the porch you may want to consult with your local building codes and/or a reputable contractor to make sure your structure is adequate to handle the additional weight. We strongly encourage you to do so.
Select Your Windows
Window size and placement often dictate the overall design of your sunroom.
Mary and I recommend selecting high quality windows. Determine whether you need insulated or non-insulated glass.
Insulated windows are recommended if you plan to use your sunroom year round. Other considerations include tempered versus non-tempered glass and window framing, i.e., double hung, hinges, sliding, fixed, bow or bay, etc.
See our
Windows for a Sunroom Section
for more options.
Size matters: Consider the size of windows you need and design configurations. Windows from floor to ceiling obviously give you the most light but also increase heat build-up in the sunroom. You may also want a transom light above the door or other custom designed window shapes.
Determine Your Electrical Requirements for Building a Sunroom
Existing porches will normally already have some electrical components like lights and outlets. However, you may want to increase your electrical options to accommodate additional furniture or add fans and additional lighting or switches.
Because a sunroom is mostly glass, you'll need to know where the electrical features will be located so you can frame the structure accordingly. We highly recommend contacting and using a qualified electrician to not only do the electrical work but also help during the design phase.
Select Your Flooring Option
Depending on the composition and condition of your existing porch floor, you may want or need to change the sub-floor. The sub-floor will carry the decking or flooring material.
Again, depending on your porch's foundation, you many need to reinforce the piers, posts, joists or beams depending on which option you choose. You may need to consult with a qualified contractor to ensure your porch foundation can carry the additional load.
Often adding a layer of exterior plywood over the existing porch floor will suffice; but again, you may want to consult with a reputable contractor.
You have many flooring options from which to choose: wood, carpet, tile, stone, brick, concrete, etc.
Frame It Up
Now that you know the size of the windows, your overall sunroom design, your electrical requirements, and after the subfloor has been installed, it is time to frame your existing porch.
Typically you will have already removed the porch balustrade, if applicable.
Generally speaking, you will frame to the dimensions of your window allowances. Although not difficult, it is one of the most important steps in the process. The more accurate and level the framing the easier it is to install the windows.
Be sure to follow the instructions for window and door installation that come with the products you selected. Not all windows or doors are installed the same way so it is critical you adhere to the specific installation process for your selected windows.
You may want to run electrical wiring prior to installing windows depending on your specific sunroom design.
Install Your Windows and Door
Follow the directions for installing your windows and door.
Install the Electrical Wiring and Fixtures
Once framing has been completed and windows installed, run electrical wiring and install fixtures if not already done.
Jazzing It Up on the Exterior
Complete the exterior work depending on your sunroom design. This could range from installing some type of siding to just adding exterior trim work.
Finish the Interior
Install your selected flooring and add lighting fixtures, fans, etc. Add hardware and trim as applicable.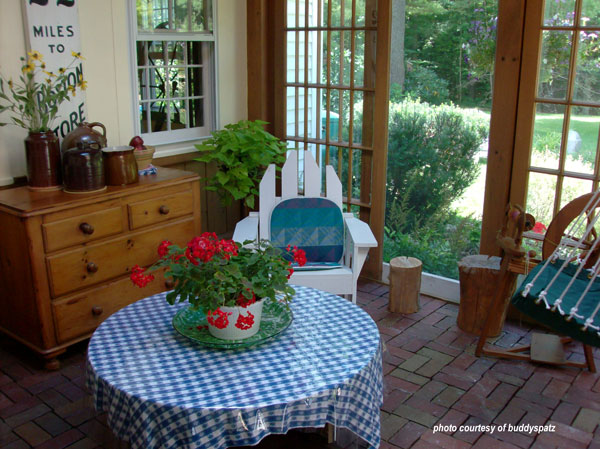 Delightful and inviting sunroom with a brick floor
Option 2: Building a Sunroom on Your Existing or New Deck
Vertical 4-track sunroom windows
You can often save substantial money by building a sunroom on your existing deck. However, most decks are not constructed to support the weight of a sunroom's windows, framing, and roof let alone snow if you live in a cold climate.
Before you contemplate building a sunroom on your deck, you need to ensure it can support the new structure:
Piers: Extremely significant when building sunrooms, both pier size and the amount of weight your piers can support are critical factors.

Unfortunately, most deck piers are insufficient to carry additional loads. You will more than likely have to add additional support. Line and pier size and the amount of weight that it can support against the local soil pressure is one of the most important factors when determining if a deck can be used for a sunroom foundation.

Most existing decks are built with 8 inch piers. While these piers are adequate for a deck, an 8 inch pier usually cannot support additional concentrated loads. If the piers are not adequate, additional foundation supports will likely be needed.


See our Porch Foundation section for more detailed information about foundations and flooring.



Other Deck Framing Issues: Your deck's framing, i.e., beams, joists, and supporting posts may well need additional support as well.
Constructing a Roof: If you don't have a roof already, you will need to construct one and tie that into your existing roof. This often requires considerable construction knowledge to do it correctly.

We highly recommend you work with a reputable contractor to complete this portion of the construction.


See our section on How to Build a Porch Roof for more detailed information you must know.
As tempting as it might be, building a sunroom on top of your existing deck can be catastrophic if you do not ensure it can support the weight. It may just require additional piers or other reinforcements which still can save you money.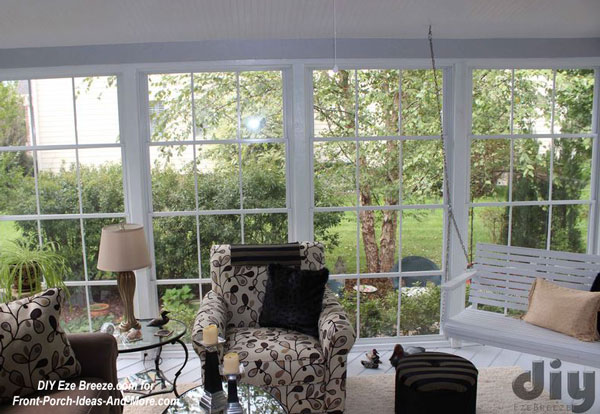 However, we always strongly recommend you contact your local building codes department and/or a reputable contractor to assess your deck's capabilities before you begin.
Option 3: Building a Sunroom on Your Patio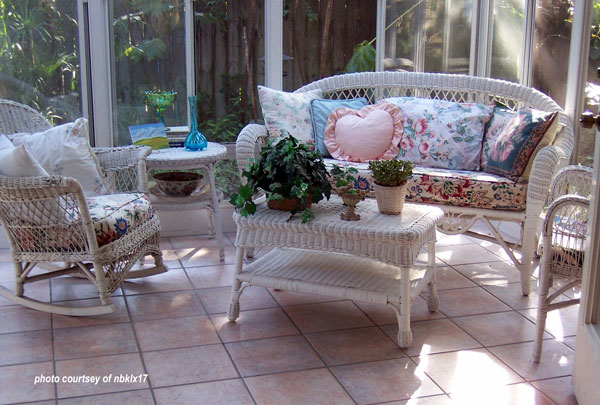 Cozy and comfortable sunroom with tiled floor
photo courtesy of buddyspotz
This is not unlike building a sunroom on your existing deck except your foundation will be different. Depending on the type of patio you have additional foundation materials may need to be added.
Once that is satisfactory, sunroom construction is basically framing and installing windows and doors. Again, if you have to construct a roof we recommend you consult with a reputable contractor.
Watch This Informative Video - Patio Sunroom Kit Option
Option 4: Building a Sunroom from a Kit
Mary and I really like this option - a sunroom kit you can install yourself on your patio or deck. They offer outdoor living space in a range of standard sizes and many come with screen window options too.
Sunroom kits come with everything you need and you normally have a choice of either a sloped (shed) roof or gable roof design with insulated panels.
Extruded aluminum framing has structural integrity, will last indefinitely, and is engineered to meet most building codes. Some kit models offer various color choices also.
Sunroom kits have ratings for both wind and snow; important factors to consider when purchasing a sunroom.
Many may be rated for 80 to 100 mph winds and snow loads up to 30 pounds per square foot. In addition, look for roof panels that provide the most structural strength.
Four foot wide roof panels are somewhat standard in the industry but we recommend finding kits with 3 foot wide panels. The narrower the panel the more support they need thereby creating an overall stronger roof.
Some sunroom kits come with sliding door panels for each of three walls giving you a maximum of 6 sliding door panels along with 6 non-moveable door panels. Some only offer standard stationery wall panels.
Glass selection is very important. Most sunroom kits usually come with glass options ranging from single pane to tempered, low-E, argon filled, and several other options.
Option 5: Building a Sunroom from a Plan
Given you have the right carpentry skills, you can choose to build your sunroom from a plan. You get detailed construction plans and drawings to ensure your new sunroom is a safe and compliant structure for the whole family to enjoy.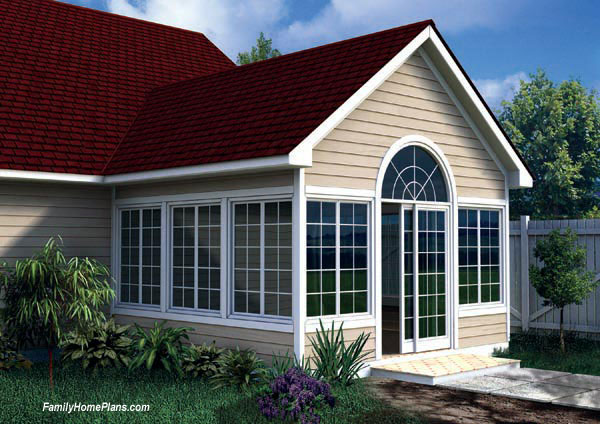 Sunroom plans with gable style roof - Family Home Plan #90022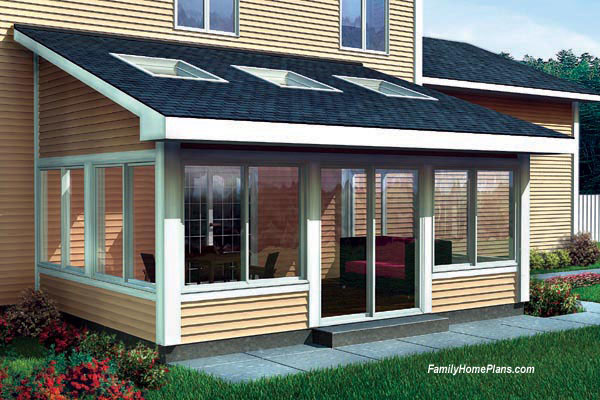 Sunroom plan for two story home - Family Home Plan #90021
Like These Sunroom Plans?

Search House Plans
If you see a porch / sunroom plan you like on our site,
jot down the plan #
and have it handy for when you visit
Family Home Plans
.
We receive a commission if you purchase a plan through our link. The price is the same to you. See our full
affiliate disclosure policy
.
Be sure to check out these three season porch ideas too!
Awesome three season porch ideas
Option 6: Building a Sunroom Using a Walls Only Sunroom Kit
If you already have an existing roof over your patio or deck, you way want to investigate and consider a walls only kit or a vertical wall system.

Most walls only kits allow for both wall height and width modifications to permit almost seamless design with your current home's architecture.



Watch This Short Video - Walls Only Window Details
Option 7: Vinyl Sunroom Options
If you are looking for both versatility and functionality, check out this option -
EzeBreeze windows
. A lot lighter than traditional glass, these windows are an optimal solution to creating a sunroom on your existing deck or porch.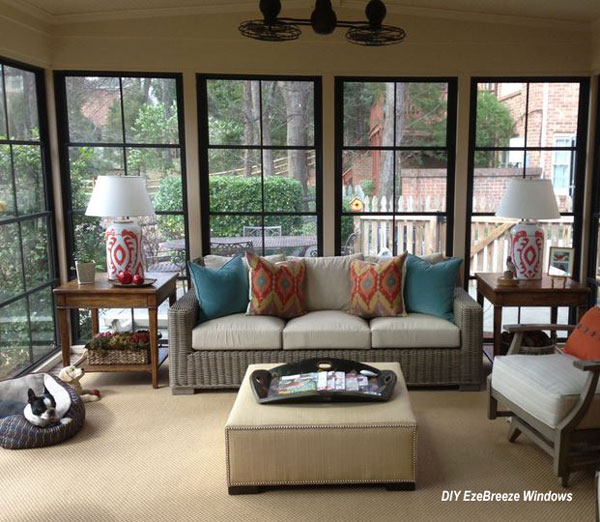 Designed to provide both maximum window and screened window views, EzeBreeze ® windows can be custom made to fit almost any opening.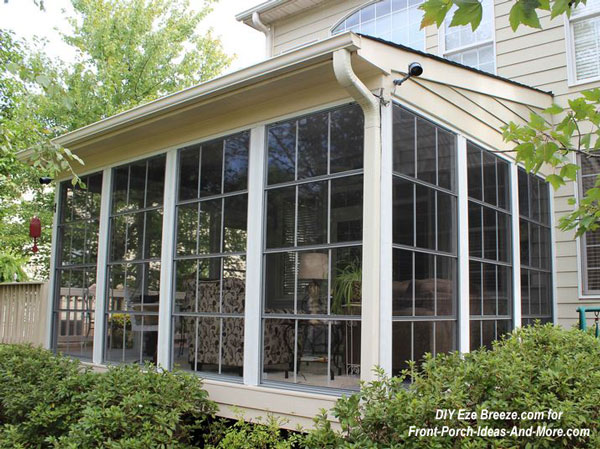 Aesthetically pleasing sunroom
Made from high quality vinyl, these windows will give you 3-season comfort along with the ability to open them easily to let the outdoor breezes in.
Less expensive than glass, this high quality vinyl can withstand abuse and return to its original shape.
If you already have a roof over your porch, patio, or deck, you can easily install these DIY vinyl windows -
learn more about this less expensive option
.
Option 8: Custom Built Sunroom Option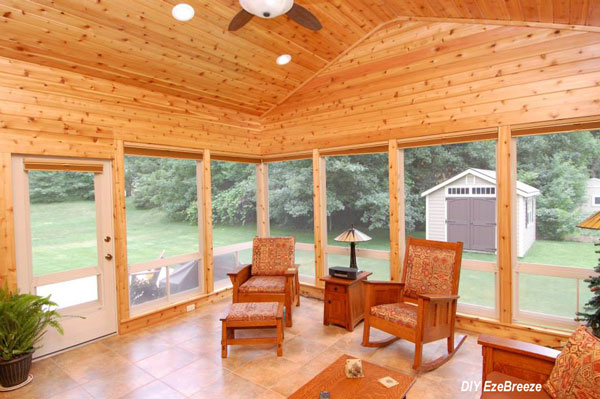 Magnificent sunroom ceiling
Don't have the skills or time to do it yourself? Then consider hiring a contractor to build the perfect sunroom for you!
Even though it may cost more to hire a reputable and experienced contractor, you will have the benefit of knowing it was constructed to meet local building codes and it will be designed to meet your needs.
Hi!
We're Mary and Dave
, lifelong DIYers, high school sweethearts, and we both love porches. You've come to the right place for thousands of porch ideas.
Our Sponsors
End Sponsors
---
Helpful Links
Enjoy shopping Amazon
(affiliate link)
Popular Pages
What's New
Join Our Newsletter Family
Porch Designs
Porch Ideas for Mobile Homes
Find a Local Contractor
Build a Porch
|
Small Porches
Porch Columns
|
Porch Railings
Screened Porches
Porch Curtains
|
Porch Enclosures
Porch Landscaping
|
Vinyl Lattice
Porch Decorating
|
Porch Ideas
Shop
Navigation Aids
Home
|
Top of Page
Site Search
|
Site Map
Contact Us
Policies
Disclosure Policy
|
Privacy Policy
Legal Info
---
Please Join Us Here Also

Find a Trusted Local Pro
---
Copyright© 2008-2024
Front-Porch-Ideas-and-More.com All rights reserved.
No content or photos may be reused or reproduced in any way without our express written permission.
At no extra cost to you, we earn a commission by referring you to some products on merchant sites. See our
disclosure policy
.
We, Front Porch Ideas and More, confirm, as stated on our
privacy policy
, that we do not sell personal information.
All content here is solely for presenting ideas. We recommend consulting with a licensed, experienced contractor before you begin your project.
We make no guarantees of accuracy or completeness of information on our site or any links to other websites contained here.
Thank you for taking your time to stop by.
See what's popular and new here
.