Front Porch Appeal Newsletter
Keep Cool and Relax This Summer
Issue #93 July 2018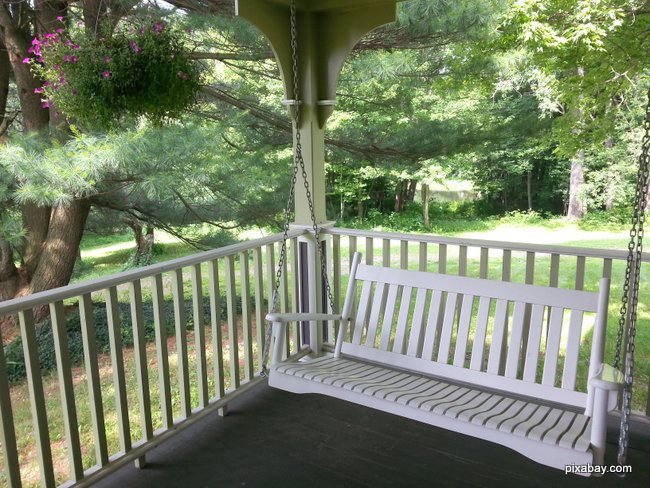 Porch swing days are here
Thank you for joining us here. You're a welcome addition to our day.

Here in the Nashville area, our grandchildren's summer vacation is already coming to a close at the end of this month. They don't like to hear us talk about it (shhh!).

Are your temperatures warm like ours? Our lawn will be happy when the sun takes a break. But even through the heat, we've had fun this summer and anticipate more fun when all 7 of our grandchildren get together soon. How about you? Any little trips or special moments this summer?

Porch time is a part of our daily lives. How about you? Dave and I especially loving sitting on the front porch when the occasional thunderstorm rolls around.

Thank you for reading this month's newsletter. In this edition we share...


Iced Tea or Lemonade for You?
A "Porch" for When You Don't Have a Porch
Does the Size of Your Porch Matter?
When It Comes to Relaxing...
Endearing Memories on the Porch Swing
Who Likes Woodworking?
A Lovely Summer Home
Which Do You Prefer? Lemonade or Iced Tea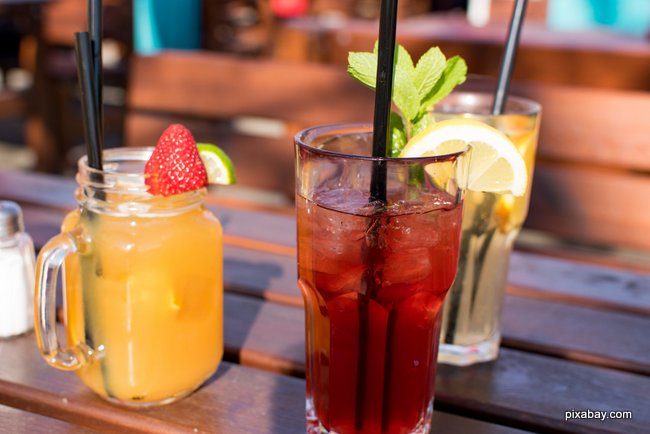 Lemonade or iced tea for you...
Without a doubt, our friends Danny and Donna have the best homemade lemonade recipe and it is our absolute favorite.

And when it comes to making a fresh pitcher of iced tea, we do just like our son:

Fill a pitcher about 1/3 full with hot water from the tap. Add a couple of single-serving size tea bags (or more if you like) and let it steep for an hour or so. Then fill the pitcher with more water and ice. Add sugar, if you are a sweet tea lover.

We've found that our grandchildren love both sweet tea and lemonade. So perhaps you can't go wrong either way.



A "Porch" for When You Don't Have a Porch
A Stand-Alone Porch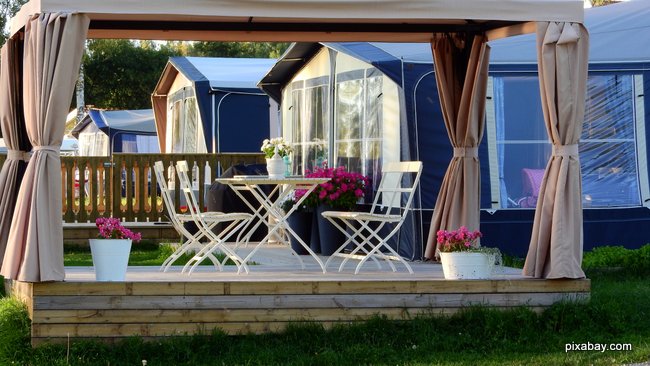 A creative porch for when you don't have one
When you don't have a place for a porch, you still can have one for your family. Look at this stand-alone porch crafted from a gazebo canopy structure.



See How Kimberly Created a Porch for Herself


Ever think of using your car port for your summer porch? That's exactly what Kimberly does. She has a car porch. You can read her story here.



Does the Size of Your Porch Matter?


Yes, the size of your porch is important but that doesn't mean that a super-sized porch is the best porch for you.

The depth and layout of your porch are important considerations if you want to spend quality time on your porch. And who doesn't want to have a great place to relax and spend time with the people in your life?

Dave provides some helpful tips about porch size in this video. If you're planning on building a new porch or adding to an existing porch, you'll pick up some good tidbits from Dave.

See more answers to your porch questions in our Porchology Series.



Endearing Memories on the Porch Swing
Please Listen to This Short Podcast (by guest Shannon Lee)
Take a few minutes to hear the sweet memories that Shannon shares about growing up with a porch swing.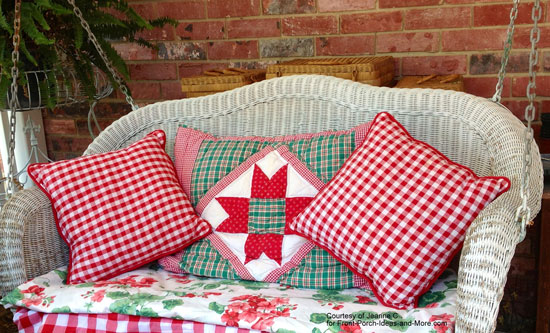 Photo courtesy of our reader, Jeanne
We love our own porch swing. It's where Dave and I gravitate when we're working in the front yard. It's where our grandchildren like to go to aimlessly imagine and relax. Porch swings are, well, the best.



Relax Here or Somewhere Else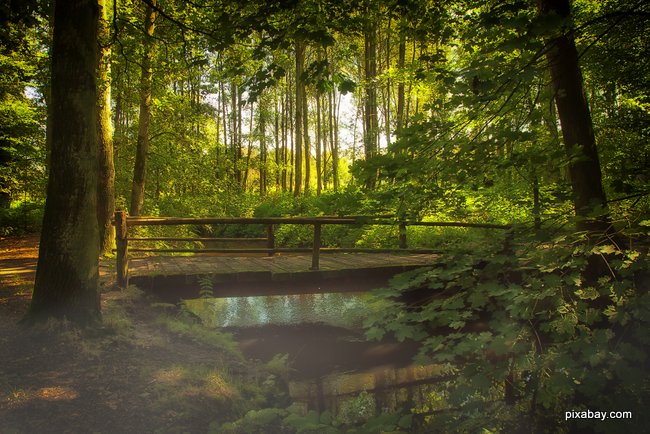 Do you prefer the cool green shade of this rustic foot bridge crossing the stream?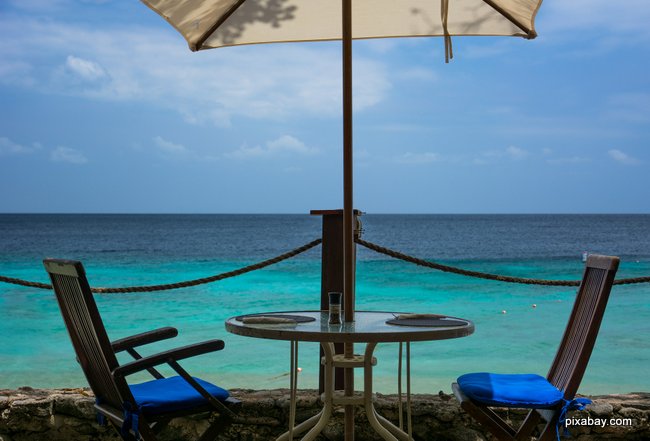 Or do you picture yourself here at the beach overlooking the tranquil cool blue ocean water?

Well, either way we hope you stay cool this summer. As for us, we like our covered back porch with the fan whirling, but we wouldn't say no to the coolness of the woods or the peacefulness of the beach either.



Thank You!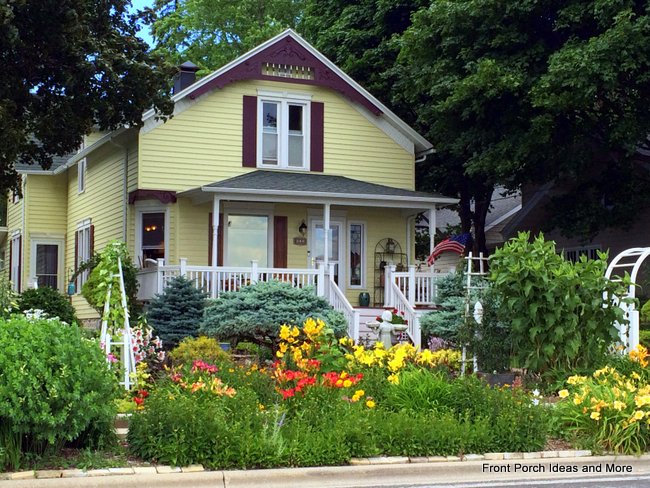 Lastly, cherish these summer days. Take a few moments to yourself whenever possible. Doing a bit of nothing is good for the mind and soul.

We hope our newletter brings a smile to you.

We appreciate you subscribing to our newsletter and we'll see you next time, friend.


Please Visit Our Fine Sponsors
We value our sponsors and the products and services they provide.








Join Our Porch Community on Facebook
You're invited to be part of our Facebook community. We share ideas with one another for decorating and using our porches. We have over 10,200 porch friends and would love to count you among them.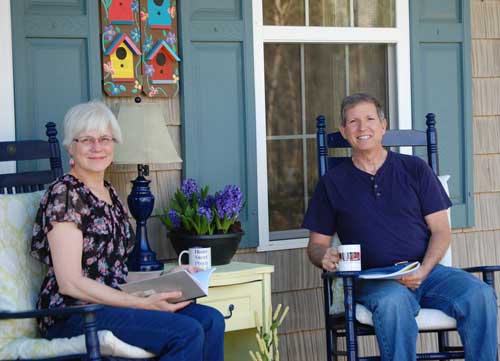 Happy porch sitting from your friends,

Mary and Dave


Life is short. Enjoy your porch.





At no cost to you, we receive commissions for purchases made through affiliate links in our content. Here is our

full disclosure

about affiliate marketing.

As an Amazon Associate we earn from qualifying purchases.








Porch Home

/

Newsletter Signup Page

/

Back Issues

/ July 2018


Advertisements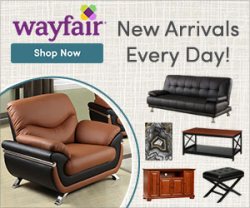 Enjoy Shopping Wayfair (affiliate)
Helpful Links
Popular Pages
---