By Dave and Mary

Front Porch Pergola Ideas
Create or Extend Your Current Porch This Easy Way
A front porch pergola is perhaps the easiest and most cost effective porch roof. It is relatively easy to construct while providing partial shade.

Once considered a structure for the garden, a pergola can be added to almost any existing roof design making them especially popular for ranch homes with low sloping roofs. Pergolas are also an alternative for two-story homes and ideal for those where a traditional roof is not feasible.


An attached front porch pergola roof covered with climbing vines
A pergola provides a measure of charm! If constructed with space for furniture and possibly a porch swing, is a wonderful place to enjoy a quick cup of coffee before heading to work or for relaxing with family and friends.

Pergolas do not block as much light through your home's windows as a covered roof and they allow more air to circulate freely throughout the structure to create additional comfort.

Whether you live in a ranch style or two-story home, a front porch pergola is both lovely for an extra dose of curb appeal as well as functional.


Here is a typical ranch style home
Now you see same ranch home with a front porch pergola, shutters and landscaping
We are showing this ranch home with a front porch pergola, raised patio style floor and upgraded landscaping. Another option would be to construct the patio floor at ground level and add steps at the front door.

Did you know that a pergola works just as well on two-story homes?



Here is a typical two-story home
Now here's the same two-story home with a front porch pergola
We added a pergola and expanded the existing stoop with patio style flooring.

Because you are not confined by slope requirements, a front porch pergola can be deep enough for your front porch furniture. Another advantage is the light that enters the front windows, an outcome many people prefer over a traditional porch roof.


A pergola-covered front porch with functional outdoor space
Check Out These Front Porch Pergola Design Considerations
A pergola can be free-standing (meaning anchored to the ground), attached to your home (wall-mounted), or as an extension to your existing porch roof making it extremely versatile. Pergolas can be used over both raised and ground levels, patio porch extensions, as well.


An adjacent pergola and patio porch extension give ample space for entertaining or relaxing
Typically, a wall mounted pergola is less expensive because it will only need two additional supports depending on the size and actual design.

Constructing a free-standing pergola may be a viable option if you do not want to make it a permanent structure to avoid local setback requirements or other reasons. We highly recommend you contact your local codes department (and HOA, if applicable) before construction, as there may be restrictions regarding the front of your home.

You also have the option of purchasing a front porch pergola kit for a DIY project or have it custom built to meet all of your needs.


Choose The Right Pergola Structure
Optimally, you will want to select a pergola style that fits your home's architecture and allowable space. Basically, there are two types: skillion (or flat) and gable.

The flat pergola style is the most common style for porches, simplest to construct, easiest to attach to your home, and can fit into L-shaped roof lines. It works well with with both ranch and especially two-story homes where there is insufficient space below the second-story windows for a gable roof.


A flat front porch pergola extension on a ranch home
Gable pergolas require more skill to construct and may be more common on two-story homes with sufficient space below the second-story windows.

Arched (or curved) pergolas are aesthetically pleasing although they will probably cost more than a flat or gable pergola. They make for a graceful entrance and can add an air of sophistication to a home.


Arched front porch pergola with square columns
In addition to the style, determine the size needed to meet your needs. A pergola can be constructed to fit over your front door and landing or extend along the front of your home and even cover your walkway. It can also extend outward from your home to create as much space for a seating area as desired.

If you already have a porch roof of any size, a pergola can be attached to the roof and extend over a patio area. It can be attached to another part of your home adjacent to the porch as an extension or be constructed as a stand-alone structure adjacent to your porch.

The front porch pergola below fits nicely between the two gables on this ranch home, a definite advantage of a pergola.


This pergola front porch joins two gable roofs
A pergola front porch can be attached to your home or stand alone. Due to local set back requirements or HOA rules, you may not be permitted to extend the front of your home.

A stand alone pergola can be considered as part of your landscaping and may not fall under those requirements. Make sure to check with your local building codes department or HOA to ensure you are in compliance before you build.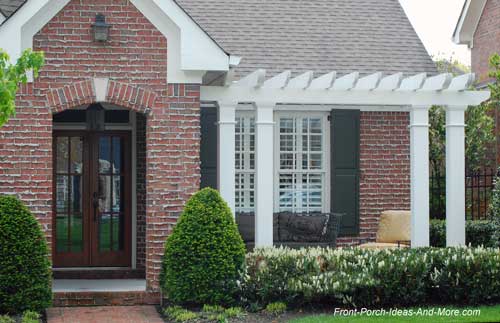 A standalone front porch pergola
Front Porch Pergola Extension
A front porch pergola over a patio extension on a small porch can add lots of appeal and space for enjoying the outdoors. Below is a typical home with a small front porch.

As you can see there is space to the left of the existing porch with which to expand. Constructing a pergola over a patio area is possibly the easiest and most cost effective option.


Home with small but expandable front porch
Home with small but expandable front porch
Time to enjoy some lemonade!
Consider the Slope
Pergolas can be ideal on two story homes that do not have sufficient space between the first floor and the windows on the second floor. Often times, other roof designs are not feasible due to this fact and local building codes regarding minimal slope requirements. In most cases, pergolas do not have to meet slope requirements. But always check with your local codes.


A pergola does not usually have to meet slope requirements
As you can see below, there is insufficient room on this two story home for any other type of roof except perhaps a traditional flat porch roof. A flat roof would be feasible if permitted by local building codes; otherwise, the pergola roof adds lots of curb appeal.


Wisteria-covered front porch pergola on stone pedestals
Pergola Porch Design Tips
Because of their design, pergolas do not incur or cause water run-off issues. However, if you intend to cover your pergola with a manufactured product ensure there is sufficient slope (or pitch) for water to drain properly away from your home.
If constructing a pergola on an existing small porch, ensure the supporting posts are positioned so as to not interfere with your front door opening and closing.
Pergolas are traditionally covered with foliage to create a natural cover, either hanging baskets or climbing vines. However, you will want to exercise care when selecting plants that will be close to your front door. Some plants attract wonderful visitors like butterflies and hummingbirds while others like certain varieties of hollies and eponymous attract flies.
Here are a few climbing vines to consider: Wisteria, Clematis, Climbing Roses, Boston Ivy, Virginia Creeper, Crimson Glory Vine, Trumpet Vine, Grape Vines, Potato Vine, and Climbing Hydrangea. If wanting a natural cover, we recommend you research which foliage is best for both your geographical area and to inhibit unwanted guests.
Considering adding lighting to your pergola if you are going to cover it. Covers tend to make the area beneath dark and often times your home's exterior lighting may be insufficient to light the space.
Select the Right Front Porch Pergola Material
No matter the style of pergola, you will have several different material options from which to choose.
Let's Start with Wood
Pressure Treated Lumber
Pressure treated is the least expensive of the woods used for pergolas. Although not aesthetically pleasing by itself, it can be painted or stained and if maintained properly can last for years.

It is usually readily available at almost any home supply store; however, often times due to the quality of the lumber you should select the driest pieces yourself if feasible as they can shrink considerably as they dry.

We recommend adding the cost of stain or paint and regular maintenance over the years into the total cost of your project.
Redwood or Western Red Cedar
Both are excellent wood choices and probably the most common for pergolas after pressure treated. The primary difference between them is that Redwood has the darker red-brown hue and a very good strength-to-weight ratio.

It is very stable with minimal shrinkage which makes them ideal for pergolas.

Western Red Cedar is reddish to pinkish brown and has random streaks and bands of darker red to brown tones. It is less hard than Redwood and is lower in strength but has very good working properties. Like redwood, it has low shrinkage and is very resistant to warping or twisting.


Cedar Pergola
If finished and maintained properly, cedar will be trouble-free for years. However, it is the most expensive material and often times difficult to obtain.


Composites
Selecting a composite material for your pergola ensures it will not rot, warp, or split nor be infected with termites. You also have choices of different composite materials. Different pergola manufacturers use a variety of composite materials, each having their own specific characteristics, warranties, and color choices. Below are a few examples:

Wood plastic composites are a mixture of quality wood and a polymer. They are environmentally friendly and virtually maintenance free. WPCs are popular and are a very versatile material that can combine the traditional appearance of wood with the durability of a manufactured composite.

Aluminum reinforced cellular PVCs are incredibly strong and offer a myriad of design and color options.

Advanced polymer materials ensure the pergola will not rot or split and is very resistant to moisture and insects.

Needless to say, you have lots of options and can readily find one to meet your needs.


Fiberglass
If looking for a more modern appeal, consider choosing a fiberglass made pergola as your porch roof. They are usually lighter than wood but can be just as strong as steel.

Although fiberglass is more expensive than wood, it will not rust, bend, or warp nor be subject to insect infestations. And you can find them in a wide range of colors.


Vinyl
Another option is vinyl which is less expensive than fiberglass. The difference between vinyl and fiberglass is that vinyl is a type of plastic from polyvinyl chloride (PVC) whereas fiberglass is glass that is melted at extreme heat and then separated into fine fibers which are then woven together to form the material.

Although somewhat frowned upon years ago, vinyl is now a preferred material for outdoor structures. It now contains additives that protect it from the sun and to extend its life time usage.

Vinyl is maintenance free although it usually cannot be painted.


Attached Vinyl Pergola -available at Amazon.com (affiliate link from which we may receive a commission)
Aluminum and Steel Options
Aluminum pergolas can be purchased as kits or custom designed. They are normally powdered coated to last for years and can withstand severe weather conditions.
Purple Leaf Metal Pergola With Powder-coated aluminum frame for strength and durability.-available at Amazon.com (affiliate link from which we may receive a commission)
Steel pergolas are definitely constructed to last a long time and provide the utmost protection from fire, corrosion,twisting, decay, and insects. They offer a contemporary appeal and definitely make a statement.
Discovery Stratford 14' x 10' Black Steel Traditional Pergola -available at Amazon.com (affiliate link from which we may receive a commission)
Front Porch Pergola Construction Options You can build your own pergola, construct it from a kit, or have it custom designed and built on site. Standalone pergolas are fairly easy to build as a DIY project or from a kit. However, if building an attached pergola, extra care and knowledge may be required to ensure it is attached properly and in the right location.

Standalone Front Porch Pergola

You can find attached pergola kits at your local home supply store and online as well.

Attached Pergola Kit -available at Amazon.com (affiliate link from which we may receive a commission) If considering building your own front porch pergola, check out the video below to see a few options for attaching it to your home.

Installing an Attached Pergola on a Deck

Several Ways to Attach a Pergola to a House



Pergolas, once thought only for the backyard, are now finding a new location on the front porch. They can give your home an air of sophistication and a light and airy appeal. They add a real porch feel with outdoor furniture, a front porch swing, and hanging baskets.







Hi!
We're Mary and Dave
, lifelong DIYers, high school sweethearts, and we both love porches. You've come to the right place for thousands of porch ideas.
Our Sponsors
End Sponsors
---
Helpful Links
Enjoy shopping Amazon
(affiliate link)
Popular Pages
What's New
Join Our Newsletter Family
Porch Designs
Porch Ideas for Mobile Homes
Find a Local Contractor
Build a Porch
|
Small Porches
Porch Columns
|
Porch Railings
Screened Porches
Porch Curtains
|
Porch Enclosures
Porch Landscaping
|
Vinyl Lattice
Porch Decorating
|
Porch Ideas
Shop
Navigation Aids
Home
|
Top of Page
Site Search
|
Site Map
Contact Us
Policies
Disclosure Policy
|
Privacy Policy
Legal Info
---
Please Join Us Here Also

Find a Trusted Local Pro
---
Copyright© 2008-2024
Front-Porch-Ideas-and-More.com All rights reserved.
No content or photos may be reused or reproduced in any way without our express written permission.
At no extra cost to you, we earn a commission by referring you to some products on merchant sites. See our
disclosure policy
.
We, Front Porch Ideas and More, confirm, as stated on our
privacy policy
, that we do not sell personal information.
All content here is solely for presenting ideas. We recommend consulting with a licensed, experienced contractor before you begin your project.
We make no guarantees of accuracy or completeness of information on our site or any links to other websites contained here.
Thank you for taking your time to stop by.
See what's popular and new here
.

Hi!
We're Mary and Dave
, lifelong DIYers, high school sweethearts, and we both love porches. You've come to the right place for thousands of porch ideas.
--- Our Sponsors ---
--- End Sponsors ---
Mary's Etsy Shop
Find Top-Rated Service Pros
Our Newsletter, Front Porch Appeal
Learn more
!
Thank you for being here!