If you purchase an item through affiliate links within our content, we will earn a commission at no cost to you. As an Amazon Associate we earn from qualifying purchases. See our disclosure policy.
Outdoor Porch Lights
Are All About the Porch Light Fixtures
Nothing looks better or makes a larger impact on your home than new outdoor porch lights. Make your home safer and more attractive with decorative hanging or fixed porch lighting fixtures.

We are all very familiar with the standard porch lighting by the front door. You either have a ceiling light above or a wall light (or two) beside the door.

For many, the only thing we've done is change the light bulbs periodically. You'll be surprised to learn how many different lighting options you have. If you want to add instant curb appeal and brighten your porch, start with your lights!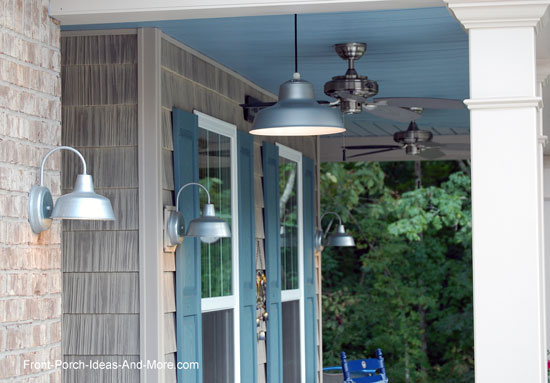 Barn style front porch lighting that we have on our porch
A Few Outdoor Porch Lights from Amazon that We Like
We are in Amazon's affiliate program and these are our referral links. Thank you.
Romantic pendant lighting over bistro table on front porch
Here are a few of the many types of outdoor porch lights we found at Amazon to give you some great ideas for your own porch lighting.



Madison outdoor down light - (Amazon affiliate link for which we may receive a commission)
Emma Jane outdoor wall lantern - (Amazon affiliate link for which we may receive a commission)
Bella Luce wall lantern - (Amazon affiliate link for which we may receive a commission)
Old fashioned barbor lamp - (Amazon affiliate link for which we may receive a commission)
Barn porch lamp - (Amazon affiliate link for which we may receive a commission)



Selecting just the right porch light fixtures can be fun. You have so many outdoor porch lights to choose from and so many ways to light your porch.

Be sure to check our porch lighting section for more ideas on timers, motion sensors, and placement.








Advertisement











Advertisements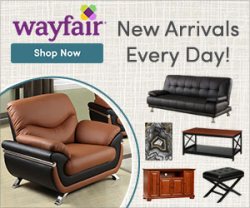 Enjoy Shopping Wayfair (affiliate)
Helpful Links
Popular Pages
---