Spray Paint Your Cushions?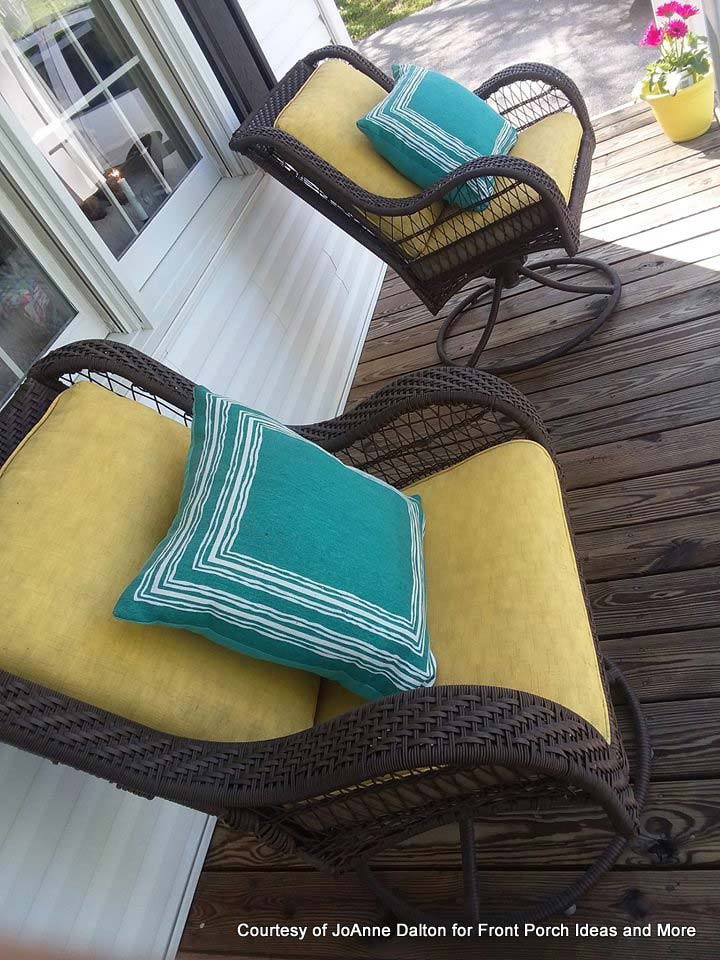 JoAnne says "Spray paint is our friend"
Our facebook friend, JoAnne, saw our spray paint chair ideas and she told us that she also spray paints her porch cushions and flower pots.
Wow, right?
She says she has been doing it for years because cushions are so expensive. She also told us that her cushions are yellow on one side, taupe on the other and she reverses them come fall.
I asked JoAnne how the cushions "feel" for sitting.
JoAnne told us, "Different material and textures feel differently. These yellow cushions tend to be stiff right after painting, but break in well by softening with use.
We have never had paint come off either, even after getting wet since these do see some weather. Light layers to coat, drying well in between, seem to be the key to success. But that's true with any spray paint project."
JoAnne also spray paints her shutters
JoAnne told us, "One of our first spray painting projects was updating our faded burgundy shutters to a beautiful black. They have held up for 8 years now, with no touch ups or priming. We are in Virginia so they see 4 seasons of weather."
This is the spray paint that JoAnne used for her cushions and pots.
We really appreciate her tips and hope they help you, too.