By Dave and Mary

Staining Concrete Floor Basics
Expert Advice About Staining Your
Front Porch Floor and More
Our staining concrete floor basics give you a professional perspective regarding staining your concrete porch, patio, or other concrete project. We are pleased to share the professional advice and photos from David Goddard, owner and operator of Goddard Designs Decorative Concrete.

Mary and I had the good fortune to ask David several questions we believe you may have regarding staining concrete.

Because correcting mistakes is not easy, we thought it best to learn from the experts.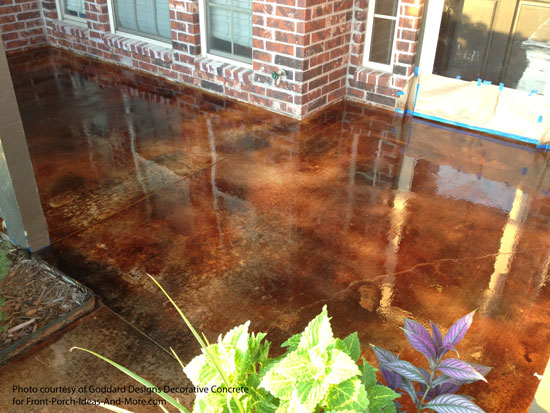 Staining Concrete Floor Basics
Interview with David Goddard
David, what factors should be considered when staining new porch concrete flooring, such as surface texture and color considerations? Anything different to take into account for older concrete flooring?
Most exterior concrete patios, walk ways and driveways can be stained regardless of age.

However, a general rule of thumb is that the newer the concrete the more vibrant the colors will be. This isn't always the case though since there are techniques and methods available to clean and even restore older concrete surfaces.

As long as the concrete surface is intact, not previously treated with a sealer and free from other chemical spills/imperfections, then you can enjoy stain to its full potential. Color options generally vary and depend on the region you live in.

Here in the mid-west, earth-tone colors are popular since most homes are constructed with some degree of those red, browns and tans (brick, stucco, siding, etc).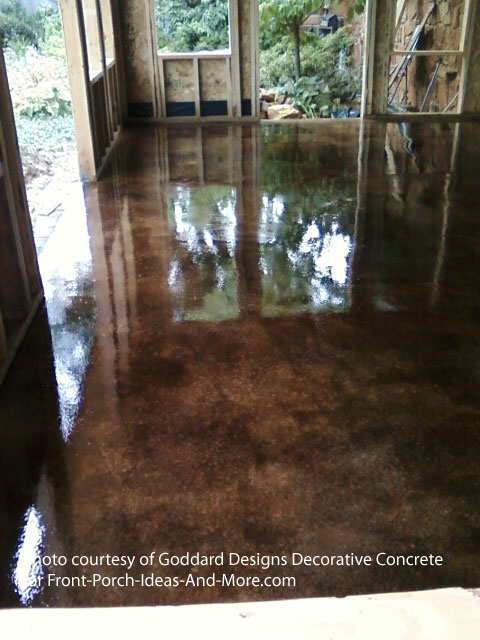 This was a beautiful sunroom that David worked on a few years ago. Cola and Vintage Umber were the colors chosen and he couldn't have been more pleased with the outcome.

Exterior concrete in most cases are textured (broom finish, etc), and as a result acid stain can look a little differently than staining interior concrete which is generally smooth and texture-free. Either way, you can't go wrong with adding color to your concrete.
Staining Concrete Floor Basics - Staining Process
Dave and Mary: Briefly explain the staining concrete floor process.
David: Acid and water-based staining is a process in which a chemical reaction takes place between the stain, the lime and other minerals inside the concrete. Depending on the application method, you can achieve a wide variety of results.

However, each concrete surface has its own "personality", so it is difficult to specifically predict the final color(s) intensity and other character traits associated with the process. Multiple colors can be skillfully used together to create a dynamic that's visually stunning!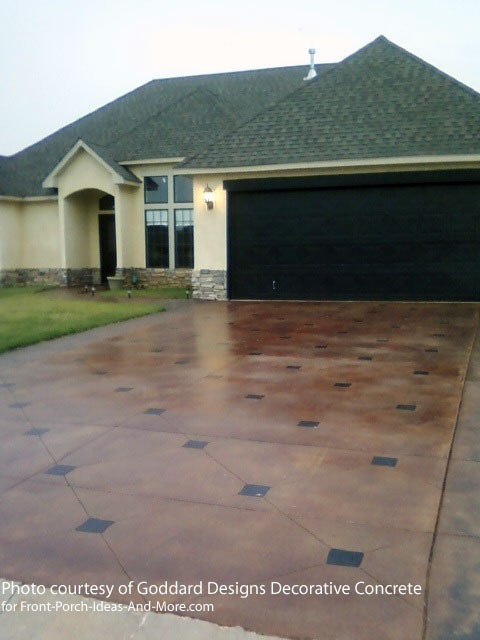 David writes: "This was our very first custom home that we built a few years ago. We always knew we wanted something unique for our driveway and walkway so I painstakingly created a custom design. This beautiful pattern is so time-consuming that I haven't duplicated it on another driveway since. However, I would certainly provide this custom design again should a client ask for it."

[It's not a staining concrete floor basics type of thing.]

A high-quality sealer is needed to complete not only the staining process, but also the final color aesthetic. For exterior surfaces, it's vital to select a sealer that is non-yellowing and UV resistant. This will add considerable life to your protecting top coat and provide longer protection against the elements.



Dave and Mary: Explain various staining techniques
David: There are actually many staining techniques in the world of decorative concrete. Some factors that influence this are region, trends, individual concrete artist and client request (to name a few). One of the most common methods is spraying. This method provides a nice conical, uniform and consistent pattern.

Brushing and ragging are also techniques to apply stain. You can achieve interesting effects by using these, however the application time can sometimes be extended as styles such as ragging are often done by hand.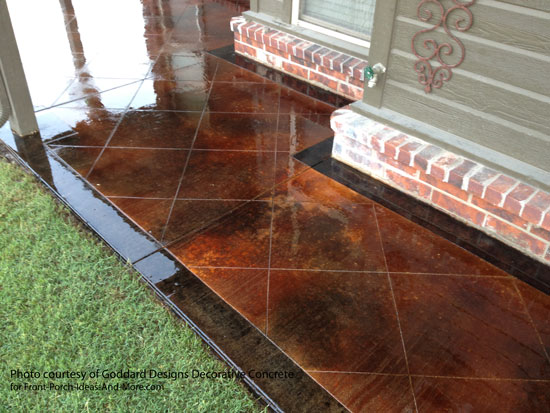 This back patio is an example of how vibrant and stunning the overall design looks with a border, especially if it's stained a darker color for contrast. The diamond pattern is a timeless classic and can add elegance and style to any porch or patio.

More intricate and specialized designs are hand 'painted' with stain. Examples of these might be custom scoring patterns that are stained a variety of colors by hand. Detailed work such as this would make spraying or other techniques undesirable since the application cannot be controlled.



Staining Concrete Floor Basics - Designs and Patterns
Mary and Dave: How do you create designs and patterns like diamonds, checks, etc.?
David: Decorative scoring is a creative technique in which desired patterns and designs are cut into the concrete surface. The depth usually averages between 1/8 inch or greater. Regardless of which design is used, the one common denominator is math.

Figuring out where everything goes, how big they are and whether there's a need to proportion it all is part of the calculations.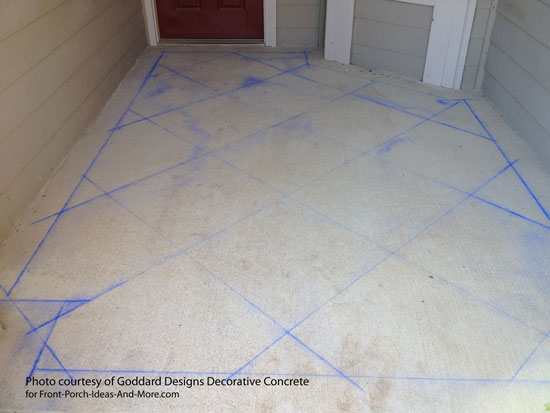 Decorative scoring always starts with a little math and imagination. In most cases, any concrete space can be scored with a beautiful design. Once the pattern is decided then the entire design is applied to the surface using blue contractors chalk. You can then see exactly how the overall design is going to look before cutting a single line with a saw.

Scoring is a permanent application and therefore mistakes cannot be undone. As such, concentrating and a steady hand are essential throughout the cutting. All in all, scoring goes hand in hand with acid staining and should be given consideration prior to deciding which options will be chosen for the client.


Staining Concrete Floor Basics - Maintenance
Dave and Mary: How do you care for and maintain stained concrete?
David: Stained concrete is usually a low-maintenance affair. The sealer top coat protects the stain underneath from water and other elements. Dirt, leaves and other exterior debris are swept or blown off with ease.

There are a few concerns though. The first is outdoor furniture, especially of the metal or iron-made type. A higher degree of care is essential when it comes to exterior furniture due to the fact that dragging metal chairs across a finished surface can damage the stained concrete (sometimes severely).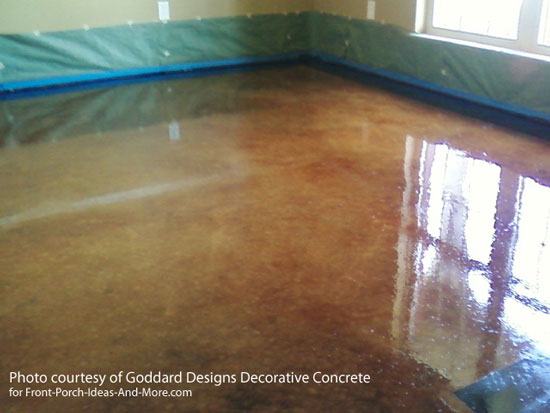 You wouldn't believe it but this floor actually used to have carpet on it. Not all concrete slabs post-carpet are suitable for stain. In most cases this is due to the excessive amount of glue, paint, chemical spills and other things that were spilled on the floor during construction.

Having said that, there are extensive preparation techniques that can bring an otherwise unacceptable floor to stain readiness. In severe cases, it's best to have an overlay (skim coat) of fresh concrete applied to the surface.

I generally tell clients to treat their stained patios (etc) like they would a blu-ray disc. You don't want to drag metallic objects across the surface because it will scratch. A deep enough scratch can actually penetrate through the sealer and stain thus exposing raw aggregate. Touch-ups can often times be applied, but this doesn't always camouflage the initial damage.

The second concern is rock salt, which is obviously used to melt ice during the winter season. Using rock salt on regular concrete is fine (although a white discoloration may occur) but this can be very damaging to sealers. I highly recommend replacing rock salt with kitty litter, or other non-chemical deicers.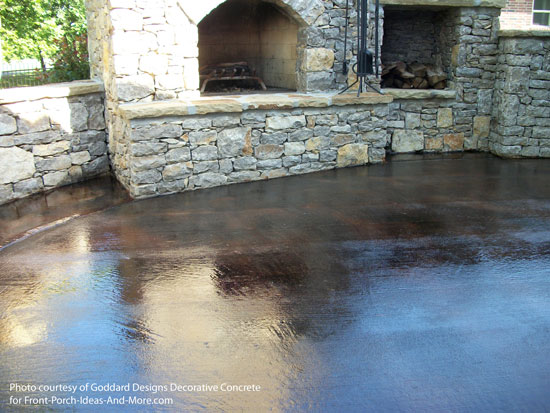 The color (vintage umber) complements the stone fireplace and furniture.

Staining is a permanent application. The only thing not permanent is the protective sealer top coat. That can eventually wear down or even off. In time a revitalization cost may be necessary.

The frequency will depend on traffic. Most residential households might not need to worry about a fresh coat of sealer but once every 1-2 years or so. Clients who entertain frequently on treated areas or commercial flooring with high traffic might need to address this situation sooner.



Staining Concrete Floor Basics - Topcoats
Dave and Mary: What are our sheen options?
David: Sealers come in the luster (shiny, glossy, etc) and matte (dull, non-glossy) types. Most applications use a sealer with some degree of gloss as this accentuates the stain colors and final visual aesthetic. It all comes down to personal preference, but regardless ensure that a high-quality non-yellowing UV rated sealer is being used.



Dave and Mary: Describe concrete stamping and clear coating.
David: Concrete stamping is only possible when a brand new patio, walkway, driveway, etc is being poured new or when a thick enough micro-overlay (skim coat) is being applied over an existing surface. Stamping is a very specialized technique where rubber stencils containing various patterns are "stamped", or pressed onto the soft concrete.

The window for this application is very small, however. The surface needs to be hard enough (set up) for the contractor(s) to carefully stand/walk on, but also soft enough to receive the stamp imprints. Since stamping is done in sections, poor timing and planning can be absolutely devastating, with worst case scenarios calling for the concrete in question to be ripped out and re-poured (at the contractors expense).

Stamping is very unique in that there are many designs available to create stunning effects on your concrete. Some designs include making surfaces look like: Italian Slate, Marble, Hardwood Flooring, Stacked Stone, Riverbed Rock, etc.



Staining Concrete Floor Basics - Costs
Could you address average costs of staining concrete?
David: Pricing for decorative concrete in many cases falls into 1 of 3 categories: Price per square foot, price per linear foot or a predetermined total. There are other exceptions, though.

As a guide only and to give you a general idea, decorative concrete services may range from $2.00 per square foot to $15.00 per square foot depending on where you live. Labor-intensive services will cost more. High-quality concrete overlays and stamping may fall within the previous estimated pricing range.

A basic stain and score package, depending on location and size of the project, can range anywhere from $2.50 per square foot on up. More complex staining or intricate scoring designs may increase the price.

Concrete overlay systems generally start around $5.00 per square foot. This can vary significantly depending on factors such as thickness desired, total amount of product needed and whether or not decorative services are requested after the new overlay has been applied.

The differences between hiring a professional and doing a project yourself can have considerable pros and cons. Those who are pressed for time and/or lack the necessary knowledge and skills to DIY should consult a reputable professional. Many companies offer complimentary estimates as well.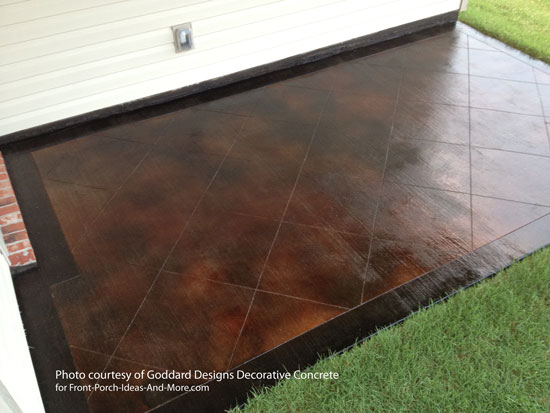 This is a classic diamond pattern with a border. The stain colors used were Vintage Umber and Black. Note the depth and dimension of the colors; random darks and lights give any concrete surface personality and character.
Staining Concrete Floor Basics - Final Thoughts
However, prior to contacting a professional, it's advised to at least spend a little bit of time researching the basics of how decorative concrete works, or more specifically the service(s) you're interested in getting.

This can often times be very beneficial between the client and the contractor, especially since doing research can eliminate unreasonable expectations, concerns or anxieties regarding the project.

For those who like to get hands-on with their home or business, doing it yourself is a double-edged sword: On one hand you stand to save a lot of money initially on materials and other labor-related costs, but on the other hand, if you make a mistake (or several mistakes) you can quickly go upside down financially on the project in an attempt to correct whatever happened.

Because stain and other decorative concrete services are semi-permanent to permanent, mistakes can have very undesirable outcomes. Those who spend the necessary time researching and getting hands on experience stand a greater chance of success in whatever it is you're wanting to accomplish. Be sure and follow each and every recommended process and take your time. There's quite a lot involved in staining concrete floor basics.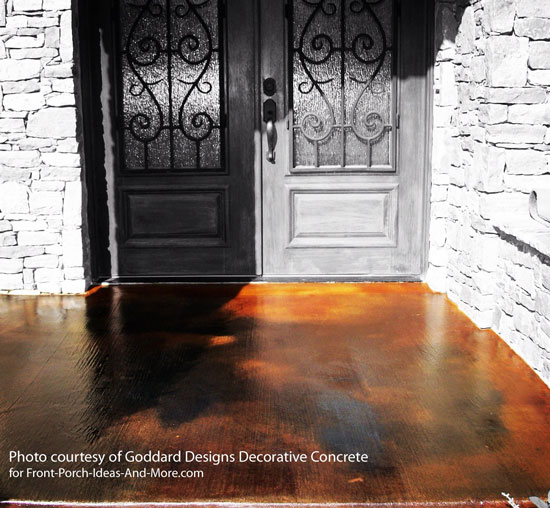 This beautiful porch patio was stained with two different colors. The outcome was completely random and stunning.
Thanks, David! Mary and I really appreciate your insight on staining concrete floor basics and know this information will be of help to many who are contemplating staining their front porch or patio.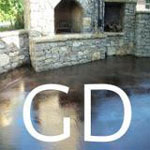 David Goddard, owner and operator of Goddard Designs Decorative Concrete, has provided quality services since August 2006.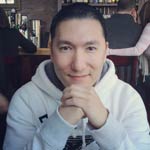 David believes that plain and uneventful concrete is simply a blank canvas waiting for beautiful stain.
Based in Oklahoma, Goddard Designs Decorative Concrete provides a wide variety of concrete staining, glazing, and sealing services.
We encourage you to learn more about the art of staining concrete by visiting (and liking!) David's business page,
Goddard Designs Decorative Concrete
.
Hi!
We're Mary and Dave
, lifelong DIYers, high school sweethearts, and we both love porches. You've come to the right place for thousands of porch ideas.
Our Sponsors
End Sponsors
---
Helpful Links
Enjoy shopping Amazon
(affiliate link)
Popular Pages
What's New
Join Our Newsletter Family
Porch Designs
Porch Ideas for Mobile Homes
Find a Local Contractor
Build a Porch
|
Small Porches
Porch Columns
|
Porch Railings
Screened Porches
Porch Curtains
|
Porch Enclosures
Porch Landscaping
|
Vinyl Lattice
Porch Decorating
|
Porch Ideas
Shop
Navigation Aids
Home
|
Top of Page
Site Search
|
Site Map
Contact Us
Policies
Disclosure Policy
|
Privacy Policy
Legal Info
---
Please Join Us Here Also

Find a Trusted Local Pro
---
Copyright© 2008-2024
Front-Porch-Ideas-and-More.com All rights reserved.
No content or photos may be reused or reproduced in any way without our express written permission.
At no extra cost to you, we earn a commission by referring you to some products on merchant sites. See our
disclosure policy
.
We, Front Porch Ideas and More, confirm, as stated on our
privacy policy
, that we do not sell personal information.
All content here is solely for presenting ideas. We recommend consulting with a licensed, experienced contractor before you begin your project.
We make no guarantees of accuracy or completeness of information on our site or any links to other websites contained here.
Thank you for taking your time to stop by.
See what's popular and new here
.

Hi!
We're Mary and Dave
, lifelong DIYers, high school sweethearts, and we both love porches. You've come to the right place for thousands of porch ideas.
--- Our Sponsors ---
--- End Sponsors ---
Mary's Etsy Shop
Find Top-Rated Service Pros
Our Newsletter, Front Porch Appeal
Learn more
!
Thank you for being here!