Did You Know You Can Get These Online?
Keep Loved Ones Safe with a DIY Porch Handrail Kit
If you have unprotected steps, you may be interested in DIY railing kits that are ideal if you have from 1 to 5 steps. Some of our readers have purchased them and we're delighted to see that the kits get excellent ratings on Amazon.
InstantRail 5-Step Adjustable Handrail - (Amazon affiliate link for which we may receive a commission)
Perfect for your porch, deck, or stoop, they can be installed on concrete or wood. Because they are adjustable, they will adapt to almost any slope making them easy to install like a pro.
Iron X Handrail Arch #1 Fits 1 or 2 Steps - (Amazon affiliate link for which we may receive a commission)
Only Have One or Two Porch Steps?
Even though you may not be required by code, we still encourage you to consider adding hand rails to your porch even if it only has a step or two.
Easy installation on deck steps too - (Amazon affiliate link for which we may receive a commission)
Too many times we neglect to pay attention to the small things that can have real consequences, like changing the batteries in your smoke alarms. Same goes for ensuring your family's or visitors safety on steps. Seems like one, two, or three steps shouldn't be an issue.
However, I often ask people how many steps does it take on which to fall? Answer: only one.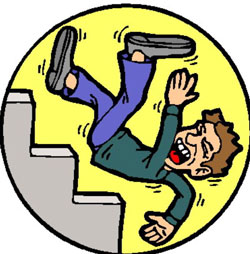 An older adult is treated in the emergency room due to falls every 11 seconds; every 19 seconds an older adult dies from a fall. Falls in general account for over 2.8 million visits to the emergency room with over 27,000 deaths annually.
We can't prevent them all, but you can protect your family and friends by installing a handrail on your porch, deck, or stoop,
Don't wait till you or someone you know falls and then decide to install a railing; an ounce of prevention is worth not going to the emergency room.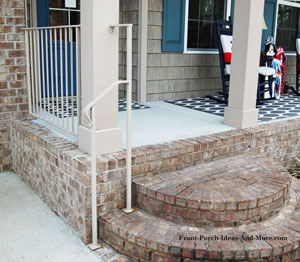 We added a stair hand railing on our porch even though it isn't required by building codes. Guests who visit our home often reach for it.
At no cost to you, we receive commissions for purchases made through affiliate links in our content. Here is our
full disclosure
about affiliate marketing.
As an Amazon Associate we earn from qualifying purchases.