Build a Screened Porch
Lots of Options - You Decide
You can build a screened porch on an existing porch, deck, or patio or build one from the ground up. You can even make it a free-standing structure.



Screening a porch, deck, or patio adds instant value to your home, allows you to enjoy the outdoors comfortably and provides protection from the weather and bugs.

Building a screened in porch can be a relatively easy and even an inexpensive project depending on the style and features you'd like to have. Or, if you prefer more outdoor luxury, a custom-designed screen porch may be your answer.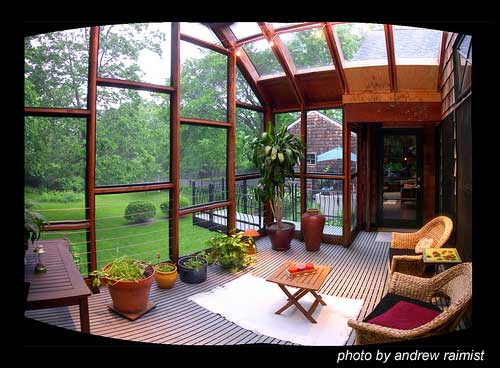 Photo courtesy of Andrew Raimist



Andrew's screen porch roof shown above has numerous skylights. The walls are enclosed with fixed screens.

He used composite fiberglass industrial flooring to allow for air circulation from below and to allow light to filter down to the ground. Also note the steel cable railings.





We outline five options below to get you started. We're sure one of them will be just the screen porch project that's right for you:






Option 1: Screen In Your Existing Covered
Porch, Deck, or Patio


Since you already have the roof in place this is a quick and easy way to install a screened porch to enhance our outdoor enjoyment.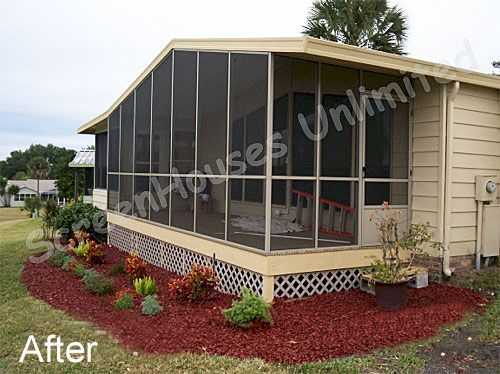 This project involves cutting and installing extruded aluminum framing between your supporting columns and inserting screen panels. Depending on the size of your deck, patio, or porch, you could have a wonderful screened in area in a weekend.




You can also select from a variety of screening materials giving you even more options for creating a comfortable and durable screened porch the easy way.



You could even make your own screen panels to fit between your porch columns to screen in some or all of your existing porch.





Another option for screening your porch is using screen track systems like Screen Tight's "Fast Track System" (registered trademarks), a two-part design meant for easy installation.




Install Screen Porch Windows
Installing screen porch windows is another option (and one we really like). Screen porch windows give you the advantage of not only having a screened porch but also going one step further to potentially build a wonderful three-season porch!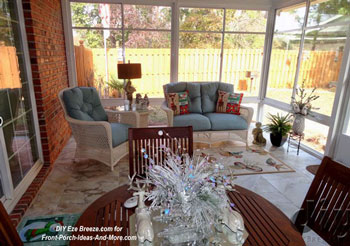 These screen porch windows are easy to install on your existing covered porch, deck, or patio.

They are custom made to fit almost any opening. The highly durable vinyl windows not only provide protection from the wind, rain, but also from pollen.




Walls Only and Screen Porch Windows are easy do-it-yourself projects if you've had experience with framing and other general construction projects.

You may or may not have to install additional wood framing on your existing porch, deck, or patio depending on the type of walls only kit you select. If you need help with some or all of the project, it shouldn't cost a lot as you have the major structural components, i.e., roof and columns, already in place.





---

Three-sided screen enclosures
by Screen Houses Unlimited
Three-Sided Screen Porch Kits
Kits come with everything you need to erect a screen porch on your existing deck or patio. Kits come complete with extruded aluminum framing, a durable roof, and screen panels.

We used one of these on a previous home and enjoyed it for years!

As a seasonal structure, enjoy the benefit of eating outdoor without bugs! They are easy to disassemble and store during the winter months.




Hard-Top Screen Porch Kits
For year-round comfort, choose a hard-top screen porch enclosure kit.




Kits come with everything your need to erect an all-year screen porch on your deck or patio. Economical, they cost less than custom built screen porches yet offer the same functionality. Enjoy meals with family and friends without having to compete with insects.



---
Option 3 - Build Your Own Screened Porch On Your
Existing Deck Or Patio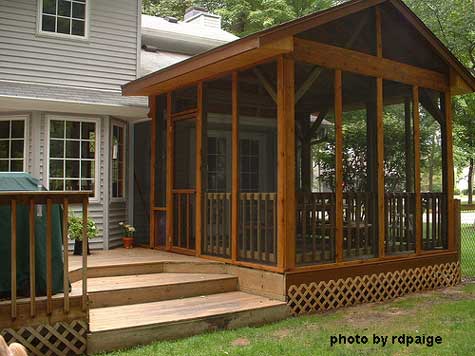 Photo courtesy of rdpaige



All you need are columns and a roof and then framing to accommodate your screens.

Just make sure your deck or patio is (1) in good repair and (2) is substantial enough to support a roof with snow if that is applicable to your area.

In addition, you will may need excellent roof construction experience depending on the type of roof you will require; otherwise, see Option 6 - Hire a Contractor below.

The screened porch addition you see above was built on top of an existing backyard deck. The gable ceiling gives ample visual space when entertaining or dining in comfort.

Normally you would extend the gable from the home's roof; however, on this porch it was not extended and thus made it easier to build.





---
Option 4: Build a Screened Porch New - From The Ground Up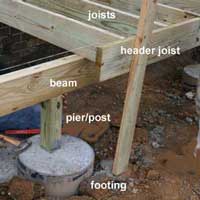 If you aren't an experienced remodeler then we recommend you see Option 6 - Hire a Contractor below.

Otherwise, given you have some very good framing, foundation, and roof construction experience, it's time to break out the power tools!



Start with your own design or use a screen porch plan that you can use as is or modify to suit your needs.


We found a good variety of Plans For Screened In Porches like the one at right from which you can choose!

Building from a plan makes it easy and you can usually modify them to suit your individual needs.


Start with our Building a Porch section which outlines each facet of construction, from the foundation to the roof.

Once your porch is built, we show you how to screen it in!

Before you build, see our Safety Section.



---
Photo courtesy of

The Porch Company

Custom Designed and Built by The Porch Company




The custom designed and built screened porch above is complete with fireplace, flat-screen TV, and surround sound.

Often times, and for many reasons, it just makes good sense to hire a professional contractor to build a screened porch.

We recommend you find a reputable contractor who specializes in screen porch design and construction if you want a custom-designed structure.


See our interviews about hiring a contractor and getting contractor estimates with Nancy Moore, owner of The Porch Company in Nashville Tennessee, who shares her own "insider" advice.







Finding a Local Contractor
Please remember these are do-it-yourself screen porch kits. However, you could hire a local contractor to assist you with your screen project.
Use our handy
Find a Local Contractor Form
if you need help.
---
The Mickel Family's Build a Screened Porch Project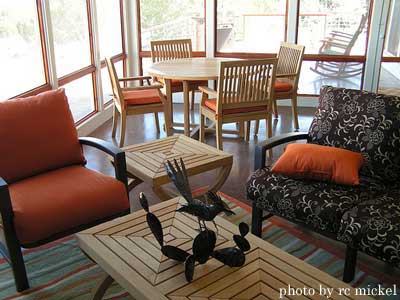 Our thanks to Charles Mickel and his family of the Texas Hill Country for sharing a three-part
build a screened porch
series from conception to completion, start here:
How to Build a Porch - Part 1
Helpful Links
Popular Pages
---
Our Sponsors
Porch Store
Custom Porch Products
Vintage Woodworks
For Your Porch Parts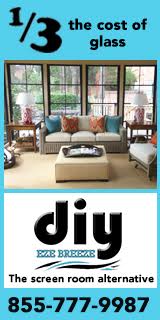 DIY Eze Breeze
Screen Porch Windows
PCA Products
Complement Any Home!
End sponsor section
---
---
Copyright© 2009-2016 Front-Porch-Ideas-and-More.com.
All rights reserved.
Content and photos may not be reproduced
in any way without our written permission.

Our Sponsors
Vintage Woodworks
For Your Porch Parts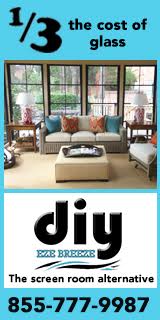 DIY Eze Breeze
Screen Porch Windows
Porch Store
Custom Porch Products
PCA Products
Complement Any Home!
End sponsor section
---
---