DIY Garden Bench Project
Perfect For Your Porch Too!
Use our DIY garden bench project as a guide to making your own outdoor garden bench. Mary and I constructed ours from cherry but you can use other woods as well. We know you will enjoy making a garden bench whether for your yard, front porch, or home.



We show you step-by-step how we built this bench along with a video showing important elements of construction. Together, we hope to inspire you to build your own for years of enjoyment.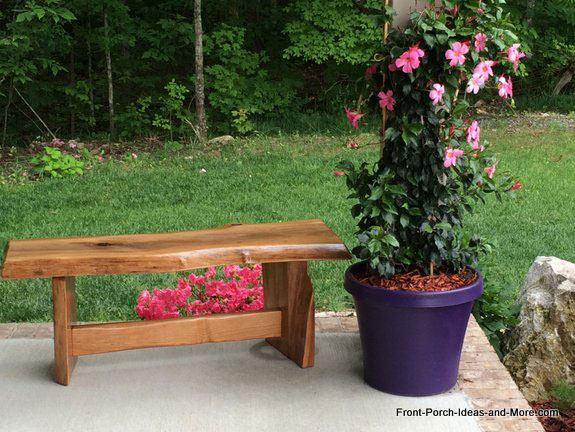 Finished DIY Garden Bench



No matter what wood you choose to use, the process is basically the same. You need a top and two legs. Most garden benches are between 16 and 20 inches tall; however, you can choose a different height if you wish.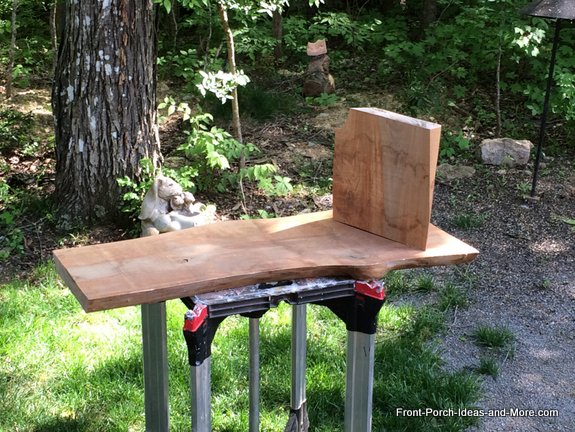 Cherry Bench Seat and Leg



I cut the legs from the same piece of cherry so our height was determined by that amount of wood I had on hand. Our seat is 44 inches long and the legs are 16 3/4 inches long. The seat's width is approximately 16 inches wide. The height of our bench is 17 inches.

To keep a natural look as feasible I did little to reshape the legs or seat (with one exception) from the original boards. Depending on the wood you choose, you may want (or need) to shape them to satisfy your own needs.
Watch Our DIY Garden Bench Video
This DIY garden bench video is not available on mobile devices due to length.
Work the Wood
Our cherry boards were warped (actually bowed) so the first thing was to square them out. I needed the bottom of the seat square in order to attach the legs securely.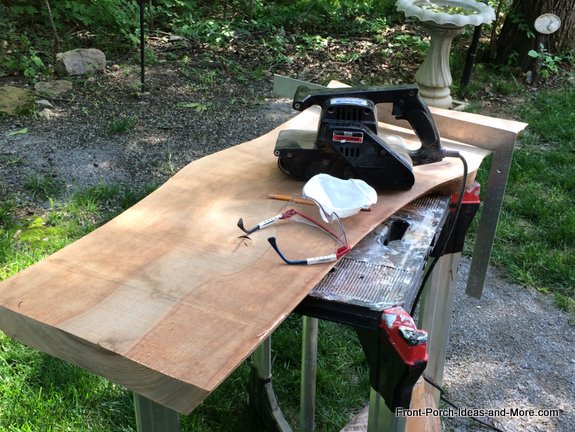 See the Gap Under the Square at End of Board



If they are not out-of-square too much, you may be able to sand them square. In our case it would have taken considerable effort to sand it square so I opted to use a portable planer.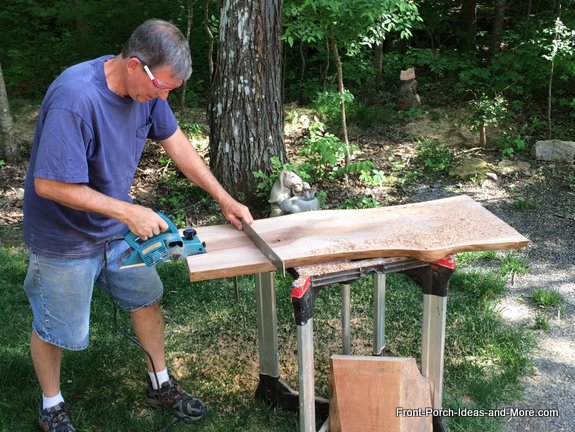 Planing the Board Square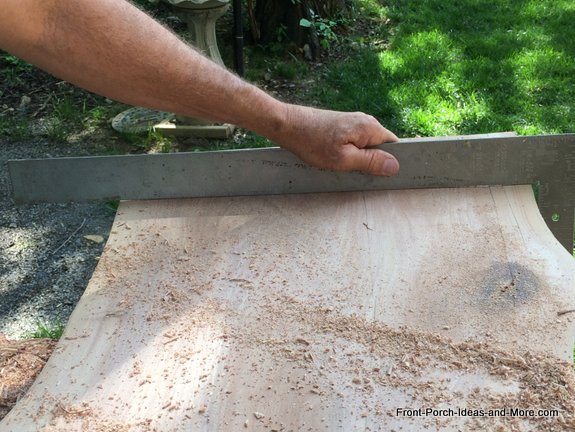 Squared Cherry Garden Seat



Next, I cut the ends (which were square from cutting the legs as shown below ) to give them a softer and more natural appeal.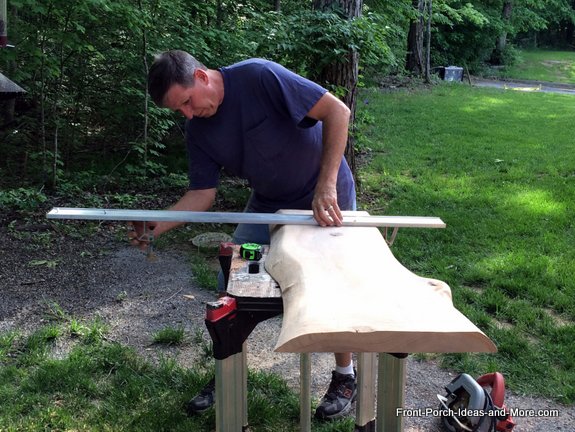 Preparing to Cut the Ends





Sand the board smooth after planing. My first goal was to prepare the bottom of the seat for finishing coats of polyurethane. The seat would then be ready for me to attach the legs, complete the sanding, and then apply the poly.




Preparing Bench Legs After the bottom of the seat was prepped for the legs, I then began preparing the legs. I was able to cut the legs from the same board, something you should consider if building your own. Cutting the parts from the same piece of wood allows you to carry the color and grain across the piece making for a more aesthetically pleasing bench.

I did minimum planing for the legs and used a belt sander to take the bulk of wood off to make them square. Depending on the type of DIY garden bench you want, you may want to keep them as natural as possible as I chose to do also.



Planing Bench Legs



Doweling the Legs You have several options for attaching the legs to the seat. I used dowels and wood glue which work really well and minimizes screws, nails, or other materials to keep everything as natural as possible.



Doweling Bench Legs



I inserted the dowels into the legs and used the legs to mark the dowel positions on the bottom of the seat.



I then used a vertical drill guide I made to drill the opposing dowel holes in the seat.



Drilling Holes in Seat for Legs



I assembled the legs and seat with wood glue and clamped until the glue dried. Note that I did not place the legs at 90 degrees to the seat as is typical.

Angling them gives the bench a more natural appeal and adds lots of interest to a DIY garden bench.



Clamping Bench Legs





Make The Brace The next step is attaching a brace between the legs. It is a bit easier if your legs are 90 degrees to the seat; however, in this case they were not which makes it a little more challenging.

Cut your brace a little longer than the distance between the legs. Place your bench with the legs up and position your brace across the legs close to where you want them.

Mark them on each end to get the correct angle and cut accordingly. It is actually easier to fit the brace with angled legs. Just slide the brace into position; it doesn't have to be exact.



Fitting the Leg Brace



There are several ways to attach the brace. I opted to use pocket screws.



Pocket Holes Make It Easy







Screw Covered by Dowel





Time for Stain I used a natural clear stain to bring out the wood grain on this DIY garden bench. Depending on the wood you choose, you may want to select a different color.



Clear Stain Applied





I then used several coats of semi-gloss poly and sanded between coats. Mary and I loved the way it turned out; a beautiful DIY garden bench for the yard or your front porch!



Ready for the Garden or Your Porch







We hope you enjoyed our Garden Bench DIY tutorial and video. Thank you!



Be sure to check out our wooden garden benches too!

Please contact us if you have any questions.


We Bet You'll Love These Another DIY Outdoor Bench

One of our readers, Joliene, shares her

DIY bench project

with us.




Rocking Chairs on the Front Porch



Wouldn't you love to sit on the rockers on this welcoming porch? Thanks to Linda M. for sharing with us. See more rocking chair porches.





The Amazon ads are our affiliate links. Thank you.





Popular Pages

---

Our Sponsors

Porch Store

Custom Porch Products

Vintage Woodworks

For Your Porch Parts

DIY Eze Breeze

Screen Porch Windows

PCA Products

Complement Any Home!

End sponsor section

---

---

Copyright© 2009-2017
Front-Porch-Ideas-and-More.com.
All rights reserved.
Content and photos may not be reproduced
in any way without our written permission.








Porch

/

Furniture for the Porch

/ DIY Garden Bench