An Exterior Screen Door
Perfect Way to Add More Beauty to Your Porch
An exterior screen door adds immediate beauty and value to any home. Install a new door or upgrade your existing screen door and add more functionality, durability, and beauty.



Whether you choose a classic wooden screen door, a durable aluminum screen door, or a versatile vinyl screen door, Mary and I suggest you select one that enhances the overall curb appeal of your home.

Mary and I know from experience that having a well-built door is a must. Your door has to withstand not only wind and weather but also pedestrian traffic, pets, and the occasional foot or hand pushing on the screen itself.






Our Screen Door Directory
Aluminum Screen Doors
An Exterior Screen Door: Beauty Is More Than Skin Deep
Invest wisely in a high quality metal screen door and receive years of almost free maintenance, beauty, and durability. Here are a few factors you should use when selecting the right exterior screen door for your enclosure or porch.


Durability - No Sagging or Twisting
Not all aluminum screen door frames (the most critical part) are the same. Ensure the frame is manufactured to the highest standards.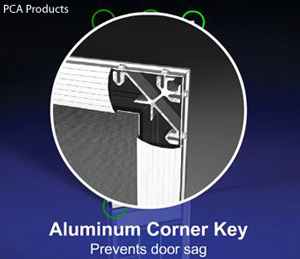 As an example and for comparison purposes, PCA Products's doors are made with internal corner key systems as shown at right.

In addition, their screen door frames are .065 inches thick and have a continuous piano-type hinge extending the entire length of the door. With a kick rail bar that is 1 3/16 inches wide along with a reinforced kick plate, the screen door is highly resistant to those common dents that suddenly appear.

Together, these important construction factors eliminate door sag and twisting, denting, and deterioration.











Right Handed or Left Handed
A quality aluminum screen door should be versatile. Don't necessarily settle for a strictly left-hand or right-hand opening door or one that can only open in or out. Look for a door that gives you more options, opens either way, and adjusts for height and width.



Styles to Admire


Mary and I would have loved a double door on our screen porch. We just didn't have that option at the time. Not so for you. If feasible, we recommend choosing a double door.

In addition, why settle for just a plain looking exterior screen door when you can design one yourself and in various colors.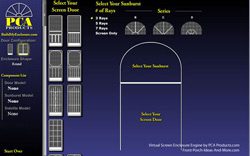 PCA Products have a fun way to create your own screen door design and lets you select from over 60 screen door styles. We encourage you to build one to meet you own specific requirements. It's fun to use!




Screen Strength for Windy Areas
Live in a windy area? Ensure your screen door is capable of withstanding wind. PCA Products use a self-locking screen system with a locking spline to secure the screen - holds up to 525 pounds. After all, you don't want your door to blow away.






Contact PCA Products
Vinyl Screen Doors
Vinyl has advantages as an exterior screen door. It doesn't rot or fade and never needs painting. We prefer Screen Tight's vinyl screen doors because they meet some of the highest industry standards. We also like them because they come in a wide variety of styles and are available at Home Depot
.




Vinyl Screen Door Options
Here are just a few of your many Screen Tight's vinyl screen door options: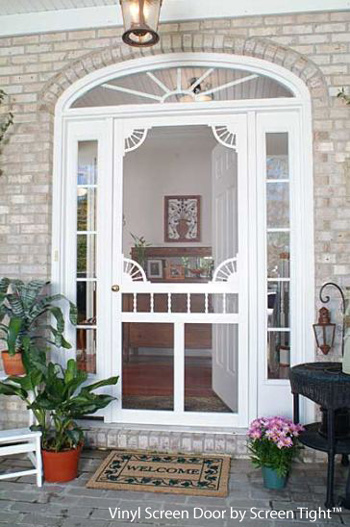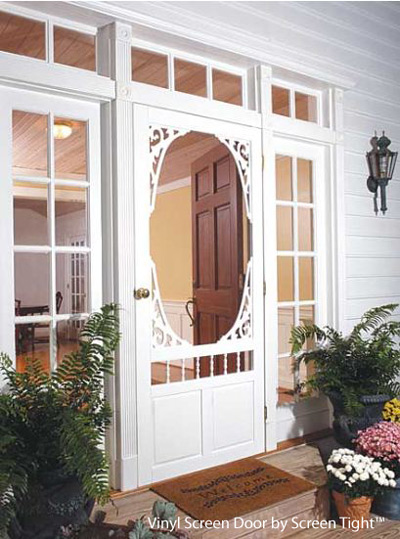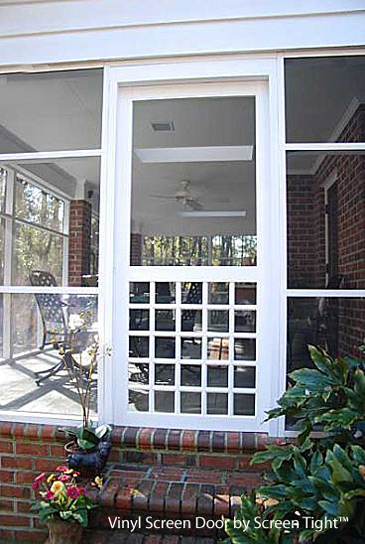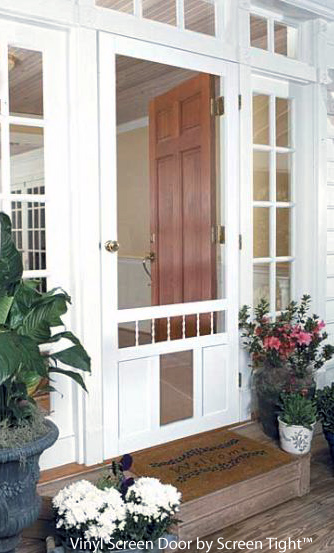 Vinyl French Doors
For larger openings choose screen French doors kits.

This option is perfect for those with existing French doors leading to a deck or patio.

They can also beautify a front French doors too.




Winterizing Acrylic Windbreaker Panels

Quickly extend your outdoor time by installing acrylic panels on your Screen Tight's doors!

Installed on the outside of your screen door, the panels block wind, rain, and snow.























Our Sponsors
Vintage Woodworks
For Your Porch Parts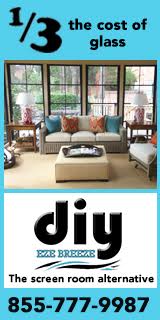 DIY Eze Breeze
Screen Porch Windows
Porch Store
Custom Porch Products
PCA Products
Complement Any Home!
End sponsor section
---
---