By Dave and Mary

Consider an Aluminum Screen Door
For Your Front Porch or Screen Porch Enclosure
An attractive custom aluminum screen door instantly adds appeal and value to any home.

Not all aluminum screen doors are the same. If you are looking for beauty and durability, Mary and I are happy to tell you about the doors from PCA Products (one of our fine sponsors).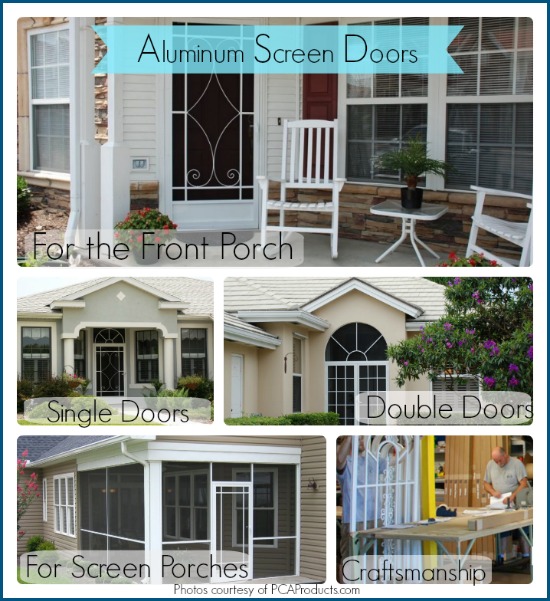 The design and engineering that goes into making an aluminum screen door from PCA Products is noteworthy.

Mary and I toured their manufacturing facility to see the entire production process.

Although we do not know specifically how other manufacturers construct their metal screen doors, we can attest to the quality and engineering that goes into a PCA Products screen door.

You can make a statement with a beautiful exterior screen door like these from PCA Products.




PCA Products is one of our sponsors and we are proud to tell you about their aluminum screen door products. We have personally seen their products and appreciate the construction of their screen doors.

Although you may have never heard the "slap" of an old screen door as you ran out of the house to play, the screen door is still a most welcome feature on many homes, especially in spring, summer, and fall.

Our own screen door never quite shut properly; the screen bulged out from using the screen as the handle, and sometimes we put a piece of tape over a tear where our dog scratched it.

As iconic as that might be, the more discerning person in me now wants a screen door that is a little more sophisticated and designed to eliminate many of the problems typical screen doors pose. Mary and I are all about front porch ideas and this is one that can benefit you greatly.

If you need a screen door that is engineered to almost perfection, complements the beauty of your home and lasts a long time, we think we have found it. Check these screen doors from PCA Products. We have toured their production facility and seen firsthand how their doors are constructed which is the reason why we feature PCA Products on our site.
Screen doors are to front porches as sugar is to lemonade!
We like the fact their aluminum screen doors are designed to alleviate what most people find most annoying in a screen door.
Enjoy These Black Aluminum Screen Doors from PCA Products
We are excited that PCA Products is now carrying their screen doors in black.
Look how classy this front entryway is!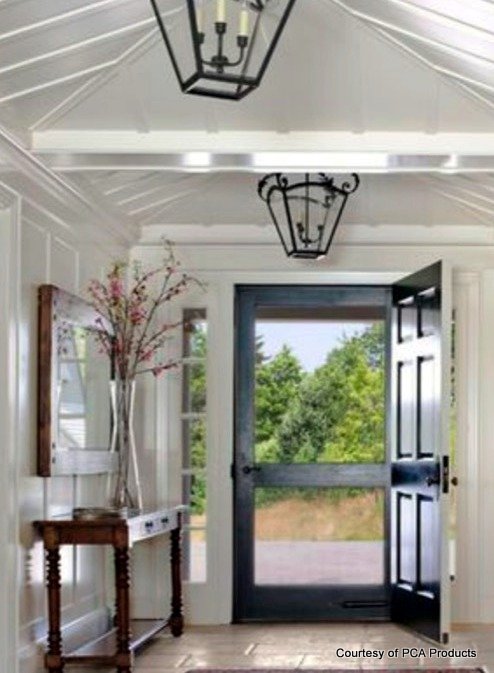 And from the inside too. Sophisticated and timeless.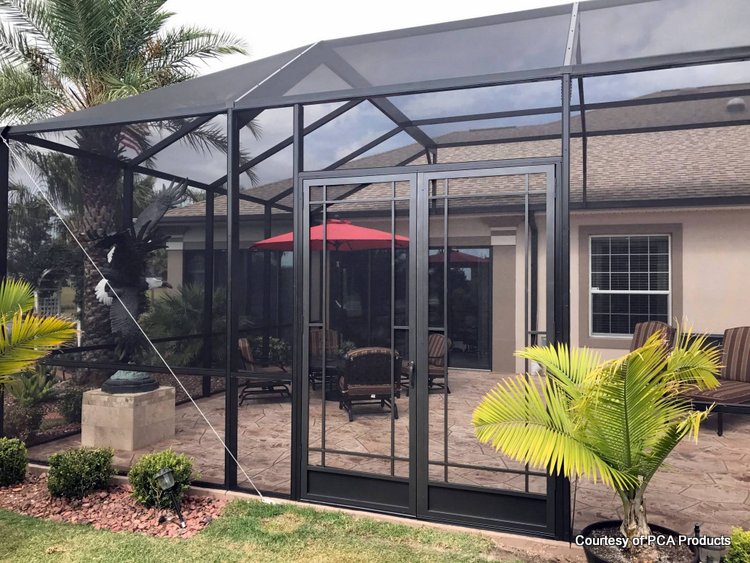 Double black screen door for a screen enclosure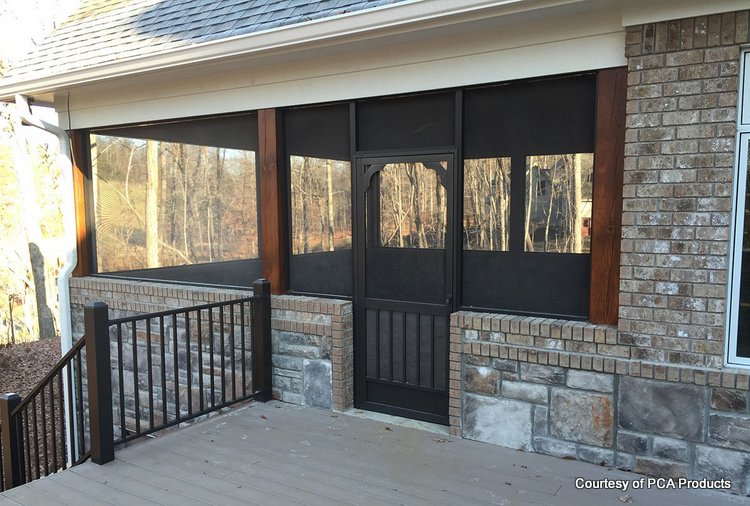 This black screen door is attractive on this screened porch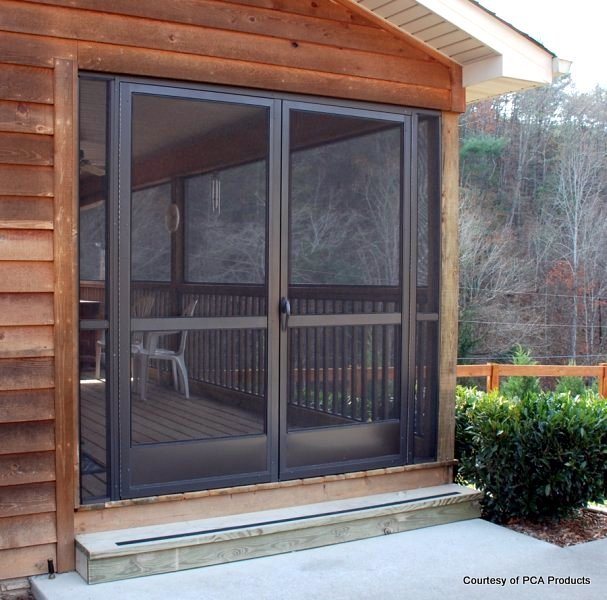 Black aluminum screen doors - a wonderfully classic and timeless solution
These wonderful doors are available at PCA Products. Please read their article about how
black doors have become quite trendy and popular
.
Enjoy This Video
This video tells of the craftsmanship of PCA's aluminum doors
Please take a moment to listen to Steve Pfeffer, President, as he explains the features of his PCA Products screen doors.



Be Done with These Door Annoyances!
PCA Products has addressed these annoyances in their door design and construction.
Annoyance #1: Sagging and Twisting Doors That Don't Shut Properly
Not all aluminum screen door frames (the most critical part) are the same. Ensure the frame is manufactured to the highest standards.


As an example and for comparison purposes, PCA Products' doors are made with internal corner key systems as shown at right.

In addition, their screen door frames are .065 inches thick and have a continuous piano-type hinge extending the entire length of the door thereby creating a solid connection between the door and the door frame.

They also developed the Thru-Lock System™ which means no unsightly welds and stronger overall frames.




Together, these important construction factors eliminate door sag and twisting compared that with typical home supply store screen doors.



Annoyance #2: Screen Comes Loose
Loose screens definitely are annoying and you can never seem to get the screen as tight as it was originally.

If I were to solve that problem I'd create a system whereby when you pushed on the screen it would actually tighten, not loosen. But I discovered I was too late with that idea.

PCA Products' screen doors are built to do just that. They use a flat locking spline system that keeps the screen tight; it won't come out.
Annoyance #3: Screen Tears
There's nothing more aggravating than having the screening on your screen door tear. Patching it with duct tape is not appealing.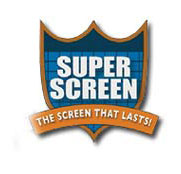 If you have pets, children or grand children, chances are your screen needs to withstand some rough wear. So you need options.

Select from standard screening or if you prefer, their Super Screen. If you have pets choose their pet screening material.



Annoyance #4: DIY Installation Issues
A quality aluminum screen door should be easy to install taking the guesswork out of how it is supposed to fit in your opening. What if it didn't matter whether you need a left-hand open out door or a right-hand open in screen door?

And how many times have contractors brought the wrong door only to have to reschedule the appointment?

Look for a door that gives you more options, opens either way, and even adjusts for height and width to make a perfect fit in your opening.

For the DIYer, I find these doors easy to install. Understanding that not all door frames are perfectly square, PCA's doors are adjustable to fit the space making it not only easier to install but also making it very attractive fit. You don't have to cut your new door to fit your opening as you would with vinyl or wood screen doors.



Video: See How Much Weight a PCA Screen Door Can Hold
Seeing this family stand on a PCA screen door gives you some idea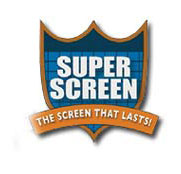 Now you won't have to struggle with tightening your screen while trying to push that round rubber spline back in place while hoping it holds.
An Aluminum Screen Door is Perfect for Front Porches and Screened Porches
Stylish, curb appealing, and functional, an aluminum screen door is ideal in almost any location on your home.
Try to Match Your Home's Architectural Features
It is pleasing to maintain the architectural look of your home when adding any new exterior feature. Installing a custom designed aluminum screen door makes that easy to do.

In the photo below, note how the metal screen door insert mimics the architectural lines on this home, from the siding to the light panel to the right of the front door.



Metal screen door architecturally compatible with home
Quality aluminum screen doors create curb appeal
Beautiful trim on this door really adds beauty to this porch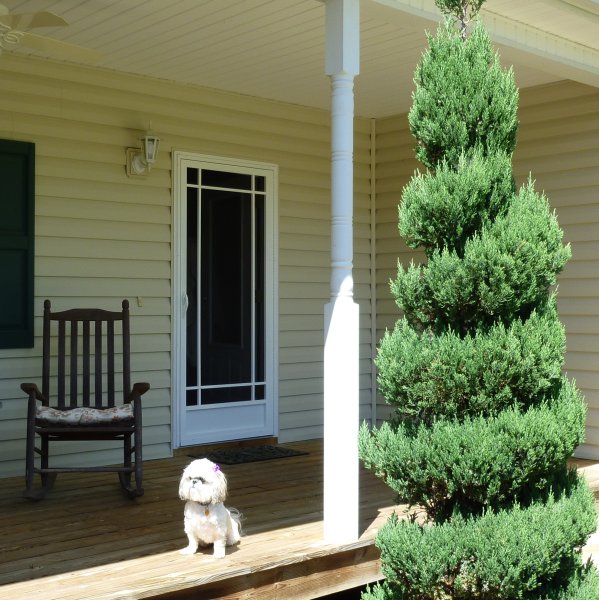 Who wouldn't love calling this home?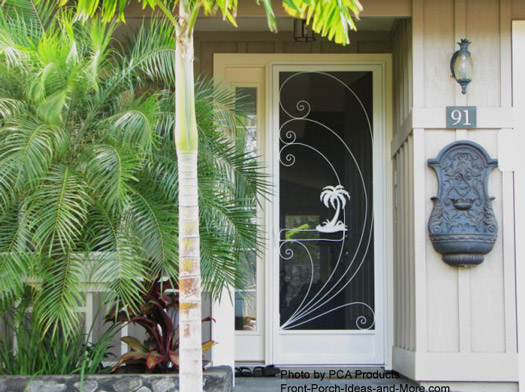 Custom metal doors offer many options
The owner of this home included a tropical insert from PCA Products on their screen door to complement the palm tree landscaping. Such an easy thing to do and it instantly increased the appeal of their front porch.

You may not find the right style option at your local home supply store among the few they may have on hand. But don't despair, PCA Products has many styles from which to choose.

We invite you to look at PCA Products site to get the information you need.



Superb for Screen Porch Kits
The only moving part on a screened porch or porch enclosure is the screen door so it needs both durability and appeal. If you are building a new screen porch or erecting a screen porch kit, you need to learn more about PCA Products' doors.

They have teamed with ScreenEze® as a way for you to construct an amazing screen porch.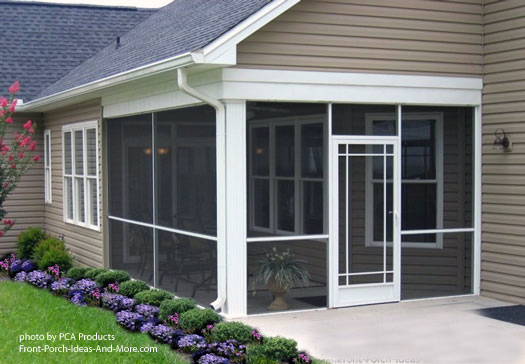 Photo courtesy of PCA Products
This is a good example of a PCA Products exterior screen door on screen porch kit.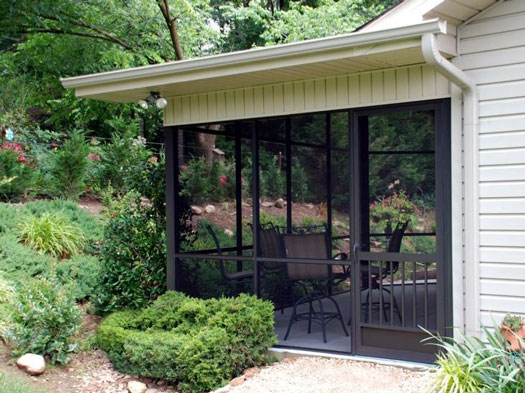 Attractive aluminum screen door for porch enclosure
(screen door and photo courtesy of PCA Products)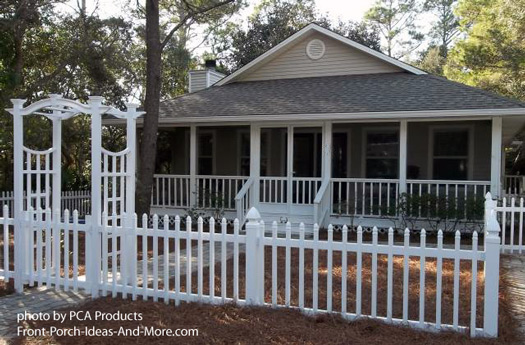 Double exterior screen door enhances appeal if porch enclosure
(screen door and photo courtesy of PCA Products)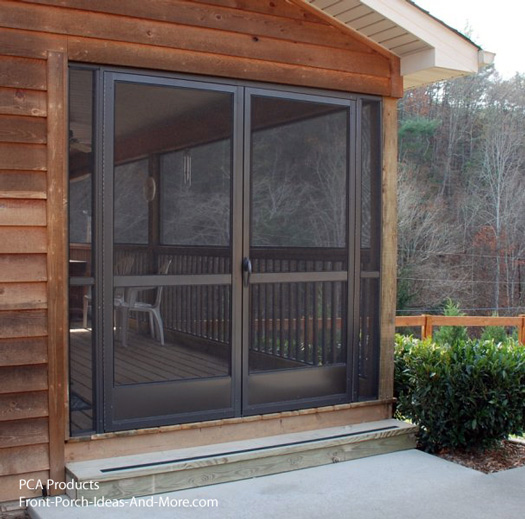 Double aluminum screen doors without center post
(screen door and photo courtesy of PCA Products)
Create a Front Entry Porch Enclosure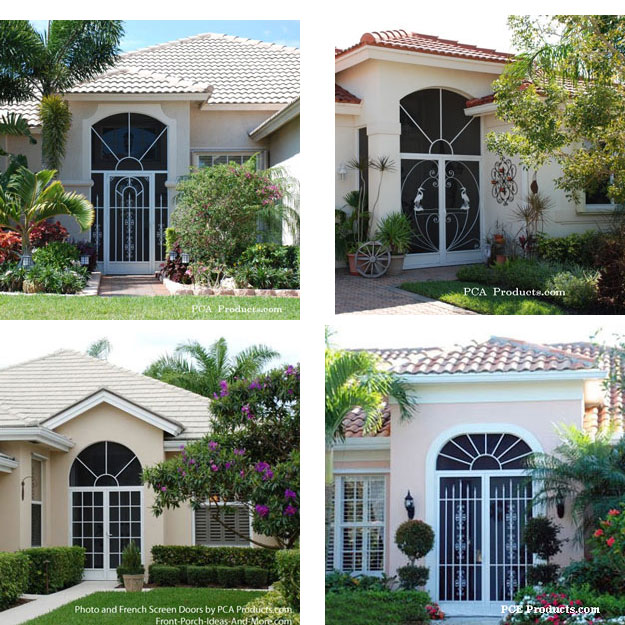 Innovative Porch Enclosure Ideas Using PCA Products
Enclose your front porch or lanai with PCA Products screen doors to enjoy your porch even more. With over 65 door styles and 5 colors, you can easily enclose your structure with single or double screen door entry enclosures.

Their sidelight and sunburst inserts allow you to customize in your own decorative way.



What If You Need a Sliding Patio Screen Door?
A sliding screen door that solves many common problems
If your sliding patio door is annoying like ours always have been, we are proud that our sponsor PCA Products has developed a well-thought-out design for a much improved sliding patio screen door. We tell you about their Samson patio door here.



Let PCA Products Help You Today!
Now that you know how many ways in which to use aluminum screens doors from PCA Products, find out how you can add appeal and functionality to
your home today
!
Watch Our PCA Products Video
Just Imagine French Doors On Your Porch or Patio
Some people don't realize that they could have French screen doors on their porch or patio. If you are building or renovating this is an option you may want to consider this option. It is great for entertaining and moving large pieces of furniture in and out.

PCA Products' innovative French Screen Doors give you options you never had. Prior to PCA's product, your only option was to install a bar between the screen doors or install screen door sliding systems.

Either of the traditional options often diminish your view which is why you have French doors - to take advantage of the view. Now you don't have to be limited to a bar or a sliding system.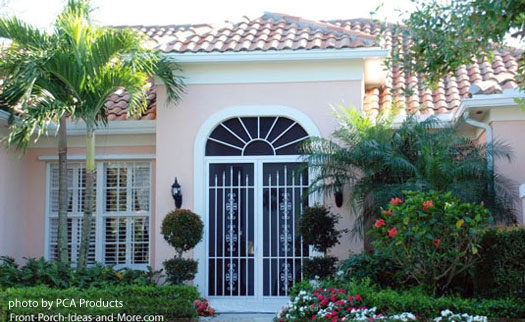 Uniquely designed screened French doors
We invite you to look at PCA Products' French door to get the information you need.



Advantages of Alleviating the Center Post
You get an unobstructed view
Easier to navigate with large items or larger groups of friends
Maintains the integrity of your French Doors
Creates a more expansive space for fresh breezes coming in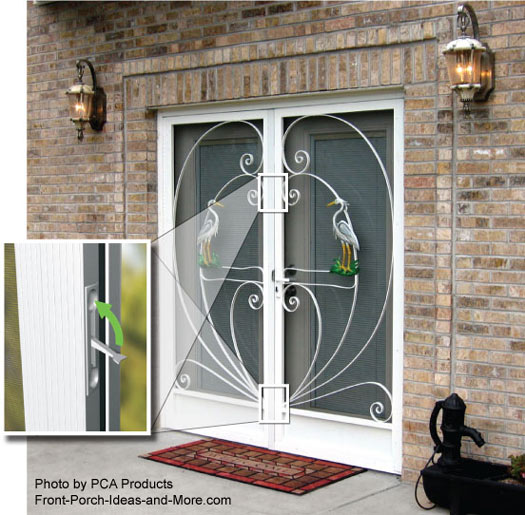 Decorative screen French doors
How PCA's French Doors Work and Why That's Important
French screen doors must be able to open fully to allow for the view but also close securely too.

PCA Products' French screen doors use an astragal system to create a good seal, privacy, and to minimize outside noise and light between the screen doors.

Two flush bolts allow for an unobstructed opening. Because they are flush at top and bottom, the "fixed" screen door can be opened or closed easily.



Use screen doors to create a porch enclosure
Have You Thought of In-Swing Screen Doors?
For porches and patios that have steps, you may want to have your screen door installed to swing into the room for convenience and safety, especially if you do not have a landing.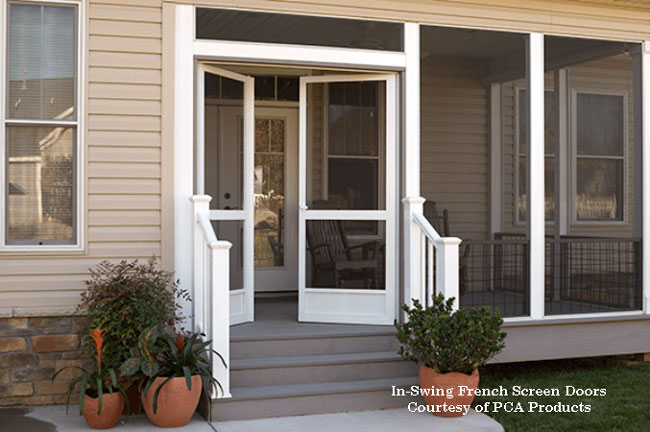 Use screen doors to create a porch enclosure
We invite you to look at PCA Products site to get the information you need.



Use This Convenient Screen Door Visualizer
This awesome tool lets you see how each screen door design looks a home. You may be pleasantly surprised at how different a home can look based on the design you choose.

No more guessing whether your door will have the effect you want - now you'll know!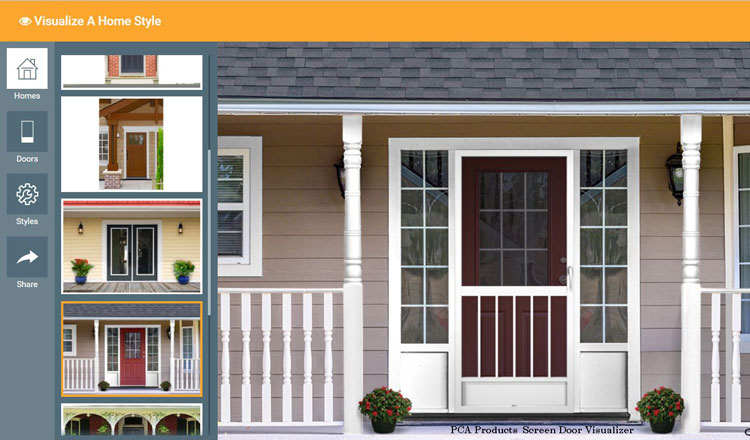 Try this Screen Door Design Visualizer
Why Not a Pet Screen Door?
Pet doors can be configured into the bottom of your screen door. This adds convenience when you want to be able to allow your pet to go in and out without having to let them out. They also come in three sizes!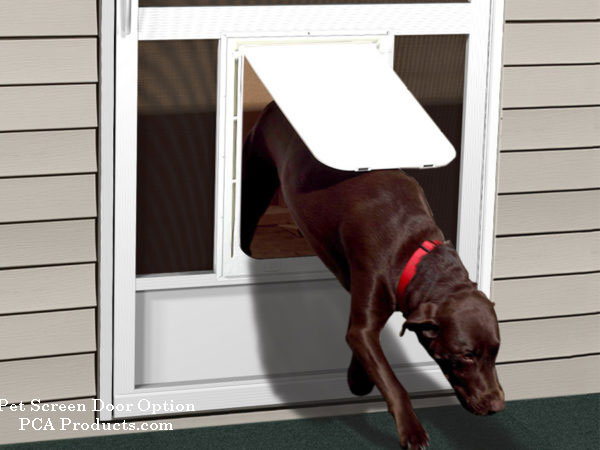 Wouldn't this pet screen door be a big help?
Advantages of a PCA Screen Door with Dog Door You can find a variety of screen doors with pet doors on the market. However, we particularly like PCA screen doors because of three very important reasons.

Choose a screen door with a compatible dog door from their 55 aesthetically pleasing options. You don't have to settle for a plain, traditional door style; select one that adds both functionality and appeal to your home.

If the strength of the door and screen are in indication of quality, the built-in dog door has to meet that quality also. PCA Products dog doors feature locks, no extra panels to be stored, powerful magnetic flap closures, and a choice of two colors



You can even design your door with pet screen on the bottom and standard or Super Screen on top.

The heavier the screening material the less transparent it becomes. Pet screening is woven tightly to prevent tears and therefore is darker than standard screening.

By using pet screening on the bottom of your screen door and standard or Super Screen on top, you maximize the light and view while simultaneously protecting integrity of your screen.

You can even go a step further and have

PCA Products

incorporate a pet door in your screen door.





An Exterior Screen Door: Beauty is More than Skin Deep
Handcrafted quality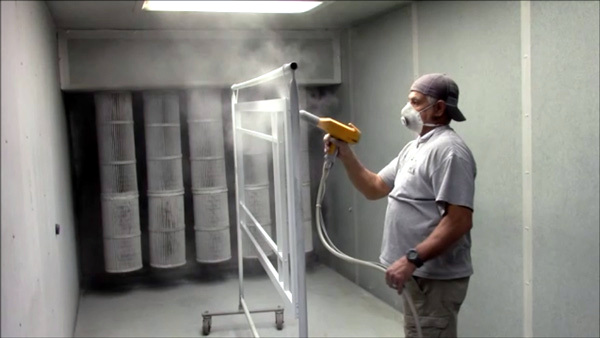 Richard powder coats an aluminum screen door frame
Dave and I had the privilege to visit the PCA Products facility, and their president, Steve Pfeffer, explained:
"What really makes our products stand apart from others is that we powder coat each door by hand after fabrication.

You get a much better finish. We're not using machines to do this. It's all being done by hand so you get a good visual and it makes for a nice long-lasting durable finish.

One of the corners we could cut is that we could use painted profiles and just put up painted profiles, but you could end up with scratches from fabrication where [with the way we do] it you getting a great finish.

Of course, this powder-coated finish is really designed for the harsh outdoor elements which translates to over 10 years of durability."
We invite you to look at
PCA Products site
to get the information you need.
Listen to Our Podcast with Steve Pfeffer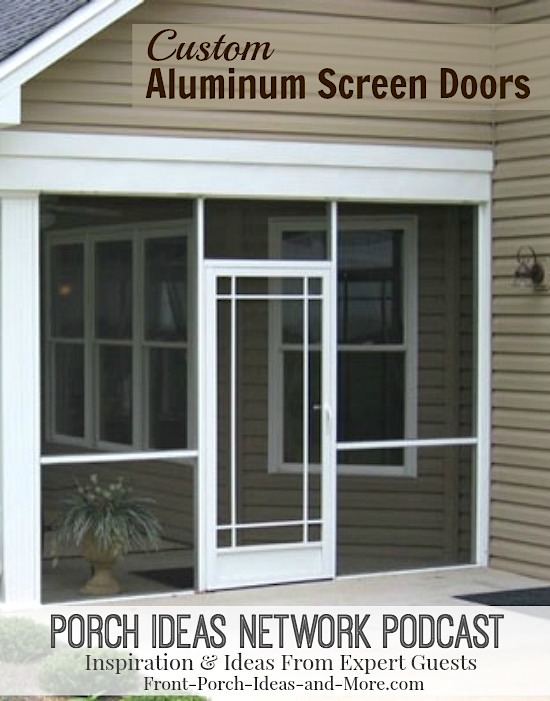 Steve Pfeffer tells about his custom screen doors on our audio program. Full details here and for your convenience you can listen right here.





Contact PCA Products
PCA Products, Inc.
a family-owned business located in Eastern Tennessee, has been making handcrafted aluminum screen doors and enclosure accessories for over 25 years.
They are located at
1729 Pittman Center Road
,
Sevierville
TN
38746
.
Their phone number is
800-567-8897
.
PCA develops a wide range of screen doors and screen door products to satisfy homeowners who want both style and durability.
PCA expanded its operations from not only manufacturing and selling directly to the public but also to wholesaling through a Partner network.
Mary and I encourage you to contact the good folks at PCA Products today. They can answer all of your questions and help you design a screen door to enhance the beauty of your home.
You will enjoy using their screen door design tool, too.
The two of us with Steve Pfeffer
Dave and I recommend investing wisely in a high quality metal screen door to receive years of almost free maintenance, beauty, and durability.
Let PCA Products Help You
We've only addressed a few of the issues most screen door owners have faced over the years. Mary and I know that an aluminum screen door from PCA Products is the answer for many.
We encourage you to contact them today to see how you can acquire one of the best aluminum screen doors on the market.
They are just a
"click"
away!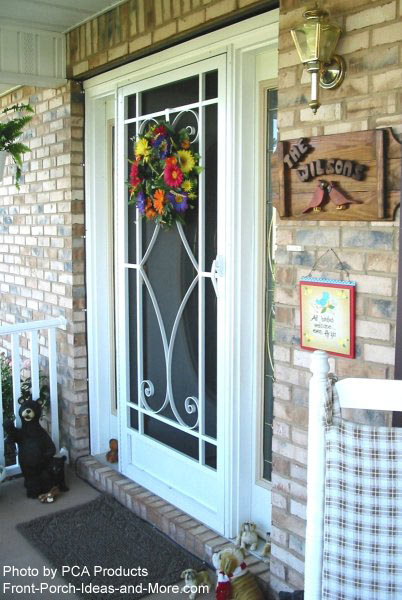 Appealing aluminum screen door from PCA Products
Hi!
We're Mary and Dave
, lifelong DIYers, high school sweethearts, and we both love porches. You've come to the right place for thousands of porch ideas.
Our Sponsors
End Sponsors
---
Helpful Links
Enjoy shopping Amazon
(affiliate link)
Popular Pages
What's New
Join Our Newsletter Family
Porch Designs
Porch Ideas for Mobile Homes
Find a Local Contractor
Build a Porch
|
Small Porches
Porch Columns
|
Porch Railings
Screened Porches
Porch Curtains
|
Porch Enclosures
Porch Landscaping
|
Vinyl Lattice
Porch Decorating
|
Porch Ideas
Shop
Navigation Aids
Home
|
Top of Page
Site Search
|
Site Map
Contact Us
Policies
Disclosure Policy
|
Privacy Policy
Legal Info
---
Please Join Us Here Also

Find a Trusted Local Pro
---
Copyright© 2008-2024
Front-Porch-Ideas-and-More.com All rights reserved.
No content or photos may be reused or reproduced in any way without our express written permission.
At no extra cost to you, we earn a commission by referring you to some products on merchant sites. See our
disclosure policy
.
We, Front Porch Ideas and More, confirm, as stated on our
privacy policy
, that we do not sell personal information.
All content here is solely for presenting ideas. We recommend consulting with a licensed, experienced contractor before you begin your project.
We make no guarantees of accuracy or completeness of information on our site or any links to other websites contained here.
Thank you for taking your time to stop by.
See what's popular and new here
.