Halloween Decorating Outdoor Ideas
Download a Free Halloween Black Cat Template
What better way to find Halloween decorating outdoor ideas than from uniquely decorated front porches? We appreciate that site visitors like yourself continue to send us wonderful pictures of outdoor Halloween decorations for you to enjoy.



Halloween has become one of the most "outdoor decoration" seasons and rightly so!

It's a wonderful time of the year to enjoy the outdoors.

Autumn, Halloween,and decorations just go together. We know you'll find loads of Halloween decorating outdoor ideas and inspiration from our photo gallery.



Make this
Halloween Black Cat with moon and flying bat
- free template and instructions below!
A fun project for the whole family. It is easy to do and will add some Halloween fun to any front porch or yard.
You can also make this as an indoor Halloween decoration too!
Ten Easy Halloween Decorating Outdoor Ideas
1. Use foam to create tombstones (check with your local Dollar General or Dollar Tree for inexpensive autumn and Halloween craft items - we've found them to be really inexpensive). Use stone-like paints to give it an authentic look.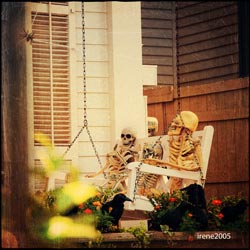 2. Dress skeletons in costumes - check with you local Goodwill or other thrift stores for inexpensive outfits. Use stone-like paints to create an even spookier skeleton

3. Make spooky signs out of scrap pieces of wood or foam (which can be painted). Hang with rope or cord

4. Create a coffin from heavy cardboard or plywood. Place a skeleton inside along with playing spooky music

5. Use black spray paint to cover branches. Place them in your graveyard or use them on your porch steps

6. Make a maze of sheets (ghosts) on your porch. String lines across the top of the ceiling and hang sheets making it slightly difficult to navigate to the front door.

7. Make and place scarecrows on your porch. Use them to line the sides of porch steps. You can often find overalls and flannel shirts at Goodwill.

8. Use bales of straw to create a maze for the little ones.

9. Fill a wheelbarrow with dirt (or straw) and bury fake bones for the little ones to find

10. String a line across your porch ceiling and attach a skeleton so you can pull it across your porch.

...and one more Halloween decorating outdoor idea. It's all about the lighting. No matter your outdoor decorations make sure you experiment to find just the right lighting angles to make your scene pop!




Fun Halloween Decorating Ideas from Plow&Hearth
Click on the pictures to see more details on Plow&Hearth
As these are seasonal items, then may not alwasy be available.
Make This Halloween Black Cat



Speaking of Halloween decorating outdoor ideas, here's an easy and fun project for kids of all ages. Make this Halloween black cat - perfect as a decorative item on your front porch or in your yard.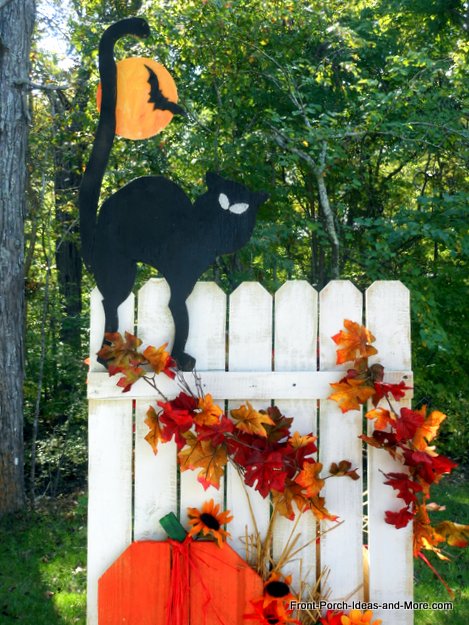 We put him on our

autumn pumpkin fence

and wow! So cool.



You could even make this out of construction paper or cardboard for an indoor Halloween decoration!




Although the template contains complete instructions, we've included them here also so you can see how easy it is to make.
Materials
A piece of plywood (18 inches by 32 inches minimum-(1/4 to 1/2 thick); or you could use a piece of masonite if protected from the weather
A jig saw and jig saw blade
Scissors
Pencil
Scotch tape
Sandpaper
Gloss black paint (satin optional) for cat and bat
White paint for the moon (you may want to add orange to make it a harvest moon)
Silver or gold glitter glue (optional)
Wooden circle for the moon (available at Michaels or other craft stores). You can cut it from the same piece of plywood or even use a plastic round lid.
Exterior wood glue
Process