Outdoor Bench - DIY
Handcrafted from an Old Crib and Scrap Wood
Outdoor bench DIY: Joliene wrote to us with pictures and a tutorial for a diy bench that she made on the cheap with materials she already had on hand.

This is Joliene's first woodworking project and we commend her on her DIY craftiness. It makes a wonderful bench for the porch or an equally nice garden bench.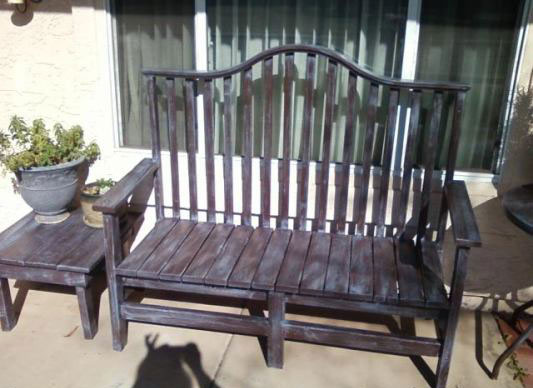 Outdoor Bench DIY Tutorial
By Joliene of Tempe, AZ
I had a desire to make over our front patio with little to no money, so I started snooping around our storage shed and found an old crib that was given to us for my daughter.

I also realized I had enough scrap wood, screws and paint to do the entire project, as well as a matching table. It was so rewarding!


Materials and Instructions for the Outdoor Bench
Supplies Needed to Make the Bench
hand drill
hand saw
measuring tape
screws
2 small L brackets (for arm rest)
2 flat brackets (for front leg support)
exterior paint
old crib frame (or headboard)
scrap wood


Wood

I had a ton of 1 1/2 x 3 pieces of wood from an awning on my kid's playhouse that we took down, so I cut and used that for most of the bench.

Front legs/arm rest posts = two 26 inch long 1.5x2, and one center one which I screwed to the frame in front under the seat that measures 15 inches high.

Actual arm rest = Two 1.5x3x24

Seat = 14 individually cut 1.5x3 @ 21 inches long.

Frame for seat = Two 1.5x3 @ 53 inches long.

Support for base = extra 1.5x2 - two on side and two in front between the legs (I used brackets to attach some of those together).


Making the Garden Bench

My first step was to measure a good height for the seat, which was 15 inches. I used one of my back patio chairs to get that measurement, as well as the depth for the seat.
I actually made cuts for everything as I went along.

I used two 1.5x3, which were about 53 inches long to frame the seat. I screwed one, 15 inches up, to the crib (back) and attached the other to the legs/arm rests, 15 inches up from the bottom.

I attached the two together by using the 14 pieces for the seat, screwing them into the pieces that were 53 inches long that I just attached to the crib and arms.

I started with the edges. At this point I measured the support from front to back to attach the legs to each other too. I placed all the pieces to the seat on and spaced them out by eye, making sure that it was even in front.

Any unevenness is toward the back of the seat as to not be as noticeable. I'm not sure how well you can see all of this in the picture. I wish I had taken step by step pics for you. It is difficult to explain.


Finishing My Outdoor Bench - DIY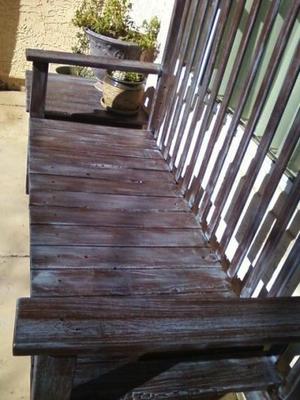 The armrests were notched and then attached with L brackets to the crib frame, and then screwed directly in the post for the front legs. I had to sand all of it down before painting it.

The crib had to be scored since it had a finish on it before. I painted it solid brown then did a light brush and wipe for the blue distressed look.

Note: You will want to use exterior paint / finishing if you plan to keep the bench outdoors.

This is only my second construction project, so I think anyone could probably pull it off, as long as they know how to use a hand saw and drill.


Thanks! And happy building!!
Joliene






Mary and Dave: We appreciate you taking the time to share your outdoor bench DIY tutorial with us! I would never have guessed this was made from a crib.

You went above and beyond for us by sharing the instructions, Joliene. Thank you so very much for your detailed tutorial of your handiwork. So very much appreciated.

This bench would look fantastic in a garden, too. Don't you think?




Another Beautiful DIY Garden Bench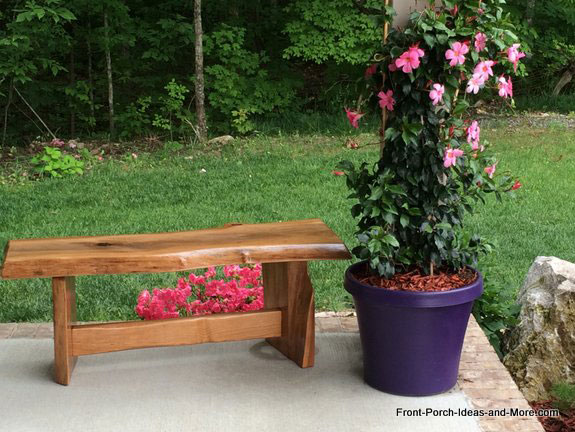 Dave built this beautiful cherry garden bench and shares a tutorial on the steps he took in creating it.




Try This Budget-Friendly DIY for the Porch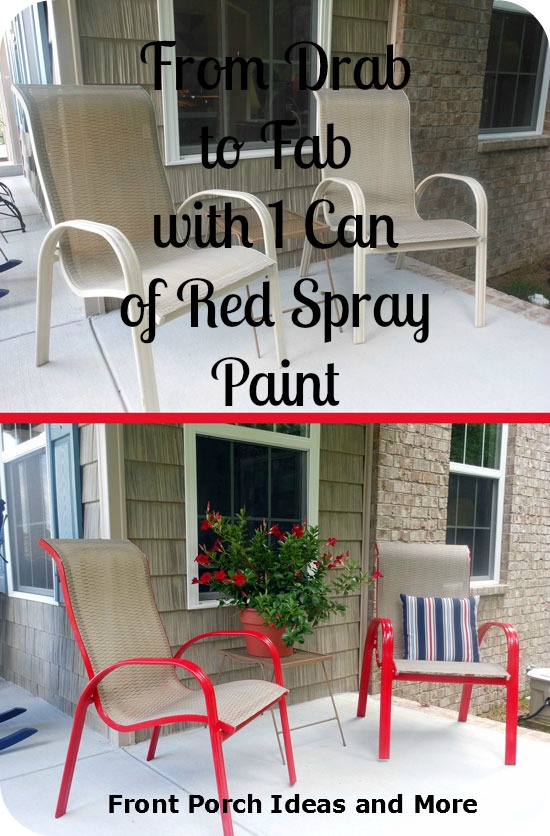 Spray paint your worn chairs for a second life. That's what we did and we liked the cheery results.






The Amazon ads are our affiliate links. Thank you.




Popular Pages
---
Our Sponsors
Porch Store
Custom Porch Products
Vintage Woodworks
For Your Porch Parts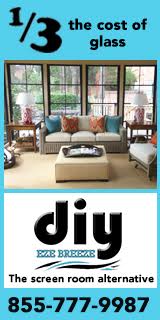 DIY Eze Breeze
Screen Porch Windows
PCA Products
Complement Any Home!
End sponsor section
---
---
Copyright© 2009-2017
Front-Porch-Ideas-and-More.com.
All rights reserved.
Content and photos may not be reproduced
in any way without our written permission.









Porch

/

Porch Furniture

/ Outdoor Bench DIY