Paint a Porch Rug
For an Easy Makeover!
To paint a porch rug involves a bit of time, some paint, a sponge and some tape (duct). Or conversely you could use a stencil.



I recently noticed how plain our porch rug was - and how I could transform it with a little paint.

The best part about this project is that it costs very little to do. I already had the paint and the rug. I only needed to purchase the duct tape.

The other best thing is that it was done in a day - actually in an afternoon.


The idea of painting our porch rug came to me when I was spring cleaning our front porch. We have an attractive 5' by 8' area rug, but admittedly it was plain: tan with a black border.

So I've been using paint to make pillow toppers and figured why not use it on our rug to jazz it up? So I did and it turned very festive in comparison to the original rug. It's pretty easy and I want to share with you how I did it.


Outdoor Rug - or Not
Our front porch rug is not an outdoor rug. We have an outdoor run on our back porch and quite honestly, I cannot tell the difference between the indoor and outdoor rugs. Can you? Both of them get wet when it rains and both dry out fairly quickly. Obviously, a rug that has nap to it or is plush would probably not work so well outdoors.

Our front porch rug is 5 feet by 8 feet. It's very nice but rather plain. It was tan with a black border.


Choosing a Pattern
The decision to jazz up our rug with paint was a on-the-spur-of-the-moment kind of thing as I was spring cleaning our porch. I didn't have a stencil and didn't want to invest in one so I wondered if I could just use duct tape and mask off a pattern on the rug.

At first I thought about doing stripes or plaid. Then the idea of checks came to me because our porch is cottage-style. So I masked off the rug into two inch squares with rows of tape going vertically first, then horizontally.

I thought of using the blue painters tape but decided I wanted something stickier (since it was on fabric of sorts) to prevent paint from bleeding underneath it. So that's how I went with duct tape.



Laying Down the Tape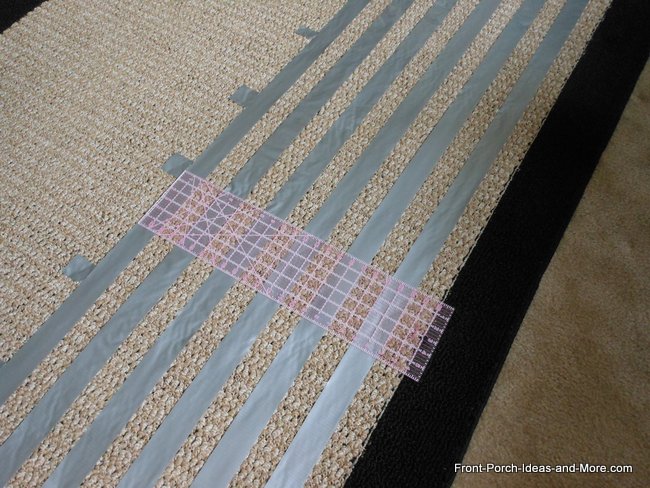 I put down vertical strips of duct tape. The rows were about 2" apart. I used a ruler to evenly space them, but quite honestly it was not hard to keep them lined up.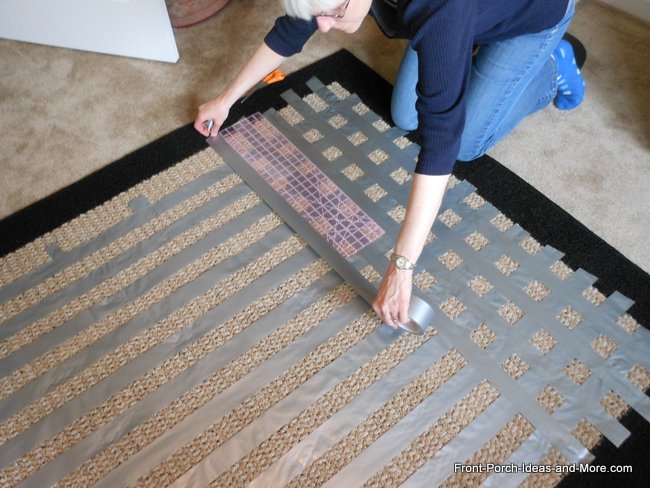 Then I did horizontal strips. Those were also about 2" apart. When the grid was done, I made sure to press the tape down one more time to make a good seal. That worked perfectly.

So the tape covered everything except for the squares that I was going to paint. It took me about 60 - 90 minutes to put the tape down. Tedious, yes! That part took longer than the painting, but isn't that usually the case? The preparation for painting usually surpasses the actual painting.



Paint a Porch Rug with a Sponge!
I already decided ahead of time that the checks were going to be blue. Probably no surprise to you! We have incorporated many blues on our front porch. The shutters on the front of our home are blue and our porch ceiling is blue. Not only that our front door is blue.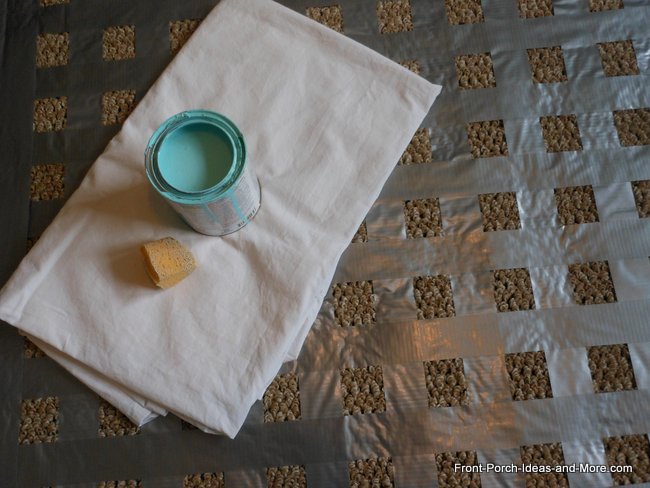 We had some leftover light aqua blue paint from a porch table that we just made so I decided to go with that. Rather than brushing the paint on I used a piece of a regular household sponge to dab it on. I tried not to get the sponge too wet with paint so that the paint wouldn't bleed underneath the duct tape.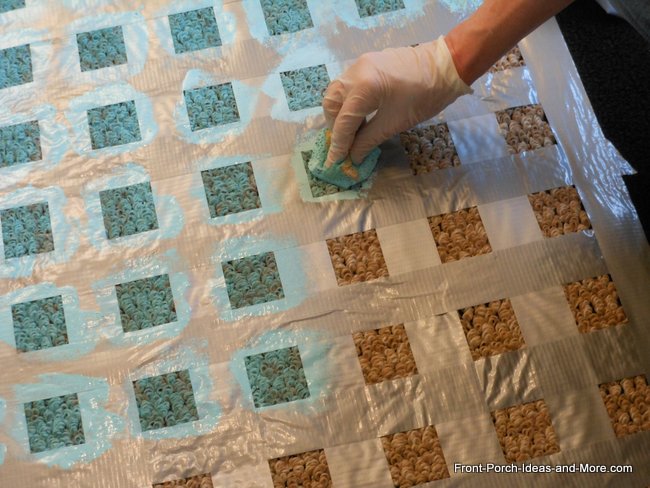 For the most part, I began sponging in the center of the rug so that I would not be in my own way.

The sponging was easy. I actually just dipped my sponge into the paint can and if I got too much paint on it, I just scraped it along the side of the can. I wore latex gloves so that my hands wouldn't get full of paint. It was easy, just a lot of checks to paint.

The painting took about an hour to complete. So then I was done? Well, yes and no. I could have been done, but while I was painting the aqua blue on, I began wondering if it would look nice if I painted a few of the squares a different shade of blue.


Video: Me Painting the Rug



Sometimes it's best to leave well enough alone, but in this case, I was glad I went for it. We had a couple other shades of blue paint in our paint cabinet so I randomly sponged on a different shade on some of the squares. I painted right over top the original color.

Then I let it dry overnight. Actually it was probably dry within an hour or two. I was really going on faith that it would look good once I removed the tape.



Time to Unveil the Rug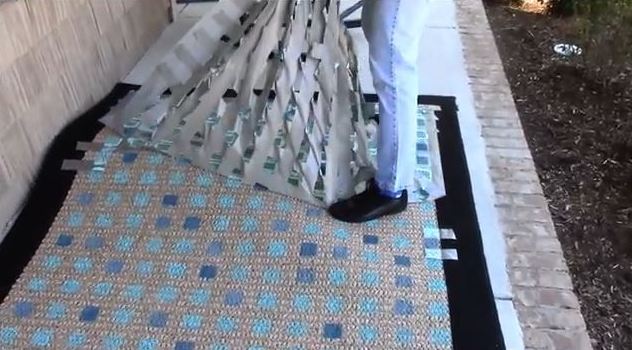 This is the most fun part. We took the rug to the porch while the tape was still on. I picked up the tape in one corner and just started peeling it away to reveal the blue checks.

The duct tape was a big mass of stickyness but it certainly did the job. And no stickyness was left on the rug. It was really neat pulling back the big grid of tape and seeing all the checks I painted. To my surprise, none of the paint seeped under the tape and the checks looked fabulous.

I was so happy I decided to go with several shades of blue because it makes for a more fun and cheerful pattern.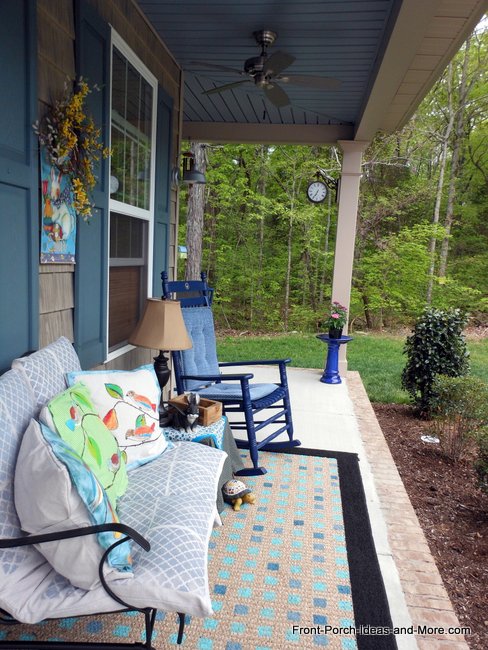 I don't believe I will need to seal the rug or anything like that. If the paint wears from traffic, the more charming it will become. I used house paint (interior / exterior) and I don't think it's going anywhere.

I wouldn't recommend craft paint necessarily. That might wear off more easily.



Variations on Painting a Porch Rug
As I was doing it, I thought of so many other ideas for painting a rug.
You wouldn't have to do the whole rug - you could just paint the ends or the borders.
Or something pretty in the middle.
You could use a stencil. There are tons of wonderful stencils available.
Use tape to do stripes, plaids, diamonds, even polka dots (in which case you wouldn't even need tape)
If you wanted to do polka dots, you could do different sizes of circles. Maybe by using corks or something like that. I would experiment first though.
And I also thought that this rug that I just completed could still have more embellishments added to it, like a pin stripe that connects the checks.
Lesson Learned
I realized after taking the time to put on all the tape, I could have probably made myself a stencil for doing the checks. Maybe if I used a piece of plastic. I'm not sure it would have turned out as nice though.

Don't worry if you make a mistake. Just be creative with it. Go ahead and paint a porch rug!




Crafty Idea For Your Painted Rug

Mary and I created these really inexpensive (only $1.64) fence slat porch display stands which you can use on your painted porch rug.
See how
you can do it
too!
More Painting Ideas for Your Porch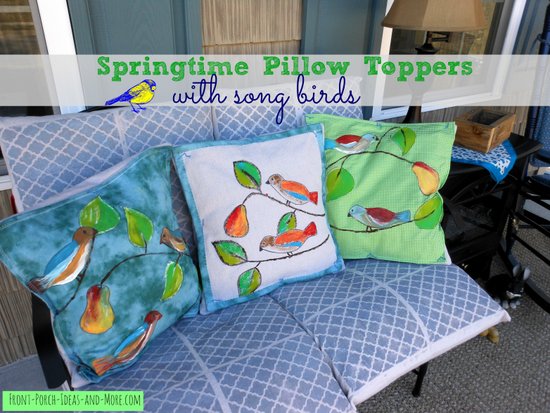 Making these
songbird pillow toppers
was a blast.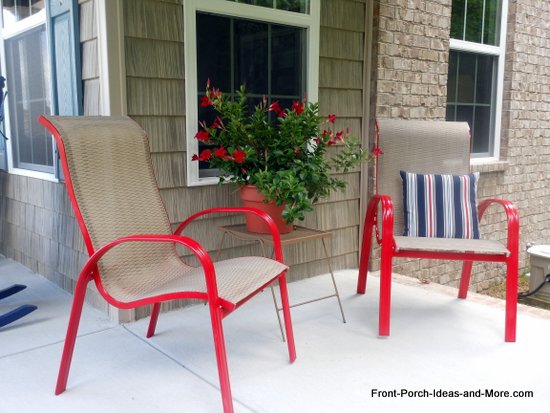 Spray painting these outdoor chairs was a very quick project that made an immediate difference on our porch. From tan to red!





Porch Home

›

Front Porch Decorating

› Paint a Porch Rug










Helpful Links
Popular Pages
---
Our Sponsors
Vintage Woodworks
For Your Porch Parts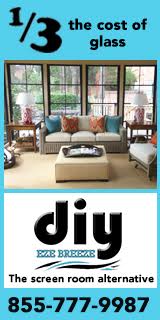 DIY Eze Breeze
Screen Porch Windows
Porch Store
Custom Porch Products
PCA Products
Complement Any Home!
End sponsor section
---
---
Copyright© 2009-2016 Front-Porch-Ideas-and-More.com.
All rights reserved.
Content and photos may not be reproduced
in any way without our written permission.

Our Sponsors
Vintage Woodworks
For Your Porch Parts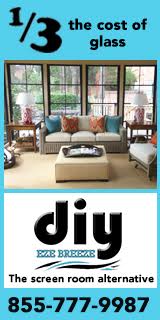 DIY Eze Breeze
Screen Porch Windows
Porch Store
Custom Porch Products
PCA Products
Complement Any Home!
End sponsor section
---
---