Our Favorite Porch Bed Swings
Because of Something Extra
Of all the swing beds we've researched, we think you'll appreciate these from
The Porch Company
, one of our awesome sponsors. Not only for their beautiful craftsmanship, but also because their swing backs are adjustable for not only napping but also comfortable seating. You can even remove the back if you want.
That was always one of our hang-ups about bed swings - they weren't so comfortable for sitting. But with an adjustable bed swing, where you can move the back forward for comfortable seating, that makes all the difference. See several styles below.
We do not earn a commission if you purchase one, but the The Porch Company advertises with us.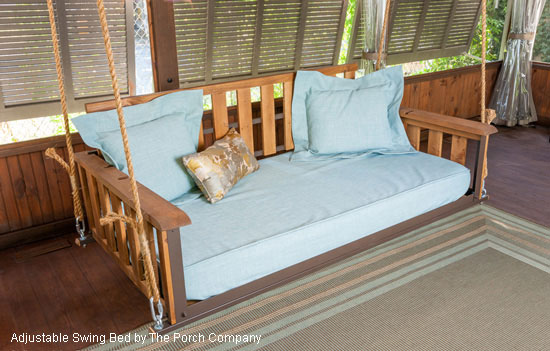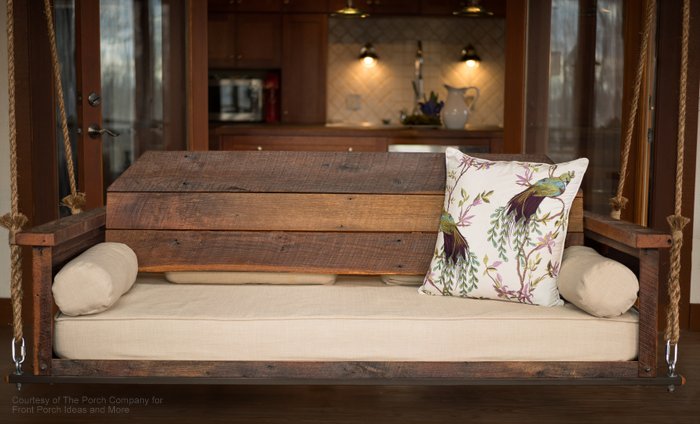 After many different designs, prototypes, tweaks and input from different people with different skills, The Porch Company has developed a great product we've seen firsthand.
Here's what makes their swing beds innovative and more functional:
They are made with wooden arms and backs and a powder coated metal frame so they are not only incredibly strong, but lightweight.
The backs of their swing beds are adjustable, so you can leave them in the furthest back position to enjoy it as a bed, move them forward for more comfortable seating, or remove it completely.





Back positioned forward for sitting






Back removed for ultimate comfort






Watch This Video to See the Difference

Adjustable back makes it comfortable for both a bed AND a swing





And they are easy to assemble, shipping right to your door in a box containing only a few components with easy to follow instructions.
Easy to assemble!
Not only are the swing beds easy to assemble but they also offer customers attractive mattress and pillow covers to complete the look.
They recommend twin-sized air mattresses for your swing bed due to the mildew issue. They even have a small opening in the covers that allow you to re-inflate your mattress without having to remove the cover. How clever is that!
Mary and I recommend you see what
The Porch Company
has to offer and to learn more about their amazing swing beds today! We are also very pleased they are one of our sponsors.
If you make a purchase through one of our affiliate links, we may earn a commission, but the cost is the same to you. Here is our
full disclosure
about affiliate marketing.