Porch Awnings
Considering porch awnings for your porch, deck, or patio? I remember the green awnings on our home where I grew up in Ohio.



Awnings keep out the weather, can potentially reduce your energy costs, protect your porch furniture from harmful rays, and can be designed to fit your porch's shape to add beauty to your home.

Awnings are versatile and flexible. They can be fixed or retractable and you can even add beautiful outdoor curtains for added protection and privacy. There's even an option to convert awnings into a screened porch!






Types of Awnings
Patio and porch awnings are a great addition to any outdoor space because they not only offer protection from the elements, but also add beauty to your porch. Porch awnings come in a variety of colors, styles, and materials.
They can be easily affixed to almost any structure
They can provide the homeowner with shade and comfort
They can also help reduce energy bills
The most popular coverings are either canvas, acrylic, or aluminum
They come in a variety of colors and styles
Porch and patio awnings can be either fixed or retractable and operated by hand or by an electric motor. Some have remotes to operate the awning from inside your home. Options include automatic wind sensors to close your awning during high winds, weather side and front panels, screen panels, and light kits.



Fixed Awnings: Fixed or stationary awnings do not retract. They are normally less expensive than most retractable models but offer less flexibility.

Retractable Awnings: Retractable models allow you lots of flexibility. You can open them easily (from inside your home with an optional remote) to take advantage of the sun in winter or shade in summer to help heat or cool your home.
Manual Retractable Models: Manually operated porch awnings are less expensive than motorized models. Mechanisms are designed for easy use and awnings can be opened or closed in just under a minute most of the time. They require less maintenance and cost less to replace when required.
Motorized Retractable Models: By far the most convenient, motorized models offer lots of flexibility. They are easily opened and closed - you don't have to go outside to it if you use a remote device.
Canopy Awnings: A canopy awning is designed to cover a doorway to protect an individual from the weather. They also add immense curb appeal to small porches or porticos.

Awning Conversion Kits: A few specific awnings allow you to easily attach screen panels to convert your awning into a screened porch. This is an ideal way to create additional space that could extend your outdoor fun.




Other Popular Awnings
Conservatory Awnings: A conservatory awning is designed to control the amount of heat and light for conservatories.

Caravan / Motor Home / Camper Porch Awnings: These awnings are designed to create porch space for your RV or camper. They are made from the same types of materials as porch awnings but the construction is somewhat different to accommodate the specific vehicle.




Porch Awning Materials
Acrylic Fabric (Gorgeous Sunbrella Awnings): Dyed acrylic fabrics (like durable Sunbrella® fabrics ) are perhaps the best fabrics for awnings. They are made from 100 percent solution-dyed acrylic yarns whereby color is added during the manufacturing process. These fabrics resist fading and cracking from exposure to sun, chlorine, and rain or humidity.





Awnings are perfect over your front door for not only aesthetics but especially for protection from the sun and elements.



Aluminum Awnings: Probably the most popular type of awning for porches. Aluminum is low maintenance and will last for years. Comes in a variety of colors and styles and resists fading or flaking.

Copper Awnings: Although more expensive than other porch awnings, copper looks beautiful and will last a lifetime.

Metal Porch Awnings: Similar to aluminum in style and construction but metal they are stronger and more expensive. Normally used to cover larger areas

Vinyl: Vinyl is placed over a polyester fabric. It is easy to clean, strong, and moisture resistant. We had a vinyl cover for our screen porch kit addition and it served us well.


---


Here are a few awning ideas we found at Screen Houses Unlimited. From aluminum to fabric, fixed or retractable, sides or not. Quite a few options.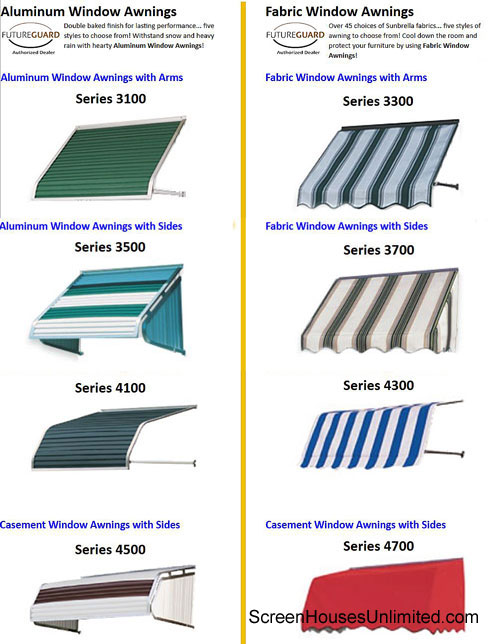 Awnings at Screen Houses Unlimited



Interested in learning more about your awning options or have questions about a specific project for your home? Contact the good folks at Screen Houses Unlimited.


Hire a Local Contractor
Please remember these are do-it-yourself awning kits. However, you could hire a local contractor on your own to install the awning if you need installation assistance.
You can use our handy
contact-a-contractor inquiry
if you are in need of such help.



If you are looking for porch enclosure options be sure to take a moment and review these other options- one might be just what you're looking for.



Porch Home

/ Porch Awnings






The Amazon ads are our affiliate links. Thank you.




Popular Pages
---
Our Sponsors
Porch Store
Custom Porch Products
Vintage Woodworks
For Your Porch Parts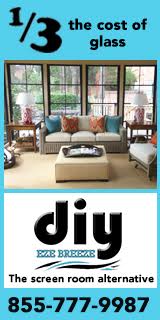 DIY Eze Breeze
Screen Porch Windows
PCA Products
Complement Any Home!
End sponsor section
---
---
Copyright© 2009-2017
Front-Porch-Ideas-and-More.com.
All rights reserved.
Content and photos may not be reproduced
in any way without our written permission.