Open Porch Appeal
It is readily apparent this beautiful home (below) is enhanced by the wide country-style wrap around porch. This colorful and open wrap around porch is ideal for entertaining. It incorporates Trex® decking, vinyl siding, unique storage capabilities, weather-resistant furniture and fixtures, ceiling fans, and much more.
Mary and I love open porches, that is, they do not have porch balustrades (railings). Aesthetically, open porches allow for an almost seamless transition from the outdoors to the interior of your home.
Note the balustrade or railings on the left side of the porch. This is required because the height of porch from the ground on that side is such that building codes require it. This porch is unique in that it has an open feel in front and the charming look of railings too.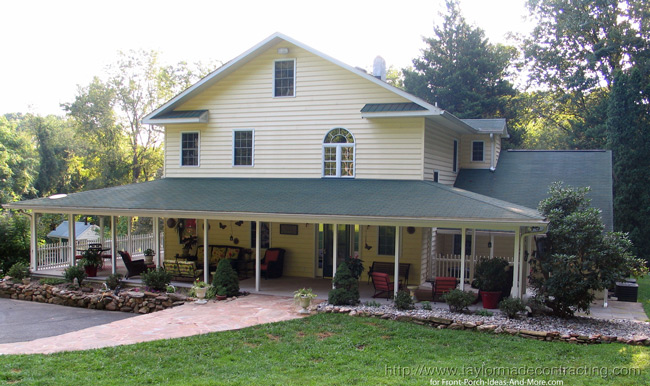 This is a great view of the seamless transition mentioned above. The porch provides great views of the surrounding yard while also allowing for protection from the sun, cooling by ceiling fans, and comfortable wrought iron and wicker furniture.
Here's a perfect porch design idea that is often overlooked. Note how the porch columns actually maximize your view from the porch. Larger diameter columns and columns with pedestals tend to limit your view. In some cases this may be essential. However, if you have a beautiful view, ensure your porch design enhances your overall outdoor experience.
People often ask Mary and I how deep of a porch should they build. We like to tell them as deep as you can as long as it fits your architecture and your budget! Usually 8 to 12 feet is perfect for furniture placement, traffic patterns, and entertaining. This particular wraparound porch is 12 feet deep. So spacious.
As you can see on this porch it is wide enough to accommodate furniture without interfering with traffic patterns.
Front porch design ideas are not limited to just aesthetics. To really enjoy your porch other factors come into play like
electrical requirements
. Outdoor lighting and exterior fans are two options that most porch lovers usually include on their porch as shown in the photo below.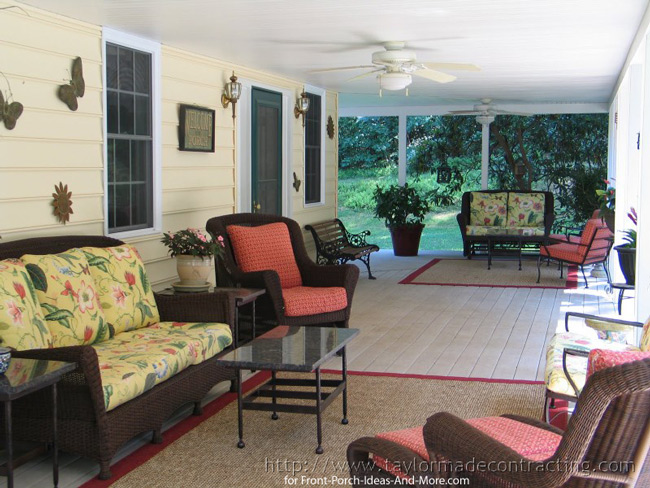 A very good idea to incorporate any porch design is minimizing maintenance. Taylor Custom Made Contracting used Trex® decking, a porch flooring material that is easy to maintain and will last a very long time.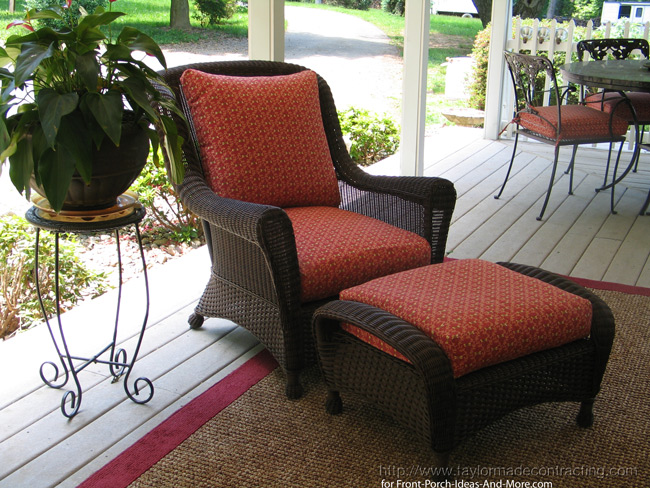 Taylor Made Custom Contracting are experts in universal design. The stone sidewalk leading to the front porch was built with accessibility in mind and has a slope of 12:1; ideal for those in wheelchairs and others with mobility issues. Making your porch accessible should be a consideration for any front porch design.
One of our favorite porch design ideas is to include storage cabinets or other receptacles for storing cushions, decorating, or other items on your porch. They can be either built-in or stand alone. This custom, granite-topped cabinet also acts as both a unique storage space and serving area.