Podcast 5:
Make Your Porch and Home Accessible
With Suzanne Taylor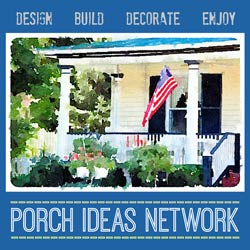 Have you been wanting to make your porch and home accessible? Then you will truly enjoy our audio program with Suzanne Taylor of Taylor Made Custom Contracting.

Simply put, an accessible porch means that individuals, regardless of limitations, can access and enjoy your porch. Suzanne discusses the importance of universal design - not just for older people but for everyone.

And, too, Suzanne talks about how the depth of a porch is important for maneuvering around especially with a wheelchair and what kinds of flooring work well.

She gives a lot of tips and enlightens us universal design and the importance of seeking the assistance of a certified Aging In Place Specialist (CAPS).

One thing we really loved about talking with Suzanne is how she explains how you can make your porch and more accessible yet still be beautiful.



Listen to Our Audio Program: 00:27:13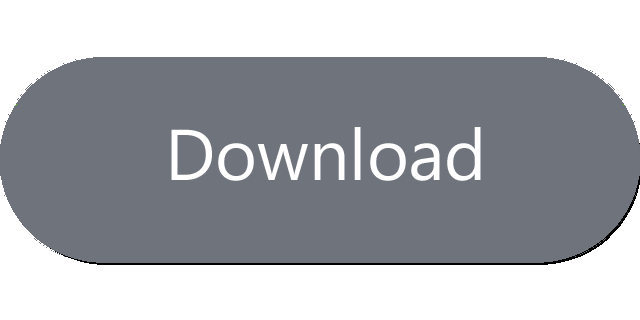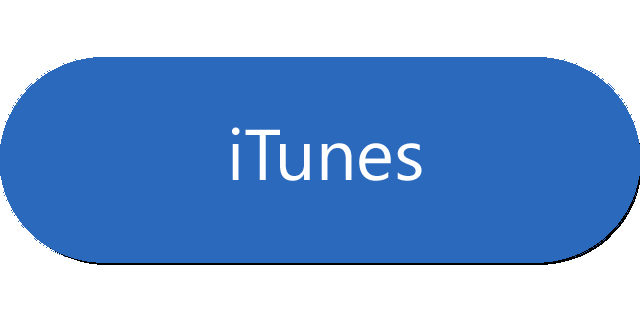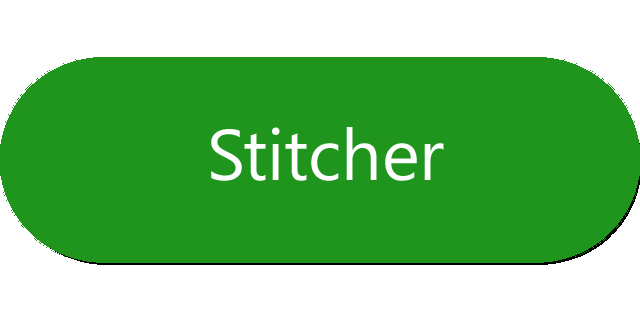 Podcast Highlights
Suzanne shares tips for
Making your porch and home accessible for all regardless of their age or limitations
Why it's best to incorporate Universal Design when you build your home
Pros and cons of wheelchair ramps versus exterior wheelchair lifts
How to make your wheelchair ramp attractive and integrate more beautifully into your porch and home
How Aging in Place home design can help you
The benefits of a covered porch or portico on any home
What depth your porch should be to ensure it is functional even for wheelchairs
Choosing your door sizes wisely including your back door
Other accessible-friendly considerations for porch flooring, receptacles and switches so that everyone can enjoy the porch


If you like our Audio Program, we'd really appreciate if you would tell a friend or two. We would appreciate if you would review us on iTunes. Thank you!



Show Notes: Make Your Porch Accessible to All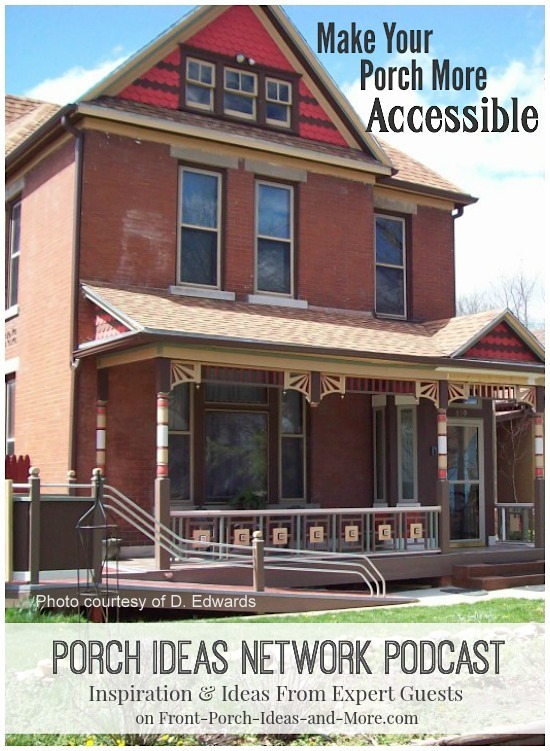 Photo courtesy of D. Edwards
You can see more of her porch transformation here.


To hear the full program, listen here:




DAVE: So today we are pleased to have Suzanne Taylor from Taylor Made Custom Contracting out of Jarrettsville, Maryland.

SUZANNE: Yes

DAVE: So great and so we are really pleased that you are visiting us on the porch today.

SUZANNE: Thanks for having me. This is exciting.

MARY: You are so welcome.

DAVE: To do this for us this is just great, so before we actually get into it the meat of everything, can you take just a few minutes and give us a little bit of information on about Taylor Made Custom Contracting?

SUZANNE: Well, we are a residential remodeling contractor; we started the business in 1990 and we do all sorts of home-improvement such as additions, the kitchen, bathroom, basement and repairs but one of the specialty items that we work on is accessibility and what we do is we design and modify homes for people who have accessibility issues.

DAVE: That is great and there is a term Universal Design. Well,two terms actually. There is Universal Design and then there is Aging in Place Specialist. Would you kind of give us just a quick rundown of what those two terms mean?

SUZANNE: Sure, Universal Design is actually a concept of creating an attractive living space that is functional for everyone regardless of their age or their physical abilities. In other words there are many different products and services that can be designed to incorporate into the home, to make it beautiful yet functional.

Certified Aging in Place Specialists and the National Association of Homebuilders and what they do is - they are experts in designing and performing home modifications for people within their homes. DAVE: That's perfect because we know our parents have been through that - needed some things and we know as the population ages that more and more people are going to need those kinds of services. So that's great that you're able to specialize in that.

MARY: Yes, I can remember my Dad having congestive heart failure and being kind of stuck in his bedroom upstairs because he couldn't get downstairs. He actually thought long and hard about even taking the steps.

DAVE: Yeah, the last few weeks you couldn't get him down at all. So it was just impossible until the end. So yeah it's really important that those services are available out there.

So we're all about porches obviously so what kind of things should we be looking at as homeowners as we approach our house looking from the driveway or sidewalk to our house. What kinds of things should we be concerned with or need to take care of?

SUZANNE: When one of the terms that a lot of ADA people use is considered is called the path of travel. That is the path for the person from their car to their door.

And that entails regarding their mobility. So when you come to a house and you're looking at possibly doing some design or home modification, you want to really to consider how a person is going to be able to get from the car to the house.

And as we talked earlier, utilizing the universal design approach means that we can create functional entryways that are beautiful. They can be designed out of flagstone; they can be designed out of stamped concrete, of course, wood composite.

So a lot of times people think of ADA and they think of kind of a hospital type look. And that's not necessarily the case.

The house and the entryway can be gorgeous and then it can also help with all ages from strollers to wheelchair.

MARY: Wouldn't it be awesome that homes were built that way from the beginning?

SUZANNE: That's true and actually in this day and age a lot of the 55-year and older communities do have that universal design concept in mind and they do use that quite a bit.

MARY: Let's talk about wheelchair ramps because usually what comes to mind with the wheelchair ramp is that they are not attractive and they are big.

SUZANNE: You are exactly right, they think not attractive when they say wheelchair ramp. Now the thing that you really do need to consider the wheelchair ramp specifications.

The slope is probably the biggest challenge because it has to be a 1 to 12 ratio and it cannot be too steep for the wheelchair to maneuver, so that does end up taking up some room. There are some ways of working around that depending on landing.

So you might have to have more than one landing at the time.

But again ramps can be made out of concrete; they can be made out of wood, vinyl, aluminum or composite and composite is a combination of wood and plastic. A lot of the new decking today is composite because it doesn't weather, it is maintenance free and is very neat in spring.

It doesn't stain so the color choices that you choose naturally stay for the life of the ramp.

DAVE: And it makes it ideal though for a lot of folks because, if you already have a really mobility issues, you're really not going to get out be sanding wood, sanding the back down and all those kinds of things.

MARY: That's a good point.

SUZANNE: And also with the railings, if you have composites railings you don't have to worry about the person in the wheelchair getting splinters in their hands.

MARY: Oh, sure because they are running their hands across the railings.

SUZANNE: Exactly.

MARY: I was just going to say that one of the things that I think about with the wheelchair ramp is, that I think of it as being an add-on the house.

It's a thing that's in the front yard so to speak or but there are ways, aren't there, of incorporating the ramp right with the design of the porch, rather than it being an add-on?

SUZANNE: Absolutely! We had a project that we performed that has a flagstone entrance and that is with using the correct slope, but like you said, it is once integrated into the porch. Now when you look at the home, you don't think ramp.

You just think, oh this is just a beautiful entryway. But yet it is still wheelchair primarily.

DAVE: That's perfect! Really nice to see, really nice to see. So along with that you know we get into the ADA requirements because when we get into the ramps and mobility issues ADA.

But just for clarification and for our audience, ADA requirements are not required for residential homes, is that correct?

SUZANNE: Yes, you are absolutely right. They are recommendations, they are not requirements. The ADA requirements are only on commercial structures.

DAVE: But at the same time, hopefully you will agree that probably people should really try to come as close to those as possible, because those requirements have been developed over time by experts in the field. Even if you're doing something in your own home although you don't have to comply with it. It will be nice to come as close as you could to it.

SUZANNE: Absolutely, and if you incorporate the ADA recommendations early. If you're building or remodeling your house, even if you're in your 20s or 30s figure when you are in your 50s 60s 70s and up, you don't necessarily need to re-remodel at that point because all of those things would have already been in place.

Actually when we built our home, we remodeled it when we were in our mid 20s and our home has all ADA recommendations. We have 36 inch doorways, no thresholds, changes anywhere within home. You know what we actually have is a spot in my oldest son's bedroom that is a closet right now.

In the event that we would need an elevator, that is exactly where it would go.

DAVE: Oh, that is great, we've heard that before. That's really great to do. You know the cost of doing that during new construction isn't really that expensive to make those kinds of modifications.

SUZANNE: No question. For instance if you have a new home what would be the difference between a 36 inch door and a 32 inch door at that point.

Or what's the difference of having a louvered handle on a door?

DAVE: Oh, yeah.

SUZANNE: So as far as porches go another reason would be again to have the composite as the material of choice because again as we discussed earlier you don't have to worry about the maintenance and you might not want maintenance at 25 you might not want maintenance at 85.

DAVE: Yes, yes definitely.

MARY: I have this a side question. We talked about that residential homes do not have to follow the ADA rules. But are there local codes?

DAVE: Building codes?

MARY: From the county or your city that would dictate about accessibility, that you know of?

SUZANNE: Well, we often do work with for the Maryland State Department of Rehabilitation Services and John Hopkins, Kennedy Krieger that sort of thing. So if we are building a home or remodeling or a building ramp then they put in place their requirements.

It is not by law, it is not through the county code, it would be just their requirements that they ask for from us.

DAVE: And that brings a good point that when you are building something like a ramp or something like that it would not hurt to check with your local building codes just to make sure you're in compliance. Because I know having lived in all parts of the country those codes differ a lot between where you live.

SUZANNE: And they vary from county to county, just like you said absolutely. Double-check because you're better off being safe than sorry.

If you start and you've made a mistake and you're doing things wrong the permit office and the zoning they can shutdown your project. That is not something that you want to have happen.

MARY: It is also probably good to check with your with Home Owners Association if you have one of those.

DAVE: Yes, if you have a homeowners association. We ran into that situation with our Home Owners Association.

We had a neighbor that ended up needing a wheelchair ramp, almost like within hours because the hospital released him and he was unable to walk, he had to be in a wheelchair and so there was no way that even his wife could get him home.

There was no way to get inside the house at all at that point.

So fortunately I had a friend with me we ended up going next-door and building a wheelchair ramp that actually turned out pretty nice.

MARY: It is actually really attractive.

DAVE: We did it very quickly, I think it took us about four or five hours to construct the ramp, but it did turn out very nice but we were not totally within ADA.

For several reasons, one was just home owners didn't want certain things on it, but we got into a situation where we had a slope, we had a lot of slopes in the yard and so we actually had to bring the wheelchair ramp out and turn it so we can find some level ground for the bottom pad area for that.

So you get into all kinds of things when you are building ramps. Getting back to the HOA's, we didn't time to submit our plans to our homeowners association.

But it is something that you should do, if you have to build a ramp or something like that, you really need to comply with whatever they need you to do, because they have a lot of power. So if you find yourself in such a problem like ours make sure you at least comply with the requirements after-the-fact and hope for the best.

SUZANNE: Absolutely, you have to worry about ramping structurally sound with concrete footage and like you've just mentioned, maybe landing and landing and more landing.

DAVE: Yes, to get it there. So people are talking about that ratio 1 to 12 or whatever and we were talking about in this particular case his steps were 21 inches so we needed a 21-foot long ramp for him in order to be in compliance with ADA. We didn't quite do that, we came close. We didn't quite do the whole distance but he is able to maneuver so that was a Godsend for him.

SUZANNE: And that might be an application for an exterior wheelchair lift if you really have space requirement, then the wheelchair lift themselves. They really need only need a 4 x 4 area.

If space constraints are really an issue then the wheelchair lift could be a better application.

DAVE: Yes those are great.

MARY: That's good. If I was a person needing to have either a lift or a ramp, what are some of the pros and cons?

SUZANNE: Sure, well with the lift, it takes up less space than the ramp and that is an advantage.

Some of the cons with the wheelchair lift is that you need electric. So you would definitely have to have a dedicated circuit for that and just like anything mechanical.

There is potential for mechanical failure on needing new parts through the year. The other portion of it, too, is you have to make sure that you have a gate for the wheelchair lift.

If the wheelchair is at the bottom you need to make sure that gate is placed at the top and vice versa because you don't want to have any problems or any accidents.

Some of the pros of ramps are that you will not need to worry about the electric and you can choose any material that you would like.

Some people choose composite as we discussed earlier or concrete but as we discussed earlier they will take up a large amount of space. So it really depends on the individual application. It depends on which area or which device you choose.

MARY: Well, if it comes down to money is there a big difference between a wheelchair ramp and a porch lift?

SUZANNE: That's a really good question actually. I would say they are probably similar in price.

Now the wheelchair lift would probably cost about $8,000 roughly give or take depending on how high. Obviously the higher it goes the more expensive because you might have a couple different stops and then again there are variables with the ramp depending on what material you choose.

Vinyl would probably be more expensive than composite or pressure-treated wood.

MARY: Very good

DAVE: And you also have labor costs. How long does it usually take them to install a lift?

SUZANNE: Okay, a lift can be done in a day or two.

DAVE: Okay and ramps can be too but depending on whether you pour footings or those types of things.

SUZANNE: Correct. Ramps could be a week or so.

DAVE: You know what I just think in terms of labor cost. Between the two figuring that in, against the overall cost.

The other thing I want to point out too that you had mentioned that I just want to stress for our listeners is that a porch lift or wheelchair porch lift requires a dedicated electrical circuit.

So a lot of people you know if they're thinking about wiring it yourself, people need to understand it has to be on its own circuit.

SUZANNE: That's a really good point. Now some of them have battery backup, but even so like you said definitely need a dedicated circuit.

MARY: Something that our readers ask us fairly often is, "I am needing to get a wheelchair ramp for my mother or father but what landscaping can we do around it to make it look nice in their yard?"

SUZANNE: Well, again you are still kind of using that universal design approach, so of course, there are ornamental grasses and shrubs, hydrangeas are big and take up a lot of space. There are also rhododendrons.

I would imagine that you could talk to a landscape design architect if you want to go that route, just to kind of get an idea of the particular shrubs that would look good around the ramp. And that would bloom different times of the year.

Listen to Our Conversation with Suzanne: 00:27:13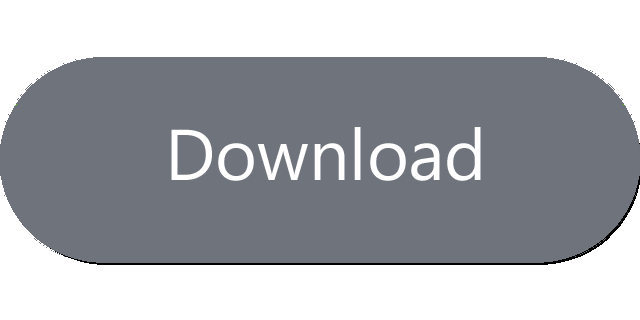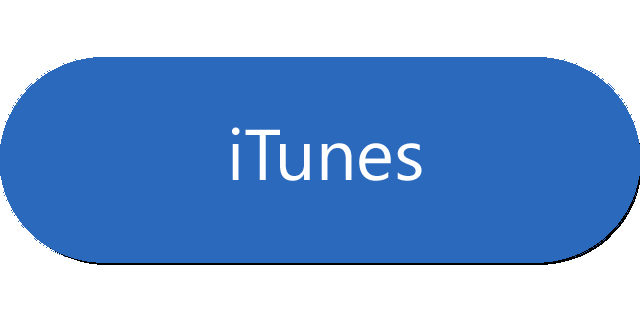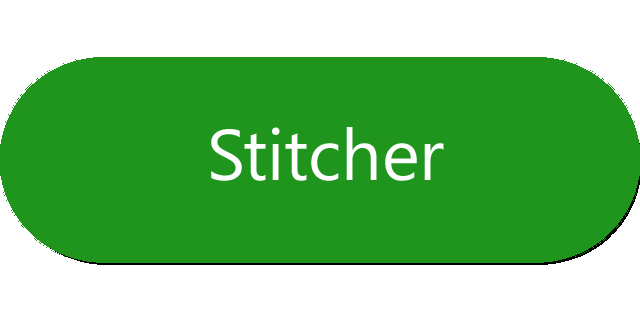 DAVE: Got to get your landscaping in with your structure so it's kind of like complementing each other, if you will, with both of those. So I have seen some that look pretty nice and not so sterile.

SUZANNE: Right, absolutely.

DAVE: It's a design concept. What kinds of things on the porch should we consider to make it easier for folks? You know one of universal design concept we were talking about porches and accessibility and those kinds of things, what kind of factors do we need to consider for that?

SUZANNE: Okay, great what I would definitely recommend is that a porch be at least 6 feet deep because we want to be able to maneuver around without any space constraints. But also with porches often times there may be electric outlet or switches so something that we do inside with our ADA clients is that we raise the outlets and we lower the switches.

DAVE: Very good, very good idea.

MARY: That is a good catch there you know.

SUZANNE: And then that it gives people a little bit more independence.

DAVE: Oh, very much so yes.

SUZANNE: Also there are ceiling fans on porches. That's nice to be able to turn them on and turn them off or even just lights on the porches.

A lot of people these days have lamps on the porches to make the outside look inside.

DAVE: Sounds like our porch. Ha ha! Fans and lights

MARY: Fans and lights, we love fans and lights.

SUZANNE: The flooring options - you want to stick to flooring that's wheelchair friendly. So concrete again composite, or vinyl. Brick probably isn't the right application for this one.

And then also threshold, just want to make sure that they are not any thicker than a half inch, because we want to be able to maneuver around and not have any issues with that.

DAVE: Yeah, a lot of people forget that about thresholds. You brought that up earlier in our conversation about thresholds and what you did in your own home for that and that is something that is really so easy during new construction to do - to keep that threshold lower. That's not difficult to do.

SUZANNE: Absolutely.

MARY: When we had our home built they instead of making a step like, a little step to go into the house, it would've just been very small, they just made a little bit of a slope.

DAVE: Yeah, because we have a concrete floor on our porch and what they did is at that area threshold they just angled it slightly and just bought concrete up to it. So it looks great and it takes care of the threshold issue.

SUZANNE: Oh, yeah that sounds fantastic.

DAVE: Yeah, it worked out really well.

SUZANNE: When you are modifying homes with ADA, they really recommend a covered entry way, because that way when a person gets any groceries or they are carrying stuff in the house, they don't really have to worry about the weather. So that really helps with the covered porch or portico or anything just to give you a little extra time to be able to get in the house.

DAVE: Yeah, when you say portico that brings up a really good point. There are a lot of those, a lot of porticos. Some have hardly any roof over them, any cover over them.

Other ones have smaller ones but your idea of having at least 6 feet is making sure that if you're going to have a portico that it can accommodate a wheelchair, just doing whether you need one or not. If you do that now that will help you down the road immensely.

SUZANNE: And as we discussed earlier, it is really nice to have a covered porch or even a portico for anyone.

MARY: Oh my gosh, you are absolutely right

DAVE: Going back to the previous conversation about back doors usually being more narrow than front doors, we found that to be true. And as you said earlier it isn't so hard to put a 36" door back there rather than a 32".

SUZANNE: No question, with new construction that would be the way to go.

DAVE: Suzanne how can a person find more information about this making your home more accessible? Where should they go first?

SUZANNE: Well, as a certified Aging in Place Specialists what we do is, we have been trained to be able to go to a house and determine what the house needs, to make it functionally acceptable to everyone. Whether or not they have accessibility issues or not and that really separates contractors because they've already been trained in that home modification area.

DAVE: Yes they need to seek out; yes they should seek out an Aging in Place Specialist for that.

SUZANNE: I might want to check on that but I think you can go to the AARP website for more information.

DAVE: Okay, yeah there is a list on there. Yeah that's right

MARY: Suzanne, Dave and I love porches and I bet that you do too. So do you have any stories or memories from childhood or growing up or even at your home right now with your family in regards to living on the porch or just enjoying your porch?

SUZANNE: Well, I didn't have a porch growing up however I always wanted a wrap around porch so when we built our home in our 20s, we decided to put a wraparound porch on.

And they say, "Have you seen the Taylor's wraparound porch? It is the most gorgeous porch you have ever seen!"

Everyone that knows our house, knows our porch. It has its own personality in addition to the house. We have had so many parties on our porch.

We have done bridal shower parties, we've done engagement parties, baby shower parties and everyone just loves being outside overlooking the trees and the grass.

MARY: As you were telling us that, I just have a big old smile on my face because porches just mean so much to people and there are just happy places.

SUZANNE: It's true. And it is the truth; people are like "Have you seen the Taylor's porch?" Like people at school like to talk about it. It's hilarious.

MARY: Oh that's great, we'd love to see pictures of it sometime.

SUZANNE: Sure.

MARY: And I just like to thank you so much for taking your time today and sharing a wealth of information with us about how to make your porch and the entryway of your home more accessible not only for people who have limitations, but even as young people it's a great way to plan your home. We love the story that you told us about your own home. So thank you so much for taking the time to do that with us today.

SUZANNE: Thank you for having me it was fun. DAVE: It has been great. Taylor Made Custom Contracting is definitely a company that those in the Baltimore, Maryland area should contact if they have accessibility issues in order to be able to build something or just for the remodeling and other things that you do. You have a wide range of services for that.

So I also know that you are an approved builder for the department of Veterans Affairs especially adapted housing programs which is really a feather in your cap. And people should know about it too. So Suzanne how can people contact Taylor Made Custom Contracting?

SUZANNE: Well there are a couple of different ways. If you go to our website which is taylormadecontracting.com, you can fill out the website form, you can e-mail us at info@taylormadecontracting.com or call at 410.557.0322.

DAVE: Very good. We really do appreciate having you on the porch with us today. Thank you so much.

MARY: Thank you, Suzanne.

SUZANNE: Sounds good, thank you.


Listen to Our Conversation with Suzanne: 00:27:13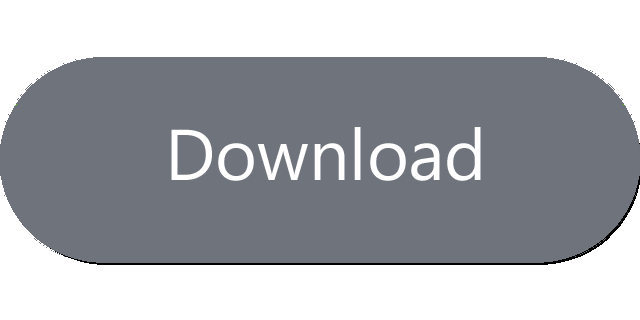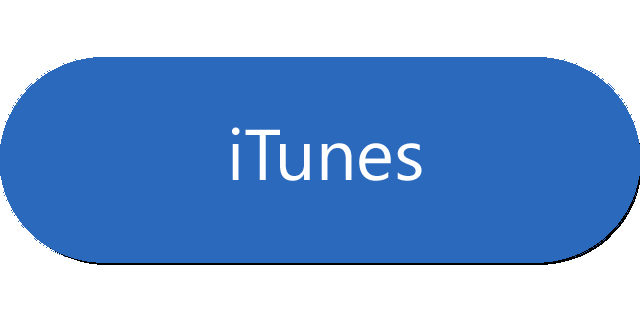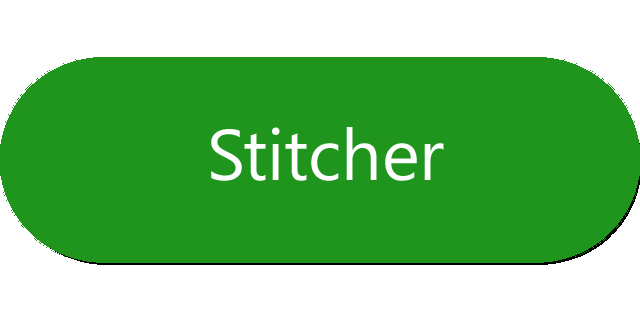 About Taylor Made Custom Contracting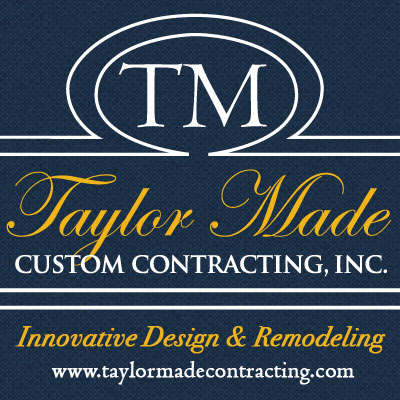 Taylor Made Custom Contracting
is an award-winning construction and remodeling company in Maryland. They are a Veterans Specially Adapted Housing Approved Builder as well as being Universal Design experts.
Suzanne is a Certified Aging in Place Specialist and she provides solutions to clients with mobility issues. From wheelchair ramps to residential elevators and stair glides, Taylor Contracting can make your home totally accessible.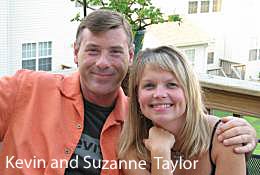 If you live in the Baltimore MD area and want to make your porch and home more accessible, get in touch with Suzanne and Kevin Taylor of Taylor Made Custom Contracting to see how they can help make your porch and/or home more accessible to everyone. We
featured several of their wonderful projects here
.
Call them at 410.557.0322 or email them at info@taylormadecontracting.com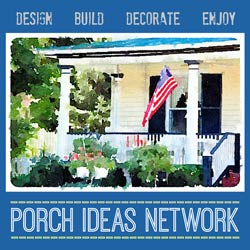 More Audios

Be sure to visit our Podcast Directory to hear more of our audio programs with leading experts.





Our Sponsors


End Sponsors


---
Helpful Links
Enjoy shopping Amazon
(affiliate link)
Popular Pages
What's New
Join Our Newsletter Family
Porch Designs
Porch Ideas for Mobile Homes
Find a Local Contractor
Build a Porch
|
Small Porches
Porch Columns
|
Porch Railings
Screened Porches
Porch Curtains
|
Porch Enclosures
Porch Landscaping
|
Vinyl Lattice
Porch Decorating
|
Porch Ideas
Shop
Navigation Aids
Home
|
Top of Page
Site Search
|
Site Map
Contact Us
Policies
Disclosure Policy
|
Privacy Policy
Legal Info
---
Please Join Us Here Also

Find a Trusted Local Pro
---
Copyright© 2008-2024
Front-Porch-Ideas-and-More.com All rights reserved.
No content or photos may be reused or reproduced in any way without our express written permission.
At no extra cost to you, we earn a commission by referring you to some products on merchant sites. See our
disclosure policy
.
We, Front Porch Ideas and More, confirm, as stated on our
privacy policy
, that we do not sell personal information.
All content here is solely for presenting ideas. We recommend consulting with a licensed, experienced contractor before you begin your project.
We make no guarantees of accuracy or completeness of information on our site or any links to other websites contained here.



Thank you for taking your time to stop by. See what's popular and new here.
Enjoy shopping Amazon
(affiliate link)
Our Sponsors
End Sponsors
---
Find Top-Rated Service Pros (our referral link)
---
Get Our Newsletter,
Front Porch Appeal
and a bonus!
Learn more
!
Subscribe and also receive our eBook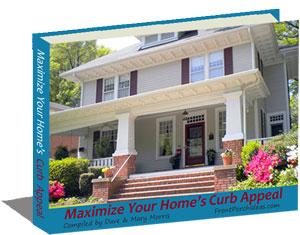 We will use your email address only to send our newsletter and this helpful ebook on curb appeal!
Enjoy our
back issues
.
---
What's New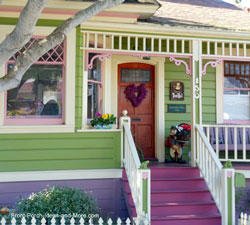 See Our Latest Updates
Get Our Porch Ideas Generator eBook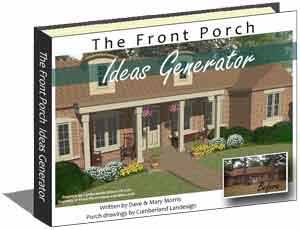 See Our Porch Illustrator eBook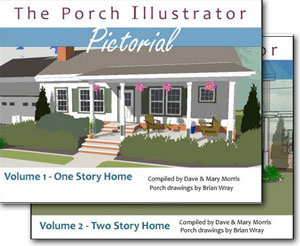 Porch Ideas Network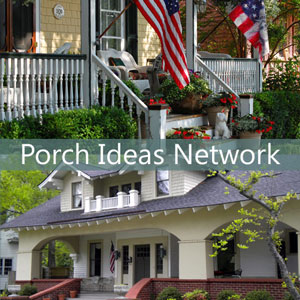 Thank you for taking your time to stop by.
See what's popular and new here
.