Pictures of Screen Porches
Be Inspired to Design, Build and Furnish Yours
Are you a big fan of screen porches like Mary and me? We are excited for you because we know how much fun it is to dream and then create an awesome outdoor space for you and your family.



Enjoy our pictures of custom porch enclosures and our tips for designing, building, furnishing, and enjoying your own enclosed porch.

We teamed up with Nancy Moore, founder of The Porch Company of Nashville TN, experts who build custom porches.



The Porch Company is one of our fine sponsors and we are proud to share their custom porches with you.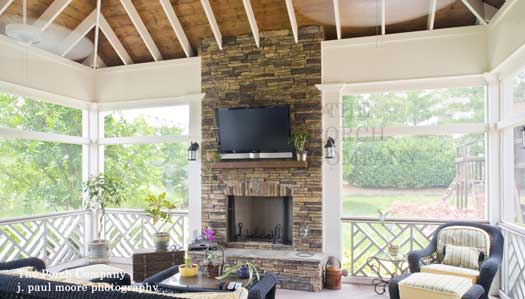 A custom built screen porch by The Porch Company






Realtors have told us that screened-in porches make a home easier to sell.

In fact, Mary and I bought a house once just because of the screened porch. And we loved and enjoyed that porch so much - many fun hours were spent there.

Our friends loved our porch, too. Can't even count how many times we had friends over to visit on our enclosed porch into late hours in the evening.



Look at These Screen Porch Pictures
We are not responsible for porch envy :-)
What better way to find screened-in porch ideas for designing, furnishing and decorating than to see actual custom-built enclosed porches.

Enjoy these amazing photos from The Porch Company. Have pen and paper ready to make a list of all the features you want in your porch.




The white painted ceiling joists and framing along with the natural wood make for a very warm and inviting enclosure.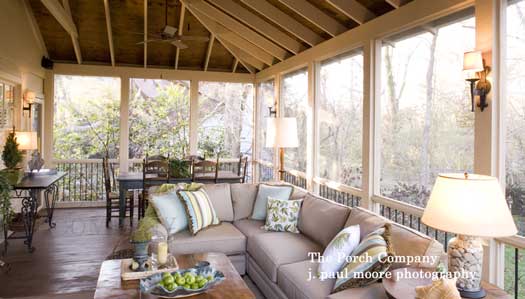 Wide-plank flooring, aluminum balusters, and sconce lighting are just a few of the construction details you might want to consider for your enclosure.







4 Things to Consider for Your Screen Porch
1. Size Really Matters
Almost everyone loves their screened porch but if asked, most people wish it were roomier. If
economically feasible
, make your screen porch as large as possible keeping in mind it should be aesthetically pleasing and architecturally complementary to your home.
Knowing how it will be used and by how many people will help you determine the optimum size. Keep in mind that smaller porches can still have many of the amenities as larger ones. Use our handy enclosed porch guide information below to assess your needs.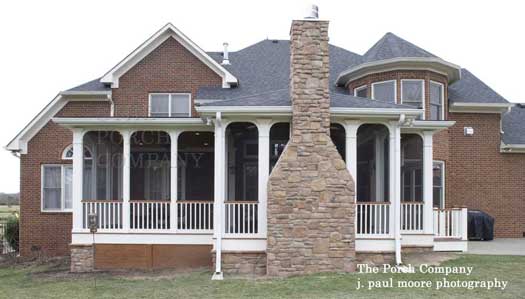 2. Location, Location, Location
The location of your enclosed porch is often determined by the presence of an existing porch, deck or patio you have. However, if you have the option, choose a location that not only has limited sun in the afternoons but also takes advantage of refreshing breezes.
And don't forget about your view. A pleasant view makes for relaxing, happy times on the porch, too.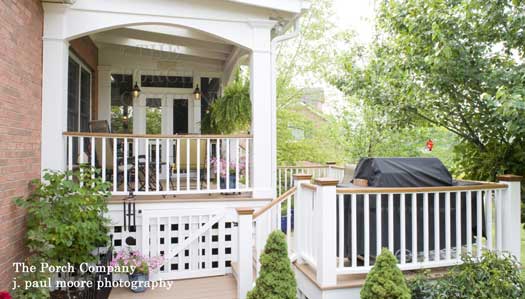 We realize it's not as much fun - but don't forget to consider issues like zoning, set backs, and possibly Home Owner Association requirements. Before you start, see more of our ideas for
locating your screened porch
.
3. Little Things Do Count
Screen porches are basically frames with screens in addition to supporting posts and roofs. Custom screen porches add subtle changes in materials and framing to create one-of-a kind looks. You can
replicate those looks
for your porch by noting "how they did it" in our photos.
Here's a design feature that is often overlooked but can make any size screen porch more pleasing to the eye. Add
arched stiles
at the top of your screen panels as pictured in the photo below.
The arched screen frames and double doors (another unique design feature) soften the overall appearance of the screen porch and give it a more dramatic look. Also note the bead board knee wall and bead board on the bottom of the double doors.
These design features can be used on any screen porch size.
4. Extend Your Porch Time with Weather Protection
What other reason to build a screened porch than to enjoy the outdoors? So we like the idea of extending porch time as long as possible. So when we saw the
All Season Porch Curtains
from the Porch Company, we thought we'd share them with you, too.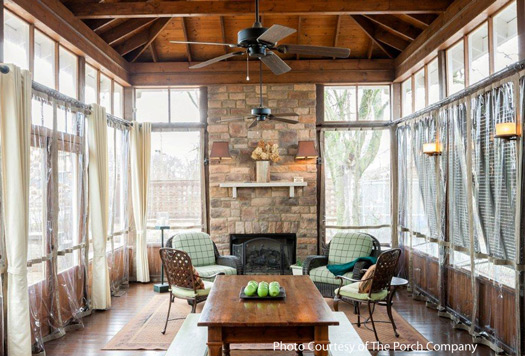 These curtains block wind, rain, pollen, and other debris to keeping you comfortable and your porch clean and dry. Imagine in the middle of November being able to enjoy your porch. Learn more about these curtains at
The Porch Company
.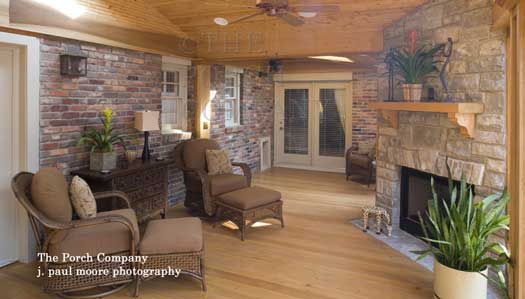 Beadboard ceiling and stone fireplace give this addition a natural feel.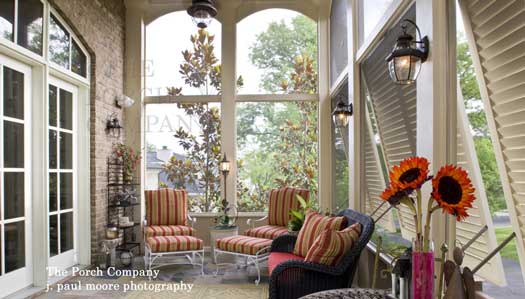 Floor to ceiling arched screen panels, hurricane shutters, and short knee wall finish this beautiful addition.




We love the cobblestone flooring and wooden beams on this porch addition.
Notice the lighting and speakers, too.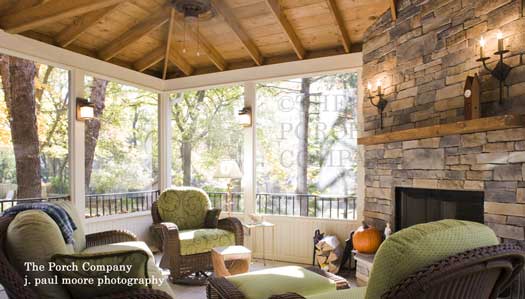 The wood and beam exposed hip roof is a great way to make your inside space seem more expansive. Mary and I also really like the framing detail at the top of the screen panels.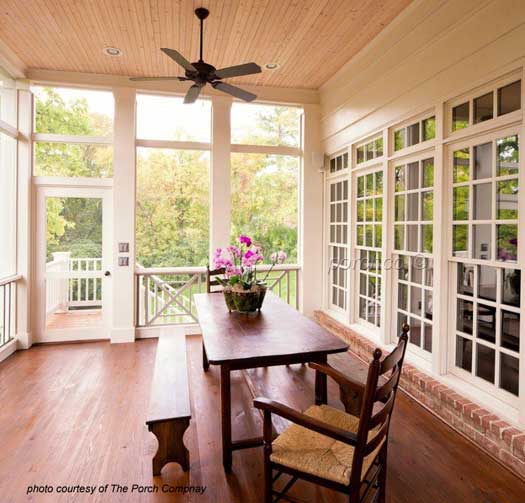 Mary and I love the bead board ceiling and outdoor ceiling fan. The window grids give this screen porch real country charm.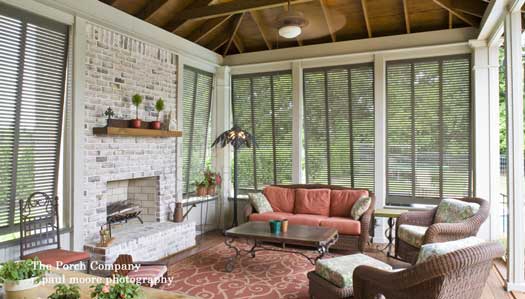 Colorful outdoor rugs, comfy cushions, and classy wicker furniture make your porch extra comfortable and lovely.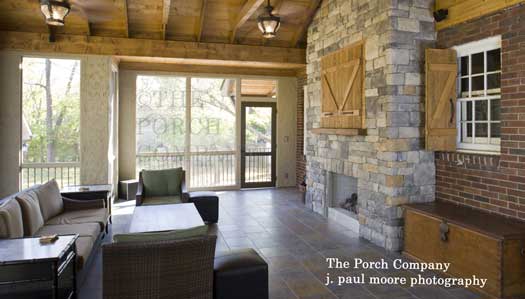 There's nothing quite like snuggling up to a fire on a cool evening; every enclosed porch should have one, don't you think?
Please Enjoy Our Porch Video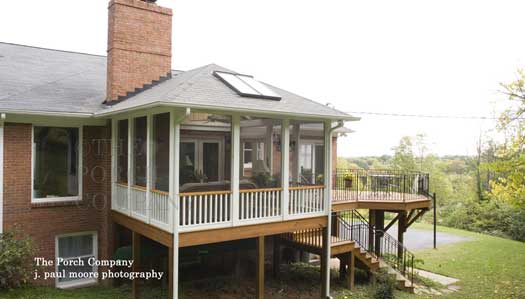 The photo above is a very good example of a typical deck that has been converted to a screened porch. Adding a deck adjacent to your screen porch is easy to do and adds more functionality to your outdoor living area.

We really like the separate open deck area adjacent to the screen porch for grilling and star gazing.

An adjacent deck works well no matter the size of your screened porch. Note how the black aluminum railings give the deck a more open look.

The skylights are a nice option too. They not only let you see the stars at night but also allow more light into the home during the day. Keep in mind skylights can be added to almost any porch roof, no matter the size.

You can easily convert an existing porch, deck, or patio into an enclosed porch. If built correctly you can even convert it to a three season room to extend your outdoor pleasure.




Enjoy getting ideas from pictures like Mary and I? We travel the U.S. looking for fabulous porches so we can give you the best front porch ideas. See our front pictures of porches section.


Have a prow home design? See our response to an inquiry about building a screened porch on a prow-style home.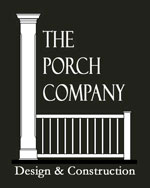 The Porch Company
, Nashville Tennessee, is a design and construction company specializing in custom porches and screened-in porches. They are located at
618 Vernon Ave.
,
Nashville
TN
37209
.
Their phone number is
615-662-2886
.
It all began when Nancy Moore, after working for 9 years at IBM, decided to turn in her blue suits and pumps to pursue a career in construction. So she bought an old house, began remodeling and soon after decided to focus on porches...and The Porch Company was born.
Working from their custom design or your existing plan, they use a combination of techniques that combines old-time craftsmanship with the best of modern technology and materials.
Want a beautifully designed custom screened-in porch?
Contact The Porch Company
today.
Voted The 2016 Reader's Favorite's Award
in the Deck/Porch company category in the Nashville House & Home & Garden Magazine
---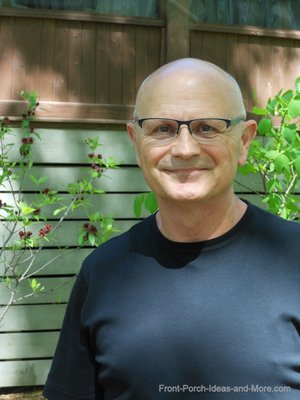 J. Paul Moore

is a freelance

Photographer

and recipient of the Silver Media Award for magazine photography.

Photo credits include American Gardener, Backpacker, Country Home, This Old House and many more. Visit

j. paul moore photography

to see his beautiful nature, gardens, and architecture portfolio.

We had the wonderful opportunity to interview Paul, a self-professed lover of nature, about

landscaping around the porch

.






The Amazon ads are our affiliate links. Thank you.




Popular Pages
---
Our Sponsors
Porch Store
Custom Porch Products
Vintage Woodworks
For Your Porch Parts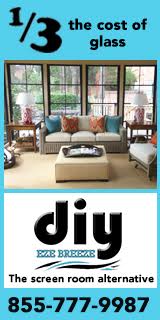 DIY Eze Breeze
Screen Porch Windows
PCA Products
Complement Any Home!
End sponsor section
---
---
Copyright© 2009-2017
Front-Porch-Ideas-and-More.com.
All rights reserved.
Content and photos may not be reproduced
in any way without our written permission.