Tempered Glass Panels
Replace Wood Porch Railings
Our friend, Larry, upgraded his porch with tempered glass panels. This glass railing system replaced the original wood porch railings on Larry's porch.



Larry's porch was needing a makeover and it was time to decide whether to simply paint and fix up his older porch railings or replace them.

He decided to replace them with a modular porch railing system and the glass panels.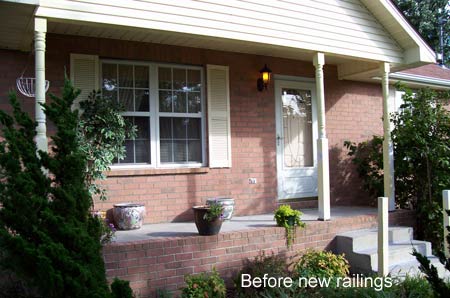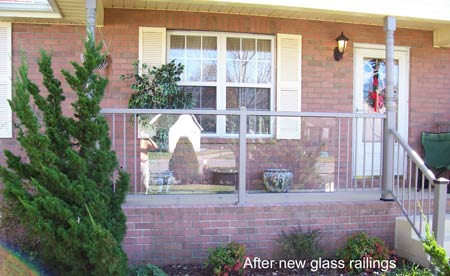 Larry's Main Reasons for Selecting Glass
To open up his view - from both the porch and from inside his home
For easier maintenance - the aluminum glass railing system he chose is virtually maintenance free


Larry said that the installation was straightforward to do. He is very pleased with the results and we can see why!



Facts About Glass Railings
These facts may vary from one manufacturer to the next so use the following only as guidelines.

Maximum span: Usually no more than 6 feet with glass. Spans greater than this need a middle post.

Height: The railing is about 42" high with the post slightly higher to support the railing

Size of tempered glass panels: The glass panels fit in between the bottom and top railing. The glass is about 1/4" thick and almost 36' tall. Widths vary with the manufacturer but one that we checked starts with a 6" width up to 66". With the manufacturers we checked, you can order in 3-6 inch increments.

Wind: You might wonder about the wind and how these glass panels hold up to it. One manufacturer's website said that their panels tested to 150 mph. That's pretty good!

You can learn more about glass railing systems by talking to your local Home Depot store. They can order it for you through several manufacturers. Here are a couple: