Dave and Mary
Fantastic Porch Ideas from the Road

Looking for inspiration?

The porch ideas Dave and I share here should do the trick.

With cameras in hand, Dave and I have been taking to the road to bring you some wonderful front porch pictures and ideas. We hope to get to your neighborhood one of these days to show off porch and home ideas from your locality.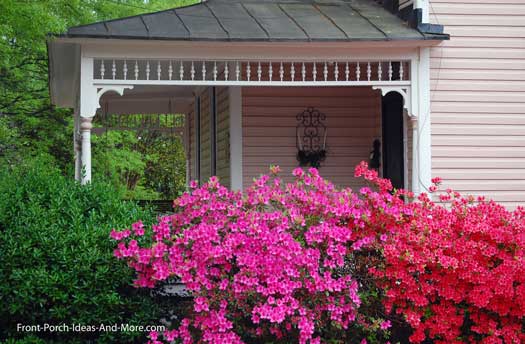 We saw this wonderful porch on a road trip through Tarboro NC
Take your time and browse our front porch pictures to get ideas from the wonderful places we've traveled. You'll find plenty of...
Porch decorating ideas
Ideas for various front porch designs
Porch columns and porch railings ideas
Neat examples of porch ceilings, porch flooring and porch steps
Inspiration for your porch furniture and accents
Also lots of landscaping ideas, planters, hanging baskets
Porch Ideas from Our Road Trips
---



Does your town have wonderful porches? Then please share that with us. We may visit your town on our next porch tour.

If you'd like to know how we travel around the country to charming places and get paid to look at beautiful porches, we're happy to share.






Hi!
We're Mary and Dave
, lifelong DIYers, high school sweethearts, and we both love porches. You've come to the right place for thousands of porch ideas.
--- Our Sponsors ---
--- End Sponsors ---
Mary's Etsy Shop
Find Top-Rated Service Pros
Our Newsletter, Front Porch Appeal
Learn more
!
Thank you for being here!