My Favorite Time of the Year
Submitted by Marcia of Prior Lake, MN USA
My daughter, Molly (10 years old) and I decorate our porch every year. We try to come up with new ideas for each season.
Decorating our porch has been our tradition. She begs me to go out and get it done when the season changes. Here is our autumn creation this year.
If you peek in the windows you can see that our house is decorated inside as well and ready for the season. Even the downstairs bathroom is decked out.
Decorating for each season is my hobby. Some people have scrapbooking, cooking, photography etc. as their hobbies. Decorating inside and outside is mine.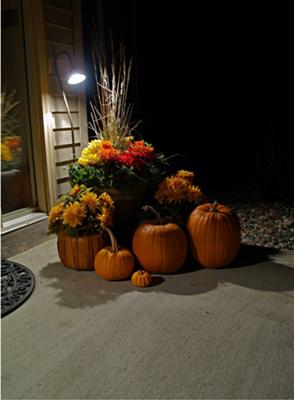 Decorating inside and out is a mother and daughter hobby.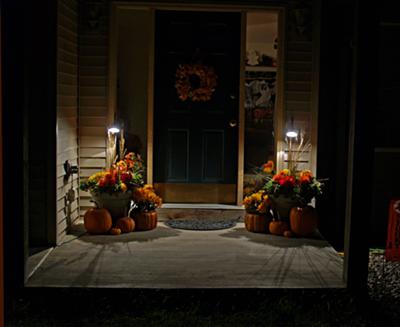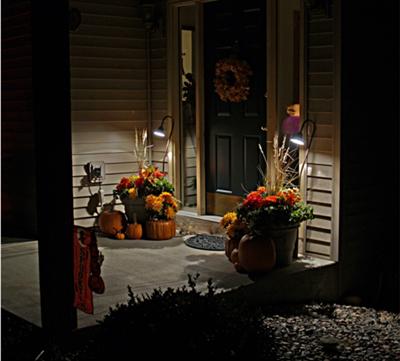 ---
Plow and Pumpkins ~ A Celebration of the Harvest
Submitted by Deb Lebryk of Waterloo, Illinois
The antique plow is always at the center of my Autumn Porch Decorations.
I love decorating my front porch each season and am especially excited when I can use items from my vintage and antique collection. My antique plow has a spot in my garden all spring and summer but when autumn comes it is wheeled center stage on my front porch.
A hay bale, pumpkins, corn and mums surround the old plow along with antique crocks and autumn holiday decorations. Fall is my favorite time of year...happy harvest, everyone.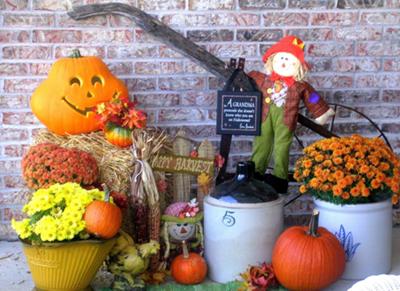 Deb's antique plow has a special place in her garden throughout the year but it takes center stage on her front porch when autumn arrives.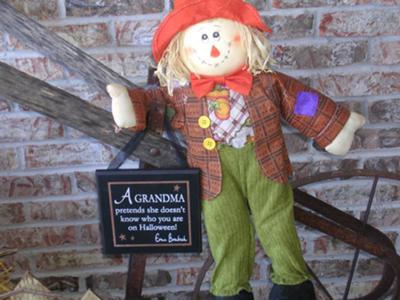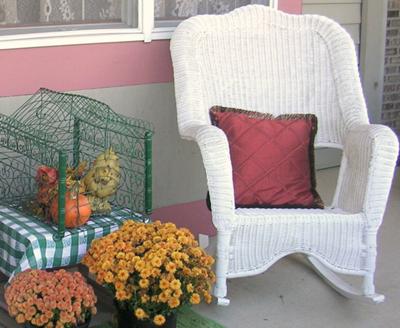 ---
Our Autumn Front Porch
Submitted by Donna of Joelton
We just have a few things on our front porch: a couple of friendly straw people at the door to welcome people, plus some pumpkins and mums.
We have an autumn wreath on the front door too but the camera doesn't show it very well because of the storm door. It was easy to put up. We hope you like it. We enjoy it.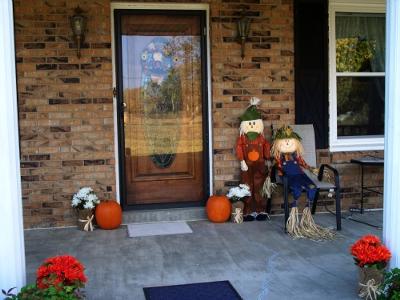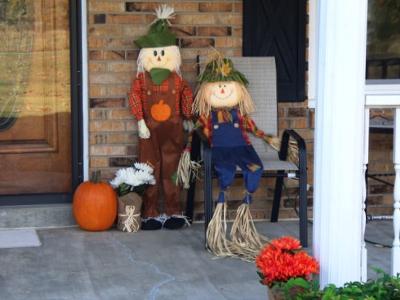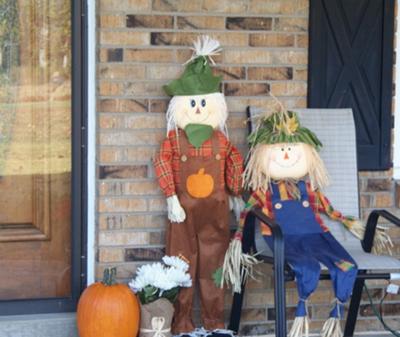 ---
I Love Fall
Submitted by Marjorie of Lake Wylie, SC
For my autumn decorating, I used several colored mums, pumpkins, a fall wreath I made, baskets filled with gourds and placed my autumn tea set on one of the side tables.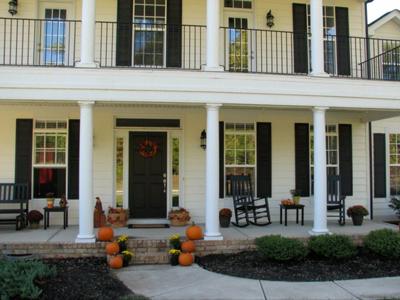 Marjorie made her fall wreath and she even has an autumn tea set to display on her porch.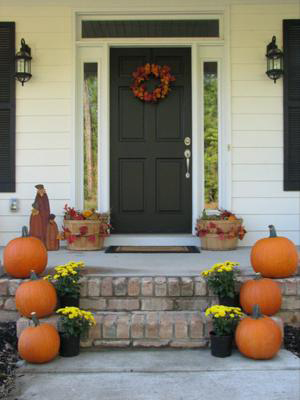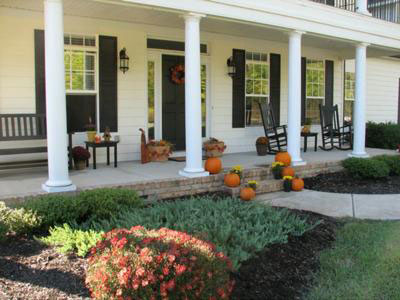 Marjorie made her fall wreath and she even has an autumn tea set to display on her porch.
---
Inviting Autumn to Our Porch
Submitted by Kristen of High Heels and Hammer
Our front porch, a popular place for family and friends, becomes more inviting in autumn with the addition of warm candlelight and a cozy throw. This handmade tray is serving up warmth and ambiance.
A collection of pumpkins and gourds share space with handcrafted candle holders which add a soft glow to evening skies. This frame makes a picture perfect wreath with the addition of pine cones and leaves.
We love having a front porch where we can hang out with our friends and neighbors.
This year we decided to make it even more inviting by adding some pumpkins, mums, and a few do-it-yourself candle holders so we can continue the fun into the night.
The cornstalk and hay bale add some whimsy, and the picture frame wreath adds a touch of handmade elegance and warmth.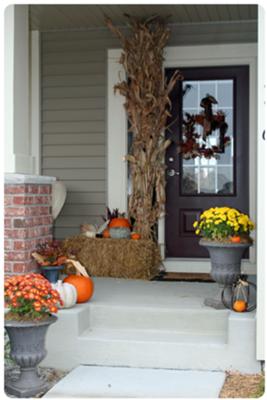 At Kristen's porch you will find bright orange pumpkins, DIY candle holders and an autumn wreath made from a picture frame (super cool idea!)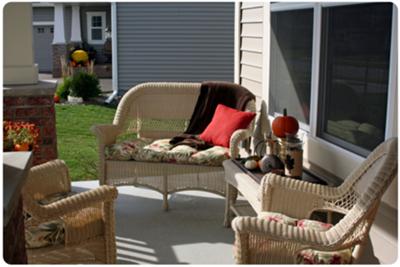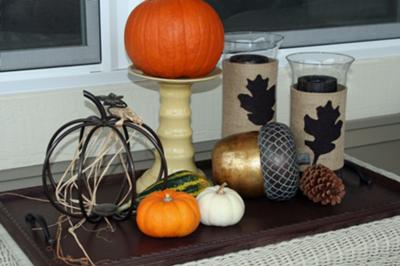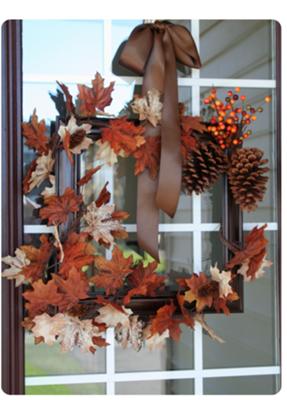 ---
American Harvest
Submitted by Christine McGoron of Perry, Michigan, USA
We love our front porch (practically live there in the summer), but had never really "decorated" it. We gathered things we grew on our farm, odds and ends we had laying around and bought some mums from the local greenhouse.
My husband and kids grew the pumpkins, gourds and Indian corn. I assembled everything, my friend Mary helped me arrange it, and voila! a porch we can be proud of.
Thanks for your website that gave us the inspiration!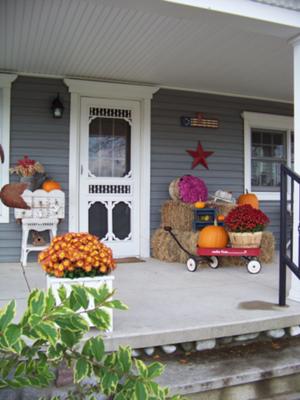 Christine's family decorated her porch - from the homegrown pumpkins and gourds to the odds and ends they found around their farm and at their local market. One word "beautiful"!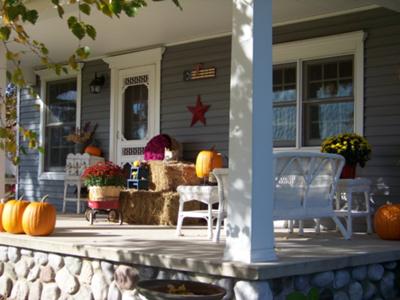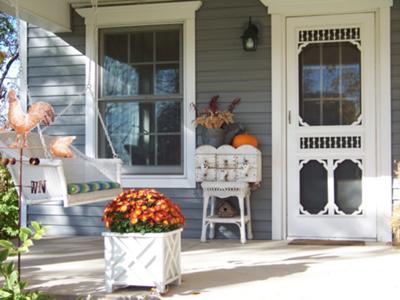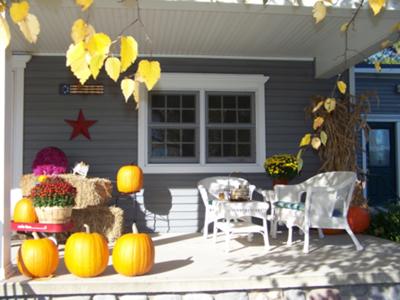 ---
Harvest Home
Submitted by Shelly of CT
We started decorating our 48-ft long country porch with some of the products of our farm. It took a week for my husband to finally bring me bales out of the barn!
The Indian corn and gourds were bought at a store, but the cornstalks and hay bales are our own (the raccoons got our sweet corn). The pumpkins came from my cousin next door, and the apples are from a neighbor since ours have already been made into apple butter.
The wreathes are fake leaves but were just so pretty I had to include them in our "harvest" theme. I wish I could have included some of the many canned goods I have produced this year, but they just looked strange sitting out on the porch.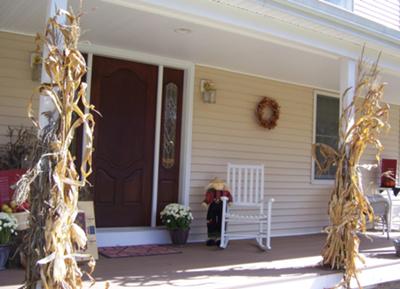 Shelly's 48 foot country porch is decorated with home grown produce, pumpkins from her cousin and apples from the neighbors.