Front Porch Appeal
Spring Is Just Around the Corner! - Issue #75 March 2016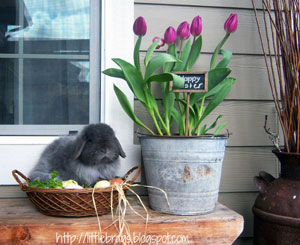 March - St. Patrick's Day, first day of Spring (Mary's birthday), Easter, seed catalogs, and time to plan for the porch sitting months ahead. Mary and I are looking forward to spring and warmer weather and being able to spend more time on our porch.

Hope you like the fresh new look of Front Porch Appeal. We love saying hello and sharing porch tidbits with you every month.

First on our agenda is give it a good cleaning and then start adding a few springtime decorations to celebrate the season. Photo to right courtesy of Little Brags' spring porch


We call this our "Get 'er Going" issue and offer tips and ideas you can use. To paraphrase Home Depot - you too can do it and we can help.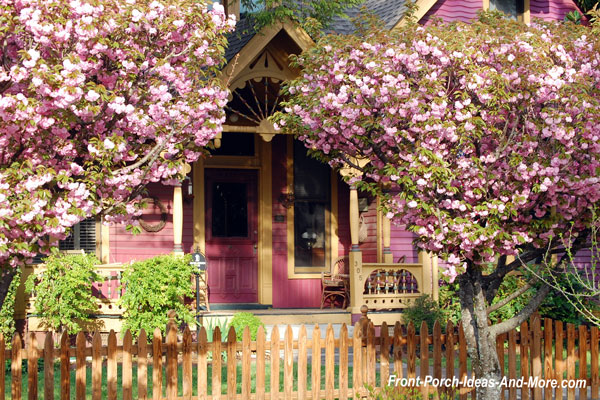 Springtime around the front porch
Porch T-Shirt for March!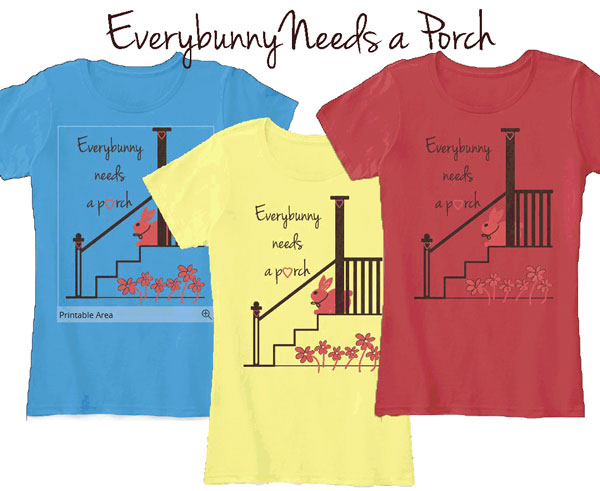 Our cute t-shirt design - Available only yntil Wednesday, March 16th, 2016
Porch lovers! Bunny lovers!
Every bunny needs a porch for making memories with their family and friends.
Give this shirt
to
some bunny
you love. Or get one for yourself! What a nice time of the year for a bunny t-shirt.
Comes in many sizes (XS - 4XL in some styles), lots of pretty colors and
styles (short-sleeved, slouchy tee and even a sweatshirt)
. Shirts are 100% guaranteed.
Porch Construction Time
Get Our Free Tutorial on Squaring Your Porch Foundation
Just in time to help with your spring/summer porch or deck construction project.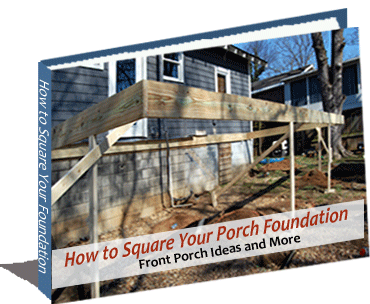 We created a 14-page guide to help you get your deck or porch foundation square. One of the most important factors to building a quality foundation is to be sure it is square to your home.
A square foundation makes the rest of the building process so much easier.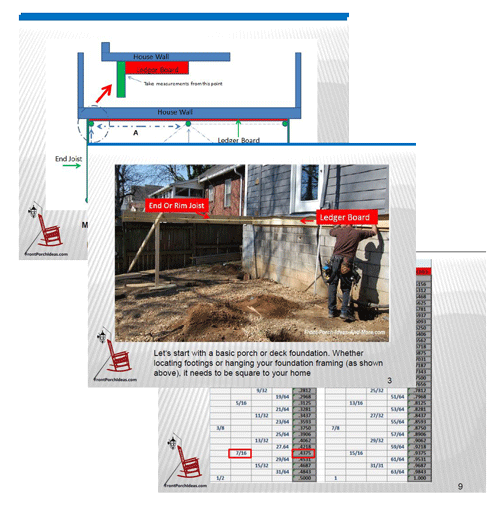 Sample pages ---->
Download our step-by-step tutorial
with helpful pictures, diagrams and a conversion chart for fractions to inches.
---
Our House Plan of the Month
This large wrap around porch has plenty of space from which to enjoy the outdoors. Both the living room and dining room offer plenty of room for entertaining along with a large family room to enjoy views of the yard.



Country style home plan 24245-B6002
by Family Home Plans -(affiliate link for which we may receive a commission)
Wait till you see the interior floor plan of this delightful country home. Gotta love thatvwrap-around front porch.

Family Home Plans brings you the latest in home plans and home designs with wonderful porches.



That's Not All!
Need a screen porch or three-season porch this year? Check to see what plan -( affiliate link for which we may receive a commission) and style best fits your needs. (Featured plan at right is #90008)

In addition to the many porch plans they have, they also have plans for sheds and playhouses to garden arbors!

Not handy? Let us help you find a local reputable contractor to build your screen porch (or other remodeling / repairs you may need(.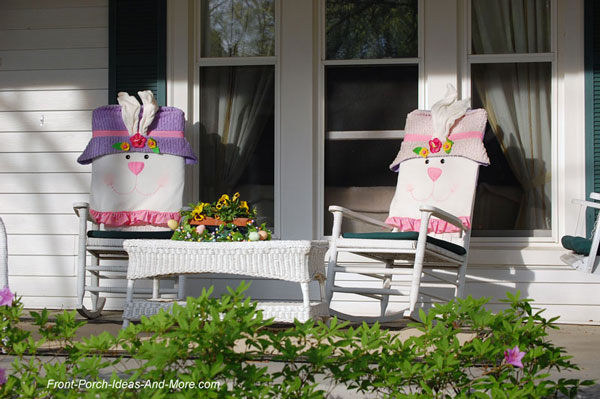 Porch bunnies
---
Add Screen Door Appeal
Don't settle for ordinary whey you can add both appeal and quality by choosing the right screen door. Let those spring and summer breezes gently flow through your home via a custom screen door.

As the manufacturer of high quality custom aluminum screen doors, Mary and I can attest PCA products deliver both unique designs and one of the highest quality aluminum screen doors on the market (from one of our fine sponsors).



Super quality custom designed screen door appeal -from one of our fine sponsors
Use PCA Product's design tool to create just the right screen door for your home. Choose from a pallet of shapes and styles to complement your home.

You'll receive not only a unique door you've helped create, but also one that will last for many years to come.



Get Your Spring On...


The two of us enjoyed getting our porch ready for springtime. A few painted tulip pillow toppers and a welcoming tulip sign in between the rockers make for a cheery porch.

Did you notice the bunny? He's a new addition - a sweet anniversary gift from our friend and neighbor.

Weary of your porch getting dusty? Even though we all wish our porches would stay fresh looking and clean, they just don't.

They require vacuuming, sweeping, dusting and shining just like the inside of our homes. But your porch is so worth it.


---
Please Visit Our Fine Sponsors
We value our sponsors and the products and services they provide.








Join Our Porch Community on Facebook
You're invited to be part of our Facebook community. We share ideas with one another for decorating and using our porches. We have over 10,200 porch friends and would love to count you among them.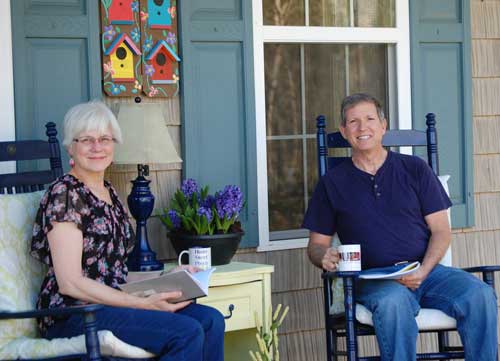 Happy porch sitting from your friends,

Mary and Dave


Life is short. Enjoy your porch.





At no cost to you, we receive commissions for purchases made through affiliate links in our content. Here is our

full disclosure

about affiliate marketing.

As an Amazon Associate we earn from qualifying purchases.








Porch Home

/

Newsletter Signup Page

/

Back Issues

/ March 2016 Newsletter


Advertisements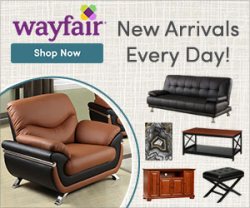 Enjoy Shopping Wayfair (affiliate)
Helpful Links
Popular Pages
---