Front Porch Appeal - Porch News and Ideas for Porch Lovers
Issue #35 June 2012
June, the perfect month to enjoy your porch. School is out for a few weeks, the days are hot and sunny, and summer arrived yesterday right on schedule!

Summer is the season for porch sitting and the perfect spot for cooling off the kids with a cold glass of lemonade.

July 4th is less than two weeks away and now is the time to start planning your front porch decorating. Whether you purchase items or make them yourself we encourage you to decorate your porch and fly Old Glory on this upcoming special day.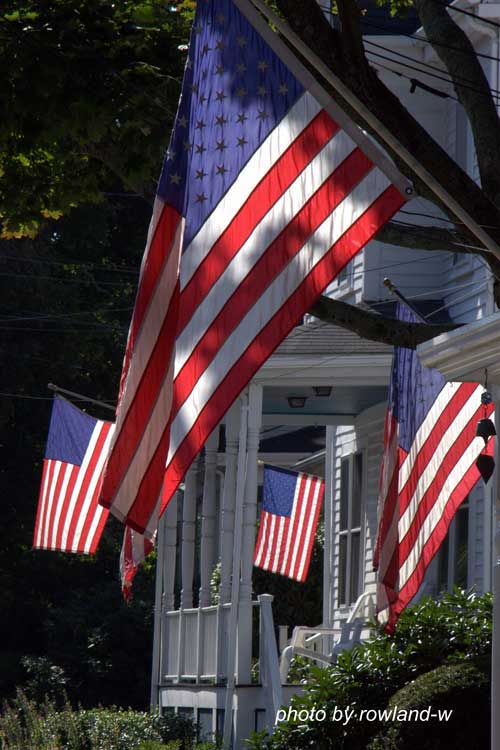 Almost time to celebrate the 4th of July! Photo courtesy of rowland-w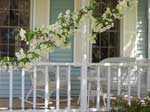 What's Inside Our June 2012 Edition
4th of July on Your Porch
Celebrating the 4th of July on your porch is always fun. We have a complete section of
4th of July porch decorating ideas
to share with you, from home-made decorations to lemonade and lots in between. Get the kids involved in making decorations; it can be a fun summer project for the entire family.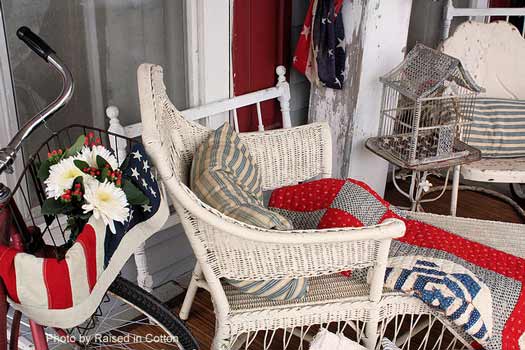 Colorful 4th of July Porch - photo courtesy of Raised in Cotton
Westhaven Porchfest
Mary and I had a great time at Franklin, Tennessee's
Westhaven Neighborhood Porchfest
. What began in Ithaca, NY., a few years ago has caught on and spread across the country.
A porchfest is a neighborhood event where musicians playing a wide genre of music perform on front porches. Neighborhood folks and friends walk or ride around the area listening to great music, socialize to create a sense of community. It is fun for the whole family.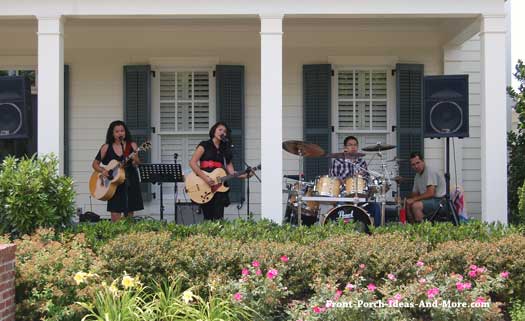 Band Angelica performing on the porch at Westhaven Porchfest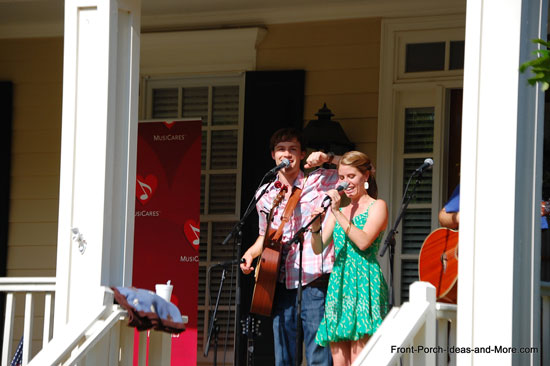 Spectators enjoying the day at Porchfest
See more
photos and find a Porchfest
near you!
Garage Plan with a Porch
Mary found this unique Charleston Carriage House complete with porch and living area that we just had to share with you.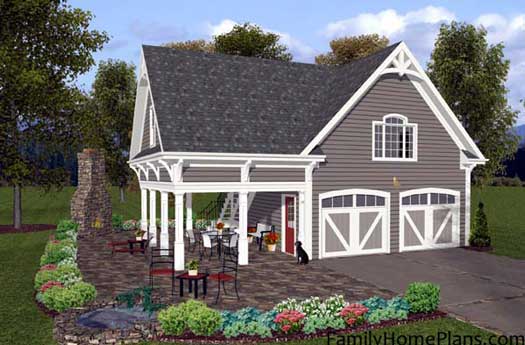 affiliate link for which we may receive a commission)
It has a porch (or covered patio area) and nearly 800 square feet of living quarters above the garage making it ideal for an art studio, bachelor pad, or a parent's space.
Enjoy Our Patriotic Porch Video
Porch Windows
Want to convert your porch or screen porch to a three-season room? Or perhaps you would like to just block the wind and weather on a side or two.
Slideable porch windows make it and easy task. Because they are custom made, you can order them in almost any size and can be installed as a DIY project. You get the immediate benefit of both a screen window and a vinyl window to create a really pleasurable outdoor living area.
We encourage you to
learn more
about this product.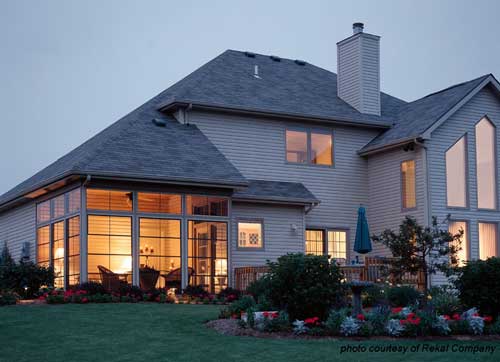 Screen Porch Windows
See our
screen porch windows
section for more details and options.
From the Porch Steps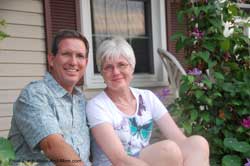 Mary and I recently visited the memorials in Washington, D.C. We've been there several times over the years and never tire of the tributes to those who have sacrificed so much.
Freedom Is Not Free
We believe as we are about to again celebrate our independence from England that began the experiment called democracy, it is fitting we acknowledge that it comes with a cost. We should know by now that freedom is not free as is memorialized at the Korean War Memorial.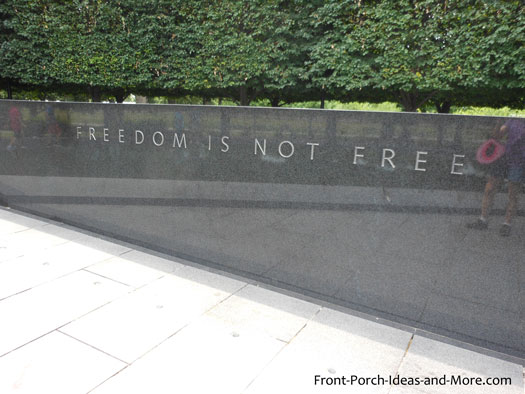 No matter the ongoing political rhetoric or shortcomings our country may have, it is still that "shining light on the hill" for many peoples of the world. The U.S. gives more in foreign aid, more in voluntary contributions of time and money, and more in medical supplies and assistance than any other country or countries in the world today.
Our military does more than fight; it stabilizes many parts of the world, brings humanitarian supplies to the needy, and stands as a symbol of strength for those countries that have none.
As we eat hot dogs and watch fireworks from our porches this 4th, Mary and I encourage everyone to give a moment of thought to just how fortunate we are to live in this wonderful land and of the sacrifices of so many that allow us to do so. Our country does not ask much of us from most of us. It is the least we can do.
Have a wonderful 4th of July!
Sincerely from the porch steps,
Dave & Mary
Please Visit Our Fine Sponsors
We value our sponsors and the products and services they provide.








Join Our Porch Community on Facebook
You're invited to be part of our Facebook community. We share ideas with one another for decorating and using our porches. We have over 10,200 porch friends and would love to count you among them.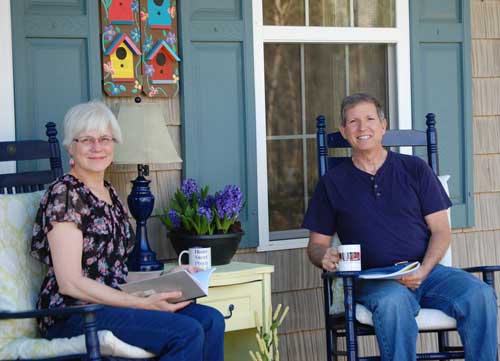 Happy porch sitting from your friends,

Mary and Dave


Life is short. Enjoy your porch.





At no cost to you, we receive commissions for purchases made through affiliate links in our content. Here is our

full disclosure

about affiliate marketing.

As an Amazon Associate we earn from qualifying purchases.









Porch Home

/

Newsletter Signup Page

/

Back Issues

/ June 2012 Newsletter


Advertisements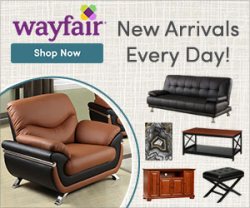 Enjoy Shopping Wayfair (affiliate)
Helpful Links
Popular Pages
---