4th of July Decorations
4th of July decorations are quite fun, and if you decorate your front porch with a patriotic theme, we bet you'll be the envy of your neighborhood!
It's easy to do, it doesn't have to cost a lot, the kids can help, and you'll enjoy the time spent together. If nothing else, a beautiful flag on your porch shows your love for your country.
If you purchase an item through affiliate links within our content, we may earn a commission. As an Amazon Associate we earn from qualifying purchases. See our disclosure policy.
Patriotic Decorating Ideas
4th of July Decorations at Tucker Hill
Dave and I are thrilled to show you some of the patriotic pictures from the Tucker Hill community in McKinney TX. This is truly a porch lovers' neighborhood.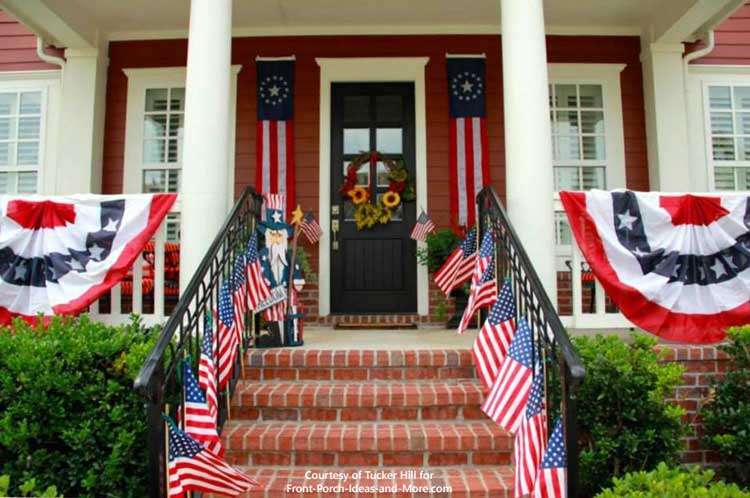 We love the festive feeling of this home with it's banners, flags and buntings. And do you see the Uncle Sam, too?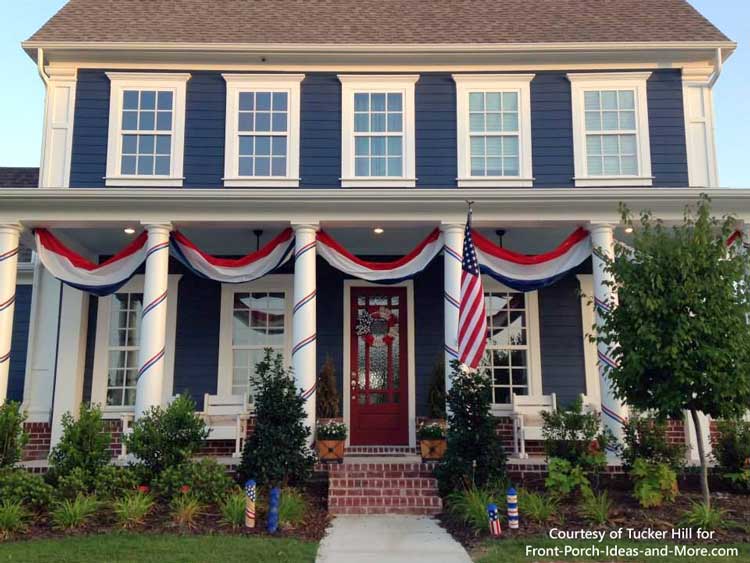 Just by draping patriotic buntings and displaying a flag, your home can be patriotic for the 4th of July.
This home is all American. We love the God Bless the USA!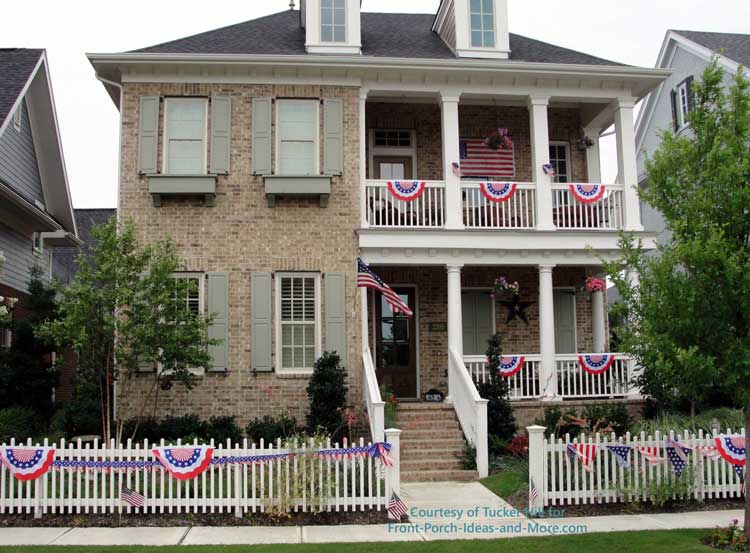 This lovely brick home not only has beautiful buntings on its porch railings, but also on its picket fence.
Dawn's Patriotic Porch in Red, White and Blue

Dawn decorates her porch for the 4th! She lives in a cabin in a small town and is so good about reminding us of the importance of comfort and the goodness of old-fashioned hospitality.
Some bold red and white checks, a bucket of ice cold red pop and comfy pillows will put you in the patriotic spirit indeed. Thanks to Dawn of Creative Cain Cabin for sharing her 4th of July decorations with us.

If you enjoy Dawn's patriotic decorations, I know you will also enjoy her summer porch decorated with sweet peas.
Banners, Buntings and Lanterns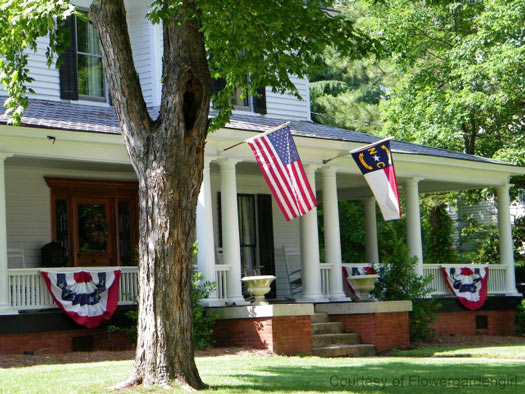 We thank our friend Anna Looper for this photo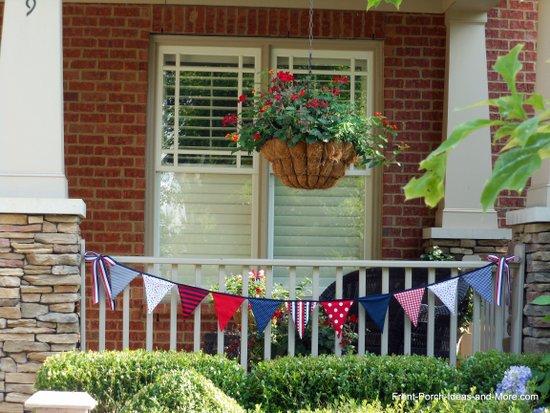 The patriotic garland is just perfect on the porch railings
Crepe paper is inexpensive and easy to use on your porch. Interlace it with your balusters to create a festive look. Hang strips of red, white, and blue to symbolize the flag and let them blow in the breeze. Be careful about getting crepe paper wet, however, as the colors will run.
Patriotic bows on the porch steps - how easy yet so festive!
4th of July Decorations: Americana Style Burlap Banners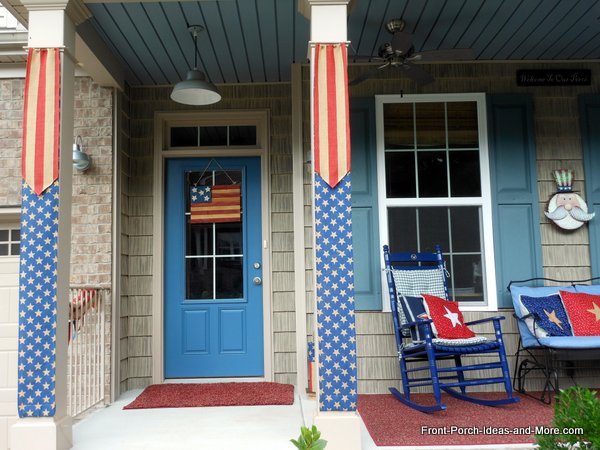 Decorating with burlap for the 4th of July
We are very proud of our Americana style porch for the 4th of July. We designed our patriotic burlap banners to hang from our porch columns.
Patriotic Quilts Are an American Symbol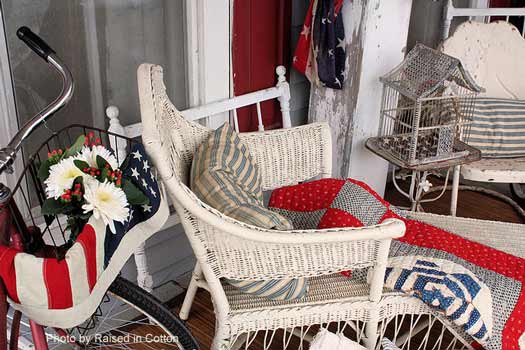 Photo courtesy of photographer, Raised in Cotton
Patriotic Pictures: A Beautiful Flag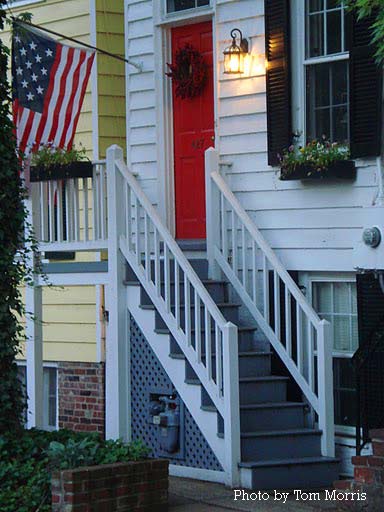 A patriotic porch in Alexandria VA shows the beauty of simply displaying a flag.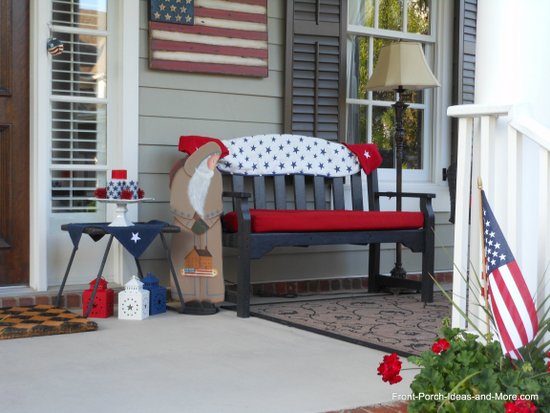 So many 4th of July touches on this porch. See the patriotic flag wall art? I like the small table that's decorated with candles and those red, white and blue lanterns beneath it. How about that wonderful bench?
Red, White and Blue Pillows and Flowers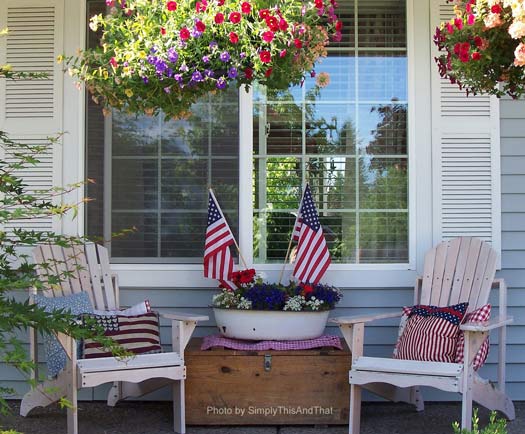 Photo courtesy of Simply This and That
Using vibrant red, white and blue flowers, you can either landscape around your porch or create a splashing container garden for the 4th of July. You could even create a flag shaped garden with rows of red, white and blue flowers.
A beautiful red, white and blue hanging basket is another neat idea.
Photo courtesy of littlefeather100
Red flower suggestions include zinnias, petunias, salvias, begonias and geraniums.
White flower suggestions are white petunias, white vinca or white impatiens.
Blue flower suggestions include purplish-blue petunias, blue lobelias, blue salvias and bluebells.
Let your kids help plant the flowers, too. It's fun and the flowers last all summer long.
Ever think of painting your plastic pots red, white and blue? We even tell you how in our quick video.
Fly the Flag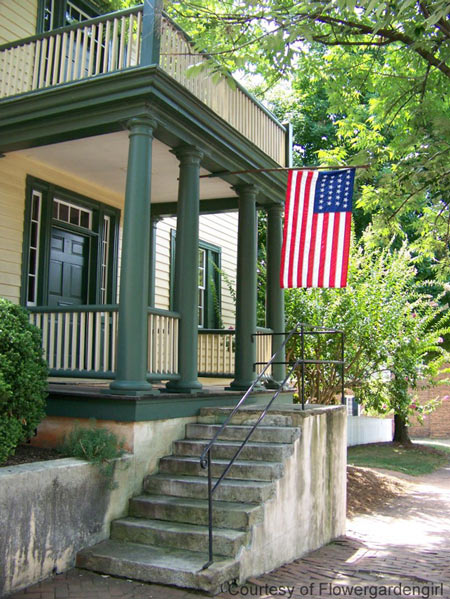 Photo courtesy of Anna Looper
A porch is the perfect place to hang your flag and show off your 4th of July decorations. Flag holders are easy to install and nothing says patriotism better than ole Glory flying in the breeze. Just be sure the flag holder is sufficiently high enough to keep the flag from touching the ground or shrubs beneath it.
Explore More Patriotic Decorating Ideas