Historic Charleston Homes
For Fabulous Front Porch Ideas

Seafood, southern hospitality, beaches, and great porches! Historic Charleston homes have universal appeal for their residential architecture. You would be hard pressed to find other places in the world where you will see beautiful front and side porches on so many different style homes.

Mary and I traveled to Charleston to bring you some unique front porch ideas. It's a fun city to explore; there's a porch around every corner and down every street. We strolled up and down almost every street in the historical district and saw some amazing porches.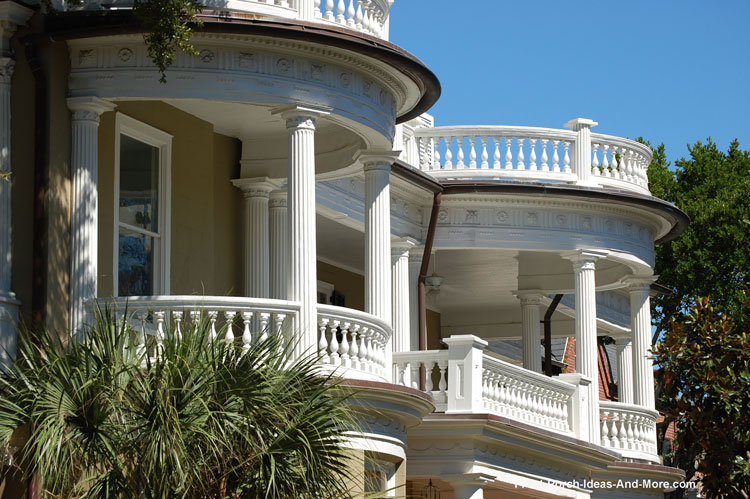 The Charleston Single: The Charleston Single is a Federal-style home that has a central hall with two to four rooms flanking each side. The home is turned so that the front porch and two outside doors are located on one side.

When the outer "hospitality" door is left open, it was a signal to neighbors and friends that the owners were home and ready to receive guests. Placing the porch on the side gave owners more privacy and a deeper layout on typical long, narrow lots.



Video: See the Wonders of Charleston's Porches and Beautiful City!
Enjoy Our Porch Tour in Historic Charleston SC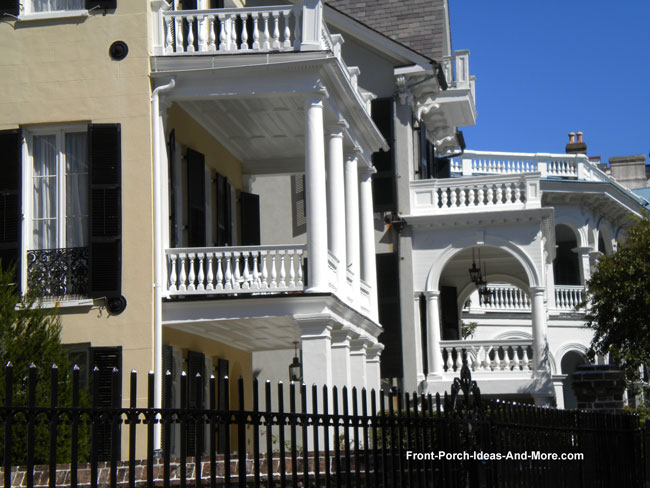 Magnificent southern porches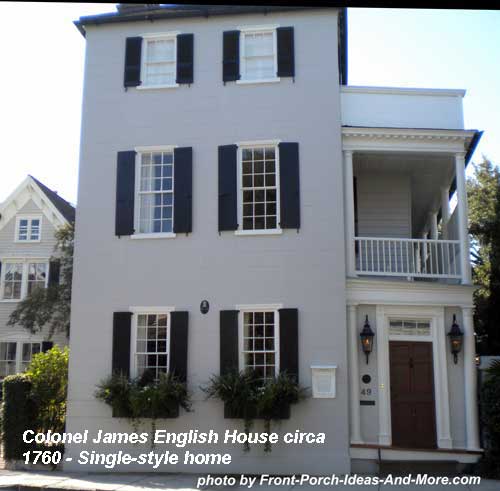 Colonel James English House - circa 1760 (single style home)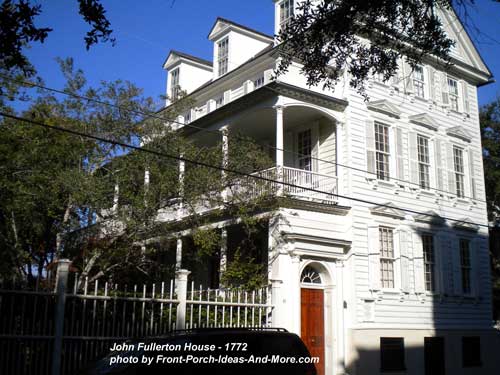 John Fullerton House - 1772
At 32 Legare Street, intricate wrought iron gates and fences are common. They include the famous Sword Gates (pictured below). If you travel down the street further to 14 Legate Street you will find the famed "Pineapple Gates" home.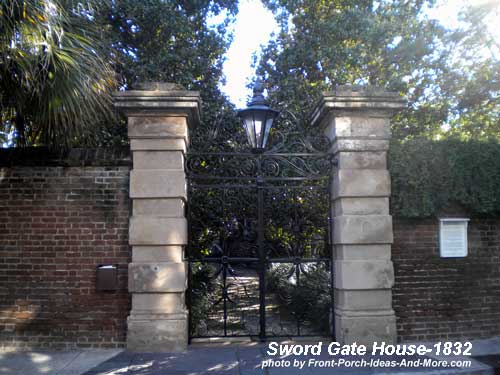 Sword Gate House - 1832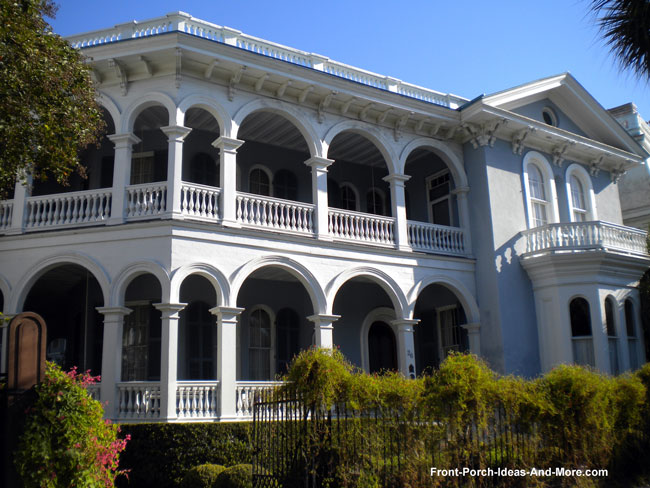 John Ashen Home - 1782 (four story double house)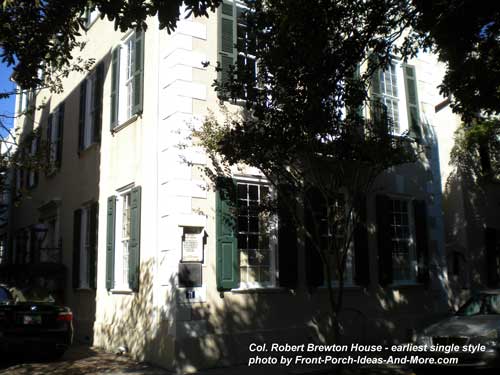 Colonel Robert Breton House - earliest single style house
More Historic Charleston Homes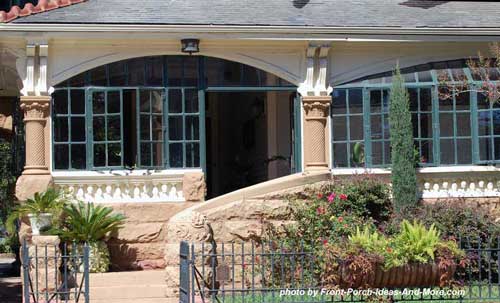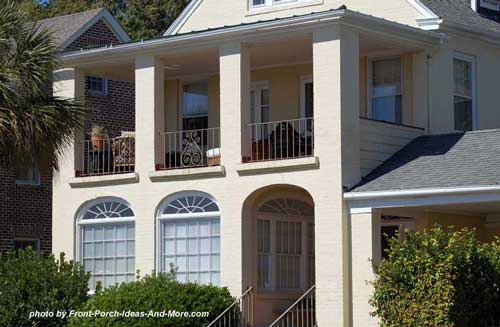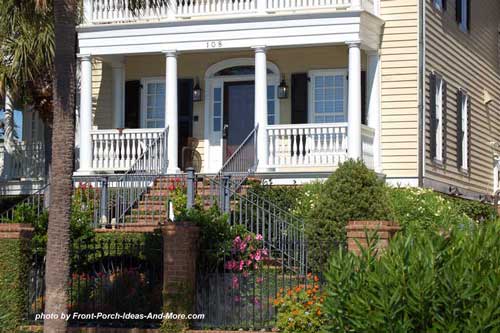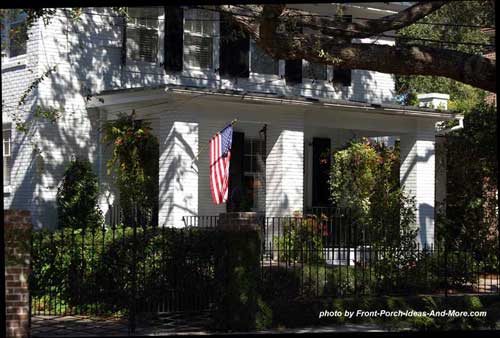 Visiting Charleston SC soon and want to see some historic Charleston homes? If so, here's a few porch hunting tips!
Walk along East Battery Street (famed Battery Row) to find exquisite waterfront mansions built from 1809 to 1920. You'll find a mix of styles ranging from Italian Renaissance Revival to Art Deco.
Find both single (for which Charleston is famous) and double houses on Church and Meeting Streets. Check out 71 Church Street (Cola. Robert Breton House), one of the earliest surviving examples of the Charleston single house. It dates back to 1721. The Elliott-Huger House at 34 Meeting is an example of an early double house.
Stroll along East Bay Street (world-renowned Rainbow Row - see our video). It is an example of 18th-century Georgian townhouse construction and is very colorful.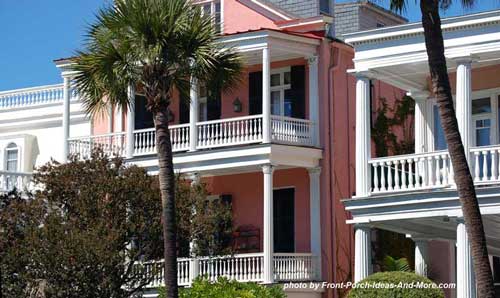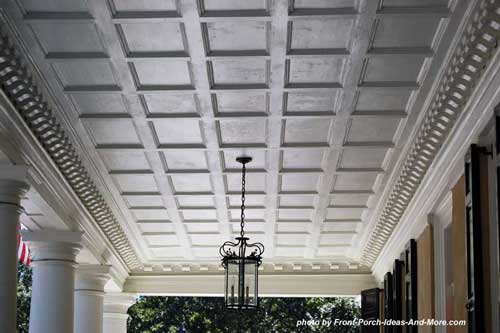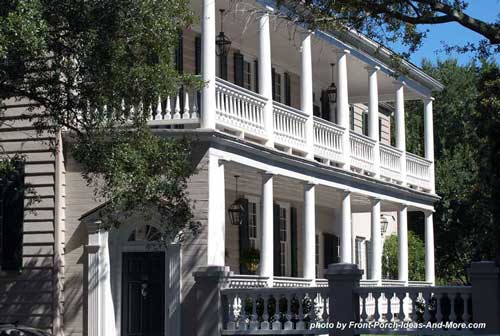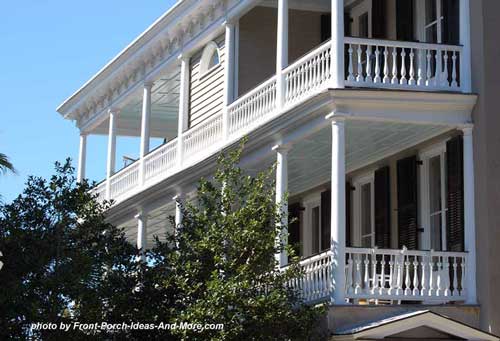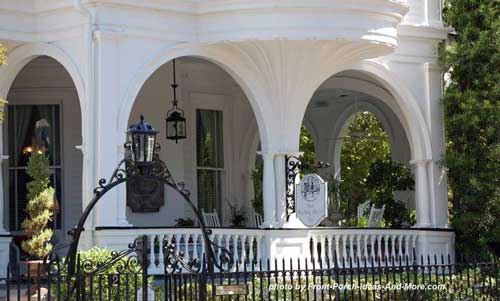 If you love southern homes be sure to see our information about Southern Home Designs.

And if you want to see more porch pictures from Charleston, be sure to see our Charleston Attractions, and Charleston, SC too!

If you need more porch ideas be sure to see more of our historic and turn-of-the-centuries homes.

We hope you enjoy seeing them and can glean ideas for your own front porch design!






Advertisement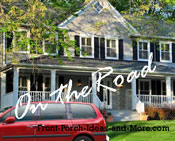 On the Road with Front Porch Ideas and More
If your town has attractive porches, then please let us know. You never know...we might stop by.

If you'd like to know how we travel around to charming places and get paid to look at beautiful porches, we're happy to share.




Porch

/

Porch Design Ideas

/

Porch Ideas from the Road

/ Historic Charleston Homes


Advertisements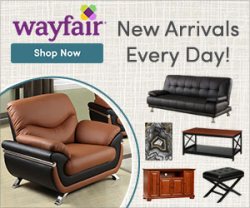 Enjoy Shopping Wayfair (affiliate)
Helpful Links
Popular Pages
---