Metal Porch Gliders
For Your Front Porch and More
Metal porch gliders are no less than perfect for those quiet evenings at home. As an outdoor furniture glider, it is the most durable glider that can stand up to harsh weather and still look fantastic!

Porch gliders have a timeless look and great appeal. When you see one, you can't help but want to sit and sway awhile.

Vintage metal gliders conjure up childhood memories and time spent on grandma's porch!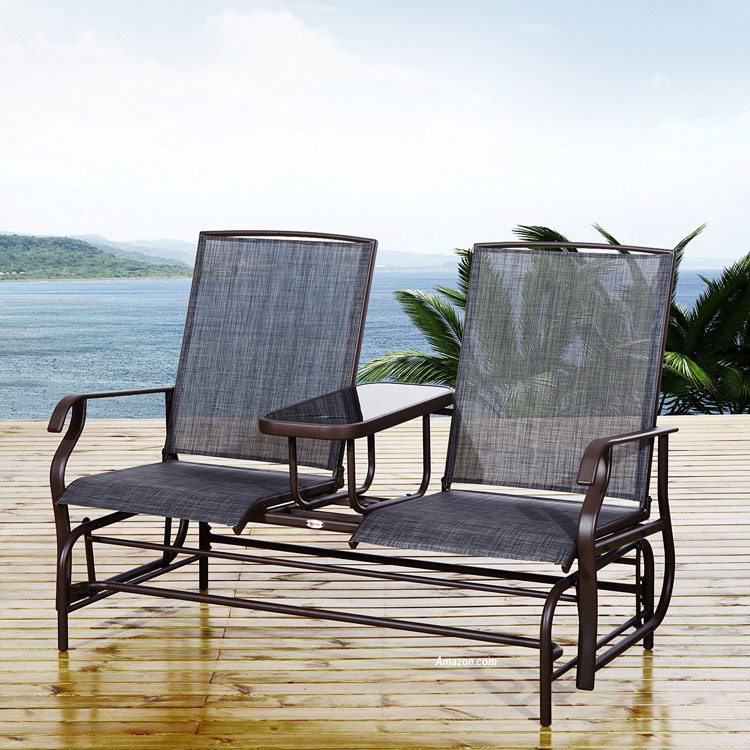 Two person porch glider with table from Amazon (affiliate)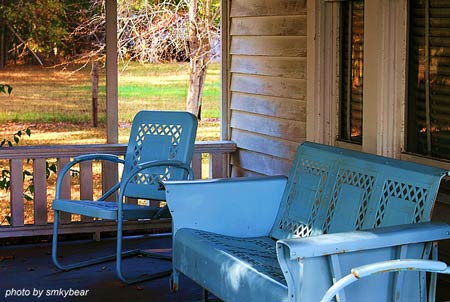 "The memories these things hold" - photo by smkybear


Most metal gliders are either aluminum or wrought iron; both materials offer strength and traditional beauty.

The wrought iron glider construction process is one that has been handed down from one generation to the next. Oftentimes, expert craftsmen use hand tools like anvils and hammers to forge the intricate details into the iron.

Rust-proof aluminum frames are eye-catching and will look like new for years to come. These gliders are easy to clean with mild soap and water.

Styles range from high-back designs to ensure upper body support, to sling backs and even metal glider chairs.
Metal Porch Glider Options
Whether you are looking for functionality or sophistication, you can find a metal glider that will satisfy your requirements. Porch gliders come in a variety of styles and combinations of metal, wood, and fabrics make for lots of options.

An iron frame and antique bronze finish enhance the look of this glider's scroll back.



Four foot antique bronze metal glider from Amazon (affiliate)



Combination metal and wood make for a aesthetically pleasing porch glider. The powdered steel frame and all-weather slats make this a very durable glider.


Faux wood metal porch glider from Amazon (affiliate)



Combination metal and durable Rattan fabric make for a most comfortable glider. Looks great too!


Metal and rattan porch glider from Amazon (affiliate)



Add colorful cushions; your hiney will appreciate it! See a wide variety of glider cushion options; one of which will add extra appeal to your decor.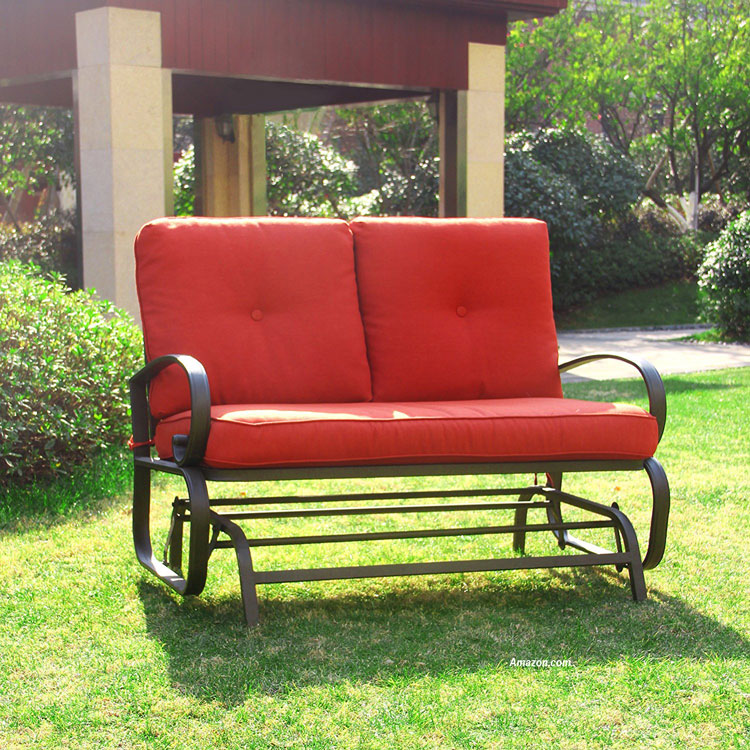 Metal porch glider with cushions from Amazon (affiliate)



Love the retro look? Here's a metal porch glider that will surely be to your liking!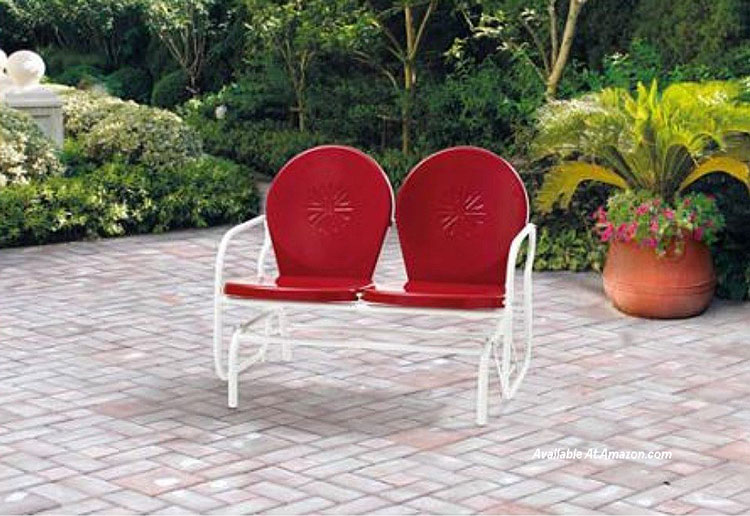 Vintage (retro) porch glider in red from Amazon (affiliate)



Here's another retro (or vintage) glider that has lots of porch appeal. It has a white frame and comes in your choice of cherry red or mint green.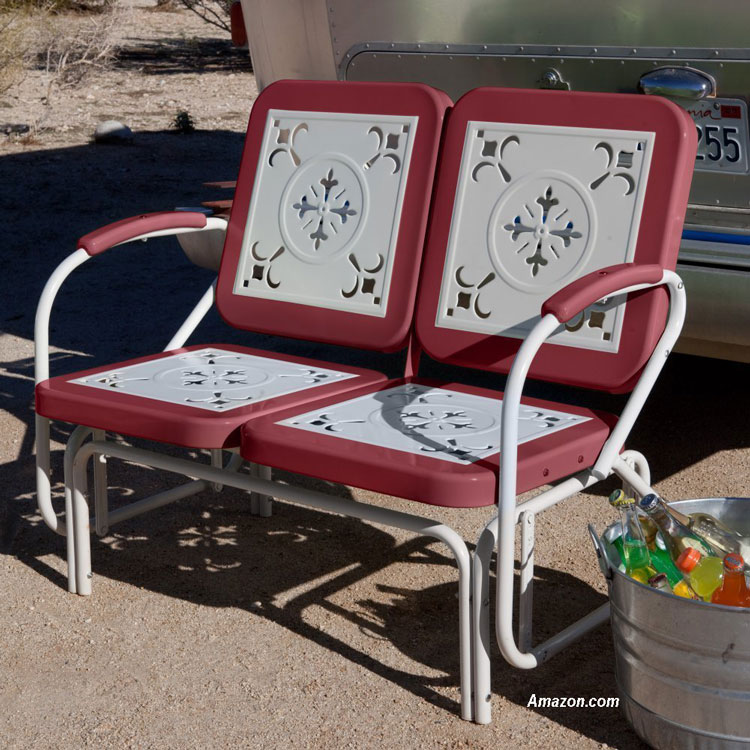 Cherry red vintage porch glider from Amazon (affiliate)


These are but a few of the many metal glider options; see many more on Amazon (affiliate).




Metal Glider Chair Options
Metal glider chairs fit on almost any porch and are especially ideal for small porches, decks, or patios.

Glider chairs come in retro designs too, like the one below.


Retro veranda glider chair from Amazon (affiliate)



Unique textilene fabric fastened to an aluminum frame; love the high back for the ultimate in comfort.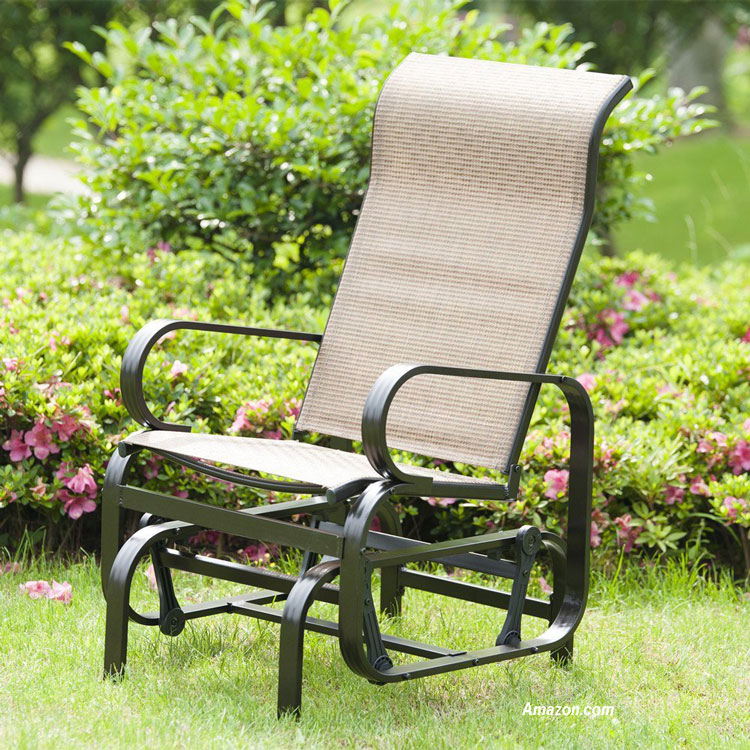 High back glider chair from Amazon (affiliate)



We love this double chair metal glider with table, convenient and quite functional for any outdoor area.


Country garden glider tete-a-tete from Amazon (affiliate)
Check Out an Ottoman Glider
Relax in pure comfort with these metal outdoor ottomans! Perfect for your porch glider or other outdoor chairs or rocking chairs.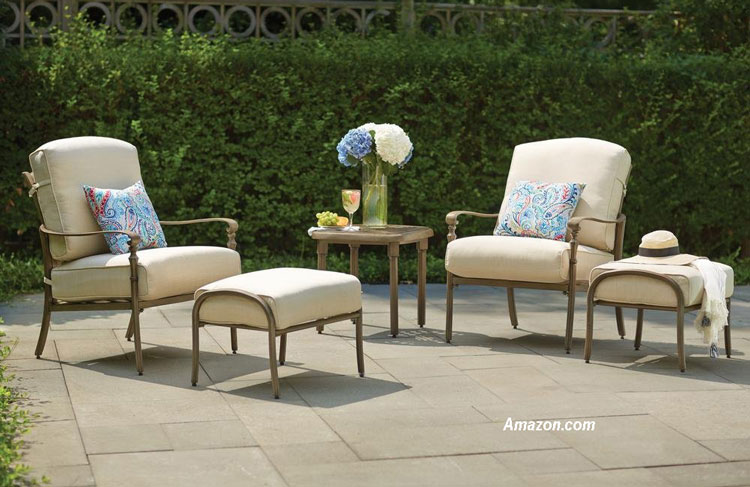 Hampton Bay outdoor metal ottomans from Amazon (affiliate)
Why a Glider?
When choosing between a glider and a porch swing, you might want to consider the following:
Gliders may be a better option for people with strong cases of motion sickness, adults and children with shorter legs, or for anyone who wants a more controlled motion
Metal porch gliders are ideal for small spaces. Porch swings require sufficient space both in front and behind whereas a glider's space is more defined. Porch swings are known to cause damage to house siding if pushed too hard.
Gliders, like porch swings, can increase both your physical and mental health. Breathe some fresh air, be visually stimulated, get away from the TV, and glide your stress away! Swinging increases circulation.


Advertisement


If you make a purchase through one of our affiliate links, we earn a commission but at no cost to you. Here is our
full disclosure
about affiliate marketing.
We are a participant in the Amazon Services LLC Associates Program, an affiliate advertising program designed to provide a means for us to earn fees by linking to Amazon.com and affiliated sites.
Popular Pages
---