A Metal Porch Swing
Timeless Elegance
A metal porch swing exudes elegance and is one of the most durable swings you can purchase - meaning it can last for a long time.

Versatile, metal swings can be simple in design or as ornate as you can imagine. Need a touch of color? Mary likes to add colorful cushions for extra comfort and curb appeal.

Metal swings are typically made from galvanized steel or wrought iron and both will last a long time. Rust-resistant, metal swings retain their color and require minimal maintenance - meaning more time to relax and enjoy your time outdoors.



5 Foot M.A.D. Metal Works Swing - Amazon.com affiliate
Metal patio furniture ranges from classic wrought iron to sleek contemporary designs to charming bistro pieces. Since most metal furniture is quite heavy, it's ideal for areas that experience windy conditions so that you need not worry about your furniture blowing over.

Today's metal patio furniture has the added benefit of a powder-coated finish that helps protect against rust and weather damage, giving your furniture a longer life.



Metal Porch Swing Options
Here are a just a few of the porch swings Mary and I like that offer both curb appeal and many other benefits of a metal swing. We've included links for additional information and more options.

This bronze finished wrought iron porch swing with elegant lines is perfectly designed for comfort.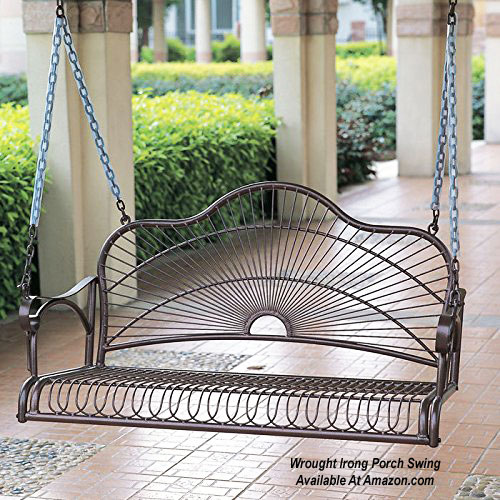 Elegantly designed bronze wrought iron porch swing - Amazon.com affiliate
You have at your fingertips, customized metal swings to fit your decor or interests. This Tree of Life theme is lovely.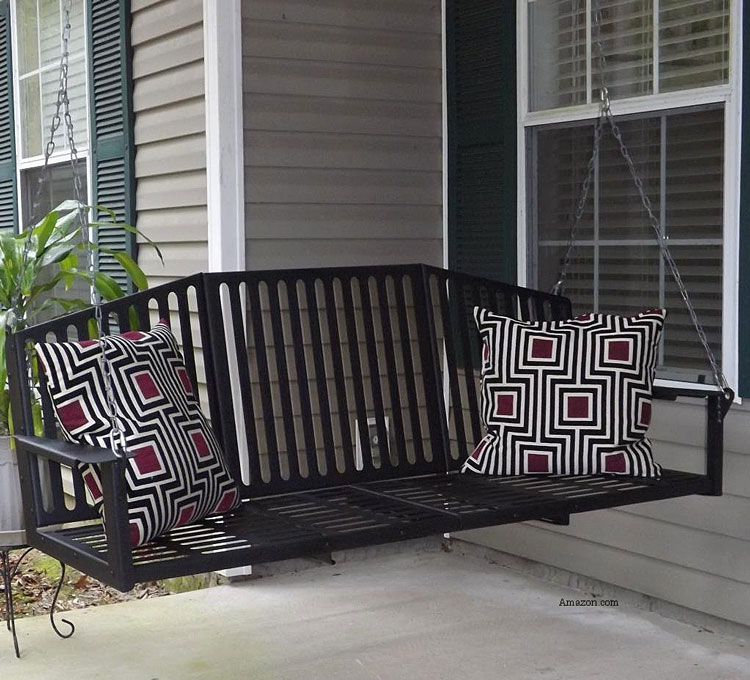 5 Foot Metal Swing with Tree of Life Relief - Amazon.com affiliate
Check out this sleek metal swing - clean lines and perfect for any size porch. This 4 foot swing will fit perfectly on small porticos or porches and look fantastic doing it! Deep seat for maximum comfort too.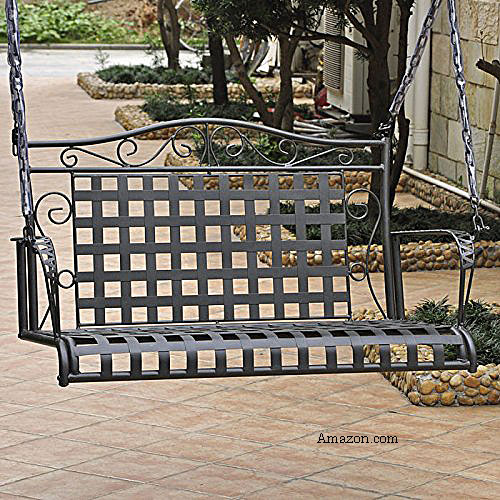 Straight lines - deep seat swing - Amazon.com affiliate
This chocolate colored love seat has a wicker resin seat with both waterproof and light fading protection. It has received many favorable reviews and we do love the color. This swing will add much charm wherever you have it.



Metal swing with resin seating - Amazon.com affiliate
We like this one too! Its clean lines and scrolls make for an elegant swing that will charm up any porch. Add colorful pillows or a swing cushion for both comfort and flair.



Aesthetically pleasing lines - Amazon.com affiliate




How neat is this! Have a small porch or perhaps need a quiet place to relax on a large porch? This single porch swing may be just what you need. This delightful swing has a resin wicker seat and back for maximum comfort.



Single porch swing chair - Amazon.com affiliate
This swing comes with its own stand so you can use it almost anywhere - on your porch, deck, or yard for instant relaxation. We love the intricate scroll work and seat design.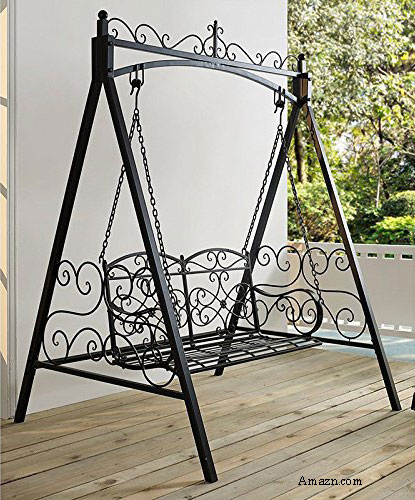 Intricate scroll work porch swing - Amazon.com affiliate







Advertisement






This would look fantastic on any patio or beside the pool. Made with a durable steel frame that is both smooth and resistant to rust.

Relax in your backyard, beside the pool, or in the garden. We like the removable umbrella - for sun or shade.



Large capacity lounge chair - Amazon.com affiliate
Swing to your heart's delight on the porch, deck, or patio in these contemporary porch swinging chairs. Like floating on air, relax in a colorful metal porch chair that sure to add comfort, color, and curb appeal to any porch.



Metal balance porch chairs - Amazon.com affiliate
Perfect Swing Bed Combination
Nothing like having your cake and eating it too! This metal porch swing bed seats three comfortably and also converts easily to a swing bed.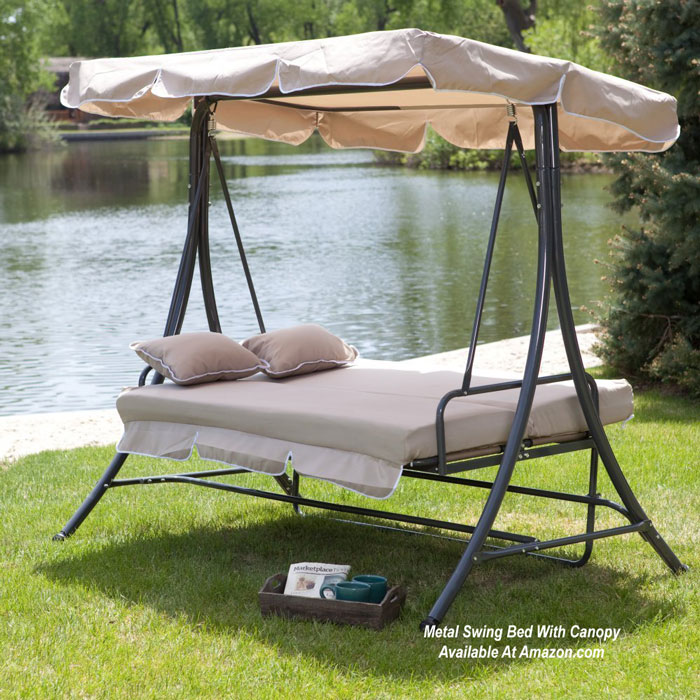 Back yard bliss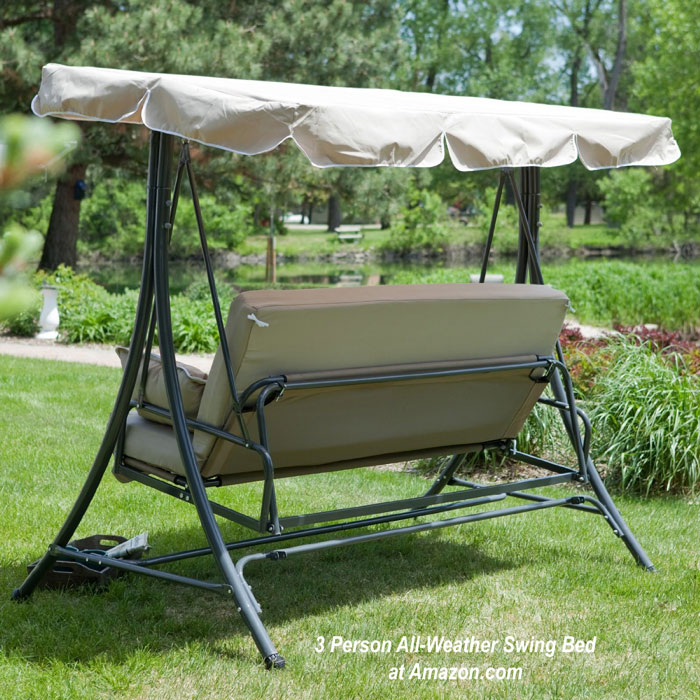 Fits nicely on a deck, patio, or yard
Convert to a bed by reclining the backrest and use the included pillows to relax and enjoy a summer breeze.

If you like, find this and other similar models at Amazon.com (affiliate).




Care of Metal Porch Swings
Powder coating makes metal swings almost element proof and are easy to maintain. Regular cleaning, that is, spraying with a hose and allowing it to dry is all you normally need to do. Periodic cleaning with a mild soap to wash away stains is advised.



Wrought iron may start to rust after a number of years but simply use a wire brush to remove the residue and repaint as necessary.

Using outdoor furniture covers (affiliate) like the one at right will help prolong the life of your outdoor metal furniture too.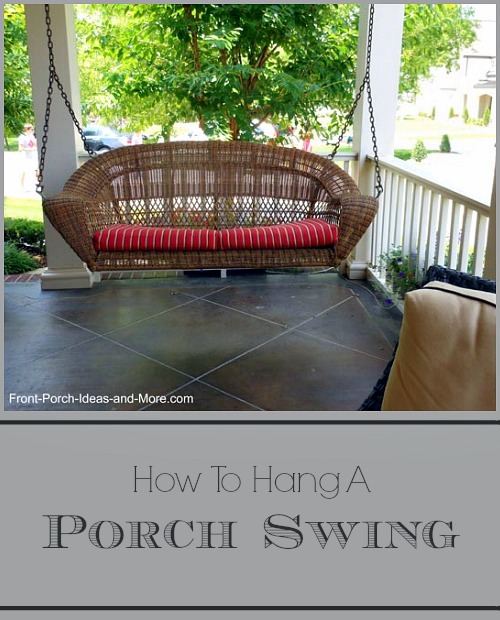 See how to hang your porch swing and discover a popular swing hanging hardware to make the job easier!
If you make a purchase through one of our affiliate links, we earn a commission but at no cost to you. Here is our
full disclosure
about affiliate marketing.
We are a participant in the Amazon Services LLC Associates Program, an affiliate advertising program designed to provide a means for us to earn fees by linking to Amazon.com and affiliated sites.
Popular Pages
---