Dave and Mary
As an Amazon Associate we earn from qualifying purchases. If you make a purchase through affiliate links on our site, we earn a commission at no cost to you. See our disclosure policy.


Wheelchair Ramp Design
Accessibility Ideas for Your Porch
The proper wheelchair ramp design will allow not only those in wheel chairs easier access to the porch and home but also those with limited mobility issues as well.

When my Dad developed emphysema, he could have used a ramp on his porch, even one of the portable wheel chair ramps like we found at Allegro Medical. A ramp to his front porch would have been very helpful.

There are many facets to achieving maximum accessibility to your porch and home. As you will see, we have everything covered below - from designing and building ramps to discovering all your options for vertical and portable wheelchair lifts.



Before We Start, Take a Look at the Before and After
Integrating a wheelchair ramp design with your home's architecture is important. It can be done as seen in this Victorian front porch remodel.


Before



After


We really like the ramp railing system on this beautifully restored Victorian home. The railings seem to disappear and the ramp's unique design adds to the overall appeal of the home.





Well designed, this wheelchair ramp has plenty of turn space and the colors and details complement the Victorian home. The porch floor is exterior porcelain tile over hardy board.
Your Porch Accessibility Directory
Use our directory to find all of your options.















Tips for Seamlessly Blending a Wheelchair Ramp
into Your Front Yard
Before you start planning your wheelchair ramp design, know the specific requirements or permits required for your local area. Ensure the ramp design you choose meets the necessary safety and accessibility standards.
Consider ramp styles that would best complement your front yard landscaping.
You can opt for a straight ramp, a switchback ramp, or a ramp with a landing platform, depending on the available space and the slope of your yard.
Evaluate the terrain and measure the slope of your yard to determine the ramp's length and design. This information will help you determine the ramp's overall dimensions and the materials you'll need. Often, this information will somewhat dictate the actual ramp design.
Sketch out a design that integrates the ramp seamlessly into your existing landscaping.
Consider the location of trees, flower beds, and other features, and find ways to work around them or incorporate them into the ramp design. Add greenery, flowers, and other decorative elements along the sides of the ramp to blend the ramp with your landscaping.
You can use planters, shrubs, potted plants, or even flower beds to soften the appearance of the ramp and make it visually appealing.
Yard art, placed strategically, can either shield portions of the ramp or to create a focal point of interest.
Interesting artwork may also be attached to the ramp's railings but ensure they do not interfere with maneuverability.
Handrails are essential for safety and accessibility. Choose handrail materials and designs that are not only functional but also pleasantly appealing.
See our porch railings section for many ideas to inspire you.



Innovative Wheelchair Ramp Design Options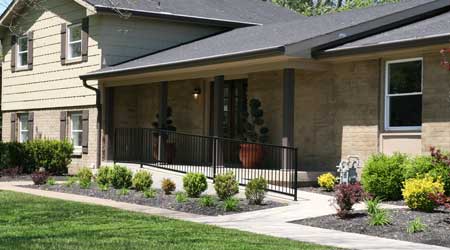 Ramps leading to the front porch don't have to look sterile.
With the right design they can integrate seamlessly into the surrounding landscape.





The landscaping along this elevated walkway almost makes it disappear.





Notice how the colors of this wheelchair ramp blends with the Victorian home. Also note the height of the hand rails which appear to be a little too high for most users.





Note how the ramp is integrated into the existing landscaping thereby minimizing its appearance.


Long straight wheelchair ramps are doable if you have the space; however, for ease of use, placing a platform in the middle would allow the user to rest if necessary.









You can see that if your porch is high off the ground, a straight-run ramp will not work. A 30 foot long straight ramp is not very appealing and is difficult to incorporate aesthetically into your landscaping. It is also very difficult to use.

If you have no other choice, add a flat landing in the middle so the person can rest, if needed.

See how nicely this wheelchair ramp design below was integrated on this country farm house design.



Portable Wheel Chair Ramp Options
Portable wheel chair ramps, like the one pictured here from d2 Medical are designed with slopes that accommodate the rise and run.

L-shaped ramps that make a 90 degree turn or switchback ramps that make a 180 degree turn can be easier to use than a straight run.

There's more to wheelchair ramp design than meets the eye!



The EZ-Access Modular Ramp System from Allegro Medical, as shown here, is an excellent option.

Their design uses minimal hardware and are quickly assembled using common hand tools. Modular components make it easy to move the ramp to a new location or even change the configuration.

This portability feature makes it ideal when integrating the ramp into your landscape. My father could have used a product like this to access his front porch and his deck.



Roll Up Ramps
A roll-up ramp is remarkably strong wheelchair ramp design. They are specifically designed for the most portability and are hinged to roll up like a sleeping bag.

They tend to be more expensive than other ramp types but give you ultimate portability.

Since it is very compact you can take it with you or easily move it from your front porch to back deck or entrance if required. You can even travel with it. They are simple to use; lay them down and roll them up in no time.


Single Fold and Multi Fold Ramps
Single fold and multi fold ramps are welded for strength and folds in half like a suitcase for portability.

They can be used by wheel chairs and scooters can come in different width configurations to fit your specific needs.

Need financial assistance for a wheel chair ramp? We found roll up and folding ramps (photos above) from Ramps.com. They have a foundation that might be able to assist you.


---


A friend of ours needed a wheelchair ramp in a hurry so they rented this one from a medical supply store. However, it was not long enough to move safely. When purchasing or renting one, be sure it is of sufficient length.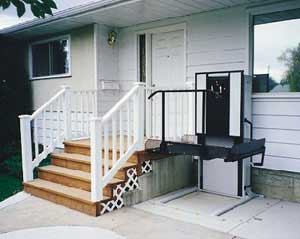 Not enough space for a ramp? An electric wheel chair porch lift is another option to consider.



Wheelchair Ramp Landing Design Requirements
Landings are critical to proper wheelchair ramp design.
A landing is required by code every time the ramp changes direction.
Landings must be a minimum of 60 inches wide by 60 inches long. This creates the minimum space a wheel chair needs in order to turn around.
Landings are required at the base and top of the ramp. The top landing is required to provide space so the user does not roll backwards when opening doors. The bottom landing lets the user move safely to level ground.
Landings must be level side to side. Ramps that slope even a little are hard to use and upsets the balance of the user making it harder to steer.
Photo courtesy of Meese
This ramp blends in with its surroundings
Other Important Wheelchair Ramp Design Considerations
Ramps are used year-round so plan accordingly.
Ensure water does not pool on the surface of the ramp. Use gutters on your home to direct water away from the ramp.
Ensure the surface of the ramp is not slippery when wet or damp. Attach grit tape to the ramp surface to give the user more traction. Add sand to polyurethane and use it to paint the surface of the ramp. Rough up concrete with a broom before it dries to create traction.
Don't locate the ramp under trees where leaves can fall onto the ramp and make it slippery when wet.
Try to have the ramp face south to catch the sun in winter to help dry it out when it rains or melt ice and snow.
Attach guard rails to the ramp mounted 18 inches from the floor of the ramp.
Attach edging at least 2 inches high so wheelchair wheels don't slide off the ramp.
Attach wooden hand rails on both sides of the ramp (metal may be hard to hold in winter). Hand rails should extend at least 12 inches beyond the ramp on each end.
Build a set of stairs adjacent to the top landing so those not wishing to use the ramp have access to the porch.
Photo courtesy of karma 1221
Brick ramp
Wheel Chair Accessible Home Plans
More and more of us want to remain in our homes longer rather than having to go to a nursing home or other facility. Why? We love our homes and neighborhoods and the independence our homes provide. We know from first hand experience how important that is.

In order to make that happen our homes need to be accessible, inside and out. So do one of two things.

Either make your current home or your next home is accessible. We've located some home designs that incorporate accessibility standards - so you can stay in them as long as possible


Family Home Plans has accessible home designs designed or adaptable to make your home accessible for a lifetime.
American with Disabilities Act (ADA)
The ADA (Americans with Disabilities Act) has Accessibility Guidelines for wheelchair ramp design for public access. Many states have adopted International Residential Codes which pertain to ramps for private residences.

You will more than likely be required to get a building permit before building or installing any kind of ramp. Check with your local codes department to determine the requirements for your area.

If you have a loved one who needs a ramp, like my Dad did, it's a really good investment.







Hi!
We're Mary and Dave
, lifelong DIYers, high school sweethearts, and we both love porches. You've come to the right place for thousands of porch ideas.
--- Our Sponsors ---
--- End Sponsors ---
Mary's Etsy Shop
Find Top-Rated Service Pros
Our Newsletter, Front Porch Appeal
Learn more
!
Thank you for being here!