Porch Flooring Installation - Part 3
Square It Up
In this section, Porch Flooring (Part 3) of Vintage Woodworks we make sure your porch flooring is square to your home. This ensures your porch boards are installed properly and do not appear crooked.

In the prior flooring video, we addressed working a corner, rim boards, and thresholds.

Whether installing porch decking on an older vintage home or even a newer one, most homes aren't exactly square.



Enjoy the Video
Video Summary
For those who may not be able to view the video above or who would like to study the process, we've provided a summary of the video below:



It is difficult to build something perfectly square. Before installing porch decking materials, it is important to determine if your porch is square to your home.

If not, and you do not compensate for it, your porch flooring may appear crooked.






An out-of-square porch, in this case, is when the measurements are different from along a wall as compared to the distance along posts.

Often, you can hide a small error by changing the overhang distance at one end.

If the distance is so great that this won't work or if you have a wall at one end and can't overhang the boards you will have to make up the difference as you install the porch flooring.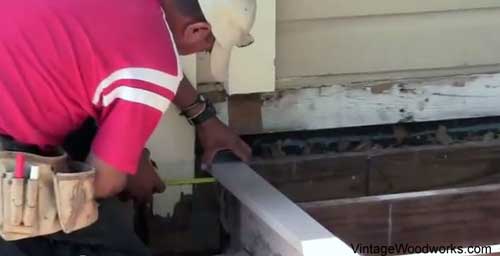 In the video, it is difficult to determine if the porch is out of square at one end, so visitors, from all appearances, would think the flooring was installed improperly.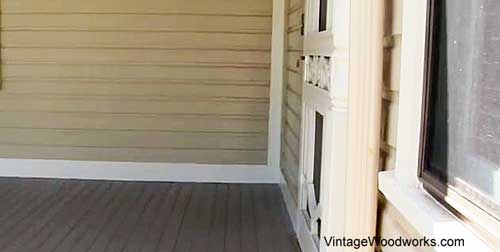 To remedy this situation, the first board was installed at the kitchen wall parallel to that wall. So the very first board is actually installed out of square.

If they continued installing boards directly adjacent to that first board, the flooring would appear crooked. The next step then, is to start making corrections.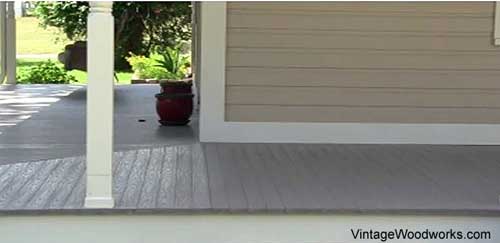 Vintage Woodworks explains that this is done by "cheating the boards". Adjust each subsequent board so it is less out of square. When you reach the end, your boards will be squared with the house walls and appear straight.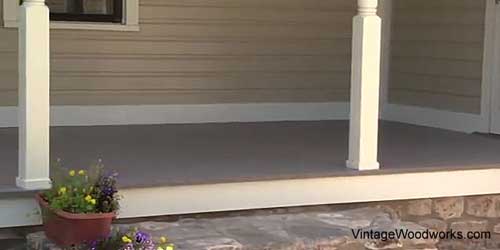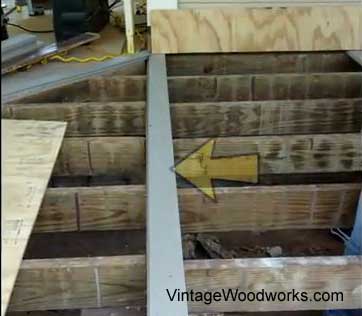 You can calculate exactly how much you need to cheat each board. In the video, they installed a temporary board that was perfectly aligned with the corner of the house.


They measured the distance from the end of straight board to the end of the first board at the kitchen wall.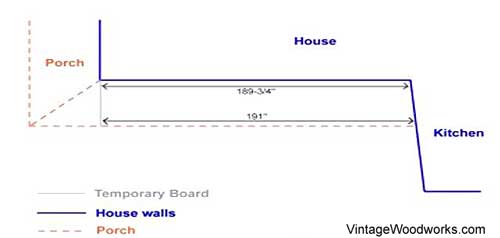 Then they measured the same distance along the house wall.


The difference in measurements was 1 1/4 inches meaning that is how out of square the kitchen wall was to the main house wall.

This tells you that you need to cheat the boards at the post end more so than at the kitchen wall end.




They have to make up 1 1/4 inches. Knowing the distance from the temporary board to the first board is 191 inches and that an AZEK porch board is 3 3/16 inches wide, they divided the 191 by 3.1875. (3.1875 is the decimal equivalent to 3 3/16 inches).

After dividing the numbers, you will need 60 boards to cover this porch area.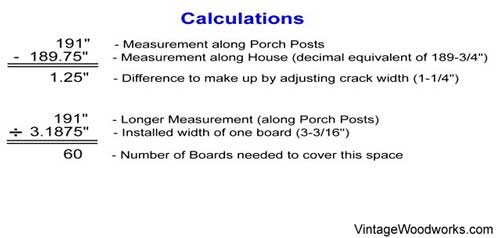 The next step is to calculate how much each board needs to be "cheated". Divide 1 1/4 inches by 60 boards and you discover you need to cheat each board 1/48th of an inch - not very much!






In this case, 1/48 inch is hardly noticeable. However, you may run into situations where the distance is much greater and would be noticeable. In those situations, it would be better to make up part of the difference realizing that you may see some disparity in the boards. Otherwise, it would not look very appealing to the eye.




Disclaimer: The information provided here is for informational purposes only. Because every project is different and individual DIY skills vary, it's best to consult a licensed contractor about your specific project.





Get Our Free Tutorial on Squaring Your Porch Foundation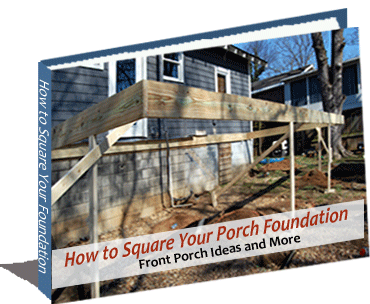 We made a fourteen page eBook to give you tips for building a square foundation.

When building a quality foundation, you must be sure it is square to your home.

That will make the rest of your project go more smoothly.


See Some Sample Pages and Get the Link to Our Tutorial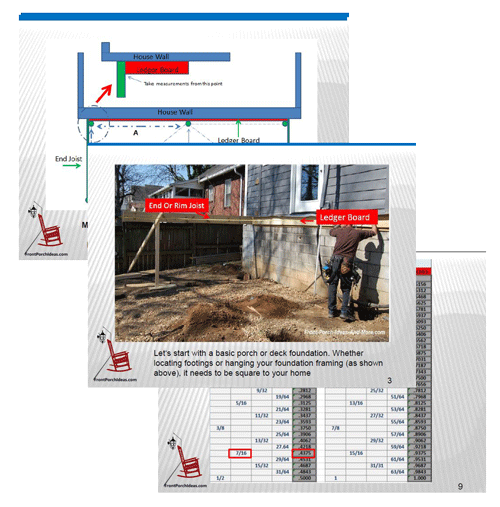 Get our free tutorial here
See All of Vintage Woodwork's Porch Flooring Videos
(You just saw #3)




Part 1
Foundation Preparation- Do It Right for a Lasting Front Porch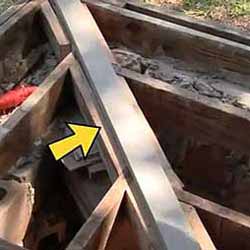 Part 2
Corners, Thresholds, and Rim Boards - the important stuff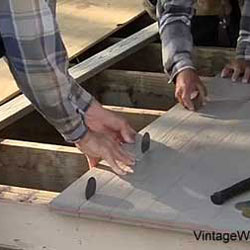 Part 4
Installing Porch Boards Tutorial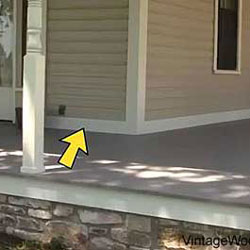 Part 5

Adding the Final Touches to Your Porch Floor





Disclaimer: The information provided here is for informational purposes only. Because every project is different and individual DIY skills vary, it's best to consult a licensed contractor about your specific project.






Porch Home

/

How to Build a Porch

/

Porch Flooring 1

/ Porch Flooring 3








Helpful Links
Popular Pages
What's New
Porch Designs
Porch Ideas for Mobile Homes
Find a Local Contractor
Build a Porch
|
Small Porches
Porch Columns
|
Porch Railings
Screened Porches
Porch Curtains
|
Porch Enclosures
Porch Landscaping
|
Vinyl Lattice
Porch Decorating
|
Porch Ideas
Navigation Aids
Home
|
Top of Page
Site Search
|
Site Map
Contact Us
Policies
Disclosure Policy
|
Privacy Policy
Legal Info
---
Please Join Us Here Also

Find a Trusted Local Pro
Our Sponsors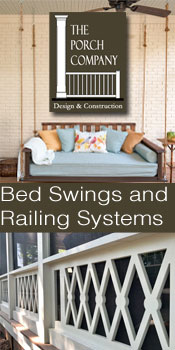 Porch Store - Custom Porch Products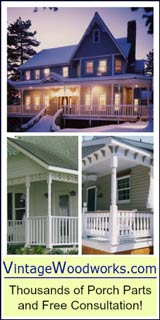 Vintage Woodworks for Your Porch Parts
PCA Products Complement any Home
---
Click here
Copyright© 2008-2020
Front-Porch-Ideas-and-More.com.
All rights reserved.
Content and photos may not be reproduced
in any way without our written permission.