If you purchase an item through affiliate links within our content, we will earn a commission at no cost to you. As an Amazon Associate we earn from qualifying purchases. See our disclosure policy.
Replace a Porch Column
Knowing how to replace a porch column is easier than you might think. Often times it is more prudent, if not easier, to replace a porch column than it is to fix it.

If you have basic carpentry skills removing a decaying porch column can not only save you money but also make your porch safer. You must, however, understand what is involved and the precautions you need to take before you begin. Replacing a column requires at least two people to maintain a minimum of safety.

We also cannot stress enough the importance of taking safety precautions and to not undertake such a project if you do not possess the necessary skills. Contacting a reputable contractor is always an option.



Indicators for When to Replace a Porch Column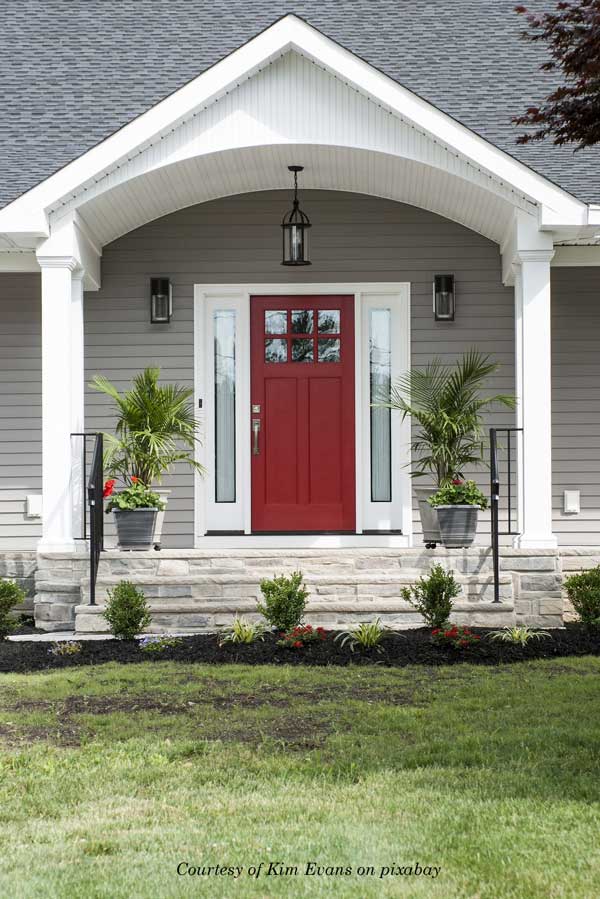 When is it time to replace a porch column?
Sometimes it's very obvious when a porch column needs to be replaced. Maybe it's falling over or has a cracks in it. Maybe it's just very old.

Here is a list of telltale signs that you should consider replacing your porch column(s):
If your columns are old, especially wood columns: Over time, columns are weakened with age and exposure to weather and wind.
If you see the wood rotting: Because wood is susceptible to rotting, your porch columns can deteriorate and weaken.
If you see cracks or a split in the column: Cracks or splits would indicate there may be structural damage and could compromise the column's ability to support the weight of the porch.
If you see corrosion or rust (metal columns): This is an indicator the column may be weakened with the potential to fail.
If your column is warped or bending: This is another indication your column may not be able to support the porch. You don't want it to collapse.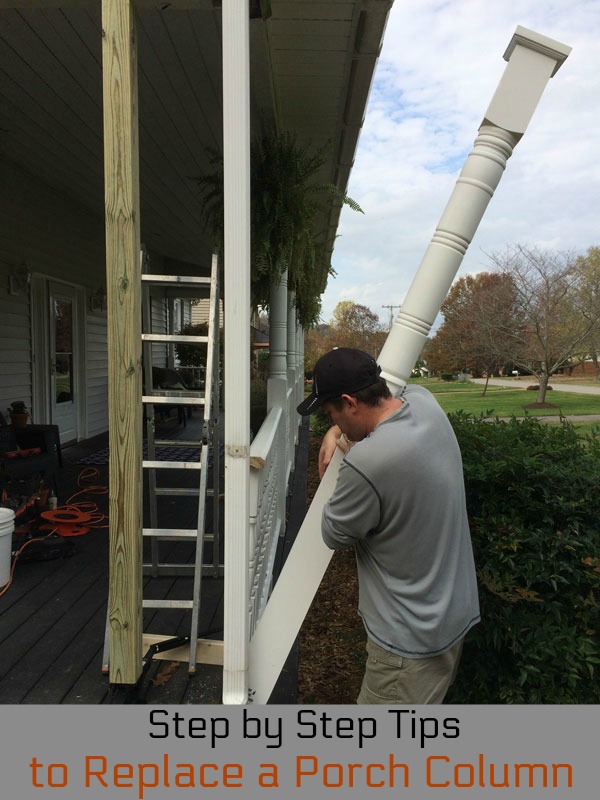 New front porch column with trim piece being installed
We will describe what is involved in replacing a typical wood porch column. The process is basically the same no matter what type of porch column you choose.



What You Need to Know Before You Begin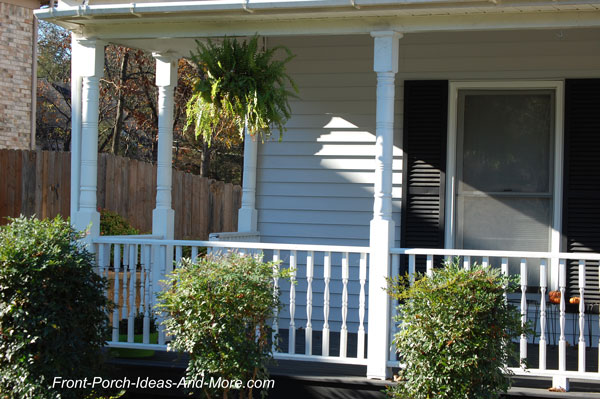 Front porch turned columns
Carry the Load
Porch columns are rated to support specific weights, i.e., your roof. When selecting a porch column ensure that it can carry the weight of your roof.

It's a good bet that if you are using the identical columns to those already on your porch, your replacement column should be satisfactory.

If, however, you are changing the columns we strongly encourage you to consult with a contractor or architect to ensure your columns you choose meet structural requirements.

We also recommend columns be installed by a properly licensed and qualified professional. However, if you choose otherwise, be sure the selection of the column and subsequent installation is in accordance with your local building codes and local ordinances.



Select the Right Column
Ensure the type of column, whether it be wood, vinyl, steel, wrought iron, etc., is suitable for your porch. For example, vinyl porch columns can either be structural or non-structural.



Ventilate If Necessary
If you are using hollow wood columns (which are fairly typical porch columns), you need to ensure air flows throughout the column. Otherwise, they will rot from the inside fairly quickly.

Be sure to vent them at both the top and bottom to prevent moisture buildup and wood-rot. To keep insects away cover any openings with screening material. Venting size is also important. A few little holes will not do it.

To vent correctly, measure your column's diameter, divide that number by two. That's the number of square inches of ventilation you need at the both the top and bottom of the wood column.

For example: if your column diameter is 15 inches you will need at least 7.5 inches of ventilation at both ends (15 / 2 = 7.5)








Video: Replace a Porch Column
In this short slide show, Dave explains how he and Dan replaced Dan's porch column.





Materials List to Replace a Porch Column
Here are a few items you will need to make the job easier.
Hack Saw or Reciprocating Saw (with metal blade): You will need to cut through the nails or screws which are holding the porch railing to the column if applicable.
4x4 Post: Use a 4x4 post cut to length to hold the porch roof in order to both remove the old column and install the new one.
Jack: Use the jack to raise and lower the 4x4 and porch roof. Make sure your jack is rated sufficiently to support the roof.
Circular Saw: Use to cut the new column to length.
Hack Saw or Reciprocating Saw (optional): To cut any nails or screws from the top or bottom of the column
Tape Measure: Self-explanatory
Top and / or Bottom Trim Pieces (Optional): Used for aesthetic purposes.
Bottom Plate (Optional): Protects the bottom of the column from rot.
Square and Level: Self-explanatory
Pencil: Self-explanatory
Screw/Nails: For securing the column and for reinstalling the railings
Wood Blocks (Optional): Use some pieces of 2x4s to place under porch balustrades if applicable.
Ladder (unless you are really tall): Self-explanatory.
Steps to Replace a Porch Column
Step 1 - Detach the Balustrade (If Applicable)
Separate the porch balustrade (railings) from the porch column. To do so, use a hack saw or reciprocating saw to cut the screws or nails holding the balustrade to column. Take care not to damage the top and bottom rails.



Detach porch railings (balustrade) and gutter, if applicable
Support the "hanging end" of the balustrade by placing wood blocks underneath. In our case, we had to separate two separate balustrades as we were replacing a corner column.

Now is also the time to detach gutters, etc., from the porch column if applicable.



Step 2 - Prepare the New Column
Measure the distance from the top of the column to the porch floor. Use that measurement to cut (if necessary) the new porch column.



Replace a porch column by measuring and marking new column for cutting
Make sure you mimic your existing porch columns in design. You may have to cut from both ends of the column to match the design of the other porch columns. You may also have to carefully remove an column trim which can then be transferred to the new column.

In our case, we also had to allow for a plinth, so be sure to mimic your existing column.

Now is the time to ensure your porch column is ventilated properly. We drilled holes in both the top and bottom of the column.



Ventilated porch column
Step 3 - Raise the Roof
Measure the distance between the floor and the top of your jack. Add 1 inch for clearance purposes.

Subtract that measurement from the column height measurement you took in Step 1.

Use this new measurement and cut the 4x4 post to length.

Position the jack in close proximity to the column you are removing. Place the 4x4 on the jack.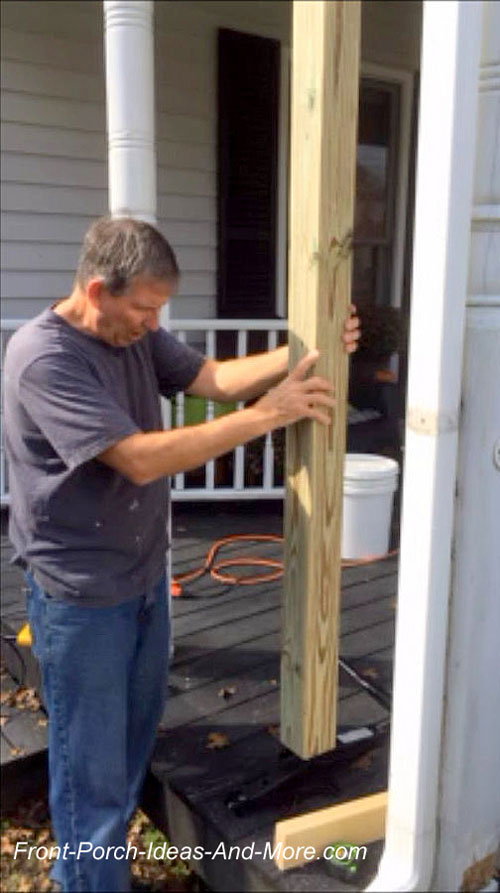 Using jack to lift beam
Slowly raise the jack until the column is free from the roof (or beam). You may hear a little cracking sound which is normal. Do not raise the roof any further than necessary to remove the porch column.

Slide the column out from underneath the roof.



Step 4 - Replace the Porch Column
Add trim pieces at top and bottom of the column if applicable for your project.

Add the plinth if applicable.



Bottom plates installed
Slide the new column into place and use the level to ensure it is straight. Also make sure it is aligned properly in comparison to other columns on your porch.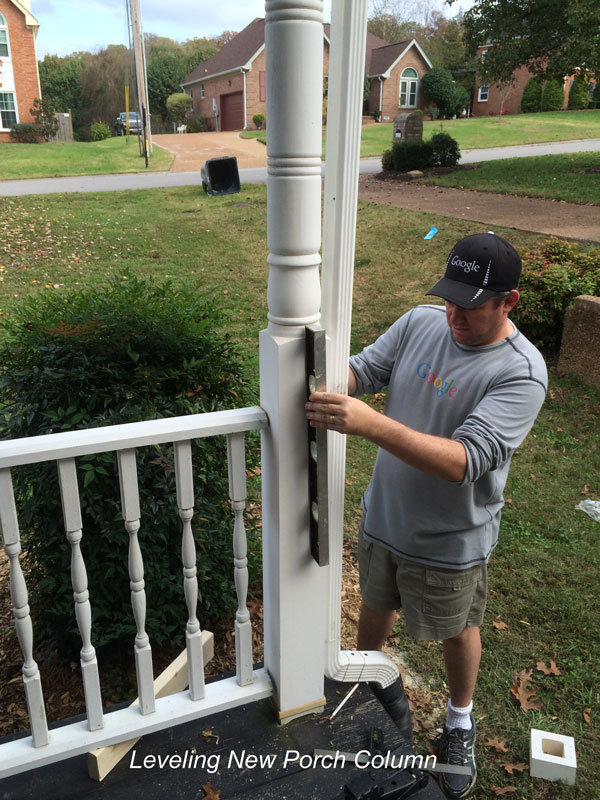 Leveling new porch column
Slowly lower the 4x4 post using the jack and secure with screws or nails.



How to Attach Porch Columns
There are several ways to attach or secure a porch column to your roof and floor. Often times, the weight of the roof will hold the column in place. For our porch column replacement project, we toe-nailed the top of the column into the beam.



NOTE: Check with your local building codes department to see if there are any special restrictions for your geographical area. In some areas, you will need to attach a hurricane strap from extending from the floor's beam through the porch column and onto the roof beam above.




Secure a Wood Porch Column to Wood
You can secure a wooden porch column using nails or screws. Toe-nailing them at the top and bottom of your column should be sufficient in most cases. Installing a plinth is highly recommended so as to keep the bottom of the column from getting wet.

Here's a column installation guide from YellowWood® that should be helpful.


Secure a Porch Column to Concrete
Because wood wicks water from concrete easily, we recommend using a standoff base like a Simpson ABU44 post base or similar product which will keep the post above the concrete.


Simpson Strong Adjustable Post Base -(Amazon affiliate link for which we may receive a commission)

You can attach the base to the concrete using either Tapcon® screws or similar products.


Tapcon® ITW Brands 24325 1/4 x 2.25 -(Amazon affiliate link for which we may receive a commission)


The preferred method is to use a single lag screw and washer. Drill a hole through the hole in the base plate, insert a lead anchor, and screw the lag screw into it but do not tighten.

Plumb your porch column and then tighten the lag screw.
How to Attach a Vinyl Porch Column
Attaching a vinyl porch column is similar; however, you may need to install blocking. Here's an excellent guide from HomeDepot® that be of value to you.
Step 5 - Re-attach the Balustrade (If Applicable)
Use the level to assist in attaching the balustrade to the new porch column.



Installing balustrade on new porch column
Step 6 - Paint/Stain New Porch Column (If Applicable)
Follow manufacturer's recommendations. Some porch columns need to be sealed soon after installation.

---

In summary: Replacing a porch column is a fairly straight-forward process and although it may be a little different for other types of columns, the process is basically the same.





Our Sponsors


End Sponsors


---
Helpful Links
Enjoy shopping Amazon
(affiliate link)
Popular Pages
What's New
Join Our Newsletter Family
Porch Designs
Porch Ideas for Mobile Homes
Find a Local Contractor
Build a Porch
|
Small Porches
Porch Columns
|
Porch Railings
Screened Porches
Porch Curtains
|
Porch Enclosures
Porch Landscaping
|
Vinyl Lattice
Porch Decorating
|
Porch Ideas
Shop
Navigation Aids
Home
|
Top of Page
Site Search
|
Site Map
Contact Us
Policies
Disclosure Policy
|
Privacy Policy
Legal Info
---
Please Join Us Here Also

Find a Trusted Local Pro
---
Copyright© 2008-2024
Front-Porch-Ideas-and-More.com All rights reserved.
No content or photos may be reused or reproduced in any way without our express written permission.
At no extra cost to you, we earn a commission by referring you to some products on merchant sites. See our
disclosure policy
.
We, Front Porch Ideas and More, confirm, as stated on our
privacy policy
, that we do not sell personal information.
All content here is solely for presenting ideas. We recommend consulting with a licensed, experienced contractor before you begin your project.
We make no guarantees of accuracy or completeness of information on our site or any links to other websites contained here.



Thank you for taking your time to stop by. See what's popular and new here.
Enjoy shopping Amazon
(affiliate link)
Our Sponsors
End Sponsors
---
Find Top-Rated Service Pros (our referral link)
---
Get Our Newsletter,
Front Porch Appeal
and a bonus!
Learn more
!
Subscribe and also receive our eBook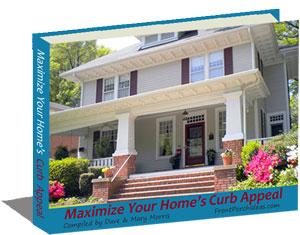 We will use your email address only to send our newsletter and this helpful ebook on curb appeal!
Enjoy our
back issues
.
---
What's New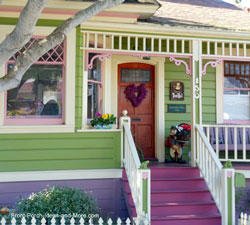 See Our Latest Updates
Get Our Porch Ideas Generator eBook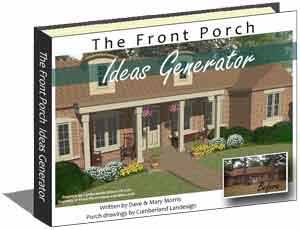 See Our Porch Illustrator eBook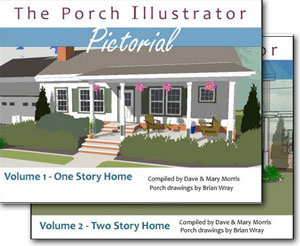 Search Our Site

Porch Ideas Network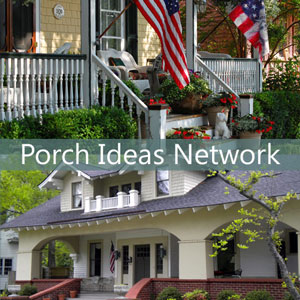 Thank you for taking your time to stop by.
See what's popular and new here
.