Brigham City Porch Parade
Decorated Front Porches On Parade
The 4th Annual Brigham City Porch Parade was a huge success and we are grateful Marlene shares their community event with us.

Marlene got the idea of hosting a porch decorating contest several years ago and set about to make it happen. This was her fourth year hosting this fun community event.

In addition to encouraging homeowners to decorate their porches, Marlene also promotes the same pride among Brigham City businesses each year making this a one-of-a-kind porch decorating event.

Mary and I love this event and find the decorated homes refreshing. Their porches have a true home-town feel; nothing ostentatious, just the kind of porches many of us grew up on.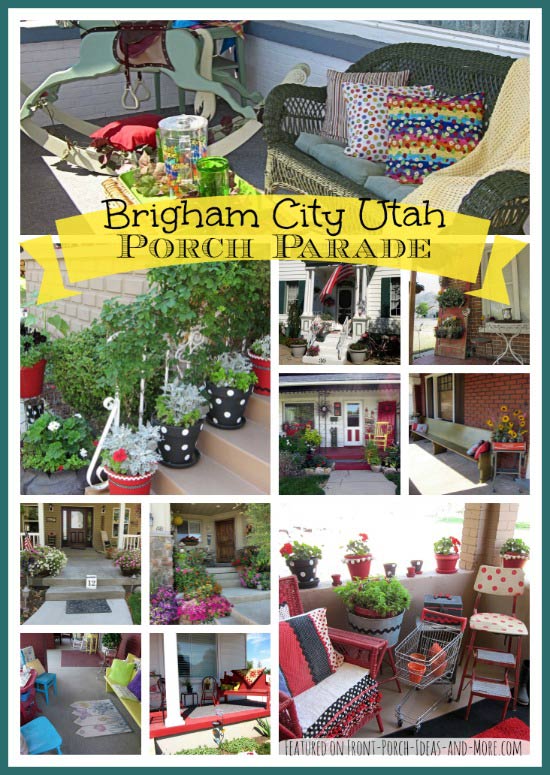 The Porch Parade: a colorful and fun event
4th Annual Brigham City Porch Parade grand prize winner
Medium porch winner
Creative category winner
Presentation Category winner
Large porch winner
Color category winner
Classic and adorable front porch furniture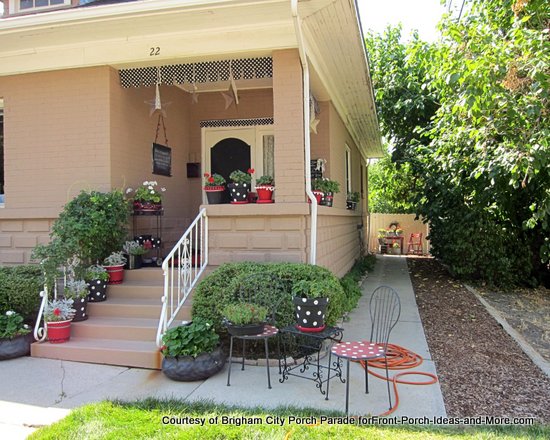 Brigham City Porch Parade small porch winner
Charming category winner
Elegant porch winner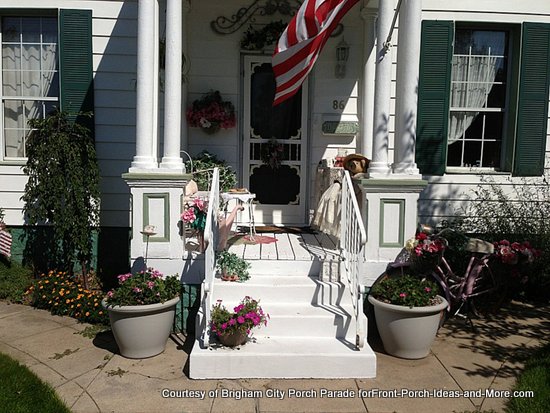 Charmingly decorated vintage front porch
How to Manage a Community Porch Contest
We thought you might enjoy learning how Marlene was able to orchestrate the Porch Parade in her town. To that end, we asked Marlene to share some of her processes so you might be inspired to create this event for your community.
Promoting the 4th Annual Brigham City Porch Parade
Getting the word out is of utmost importance. People need to know the basics: who, what, when, where, why, and how. Marlene employs several means of doing so; two are outlined below.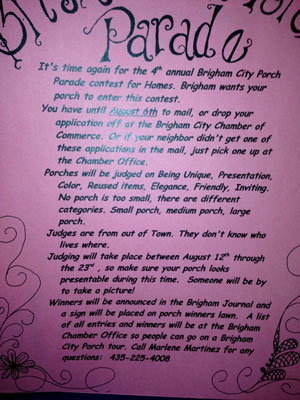 First Marlene drove all over town (she grew up in Brigham City) making a list of 200 addresses that she could tell paid attention to their porches.

She then mailed each a flyer (photo at right) outlining all the instructions, dates, and categories. Marlene included a separate entry form to fill in and mail back by a specific date.

TIP: Marlene also had her friends help hand address each envelope so it didn't look like it was just run off by a computer.

She also use local media. Getting an article in the Ogden Standard was great publicity for Brigham City (30 miles outside Ogden UT).



Judging
Marlene used three judges from Ogden who did not know any of the participants. To make it easier for the judges, Marlene made of list of participants based on routing. She also made signs numbered from one to 30 (the number of participating homes) which would be placed each porch by the judges.

Judges would then take photos of each porch. Judges would rate the porches from one to ten on: color, presentation, uniqueness, size of porch, etc. She also left space for notes.

Judges were given several days to review the photos and select the winners.



Awards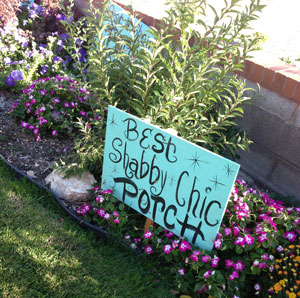 Marlene is a super creative lady. She painted turquoise (a hot decorating color) signs made out of wood with stakes so everyone had a sign to place in their flower bed or lawn recognizing them for winning their respective category.

The signs were quite showy as you see here. The porches that did not win in a particular category received an "Awesome Porch Entry" sign so anyone driving around Brigham City knew by just looking who was in the Porch Parade.


Want to see Brigham City's past contest pictures?

See all the resident entries. See all the business entries.



Stylish Chairs Painted by Marlene
Marlene collects cheap metal chairs from flea markets, thrift stores, anywhere she can find them. And then? She transforms them with paint and her artistic genius. Marlene learned an art form called Zen-tangle.

She says, "You can just draw anyway your little heart wants. Not hard to do, just let your mind wander as you draw...". You can see some of her chairs above!

How are the chairs used? The chairs are put on Brigham City Mainstreet for the Porch Parade to give the downtown a festive look during the Porch Parade.

Brigham City is fortunate to have a resident like Marlene who brings the community together by celebrating their porches!









Meet Our Friend, Marlene Martinez
"The Porch Lady"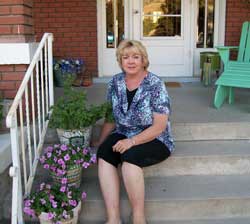 Our sincere thanks to Marlene for sharing all these wonderful pictures with us as well as her notes for how she organized the Porch Parade.

Maybe you will want to try an event like this in your community? If so, we'd love to hear about it.

See more of

Marlene's Brigham City's Porch Parades

and learn more about "The Porch Lady"!

You should also see how

Brigham City businesses

contributed to this wonderful event.






Porch

/

Porch Decorating Ideas

/

The Beauty of a Porch

/

Brigham City Porch Contest

/ 4th Annual Porch Contest





The Amazon ads are our affiliate links. Thank you.




Popular Pages
---
Our Sponsors
Porch Store
Custom Porch Products
Vintage Woodworks
For Your Porch Parts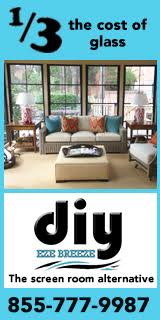 DIY Eze Breeze
Screen Porch Windows
PCA Products
Complement Any Home!
End sponsor section
---
---
Copyright© 2009-2017
Front-Porch-Ideas-and-More.com.
All rights reserved.
Content and photos may not be reproduced
in any way without our written permission.