Wrap Around Porch Ideas for Country Style Porches
Wrap around porches gives you lot of opportunities other porch designs do not.
For one you have a larger porch. And in most cases, you can always get some nice shade or a breeze from one of the sides.
And you can create more than one sitting area. Or perhaps a sitting area plus a dining area. How nice to be able to have these options.
Here is another view of this lovely home. Almost looks like they have two front doors. What an intriguing wraparound porch and counry style home.
---
Request from a Site Visitor
A site visitor asked for help in decorating and furnishing her large wrap around porch (pictured below). Mary and I thought we'd share our ideas we offered her with all of you.
When building new country style porches, consider incorporating some of these ideas into your design. If working with an existing country style porches, Mary and I hope you can use some of these ideas on your porch as well.
Think of your porch space as outdoor rooms waiting to be defined, furnished, and decorated! Enjoy these front porch ideas.
Create A Privacy Nook
Using the picture above and starting left to right, you have the perfect space for a
privacy nook
. This would be a space where you decorate for maximum comfort and would be used as a place to read a good book (or write one), contemplate, etc.
Depending on your personal desires you could hang a basket chair or small swing, chair or two with colorful comfortable cushions, a small table and outdoor lamp for reading, a nice outdoor rug, and perhaps a water feature for just the right background noise. You might also want to consider mosquito curtains or outdoor curtains in this area.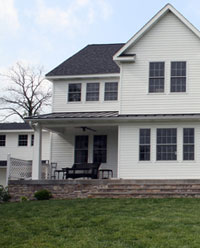 Another option for this space might be along the same lines with a little different purpose.
Try it with a bistro table and chairs for two or four, outdoor chandelier or hanging light over the table, soft mood lighting, and transform it into an intimate spot for wine and cheese!
The Front Door Space
You want to lead visitors to the front door. You can create an "entrance" by placing your furniture to channel people. For example, if you place the two chairs with their backs to the door and have them face to the right (instead of the front) you'll accomplish two things.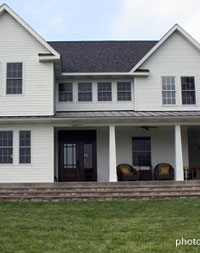 One, it will visually (and physically) lead visitors to the front doors and two, it will create the beginnings of a conversation/living room area on your porch. You can do this with the chairs or use an outdoor sofa.
Experiment with the placement to get the right width for your entrance; you don't want it too narrow since you have sufficient space.
Now that you have a defined entrance, I'd create a focal point for the "entrance". You can use outdoor artwork, planters, wreaths, etc., and decorate the entrance as you would a foyer in your home.
Create An Entertaining Area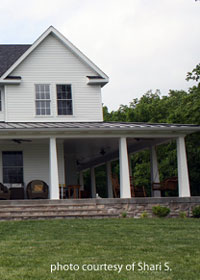 The next area will be the corner. It extends from the entrance way you created and extends around the corner. Reason being, is to compensate for the weather.
Think of this area as a living room with comfortable seating for conversation and large gatherings - southern porch style.
Sofas, chairs, tables, porch swings, hanging chairs, outdoor rugs,
special outdoor lights
, wall art, etc., can be effectively used in this area.
You can make this as formal or informal as you'd like depending on your own needs. Color coordinate to blend the area together as it will be large.
You don't have to have lots of furniture; you can spread it out a bit if need be. Planter boxes on the edges could also help to define the area.

Looking for
porch furnishing ideas
? From furniture and porch curtains to outdoor wall art and rugs we have it covered.
Add some pizzazz to your front porch - see your possibilities!
Country Style Porches Are Meant For Fun
The remaining area around the other side of the porch in the above photos is for "fun". This is the eating/party/game area. I don't have a picture of that part of the porch so I"m speculating on what it might look like.
It almost becomes the outdoor kitchen/cook out area with large picnic style table, serving area, storage units, etc.
If it shares a kitchen or dining room wall consider a pass-through for food, etc. You can separate it from the living area with furniture placement, partitions, etc. Finish it with an exterior refrigerator.
Because of the versatility and variety of outdoor products, use your imagination and create a festive family spot. Outfit it with comfortable outdoor furniture, storage containers, and even a fireplace for those cool fall evenings.
Like sports? Make it your own tailgate space with outdoor grills, coolers, and wet bar if you so desire. Want to watch the big game? Hang an exterior flat screen tv; the whole family will love it!
With just a chair and a swing you can immense hours of shared time with loved ones on your porch. It does not take much to have fun!