Exterior Mobile Home Improvements
Porch Additions, Custom Skirting, and Much More
Making mobile home improvements to the exterior of your mobile, modular, or manufactured home not only adds value but also creates charm, comfort, and pride of ownership.

Mary and I are excited to bring you what we believe, are 9 exterior home improvements specifically designed for mobile or manufactured homes.

Check out the four ideas below and then use the link at the bottom of the page to see the other five!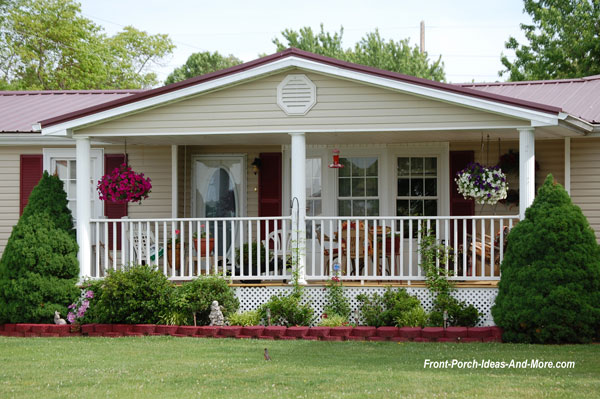 Front Porches And Mobile Homes Just Go Together!



Mary and I love that many home improvements for mobile homes make for great DIY projects which are not only fun to do but also can save you money. For some improvements; however, it may be wise to hire a reputable mobile home contractor to ensure the work is performed correctly.






Watch This Fun Mobile Home Renovation
See what can be done to enhance the look (and love) of a manufactured home!






#6 - Update Your Mobile Home Siding
Your manufactured home deserves the best. One way to instantly improve its appearance (and your love for it) is to update the siding. You can change the color, style, material, while making it more energy efficient too.


Give It a Good Cleaning
If your mobile home siding is in good repair, perhaps it only needs to be thoroughly cleaned! Here's some helpful tips to do just that:






Give Your Home a Siding Renovation!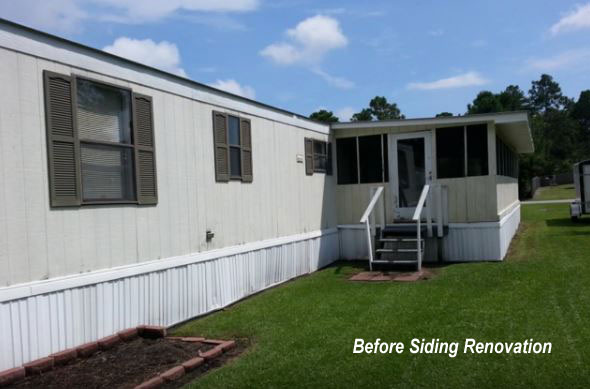 Mobile Home Siding In Need Of Renovation
(extracted from Robbie Farmer video below)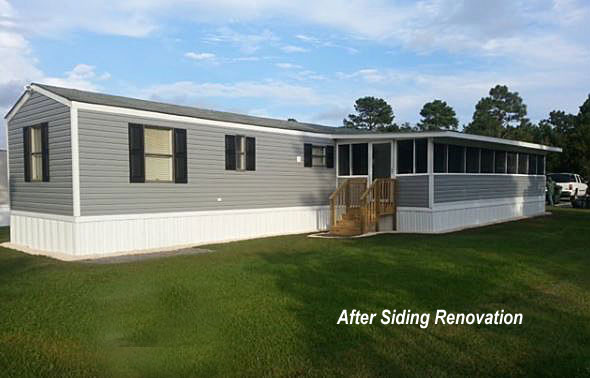 Mobile Home With New Siding

(extracted from Robbie Farmer video below)




You may also want to check out Crystal's article in Mobile Home Living for more detailed mobile home siding information.





Mobile Home Parts Store
#7 - Update Your Front Door
Replacing your front door adds immediate appeal to almost any home and is one of our favorite mobile home improvement ideas.

What better way to greet friends and neighbors than by having them encounter an energy efficient and beautiful entranceway.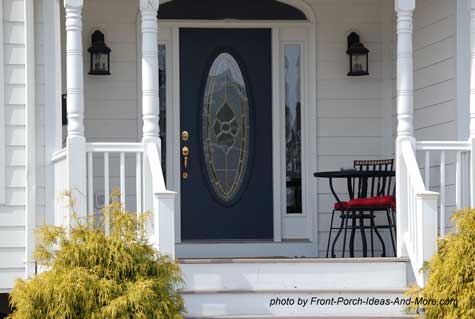 A New Front Door Can Make All The Difference



Here's a high quality mobile home front door that you can find at the Mobile Home Parts Store that definitely makes a statement:





You can even do it yourself or use our convenient contractor locator to do it for you!





Explore lots more front door options and ideas!




#8 - Replace Your Windows
Today's windows are not only energy efficient but also operate more easily. Reduce your energy bills and have a more modern look.

Mary and I know replacing windows is probably not on anyone's "most fun and exciting thing to do" list! It definitely wouldn't be on ours. However, there are times when you really need to replace them.

So if your windows need an upgrade consider windows specifically made for manufactured homes to ensure you get the best fit, style, and ultimate value for your money.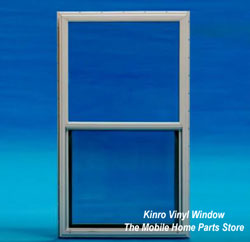 Here's a short video showing the advantages of a Kinro Vinyl Window for your mobile home.






Handy? Save money by installing your windows yourself. Check out this DIY window replacement video that shows you how to do it!





You can find these windows and more at the Mobile Home Parts Store.




#9 - Create Curb Appeal
Creating wonderful landscaping around your mobile or manufactured home adds lots of curb appeal and is easy to do. There are simple things you can do to enhance the look of your yard.


Add Landscaping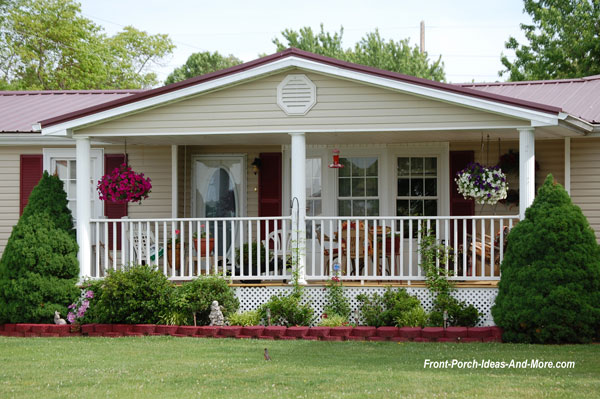 Aesthetically Pleasing Landscaping Boosts the Appeal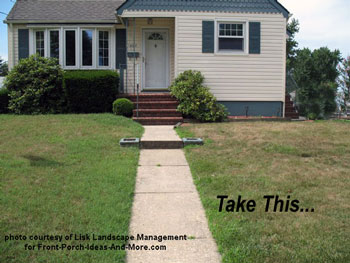 No matter your budget, adding attractive landscaping makes your home just so much more appealing.

Even if you do not have a green thumb, there are simple ways to create colorful arrays. And you don't have to make all the changes at once.

Create a plan and then add plants, walkways, etc., as time and money permit.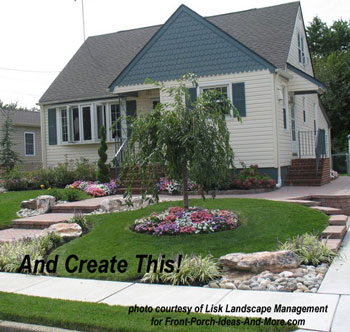 I enjoy finding pictures of landscaping I like and then replicating them in our yard.

Local gardening stores can help find the same or similar plants that will work well in your geographical area.

Don't have the space? Container gardening and hanging planters are convenient ways to add color and landscaping with minimal space.


Spend some time in our front yard landscaping section to get lots of ideas you can use for your home.




Decorate and Furnish Your Porch
Whether you have a small portico, a smaller sized porch, or perhaps a wrap-around, adding outdoor decor along with comfortable furniture makes for an enjoyable outdoor experience.

There are a myriad of ways to decorate your porch, patio, or stoop to create curb appeal (and for your enjoyment too!).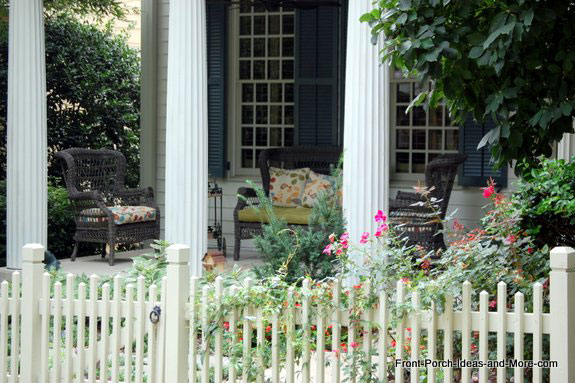 Decorated, furnished, and landscaped for maximum curb appeal





Whether it be for holidays, the seasons, or special events your want to celebrate, decorating your home is easy, fun, and can be relatively inexpensive.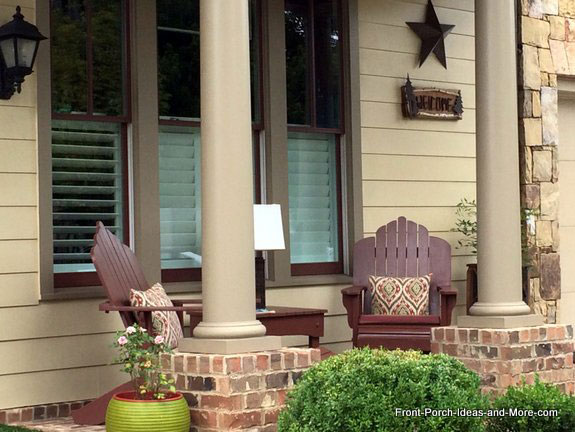 Quaint, simple, yet charming!



Need porch decorating and furnishing ideas? We have a slew of mobile home decorating ideas in our porch decorating section and our porch furniture sections for you to see!









---
We may receive a small commission on affiliate sales which does not affect the price you pay.
---










The Amazon ads are our affiliate links. The price is the same to you. Thank you.




Helpful Links
Popular Pages
---
Our Sponsors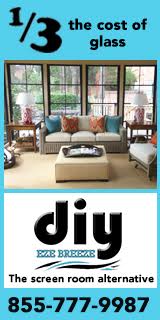 DIY Eze Breeze
Screen Porch Windows
Porch Store
Custom Porch Products
Vintage Woodworks
For Your Porch Parts
PCA Products
Complement Any Home!
End sponsor section
---
---
Copyright© 2009-2017 Front-Porch-Ideas-and-More.com.
All rights reserved.
Content and photos may not be reproduced
in any way without our written permission.