Front Porch Appeal
Falltopia On The Porch
Issue #60 October 2014

October - is perhaps our most favorite month. Cooler temps, autumn colors, football, and time to spend enjoying it all on the front porch.

It is almost impossible not to notice porches decorated for autumn. Traditional pumpkins, corn stalks, gourds, fall wreaths, and yes, even Halloween decorations, adorn many a front porch this time of year. We have been receiving many beautiful photos from our site visitors of fall porches, a few of which we'll share in our newsletter. Keep 'em comin, as we never get tired of looking at decorated porches!



Get Autumn Decorating Ideas!

photo courtesy of Sylvia Cadena



We have lots to share with you (did we say October was our favorite month)!




Autumn Decorating Ideas
An autumn decorated porch is worth a thousand words when it comes to finding fun, appealing, fall decorating ideas. We thought we'd share ideas we've received from our site visitors through photos of their own front porches. Click on the pictures to find even more ideas!

Ingenious way to use bird houses and scarecrows to create a really festive display. You can get lots of ideas from Sylvia's porch!





Colorful and neat way to use your pumpkins. Don't have enough for a border? Fill a wheelbarrow or tub and add a mum or two.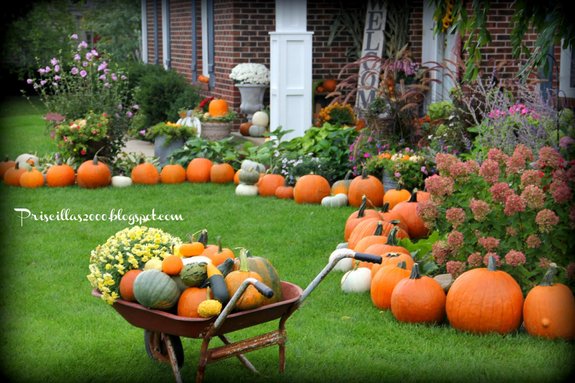 Pumpkin Patch Border

photo courtesy of

Priscilla





Judy had a small wagon sitting on their porch. Her husband Dave used it as a model to create this larger one, now complete with autumn decorations. Yes, it isn't on the porch but we really liked it! If you look closely, they do have an absolutely beautiful front porch.






A Porch Contest in Burnsville, NC
Fox Country Store in Burnsville, NC, is hosting an autumn porch contest for their community. It runs through October 31. Take a look at the porches that have entered so far!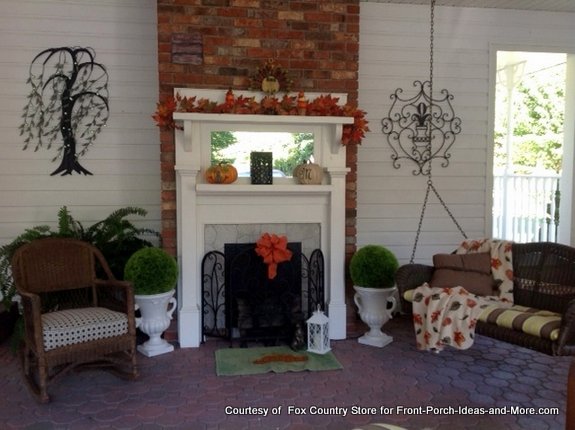 Lovely decorated fireplace and comfortable porch.

Wouldn't you love a fireplace on your porch?





We have lots of pages chock full of autumn decorating ideas. Begin the fun by using our fall decorating directory.




Porch Ideas Network News
We are excited about the launch of our Porch Ideas Network and want to feature our latest audio program with you. We interview Jennifer Davenport of Jennifer Decorates.

Jennifer shares many autumn decorating tips that are simple to do yet create lots of autumn charm. We really like her tips for making those faux pumpkins look like real ones!


Enjoy our audio program with Jennifer: 00:22:00





We'd really appreciate your assistance in launching our audio program. In order to give it more visibility on the internet, please subscribe to our audios (use buttons below) and if you enjoyed it, please give us a favorable rating. That will help others to find our future audio segments.


Fall Porch Swing Project
Mary shows you how to make this quick and easy porch swing cushion for autumn. You'll be surprised at what she used for fill!


Halloween on the Front Porch
Tis the season to have fun decorating for Halloween. Whether you like ghouls and goblins or perhaps a tamer version, it's fun to create a magical Halloween display.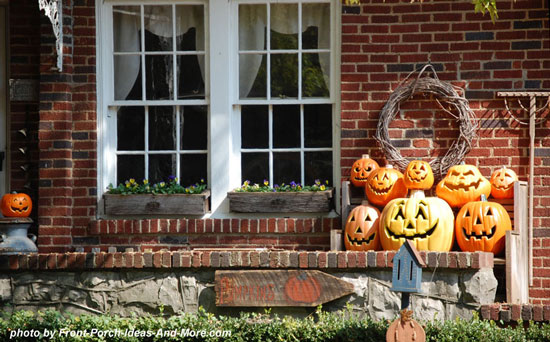 Happy Pumpkin Front Porch Display





See our 10 easy Halloween decorating ideas.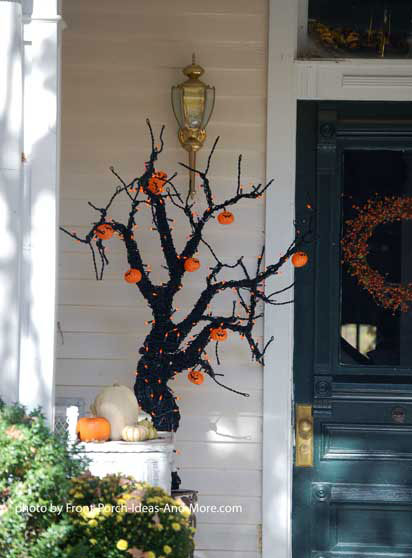 Black Painted Branches with Pumpkins



Check out these cool
Halloween pumpkin carving ideas.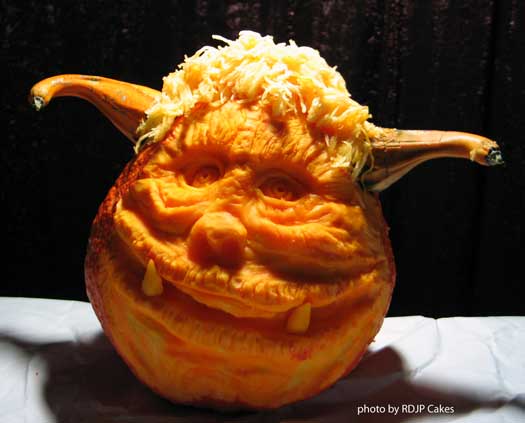 photo by RDPJ Cakes





See these ideas for creating a
"spooky" Halloween.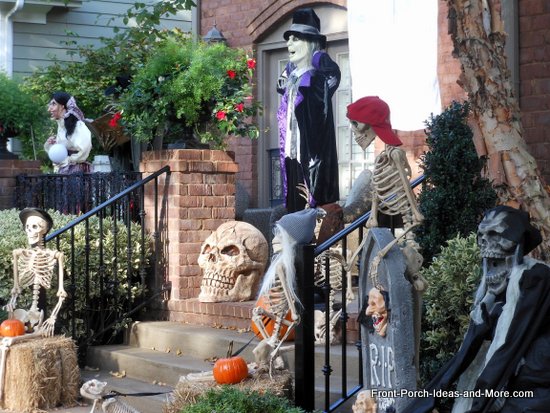 Fun in daylight; spooky at night!
Screen Porches Love Fall
Enjoy your outdoor time in a wonderfully designed screened porch. It is the perfect time of year to not only build it but also enjoy it as well. Before you begin planning your screen porch project, be sure to spend a few minutes gleaning ideas (and see fantastic photos) from our experts at The Porch Company.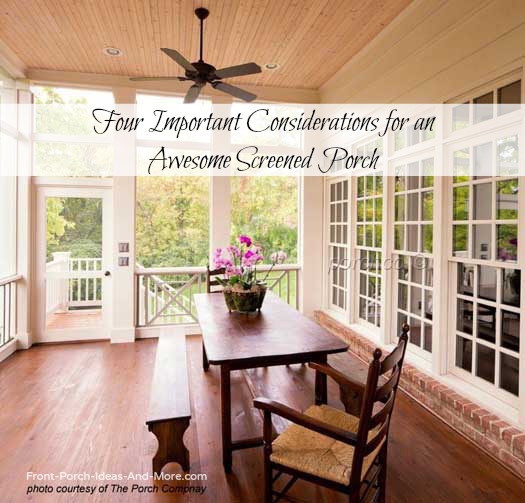 Find Your Perfect Screened Porch Design
Front Porch Designs Series
Mary and I have been creating a series of videos detailing what makes a great front porch design. We just completed our video on walkways and since this is the perfect time of year to construct one, we thought you might like some ideas. If you hadn't planned to build or remodel one, perhaps this will be your inspiration!



Watch Our Walkway Designs Ideas Video
Paint Your Front Door
Did you know more painting is completed during October and November than in other times of the year? Why?

Folks want to prepare their homes for the upcoming holidays when they will be entertaining friends and family.

Mary and I know an easy way to create instant curb appeal is to apply a fresh coat of paint to your front door. Or better yet, change the color of your front door! We recommend you check out Modern Masters Front Door Paint.

It comes in a variety of colors, is easy to apply, and will definitely make a statement. Try it today along with their neat app that lets you try the color on your door before you paint!





Learn more about Modern Masters and their innovative front door paint, and get their app, too!





Join Our Porch Community on Facebook
You're invited to be part of our Facebook community. We share ideas with one another for decorating and using our porches. We have over 6,400 members and would love to count you among them.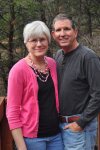 Happy porch sitting from your friends,

Mary & Dave


Life is short. Enjoy your porch.





Porch Home

/

Newsletter Signup Page

/

Back Issues

/ October 2014




Our Sponsors
Porch Store
Custom Porch Products
Vintage Woodworks
For Your Porch Parts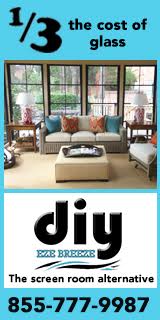 DIY Eze Breeze
Screen Porch Windows
PCA Products
Complement Any Home!
End sponsor section
---